---
THE MYSTERIOUS BAYON
at Angkor Thom, Siem Reap, Cambodia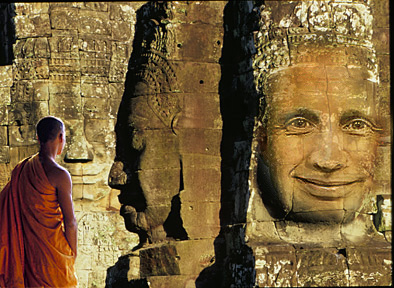 The exact likeness of the 216 mysterious faces of the Bayon temple, at the centre of the great city of Angkor Thom, has frustrated scholars for many years. Most believe its the face of King Jayavarman VII, the ruler at the time of the temple's construction, or that of the compassionate Avalokiteshvara. Stereo photographer and musician Robert Bloomberg gave his own tongue-in-cheek take on the origin when he sent me the above photograph in 2002. "A small tribute to your Buddha nature..." was how he phrased it. Thanks Robert.
---
AWFUL HEADWEAR in CAMBODIA
Someone has really got to make the author of this website understand that wearing a Krama is for Cambodians NOT for Westerners with big noses. It doesn't look good under any circumstances. Other examples of awful headwear are displayed below or are available on request!
Left: Sussing out a minefield at Koh Ker. Middle: A large red nose and krama in Phnom Penh. Right: On a trip around the Srei Santhor district.
Left: The author and pals at Prasat Preah Neak Buos along the Thai-Cambodian border. Middle: Broken branches and debris underfoot made this paddle a painful trek in the forest surrounding the village of Svay Chek. Right: Outside mined farmland in Choam Khsan.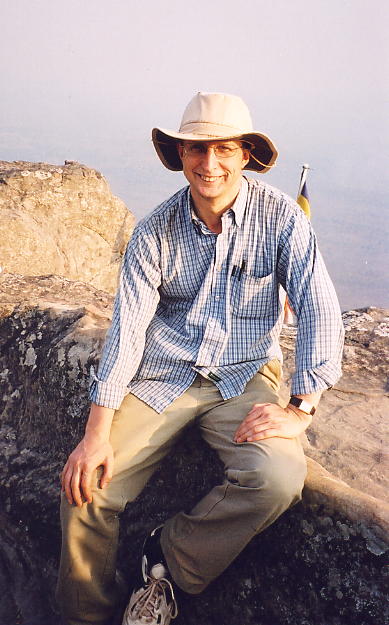 Above: The author on the cliff-edge at Preah Vihear, looking like a complete banana! I've come to the conclusion that I don't look good in a hat, full stop!
---
Home : Cambodia Tales : E-mail
The contents of this website cannot be reproduced or copied without permission of the site author. (c) Andy Brouwer 2005