ANDYBROUWER.CO.UK
---
CAMBODIA TALES 2005 - JANUARY
Banteay Thom re-visited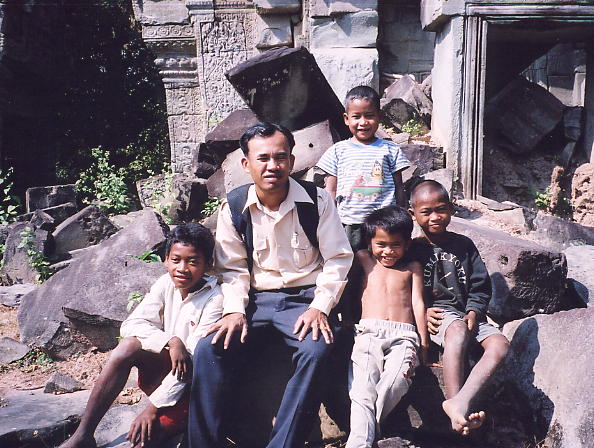 Preferring a more relaxed day after my trips to Angkor Chum, Kompong Phluk and Ta Siem, I'd arranged to spend the day with Rieng on his moto in and around the Angkor complex. I breakfasted at the Koh Ker restaurant, checked out of the hotel next door and Rieng arrived at 9am to drop my bag at the HanumanAlaya and then onto get my $20 day pass from the ticket booth on the way to the temples. My aim was to re-visit a temple outside the usual circuit missed by 99% of visitors, that I hadn't seen since 1999, namely Prasat Banteay Thom and to spend the afternoon relaxing at Angkor Wat with friends.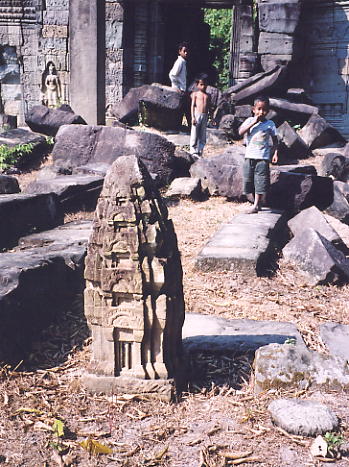 We by-passed the crowds gathering outside Angkor Wat, the South Gate of Angkor Thom and especially the Bayon and left the main circuit a few hundred metres past the North Gate. Stopping to ask directions, we left the tarmaced road and took a sandy path past open fields until rather surprisingly, we reached a recently-constructed compound, under the aegis of the Japanese CVSG non-govt organisation, who had relocated a group of handicapped families, built them dormitory style accommodation and set up workshops and programs to provide skills training, particularly in agriculture. The 'village' is three kilometres from the North Gate and houses nearly 50 families. We parked our moto and enlisted the help of four young boys from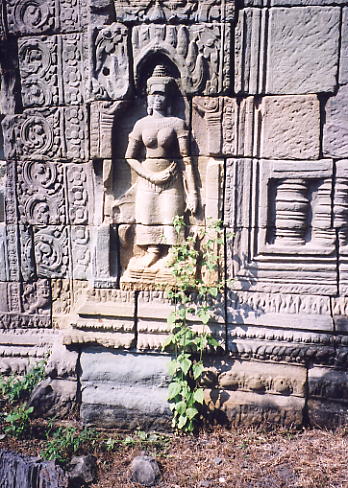 the village to act as our guides, namely Ton, Da, Nai and Ka. We began by jumping across a stream (which was a thigh-high river back in 1999) and a fifteen-minute walk through fields until we reached a copse of trees with a tower jutting out of the top - we'd located Prasat Banteay Thom. Built in the early 13th century by the great builder Jayavarman VII, it was only re-discovered in 1997 and has similar characteristics to temples like Ta Nei. Approaching the temple from the east, the entry gopura is of a laterite and sandstone mix with Devata (female diety) carvings in niches and a broken naga balustrade leading to it. A miniature shrine antefix had fallen from one of the towers and lies upright on the floor. Between the outer enclosure wall and a second enclosure are two laterite-stepped pools. The inner enclosure wall is laterite with two sandstone entrance gopuras, also decorated with Devatas and Dvarpala guardians, some damaged lintels and straddled by a large banyan tree. Inside the wall is an enclosed gallery surrounding the temple's main structures, three sandstone towers and two collapsed libraries.
In its heyday, the lintels and pediments of Prasat Banteay Thom would've rivalled many of the temples in the main Angkor complex but time and more recently, thieves have taken their toll. Since my previous visit, the temple has been cleared of its vegetation but its also been prone to theft and mutilation and many of its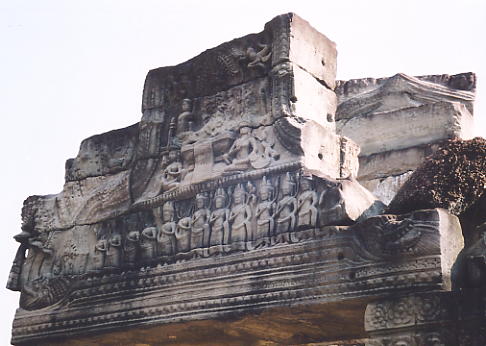 excellent carvings are now irreparably damaged. Every lintel has been defaced if unable to be removed intact, whilst many of the pediments have had their central character destroyed, though this may've taken place centuries earlier. One excellent pediment that has survived mostly intact is the young Buddha's 'Great Departure' on a horse. In the right-hand tower a large hole beneath a pedestal suggests the robbers were searching for buried treasure, a common theme in remote temples across the country. Our four guides were good fun, posing for a few photos and joining in an impromptu game of tot-sey, and taking a particular liking to the candy I'd brought with me from England. Their ages ranged from 8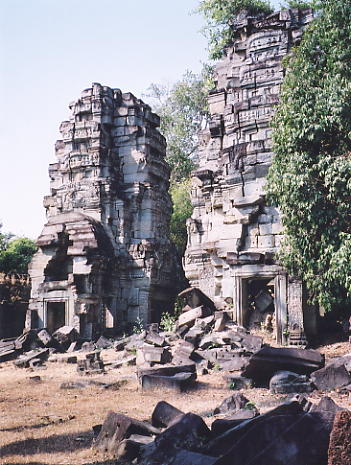 up to 14 with Da being the youngest, and who'd innocently grasped my hand for the walk to, and the walk back, from the temple. During our return to their village, I suddenly found myself in the middle of a swarm of bees and crouched down to avoid getting stung or interferring with their flight path. It was quite a dramatic few moments, not knowing what to do if they hadn't continued their journey across the rice fields, presumably looking for a new home. Not exactly an everyday occurrence. I gave the boys a dollar each for their trouble and we had one final game of tot-sey before returning to Angkor, where we stopped at the entrance to Preah Khan for an ice-cold drink to quench my thirst. Returning through the North Gate, I suggested to Rieng we try to visit one of the small prasats located in each corner of the city of Angkor Thom, standing on top of the earthern embankment that reaches to the top of the wall. They're each called Prasat Chrung and I'd previously only seen the one in the southwest corner. We man-handled the moto to the top of the wall and drove as far as we could towards the northeast corner. However, the embankment had collapsed, we would have to leave the moto and with another kilometre to walk, I decided to call it a day and head into town for a lunchtime meeting I'd arranged.
Rieng dropped me at the Easy Speaking Cafe, on 'pub street' near the old market, where I had some lunch and met up with Heang, my moto-driver on a visit to Sisophon in 2001 and who now operates a tuk-tuk in Siem Reap. We'd kept in e-mail contact and had agreed to meet up to discuss our plans for a two-day trip to Sisophon and Banteay Chhmar, beginning tomorrow. Heang had moved to Siem Reap just a few months before in order to make a better living than he could in Sisophon. So far it was going fairly well though the competition for foreign passengers was pretty intense with tuk-tuks such a popular form of transport to the temples and around Siem Reap these days. Heang was intending to return to Sisophon later that afternoon by moto, so he could see his family and be ready for my arrival in the morning. I had a hunch there were more temples to be found around Banteay Chhmar and on my behalf, Heang had visited the tourism department in his home town to investigate this further. They had produced a list of temples I'd not previously seen, and these were to be our targets over the next couple of days. I wished him a safe journey and we arranged to meet at the taxi station in Sisophon around 10am next day. Rieng picked me up from the HanumanAlaya at 2.30pm and we returned to the temple complex, this time heading directly for Angkor Wat, alongwith crowds of other tourists, both foreign and Khmer. I spent half an hour closely inspecting the outer enclosure wall and marvelling at the intricate carvings I'd not noticed on my many previous visits - there's always something fresh to see at Angkor Wat - before making a bee-line for the souvenir stalls to the side of the left-hand pool just before you enter the northwest corner of the main temple.
One of the last stalls before you arrive at the temple is run by my long-time friend Noung and her family. I first met Noung in March 1998 and have returned to visit her, her friends and family on each of my annual visits to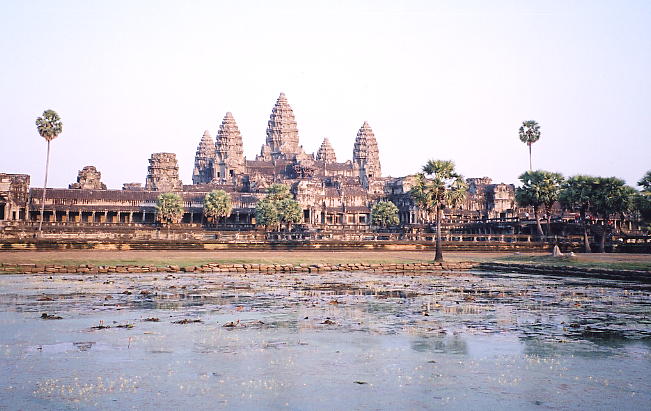 Angkor, watching her grow from a bright and bubbly twelve year old to a mature young woman. As usual, the warm welcome from Noung and her mother was that of old friends, whilst a few of the other stall holders also recognised me from my previous visits. We brought each other up to date on recent events, including the health of her father, who'd suffered a serious moto accident on my last trip at the end of 2003. Despite very serious injuries at the time, he was now in recovery though it was a slow process and he wasn't yet back to full health. In fact, he appeared an hour later and it was great to see his wide beaming smile again as he shook my hand vigorously. Noung herself had undergone an appendix operation a few months before, whilst her brother Plon had recently moved to Sisophon to work for a Christian charity organisation called New Life of Youth. The numbers of tourists walking past suggested trade was as brisk as ever, though Noung took a couple of hours off to chat to Rieng and myself, leaving the selling duties to her mother, her younger brother and cousin. When I told her about my plan to go to Sisophon the next day, she suggested we travel together as she wanted to visit her brother and would meet me at the taxi station at 7.30am the following morning. I paid a brief visit to have a look at the bas-reliefs on the northwest corner of the temple before saying my goodbyes to Noung and her family and returning to the HanumanAlaya. Rieng left for home after agreeing to pick me up at 7am the next morning, I showered and then flagged a moto to take me to the Red Piano for my evening meal, finished off with an hour in the internet cafe and an early night, returning to my guesthouse at 9pm and enjoying a really good night's sleep.
---
Here's links to the rest of my Cambodia Tales.
January 2005 marked my eleventh trip to Cambodia since my first-ever visit in 1994. It's a country that has a special magic all of its own and which draws me back every year to venture out into the Cambodian countryside in search of new adventures, ancient temples and to catch up with the friends I've made from previous visits. Each trip is full of laughter, smiles and a host of fresh experiences and my latest expedition was no exception.
---
Home : Next : Messageboard : 2005 : E-mail
The contents of this website cannot be reproduced or copied without permission of the site author. (c) Andy Brouwer 2005
Click to enlarge all photos. Click 'refresh' if photos do not fully load.