---
Recommended Guides in Cambodia
I often get asked if I can recommend moto-drivers and tour guides and the answer is yes, I certainly can. There are a few moto-drivers in particular that I use whenever I'm in their part of Cambodia because they are trustworthy, speak good English, are keen to try new locations and above all, they are friends. The moto-drivers and dirt-bike specialists I recommend here will double up as a guide, will bend over backwards to be helpful, they are all very safe and careful drivers and charge fair prices. In my opinion, they're worth every dollar. Meanwhile, for Recommended Travel Companies, click here.
---
Sokhom - in Kompong Thom & beyond
I don't say this lightly, but I would, and frequently do, trust this man with my life. Sokhom has been my moto-driver and companion on some of my toughest and most gruelling journeys around Cambodia since I first met him in December 1999. Our first forays into the northern half of the country were localised affairs to Sambor Prei Kuk and Phnom Santuk but subsequent trips have seen us battle against the heat, humidity and atrocious road conditions to get to remote temple sites like Koh Ker, Preah Khan and Preah Vihear. He's become a true friend and companion, he has a great sense of humour and between you and me, he can eat for Cambodia! Even though I take him away from his wife Sroy and adorable daughter Kunthea for three, four or five days at a time, the welcome and hospitality I receive never fails to be a warm-hearted and genuine one.
Im Sokhom was born in Phnom Penh forty years ago. He survived the Pol Pot years and fled the country for a refugee camp on the Thai border before returning in 1992 to settle in Kompong Thom. English-speaking moto-drivers in Kompong Thom are a rarity, so Sokhom has become something of a minor celebrity with a name-check in English, German and Japanese guidebooks as the man to track down in his town. His expert knowledge of his own province and those further north is invaluable to anyone seeking to explore this fascinating part of the country. Sokhom is now the proud owner of his own car and can provide a more comfortable visit to some of the locations that were previously off the beaten track, though for others, moto is still the best form of transport. Contact him on his mobile telephone or by e-mail:
Telephone: (855) 012 691 527
e-mail: guideimsokhom@yahoo.com
---
Rieng - in Siem Reap & beyond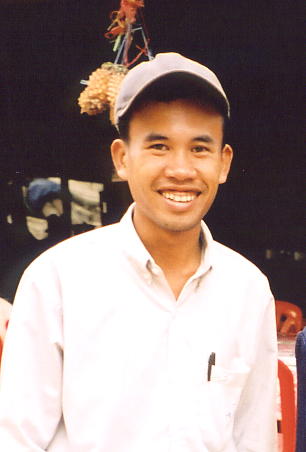 Kim Rieng is a qualified Angkor tour guide, a moto-driver and policeman. That makes him expertly qualified to guide tourists around his hometown and the nearby temples of Angkor in safety. Rieng was recommended to me by a friend and I first hooked up with him in December 2000 and every trip since. He certainly knows his stuff whether it be each of the main temples in the Angkor complex or more remote and less-visited sites such as Phnom Kulen and other locations well away from the usual tourist trail. We've had some great trips out into the Cambodian countryside temple-hunting and I'm looking forward to many more in his company.
Rieng is thirty years old and married Sovann four years ago. Their first baby, a boy called Nara, was born two years ago, whilst their daughter, Chantrea, arrived in August 2005. Rieng is a resourceful, enthusiastic and trustworthy guide and driver, with an infectious laugh and permanent smile, an excellent grasp of English and someone who I'm proud to call a true friend. He can ferry you around on his moto or can be your guide and arrange for an air-conditioned car or 4WD to visit the Angkor temples and beyond. Please give Rieng and the other guides as much notice as possible that you require their services, and he will be more than happy to pick you up from the airport in Siem Reap. You can contact Rieng via his mobile or by e-mail at:
Telephone: (855) 012 920 554
e-mail: kimrieng@yahoo.com
---
Sak - in Battambang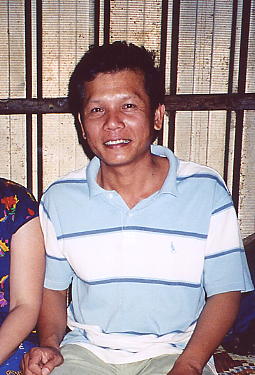 I finally got to meet Sak on my visit to Battambang in January 2006, having been aware of him for a few years through a mutual friend. I was very impressed with his expert knowledge and contacts around Cambodia's 2nd city - he's currently working for an NGO involved in the city's urban development and was previously on the curatorial staff at the Provincial Museum - so he's well-versed in the history of Battambang's tourist highlights as well as the current situation in his city. He arranged a personal guided tour of the museum by the Province's Director of Culture & Fine Arts no less and is a careful and considerate moto-driver, with excellent English skills. His full name is Sanvasak Som, he's forty years old and has four children with his wife Theara. If you are visiting Battambang, please contact him beforehand via the following:
Telephone: (855) 012 599 890
e-mail: sanvasak@yahoo.com
---
Heang - in Siem Reap & beyond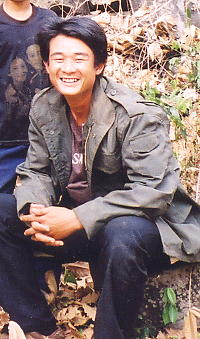 Since our first meeting, Heang has moved to become a taxi driver and tuk-tuk driver in Siem Reap so is extremely useful in and around the Angkor temples, quickly absorbing information about the Angkor Park, Siem Reap and surrounding countryside, so can act as your unofficial guide too. I met up with Heang in 2005 and we had a great return trip to Banteay Chhmar, discovering a host of new temple sites. Always resourceful, Heang now has his own Toyota Camry air-conditioned car, as another option for visiting the temples of Angkor, in addition to his tuk-tuk. When I visited Sisophon in November 2001 for the 1st time, 25 year old Heang, accompanied me around the area for a couple of days including my trip to Banteay Chhmar and Banteay Top, in northwestern Cambodia. We have remained friends ever since. His contact details are:
Telephone: (855) 012 701 478
e-mail: psongheang2004@yahoo.com
websites: www.cambodiaroadtrip.com & www.heangcambodia.com
---
Paul Hay - in Siem Reap & beyond
I finally caught up with Paul (his Khmer name is Buntheoun) in Tbeng Meanchey in January 2003 after exchanging e-mails with his partner Sheila. Paul is an experienced dirt-bike rider, is an excellent English speaker and has an extensive knowledge of the more remote parts of Cambodia. We joined up together for a trip to Anlong Veng and across the northern half of Cambodia to Samrong and back down to Siem Reap in December 2003 and I would recommend him, as a satisfied customer, without any hesitation. He runs a company called Hidden Cambodia Dirt Bike Tours, operating out of Siem Reap and will act as a guide for individuals or for groups of riders. They also have 4-wheel vehicles available, which are becoming ever more popular. Visit Hidden Cambodia's website for more details.
Telephone: (855) 012 934 412
e-mail: hiddencambodia@yahoo.com
website: www.hiddencambodia.com
---
Ran - in Phnom Penh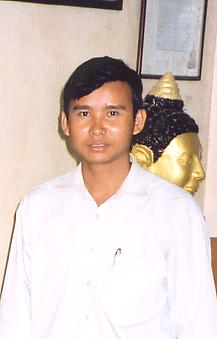 My first trip with Ran was a ten-hour moto drive south of the capital to Angkor Borei and Phnom Da in March 2002. He came recommended by a friend and I found him to be a careful and enterprising driver, with well spoken English and a determination to learn more about his own country. Ran, his full name is Om Cham Roeun, is thirty-three years old and was born in Sisophon, moving to Phnom Penh to study a few years ago. He's married with two young daughters and combines his moto duties with part-time work as a qualified tour guide with the adventure tour company Intrepid. He can pick you up from the Airport and will arrange car hire if you prefer. His contact details are:
Telephone: (855) 012 837 309
e-mail: omchamroeun@hotmail.com
---
Vannak - in Phnom Penh
I've used Vannak's services as a moto-driver around Phnom Penh on a few occasions and found him to be honest, careful and with good English skills. We've taken a trip out to Takhmau town to visit an orphanage, to visit friends in Kien Svay as well as around the city. On my trip in 2006, Vannak was one of the moto-drivers outside the Mekong River restaurant on the corner of Street 118 and Sisowath Quay. He's now got himself a tuk-tuk to drive around town, which is more tourist friendly. His contact details are:
Telephone: (855) 089 900 107
e-mail: wannak_sam@yahoo.com
---
Tom - in Phnom Penh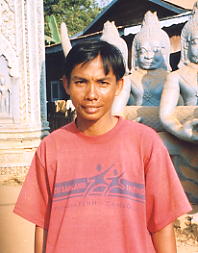 Tom was recommended to me by a friend and turned out to be a well spoken and helpful moto-driver who I used for two days on my January 2005 visit. We took a trip out to Kien Svay to track down some friends of mine and Tom proved his worth as a translator. The next day we spent ten hours on his moto as we enjoyed an interesting ride south along the Bassac River. We also had lunch with his family at their village called Khpoc on the east bank of the river where I was treated as an honoured guest. He is a safe and careful driver who lives near Tuol Sleng Genocide Museum and can usually be found outside the Boddhi Tree guesthouse. I caught up with Tom again in 2007 and he too is now driving his own tuk-tuk. You can contact Tom, whose full name is Thourk, via the details below:
Telephone: (855) 092 678 077
e-mail: doungthourk@hotmail.com
---
Phanna - in Phnom Penh
My guide when I first visited Kratie in 2000 was Phanna, then an 18 year old who dreamed of becoming a lawyer. In between then and now, Phanna has moved to Phnom Penh to study and he's currently taking a course in International Relations and Law, as well as taking charge of the Number 10 Guesthouse at the Boeung Kak lakeside. He speaks fluent English and was a perfect guide for his hometown and the remarkable but endangered freshwater Irrawaddy dolphins that inhabit the Prek Patang river rapids, north of Kratie. Phanna, whose full name is Sophanna Chheang, tells me that Number 10 guesthouse is the best spot for the backpacker fraternity at the lake and has single rooms from $2 and doubles from $5, with a bar and restaurant, and a beautiful sunset view. E-mail him to book and get a discount and free pick-up. In addition, a percentage of all food and drink goes to a local children's fund. The photo below is of the balcony overlooking the lake. Update: Whilst the guesthouse is still operating, the lakeside view is disappearing fast as the lake gets filled in. Phanna has expanded his business interests and now co-owns the popular Sizzlers bar on Street 136. Contact Phanna at: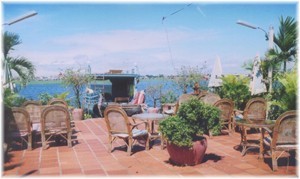 Telephone: (855) 012 725 032
e-mail: phanna2005@gmail.com
---
Sophal - in Phnom Penh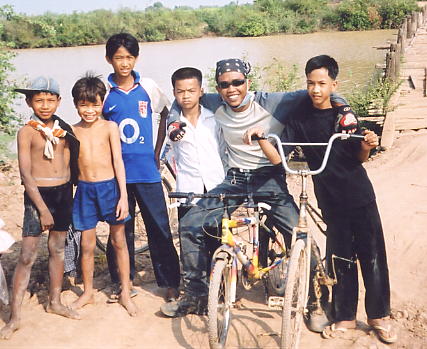 For five days of my January 2003 visit to Cambodia, I hooked up with Soum Sophal from Phnom Penh. Sophal rides a 250cc dirt-bike and we roared off into the Cambodian countryside to visit places like Prey Veng, Srei Santhor and the back roads of Kompong Cham and Takeo. He's an excellent driver and guide, his spoken English is very good and we had a great time visiting places he'd never seen before. I hooked up again with Sophal in January 2007 to find out that he's no longer working as a tour guide but is now the successful managing director of his own business in Phnom Penh called Bizy Beez. Sophal and his team now turn their hand to garden design and maintenance, commercial and domestic cleaning, handyman and construction services and removals and electrical work. You can contact Sophal on his mobile or by e-mail at:
Telephone: (855) 012 755 913
e-mail: bizybeezcambodia@yahoo.com.au
---
Comments that I've received from travellers who've used the driver-guides above include the following; Sandra said of Sokhom, "Sokhom was as marvellous as your recommendation. Thanks."
Bob wrote to me and said, "I want to thank you for recommending Rieng who, indeed, is a terrific guide and an even better person." Todd remarked, "I thoroughly enjoyed meeting Kim Rieng and he was an excellent guide." Bryan added, "I wanted to thank you for putting Rieng on your website. He is a great guide and person and we were so fortunate to have him guide us for our time in Siem Reap." Kitty enthused, "we really fell in love with Rieng and his father in law. His vibe was inspirational and we felt safe and extremely well taken care of the whole time."
Eddie followed up his trip with, "I used Ran whilst in Phnom Penh and Kim Rieng in Siem Reap. I was absolutely satisfied and happy with their services." 14 year old Brannan remarked, "Heang is probably the nicest guy you will ever meet. If it was not for his help during our trip to Cambodia our visit would not have been the same. He has a huge knowledge of Siem Reap and his infectious smile makes every minute you spend with him a pleasure."
Please note: To contact these individuals by telephone from outside Cambodia, dial your international access code followed by the country code of 855 then the local area code (minus the initial 0) then the six-digit number. The 012 local code denotes a mobile phone number. And don't expect a same-day response by e-mail as they may check their e-mail account only a couple of times each week.
---
Cambodia Tales :: Travel Companies :: E-mail
The contents of this website cannot be reproduced or copied without permission of the site author. © Andy Brouwer 2010