---
LOUNG UNG - A daughter of Cambodia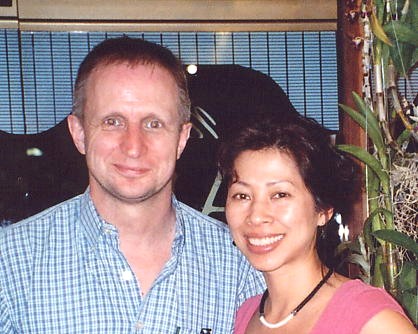 Andy Brouwer with Loung Ung, January 2007, Phnom Penh
An exclusive interview with Loung Ung
Celebrated author and human rights activist, Loung Ung (above), is the national spokesperson for the Campaign for a Landmine Free World, and she is also a survivor. Her first book, First They Killed My Father: A Daughter of Cambodia Remembers, is a powerful and compelling story of Ms Ung's young life under the genocidal Khmer Rouge regime of the 1970s. The book, published by Harper Collins in January 2000, has earned the author much praise and appearances on many talk shows in the US. In a spare moment during her hectic tour of colleges and lecture halls on behalf of the Vietnam Veterans of America Foundation and their landmine campaign, she found time to answer a few questions for Cambodia Tales:-
To set the scene, can you tell me briefly of your life before leaving Cambodia? "I was born into a war. I didn't know it at the time, but Cambodia, my native country was already gripped in a devastating civil war by the time I came into this world. The daughter of a Chinese mother and a Cambodian father who was a high official in the Lon Nol government, I was the sixth of seven children. My mother thought I was spoiled but my father thought I was clever. In my father's eyes, I could do no worng. I loved being my father's princess. I had a charmed childhood. In Phnom Penh, my siblings and I had everything we could want: maids, a comfortable home, pretty clothes, toys and education. But all that was to change forever after April 17th, 1975. I was just five years old when Pol Pot's Khmer Rouge stormed into Phnom Penh. Within hours, and clutching few possessions, my family was among the many hundreds of thousands of families forced at gunpoint to evacuate the city and made to live a new life. Over the next four genocidal years everything I knew of my old life was taken away from me. I was not allowed and did not have even the simplest of things: fresh clothes, cleaning my teeth, school, shoes, soap.... During those four years, Cambodia was like a prison, we were made to live in villages more akin to labor camps. In these camps, I had to learn to cheat, steal, fight and kill to survive. Survive I did....though the war claimed the lives of my parents, two sisters and twenty other relatives."
What has happened to you since arriving in the USA? "I was ten years old when I first came to the US and I wanted nothing to do with Cambodia. I wanted to be like all the other children in my class whose scariest nightmares were about being late for school. I wanted so much to fit in, to be normal....so I completely immersed myself into the American culture and became a child of American pop culture. I did not pay attention to news about Cambodia and when my sister Chou wrote to me, I never answered her letters. Though the war was there each night I closed my eyes and haunted my sleep, during the day I thought I was fine. I did well in America, I was a good student, made friends easily, played sports...on the surface, I was a normal kid. I thought I had succeeded in putting away.... Only years later, I found out that memories are never silent, whether or not I speak or write about it, they are always there. And sooner or later, they'll come boiling back up."
What was the catalyst for telling your story? How did your story, out of so many to come out of the Cambodian situation, make it into print? "I wrote the story because its always been there. It wouldn't go away no matter how hard I tried. But the catalysts for writing a book are my American born nieces. As I watched them grow up in America, I realized how little they know about Cambodia, the Khmer Rouge, the pain, the horrors....and the great people they never met. I wanted them to know what great people their grandparents and aunts were...and how hard they fought to live so that they might be here today to meet them. How we all fought so hard to live so we could be here today. Everybody has a story to tell. I sat down, decided I was going to sacrifice two years of my life, learn how to write and worked really hard to get it done. Writing a book is like running a marathon....lots of work, perseverance and endurance."
Your book has received rave reviews since its publication, have you been surprised at its success? "Yes, I have been very surprised by the responses to my book. I really had expected to sell 10 copies to friends and have it disappear into the literary blackhole that so many books go into. However, my book has already sold over 30,000 copies and continues to sell well. By the end of this year, early next year, it will be available in 13 languages and sold in as many countries! I still can't believe it."
Can you give me a flavour of the reaction to the book (pictured left) and what its meant to you? "For the most part, people have been very supportive. I've gotten hundreds of letters from people from all over the world thanking me for telling them about a genocide that happened in their lifetime but that they knew nothing about. The majority of letters from Cambodian natives echoed the same sentiment....that my story was theirs' as well. This I knew would happen. I knew my story was not a unique one....and that it mirrored millions of other Cambodians' stories. I've also received many letters from the Cambodian youths, those who were too young to remember, who were born in America or refugee camps....they thanked me for allowing them to understand a little more of what their parents and relatives went through. I have been very touched that people actually take the time to write to me. Of course, I've also received letters from people who believed that I should let the past be buried with the dead. We all have a right to our opinions. Though the negative letters hurt, there's not much I can do about it nor do I want to do anything about it. I'd rather spend my energy trying to do something positive than to fight against slanderous remarks."
Have you returned to Cambodia since leaving in 1980? Do you still have relatives there, and are they aware of your success? How strong are your ties with the country of your birth? "Yes, I have been back 8 times. I still have a brother, sister, aunts, uncles, grandmother....most of my family are still in Cambodia. In total there are about 100 Ungs there and another five in America. Yes, they are aware of the book and are very proud of it. They all helped a lot in the making and writing of the book. America is my home, but Cambodia will always be my heart. I hope to return one day to live. It is a very beautiful country with a rich history....the Khmer Rouge only ruled for four years....and the culture is over 1000 years old."
How did your involvement with VVAF and the landmine issue begin? What is your current role for the Campaign for a Landmine Free World, and what does that involve? "When I returned to Cambodia in 1995, there was not a place I traveled to where I did not see an amputee. After a little research, I found out how landmines are still killing hundreds of Cambodians every year, twenty years after the war. VVAF founded the International Campaign to Ban Landmines in 1991 and was the most influential human rights group working on the landmines issue. Furthermore, they have clinics in Cambodia that manufacture prosthetic limbs for victims of mines. I'm the spokesperson for the CLFW. Being the spokesperson, my mission is to increase public (and congressional) awareness on the issue. In the last three years, I've spoken to hundreds of events, conferences, universities and schools. I also help fundraise for our projects in Cambodia, Angola, Vietnam and Sierre Leone."
What is your hope for the future of Cambodia and its people? "I pray for stability, peace and prosperity for Cambodia. I also hope we'll be hearing our first trial against the Khmer Rouge leaders before the end of the year."
Additional on-line audio interviews can be found at the websites below:-
Click here to listen to a radio interview with Loung Ung by American broadcaster Diane Rehm, the talk radio host for WAMU in Washington DC.

Booknotes have a video interview with Loung Ung here.

An interview for the Catholic Communication Network/Maryknoll Channel is here.
Loung Ung accompanied the actress Angelina Jolie on her visit to Cambodia in 2001. Angelina Jolie has published her journal in Notes From My Travels, a paperback published by Simon & Schuster in 2003. You can read some of her journal, here.

Her memoir, First they Killed My Father – A Daughter of Cambodia Remembers, has won numerous awards and is available in translation in German, Dutch, Norwegian, Danish, French, Spanish, Italian, Cambodian and Japanese. Today, Loung is the National Spokesperson for the Campaign for a Landmine Free World, a program of the Nobel Peace Prize winning agency the Vietnam Veterans of America Foundation; and a noted speaker on Cambodia, child soldiers, refugee issues, and landmines. Selected by World Economic Forum as one of the 100 Global Leaders of Tomorrow, Loung has spoken widely to schools, universities, corporations, and conferences in the U.S. and internationally, including the UN Conference on Women in Beijing, China; UN Conference Against Racism in Durban, South Africa, and the Child Soldiers Conference in Kathmandu, Nepal. Loung has been featured in The New York Times, Washington Post, USA Today, Boston Globe, Biography Magazine, Ms. Magazine, London Sunday Times, and other publications worldwide. She has also appeared on National Public Radio's The Diane Rehm Show, Talk of the Nation, Weekend Edition and Fresh Air with Terry Gross, The Today Show with Matt Lauer and Katie Couric, as well as Nightline, ABC, CBS, NBC, CNN, Fox, C-SPAN and has been the subject of numerous television programs. To go to the official Loung Ung website, click here.
---
Loung Ung in the United Kingdom
Above: Loung Ung and Andy Brouwer at Waterstone's, Birmingham, England on 25 April 2001.
Loung Ung's book, First They Killed My Father, was published in the United Kingdom by Mainstream Publishing in April 2001. During a brief visit to England, where she conducted a series of media interviews, her only personal appearance took place at Waterstone's Bookstore in Birmingham on 25 April 2001. The publication of the book in at least a dozen different languages has enabled her to travel extensively across Europe and beyond and visits to Spain in May and France are just around the corner. One hope she has is that her book will one day be published in her own language of Khmer.
At the book reading session in Birmingham, Loung Ung gave a vivid and passionate description of her life as a child in Cambodia, before and after the takeover by the Khmer Rouge in 1975. She explained why she wrote the book in the style of a child narrator and read three short passages from her work. The most moving part of her story was a powerful account of how she was denied a normal childhood and lost some of the people she loved the most, like her father, mother and two sisters. For a long time, she couldn't understand why her mother had sent her away until she realised that had increased her own chance of survival. And survive, she did. As an orphan in a labour camp, she was trained as a child soldier. "When I was eight, instead of a baseball bat, I had a gun and was trained to run in a zig-zag line to avoid bullets." She was keen to point out that her story was just one of hundreds of thousands of children, whose own stories will never be heard. "If you had been living in Cambodia during this time, this would be your story too."
Fleeing Cambodia, she eventually resettled as a refugee in Vermont, USA in 1980 and began keeping a journal, later to become the basis for the book. In 1995, she returned to her homeland and was shocked at the number of amputees she saw. Determined to make a difference, she met Bobby Muller, founder of the Vietnam Veterans of America Foundation and became the activist she is today. Her role, as the spokesperson for the Campaign for a Landmine Free World, allows her the opportunity to tell the story of the Pol Pot legacy that continues to kill and cripple her countrymen, women and children and elsewhere across the globe in over 70 countries. She summed up the size of the problem; "landmines have killed more people than chemical, biological and nuclear weapons combined." Her book tells the tragic story of her early years. For the inspirational Loung Ung, I am sure there are many more chapters to be written.

Update: August 2002 was an important landmark for Loung Ung, as she married her childhood sweetheart Mark. 2003 saw the publication of her book translated into the Khmer language and its adoption across the school curriculum in her homeland. A very proud moment for Loung. During the latter part of the year and early 2004, she worked and resided in Cambodia whilst completing the manuscript for her second book, Lucky Child, about her life in America and her sister's life in Cambodia. Harper Collins are set to publish this follow-up book at the beginning of 2005. Loung told Cambodia Tales, "Though the first book was gut-wrenching to do, I really enjoyed writing the second. With the second, I found that I like this writing thing...so on to book three." Throughout 2004 she continued to speak at schools and universities across the United States.
Following on the successful publication in the USA of her second book, Lucky Child, in both hardback and paperback, the rights have been sold to Mainstream Publishing in the UK and Europe, and the book will be published as After They Killed Our Father, in Britain and Europe in March 2007. Loung spent a few days in the UK conducting press interviews to co-incide with the book's publication and will be back again in August for the Edinburgh International Book Festival.
You can find out more about Loung Ung, and contact her direct, by visiting her website:
---
Picture Scrapbook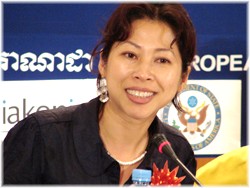 Loung Ung at a public forum in Phnom Penh, January 2007
Above: A selection of photographs of Loung Ung, activist and author [click to enlarge]. As she explains, "As I tell people about genocide, I get the opportunity to redeem myself. I've had the chance to do something that's worth my being alive."
---
Press Talk
... from the Phnom Penh Post - January 2004: Memoir of family divided by KR - Loung Ung, author of a memoir about surviving the Pot Pot years, hopes a Khmer Rouge Tribunal will help Cambodia...by Rachel Louise Snyder.
Loung Ung is the author of First They Killed My Father, a memoir about surviving the Pol Pot era. The book recounts the murders of both her parents and a younger sister, the starvation of another sister, as well as Loung's own indoctrination as a child soldier. She was assisted with the book by Rachel Louise Snyder, a journalist from the US. Loung Ung and I sprawl on the bed in the guest room of my Phnom Penh house with two of the magazines I brought from the US laid out before us: the New Yorker and Playboy. It is an almost impossible juxtaposition. The staid and the sexy. I had been trying to conduct An Actual Interview with her. A serious discussion on things like the Khmer Rouge Tribunal and the current lack of a government. But each time we began the verbal tête-à-tête, we were sidetracked by naked girls in mock Starbucks aprons or by fantastical musings on Johnny Depp or the fact that however unbelievable it may seem, we two are here together, giggling like gremlins on the bed in Loung's native country, a place we've talked of traveling to together for seven years. It is a country that haunted me after my first visit in 1996 and the land that nearly killed her.
She escaped in 1979 after the Vietnamese invaded and seized Phnom Penh. She came to America with an older brother who now lives with his family in the northeastern US. But for Loung, it is the family she left behind that consumes her, not just those like her parents who are buried anonymously in the countryside. As many as 100 of her other siblings and relatives still survive. "We need to encourage investment and gain investment credibility because Cambodia can not be a beggar's country forever.Now, about four years after the publication of her first book, she is in Cambodia on her longest stay yet writing her second book. It is about her life after the Khmer Rouge. It is the story of one child who grew up in the privileged classes of America and the other who became a wife and mother in rural Cambodia.
But to regain some semblance of modicum and feminist respectability, we close the Playboy and turn to a profile of Hillary Clinton in an October issue of the New Yorker. As a woman who has endured both worldwide humiliation by her husband's actions and quietly fought her way back to the respected ranks of politics, she earns high honors from both Loung and me. In any case, neither magazine can be ignored. They embody two sides of Loung's personality. She is an American down to her rollerblading, fitness club, movie-going self. She is a cosmopolitan woman, traveling, lecturing, expertly mingling in cocktail parties stacked with politicians and movie stars. She is friendly with both US Senator Patrick Leahy and Angelina Jolie of Tomb Raider fame. But she is also the Khmer girl buying green mangoes from stalls on dusty tracks. She is so protective of her surviving family that she does not mention in print who they are, where they live or what they do. There is a part of her that treads carefully on the unfamiliar footing of her modest fame, fearful as an eight-year-old soldier under Pol Pot.
The first time we spoke on the phone seven years ago, Loung and I immediately connected. We are the same age. We both lost our mothers when we were eight (hers to genocide, mine to cancer). We endured tumultuous years and emerged intact on the other side. I wrote several articles about her and eventually ended up editing Loung's memoir of her experience under the Khmer Rouge, First They Killed My Father. But it was our shared heartbreak that really connected us. We both credit our mothers for our own emotional survival as adults. Her mother, knowing that the family was targeted for execution, sent Loung and her siblings walking in different directions as 'orphans' so they would be taken in by a children's camp in early 1977. Undoubtedly, Loung's mother chose to hide behind propaganda instead of revealing the truth and certain death.
Loung's second book, the working title of which is Lucky Child, depicts the vastly different path her life has taken from that of her sister who remained in Cambodia. It illuminates how different two lives from a single family can be. That is its larger mission: comparing the refugee living in America to a refugee at home in Cambodia. Its smaller mission, Loung admits, is "a ruse to get my sister to talk to me about it". With just two years separating them, the two have visited together more than twenty times since Loung left Cambodia, but the conversations have generally not delved into those horrifying genocidal years. The book also examines the things that separate them, most profoundly the existence of alternatives. "I have choices," Loung says. "I can choose to have children or not to have children or adopt. With her you don't have that choice, you just have babies."
Further still, Loung can choose to visit Cambodia or stay at home. She chooses her job, her friends, an entire lifestyle unimaginable to her sister. But most importantly, she is free to express her voice in the wider world. What she does with her voice, in some small measure, is mend the fractured shards of a Cambodia she only remembers. She writes her story in the hopes that one day the Khmer Rouge Tribunal will occur inside a courtroom. "I support the whole process for practical reasons and for historical reasons," she says. "We need to encourage investment and gain investment credibility because Cambodia can not be a beggar's country forever. Also, we have no comprehensive forum where Cambodian voices can be heard, where someone in Battambang can hear what happened in Takeo... You don't want to talk about it until it serves a purpose." "I can choose to have children or not to have children or adopt. With her you don't have that choice, you just have babies."
For this she credits the work of Youk Chhang and the Documentation Center of Cambodia for gathering together the scattered memories of the atrocities. Through their work, a story like Loung's is now just one of five million recorded accounts. He and his staff have done more to reconcile the country than any international criminal court could achieve, says Loung."He has sacrificed so much for this country. His time, his energy, his spirit," she says. For Loung, the situation is pure pathos. She does not analyze the politics or place blame. She does not comment on who has held up the Tribunal or why or how the Khmer Rouge leaders might be more quickly prosecuted. She simply glances down at the black and white picture of a smiling Hillary Clinton, shakes her head and says: "I don't want to get my heart broken by Cambodia again."
---
Home :: Cambodia Tales :: E-mail
The contents of this website cannot be reproduced or copied without permission of the site author. © Andy Brouwer 2007