ANDYBROUWER.CO.UK
---
The Magic of Cambodia
- a celebration of Cambodia, its people and its culture
---
Saturday 17 August 2002
held at The George Pickering Postgraduate Centre, John Radcliffe Hospital, Headington, Oxford, England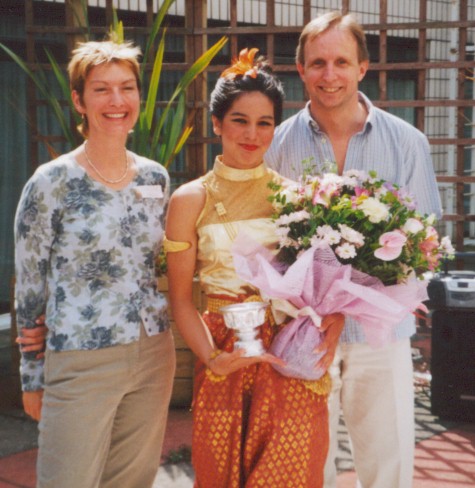 A review of The Magic of Cambodia event
Caroline and Andy, alongwith Chris Simpson, our audio-visual technician who gave up his time to ensure the day's presentations went without a hitch, arrived bright and early at the George Pickering Postgraduate centre before opening the doors at 9 o'clock, an hour before the scheduled start. First to arrive was Ed Rose, closely followed by representatives from the travel companies who busily set up their tradestands in a side room. Their contribution to the event was most welcome and their exhibitions reinforced the fact that Cambodia is a destination fast emerging from the tragedy of the last thirty years to embrace tourism and travellers from around the globe. We also welcomed representatives from CASUNIK, the Khmer organisation representing the Cambodian community in the UK and The Cambodia Trust, who both had small stalls selling Khmer handicrafts, not usually available in this country.
Sue Brouwer did a sterling job on the door, taking tickets, issuing name badges as well as selling official programmes, recipe books and the brand new Rough Guide and Lonely Planet guidebooks at discounted prices. The attendees started arriving soon after 9am, including Rogier and Jeannet from Amsterdam and we breathed an audible sigh of relief at the appearance of all of our speakers by the time we were ready to begin. Due to a few latecomers, we'd postponed the start for twenty minutes which gave the early arrivals the chance to grab a cup of tea and meet fellow enthusiasts out on the terrace whilst enjoying the glorious sunshine.
At 10.20, the conference room was full to overflowing when Andy began proceedings by welcoming everyone to the first Magic of Cambodia event, briefly explaining that the day was designed to promote the positive aspects of Cambodia and that all profits would be split between two charities, The Cambodia Trust and The Cambodian Arts & Scholarship Foundation. He waffled on with general housekeeping items before introducing the first speaker, Beverley Palmer, the author of the recently published Rough Guide to Cambodia and co-owner of the travel company, Same Same but Different. Beverley gave the audience an expert and indepth introduction to the temples of Angkor, the jewel in Cambodia's crown, complete with an extensive accompanying slideshow.
Beverley was followed by Anita Sach, a tour leader in Asia for many years and the author of the Bradt Guide to Cambodia. Her engaging talk was based on her early visits to Cambodia in the late 1980s and her personal experiences in the country, interspersed with her own excellent slides. Both speakers were enthusiastically received by the audience before we took a break. Everyone filed out of the conference room to grab a coffee and sit out on the terrace to watch a ten minute performance of The Wishing Dance, a classical Cambodian dance performed with grace and poise by 14 year old Kaliane Bradley from London. It was an accomplished exhibition and for many their first taste of Khmer dance. The interval also gave people the opportunity to spend time in the tradestand room and to chat to each other about their mutual interest in Cambodia.
The main event resumed in the conference hall with a question and answer session, chaired by Andy with a varied range of challenging questions posed by the audience and fielded by a panel that included Anita, Beverley, Debbie Watkins, one of the afternoon speakers and Caroline, our medical expert. Lunch was a little late arriving, so the questions continued until we wrapped up the morning session and broke for lunch at 1.30pm.
The majority of the audience sampled the delicious Cambodian cuisine provided by Wings, a Khmer restaurant in Oxford, out on the terrace, either chatting to their fellow attendees or visiting the tradestands until we re-assembled in the main hall at 2.30pm. A prize draw for lucky programme holders saw ten winners receive either a free Lonely Planet or Rough Guide book or some Kampot peppercorns donated by Beverley Palmer, before Caroline opened up the afternoon session with her own presentation on how to stay healthy in Cambodia. She knew from queries she receives and from questions on Andy's Forum, that travellers are really concerned about catching some kind of exotic disease in Cambodia. So she emphasized that, while it's necessary to take precautions against malaria, travellers are much more likely to suffer from an upset stomach, dehydration or sunstroke; she identified the need for planning in advance for vaccinations and getting proper medical advice, rather than relying on the backpackers' grapevine. There was a lively question and answer session, before we moved on to some contributions from members of the Cambodian community.
Moeng Phok showed a selection of his own beautiful photographs, before moving on to talk about the work of The Cambodia Trust, which provides prostheses and rehabilitation for victims of landmines and polio. He showed a beautifully filmed but heart-rending video, confirming what a very good cause we are donating half of our proceeds to. Heng Phalla Sambath was next and gave the audience an insight into the Cambodian community in the UK, and the aims of their society, CASUNIK.
Following a break for tea, Dr Gill Cruz gave a short talk on the work undertaken by the Sihanouk Hospital of Hope in Phnom Penh, especially their ground-breaking work in setting up a support group and outreach team for HIV sufferers and their families. Next was a thoroughly entertaining slideshow and talk by the husband and wife team of Tim and Liz Anderson, who returned early from their holiday in France, especially to be with us. Liz and Tim worked as VSO doctors in Phnom Penh in the early 1990s and Liz is the author of the book, Red Lights & Green Lizards.
Our final speaker was Debbie Watkins, who gave a moving and insightful account of her own personal experiences, which resulted in a complete change of lifestyle, from jet-setting city type to long-term Cambodia resident, and the adoption of a Khmer baby. Debbie runs a small tour company taking travellers around Cambodia with her husband Marc Lansu and her talk was accompanied by more beautiful photographs. Caroline ended proceedings at 5.30pm with heartfelt thanks to our speakers, our supporters (especially Chris, without whose expertise we would really have been floundering) and our enthusiastic audience.
If the congratulatory emails we've received since the event are an indicator, then our Magic of Cambodia day was a tremendous success and we're seriously considering repeating the event next year. One of the most pleasing aspects of all is that our two preferred charities will benefit to the tune of around £400 each, a very creditable sum in our view.
Event Co-organisers:
Andy Brouwer andy.brouwer@btinternet.com
Caroline Nixon caroline.nixon@btopenworld.com
August 2002
---
click on photo to enlarge
Main website: Andy Brouwer's Cambodia Tales
---
Cambodia Tales :: Stop Press :: Supporters
The contents of this website cannot be reproduced or copied without permission of the site author. (c) Andy Brouwer 2005