ANDYBROUWER.CO.UK
---
CAMBODIA TALES 2002
There's more to Phnom Penh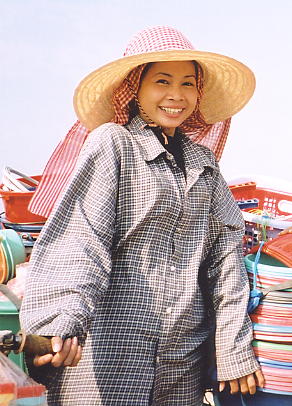 Photos to follow
I arrived in Kuala Lumpur on the same day as the Formula 1 motor-racing championship circus was in town. Just over an hour later, I was on a Malaysian Airlines' scheduled flight for Phnom Penh, arriving on time at 10.15am. Waiting to meet me was the nine-man visa application team and amid the confusion that always accompanies an arrival into Pochentong Airport, I was at the head of the queue to receive a brand new visa sticker in my passport. My reception committee waiting in the sun outside the arrivals lounge were my great friends, Phalla, Lina, Alis and Sokrom. We drove through the crazy Phnom Penh traffic to the Dara Reang Sey hotel where Ara was waiting to escort us to the family home in Tuol Kauk. I sat down to chicken soup with trimmings with all the family and played some games before driving to the home of Dara, a customs official and former neighbour, in Stung Meanchey for a few hours, where everyone was preparing a feast for that same evening. Returning to the hotel with Phalla, we briefly met Ran (real name Om Chamroeun) to plan a trip Angkor Borei the next morning and for a drive to view the sunset over Boeung Kak lake, only my second visit to that area since my first ever trip to Phnom Penh in 1994. We drove slowly through the main street with cheap backpacker guesthouses, hole in the wall cafes and shops and the largest density of foreigners outside the FCCC club. A recent fire had engulfed a few homes and the charred stilts gave us a clear view of the setting sun across the lake as we made friends with some local kids. We then drove to Dara's home where twenty adults and nearly as many children, in two sittings, enjoyed a veritable feast rounded off with a karaoke singalong. I returned to the hotel in time to watch a late night Leeds v Blackburn football match on satellite tv.
Up at 6am to meet Ran outside the hotel, we took off through Takhmau and along Highway 2, reaching Tonle Bati in an hour. We left the highway and headed towards and beyond Phnom Chisor and onto the village of Prey Krabas before taking a right turn along a dusty World Food Programme road. An hour later we reached the town of Angkor Borei and located the riverfront, where the town's museum is to be found. Angkor Borei was the capital of the Funan and Chenla kingdoms between the 5th and 8th centuries and was known as Vyadhapura before the rise to prominence of Angkor. Excavations in and around the ancient walled city have uncovered statues, lintels, pottery, jewellery and other artifacts though there is little visible above ground level. The ageing curator, Morm Hon was pleased to see us, unlocked the museum and flung open the wooden doors and windows to light up the two musty rooms. I handed over $1 and signed the visitors register, noticing that Nick Ray, the Lonely Planet editor had done the same just a week before. Amongst the glass-fronted cases containing the smaller items and sandstone replica statues of originals now housed in the National Museum in Phnom Penh, were a handful of authentic carvings, a large standing Buddha and three lintels, which particularly caught my eye. We thanked Morm Hon for his help and drove to a nearby pagoda, Wat Kom Nu, where excavations have uncovered two large but damaged lintels and other items, and where our visit attracted most of the nearby school's complement of inquisitive children.
Returning to the Prek Angkor riverfront, and with the large steel bridge under repair, we loaded the moto onto a watertaxi to reach the far bank and then a fifteen minute ride to Phnom Da. The area is underwater for much of the year and access to the hill and the 6th century laterite temple that sits on top, is usually by boat. The hill and temple dominate the flat landscape and as we parked the moto and paid a $2 admission fee, we were joined by three youngsters for the climb up the 150 steps. Passing three artificial caves, one of which contained three sandstone yoni, the views across the surrounding green fields and water channels were excellent and the imposing single square tower, Prasat Phnom Da, was in good condition. Our three guides, Noeun (aged 14), Tha (9) and Om (7) kept up a constant barrage of chatter as I studied the external carvings and the broken pedestals inside. We walked down the hill and scrambled up a smaller hillock to visit Asram Maha Rusei, a distinctively small 7th century grey laterite tower with an inside wall just wide enough to squeeze through. We stopped for a cold drink with our three new pals and a chat with the locals at the village drinks shop, where Ran explained that he was born in Sisophon thirty-two years ago and moved to the capital in order to study and better himself in 1991. He's now qualified as a guide, works part-time for the adventure company Intrepid and fills in as a moto-driver in order to look after his wife and two young daughters.
It was 11.30am when we began our return to Angkor Borei and an hour later we paused at the foot of Phnom Chisor for a sweetened sugar cane drink. On the return to Phnom Penh and a few kilometres past Tonle Bati, we took a left fork along a sandy road to Wat Preah Theat. In the grounds of an abandoned pagoda were two pre-Angkor lintels and the remains of an early prasat next to a large bell-shaped stupa. A few kilometres further down the road, we came to Vat Prasat, where a whitewash-painted brick temple with an attractive lintel was at least 300 years old according to the 92 year old monk who showed us the tower in a leafy corner of a modern pagoda compound. I was back in my hotel by 4.30pm after a whistle-stop visit to the central market. My main meal of the day was a couple of hours later at the Rendezvous cafe on Sisowath Quay and after e-mailing my wife to confirm my safe arrival in Cambodia, I was in bed by 9pm to catch up on my sleep.
The agenda for my third day was a varied one. I kicked it off with a 7am start and Ran drove us out over the Japanese Bridge and through Preak Leap to the ferry jetty at Russei Keo, with the islands of Koh Dach and Oknhatey as our destination. The ferry was packed with locals and their moto's, bicycle's and produce, it cost 1,000 riel per person and 1,500 riel for our moto and took fifteen minutes to negotiate the wide expanse of the Mekong river. We landed on Oknhatey, which is also called Mekong Island and is well known locally for its silk-weaving and attractive female weavers. I found out that both are to be found in plentiful numbers as we drove slowly though the shaded villages, acknowledging the waves of the friendly inhabitants. Each house, built on stilts to protect it from flooding, has at least two or three weaving looms occupying the ground floor. We stopped at a couple of houses to watch the girls at work, weaving a variety of colourful kramas and sampots. They start at 6am each morning, before the day starts to hot up, and usually finish around 5pm. The girls we met were very shy though certainly lived up to Oknhatey's claim to beauty. The island is covered in fields of papaya, tomatoes, egg-plant and bananas and we drove through these before we reached Wat Kabal Koh and the noisy schoolrooms in the grounds of the pagoda. Our pleasant drive continued to the eastern end of the island where the Mekong Island resort is located but no longer open for business. Boat trips from the Cambodiana Hotel used to ferry well-heeled tourists to the resort to enjoy the small zoo, Khmer food, crafts and traditional dancing, in an apparent authentic setting, set behind a barbed-wire fence. However, it's now closed and falling into disrepair.
Reaching the farthest point on Oknhatey, we crossed a sandbank causeway that took us to Koh Dach island. This route is only possible in the dry season and on the sandbar we met two young girls with beautiful smiles, pushing their bicycles, brimming with plastic coloured bowls. At that moment, one of the girls lost her grip and her cycle crashed to the floor, scattering her wares in all directions. I helped pick up the bowls as the two girls, Dany and Kim Hoy, told us they came from Prey Veng province and were staying with friends near Phnom Penh. Their smiles were dazzling and amid the giggles, they said I was the first foreigner they'd ever met. Koh Dach island was similar to Oknhatey. Quiet and rural, with lots of tobacco plants visible, most of the houses had silk looms, where I spotted a few male weavers amongst the women, as we rode around the island. At Wat Krapom Pich, a ruined vihara overlooked the Mekong and at the northern end of the island we found a beach area with picnic huts and hammocks on a large sandbank, with a few small foodstalls closeby. Ran assured me that it was a hive of activity at weekends, though at 11am on a Tuesday morning, we were the only visitors. We caught the ferry back to the mainland soon after and I returned to the hotel for a cold drink prior to a mid-day pick up by my newly-married friends, Peter and Veasna Leth, for lunch. Peter and Veasna live and work in Phnom Penh and in their spare time, they help run the Cambodian Arts & Scholarship Foundation, a charity designed to give young Khmer girls an education. Peter's main job is in education whilst Veasna works in human rights. Over lunch on the balcony of the Ponlok restaurant, looking out across the Tonle Sap river, we talked about their charity work and leafed through the photo album from their traditional Cambodian wedding just a month before.
To round off the afternoon, I spent a couple of hours wandering around the exhibit halls of the National Museum, one of my favoured haunts in the capital. I never tire of seeing the incredible collection of statues, lintels, carvings and artifacts that are on show. A cold drink at the nearby FCCC followed, while a walk along the riverfront promenade introduced me to Dorit, a travel agent from Israel and Maret, her moto-driver, who was keen to practice his English. I returned to the hotel at 7pm after an early dinner at the Rendezvous cafe and enjoyed a chat with Reangsey and Sok Srun, the hotel's owners. They told me that the family had originally bought the restaurant, then the flats above before converting it into the hotel in 1993. Business was now booming and even more rooms were planned for the future. While we spoke, a gentleman introduced himself as Mark Byrne. An Aussie, he'd read my tales on the internet and recognised me from my photo and a brief exchange of e-mails. Phalla arrived at 9pm to ferry me to the home of my friends in Tuol Kauk, for a couple of hours of chatting and games and back again, before a 10.30pm lights-out in preparation for my trip to Siem Reap early next morning.
With Siem Reap now a distant memory, but my Preah Vihear excursion still occupying my thoughts due to my aching bones, the share-taxi from Kompong Thom delivered me back to the Dara Reang Sey by 11am. We'd left at eight am and I'd bought the front seats, with another four passengers in the rear. Without the safety of a seat-belt, the dodging of oncoming trucks, vans and cars took on the surrealism of a computer game that my son plays at home. Sitting in the front seat of a Cambodian car or truck is not a good idea for anyone with a nervous disposition. From Skun onwards, my Khmer companions looked bemused with my choice of music blaring from the car stereo, namely Billy Bragg, but the driver, Nimith, smiled incessantly and even increased his over-taking manoeuvres to match the tempo. I was glad to step out of the car in one piece. For lunch, I met my brother Tim and Andrea, his girlfriend, at the Rendezvous cafe on Sisowath Quay. For the rest of the afternoon, I was their guide as we enjoyed the pleasures of the Royal Palace compound including a fleeting glimpse of the King as he left his private quarters for a walk with his entourage. He waved as a group of schoolchildren visiting the Throne Hall clapped with great reverence. My companions agreed that the Throne Hall and the Napoleon Pavilion were particularly impressive, as was the Silver Pagoda. The National Museum was our next stop and again, I took on the role of tour-guide, having visited the Museum many times myself before we popped into the FCCC for a cold drink.
Returning to my hotel, I met up with Phanna, who'd been my youthful guide in Kratie a couple of years earlier and was now working in the capital with the intention of getting a university placing. Tim and Andrea arrived at 7pm and we took moto's to the plush Hotel La Royal for cocktails in the Elephant Bar, accompanied by a jazz pianist. After our brief taste of the highlife, we returned to the riverside area and had dinner at the pleasant Globe restaurant before finishing off the evening with late drinks at the Hotel Cambodiana. Invited by friends to an early breakfast and a swim at the L'Imprevu motel, 6kms south of the city, the morning flew by and that evening I took twelve of my Tuol Kauk family and pals to dinner at the Ta Ta restaurant across the Japanese Bridge in Prek Leap. Under a full moon, we enjoyed a variety of dishes and watched the resident band and six female singers strut their stuff til late into the evening. The next morning, my final one in Cambodia, I said my goodbyes to the friendly staff at the Dara hotel and visited a fruit farm, a mini oasis amongst barren ricefields, owned by friends in Kien Svay, some 30kms south of Phnom Penh. I reached Pochentong airport in good time for my 4pm flight and waiting to wave me off were three of my closest friends, Ara, Lina and Alis. My latest visit to Cambodia was over but as always, I took home with me great memories.
---
Here's links to the rest of my Cambodia Tales.
March 2002 marked my eighth trip to Cambodia since my first-ever visit in 1994. It's a country that has a special magic all of its own and which draws me back every year to venture out into the Cambodian countryside in search of new adventures, ancient temples and to catch up with the friends I've made from previous visits. Each trip is full of laughter, smiles and a host of fresh experiences and my latest expedition was no exception.
---
Home : Next : Messageboard : E-mail
The contents of this website cannot be reproduced or copied without permission of the site author. (c) Andy Brouwer 2005