ANDYBROUWER.CO.UK
---
ROY HILL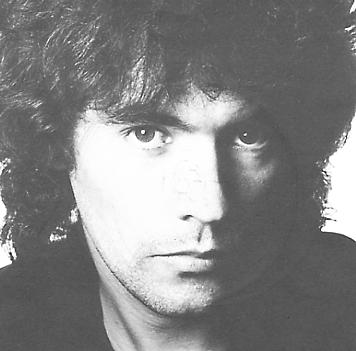 Roy Hill was going to be big in the late Seventies. It was a certainty. He had all the trappings of a star, good looks, charm and stage presence, his live shows were great fun and he could belt out a song. He released his solo album in 1978, as well as three singles, all on the Arista record label. It was only a matter of time before one of his singles charted, he'd appear on Top of the Pops and the music world would be at the feet of this British rocker. But it never quite happened.
Roy, in his mid-twenties, shot to prominence in 1977 when he won a Melody Maker music contest and gave up his day job to give the rock lifestyle his best shot. The demos that convinced Arista to sign him onto their label roster were recorded on a rented mono tape deck. Donald Clarke in his book The Rise and Fall of Popular Music recalls, 'There were demo tapes by Roy Hill that sounded good enough to release; tough, spare, inexorable urban laments full of sexual and social grief.' Roy was living in the sleepy Spa town of Cheltenham at the time, having moved from Ledbury where he'd learnt to play the electric guitar from scratch and gigged in local pubs, clubs and dances with friends Brian Morris, Chris Smith and Jim Wilkins in bands called The Upways and The Crestas.
Arista released a single, Marionettes, a slant on the music business, as a warm-up before the debut album, rather unimaginatively titled Roy Hill, was released on the record-buying public. History records that the album's ten tracks, all penned by Roy, received positive praise in the music press at the time despite what some felt was a fairly lightweight and syrupy debut offering. Joining Roy in the studio for the album sessions were Eric Clapton's bassist Dave Markee, Tim Renwick and Martin Jenner on guitars, Bimbo Acock on saxophone, Dave Mattacks (drums), alongwith Pete Wingfield and Billy Livsey on piano and Ray Cooper (percussion). Legendary producer Gus Dudgeon (best known for his collaborations with Elton John, The Beach Boys, David Bowie, XTC and more) was the man at the helm for the album though Donald Clarke's book laments, 'But the album was a party record and grossly overproduced by Gus Dudgeon, a flavour of the month in the late 1970s. It went well over budget, sank without a trace and Hill never made another.' Dudgeon was also behind Roy's second single release, George's Bar, the second track lifted from the album. Released in April to coincide with the album, it was unflatteringly tagged as 'diluted calypso drivel' in an NME review at the time. Too harsh. It was a good time, party song, no more, no less. Both singles frustratingly failed to make the Top 40 singles chart.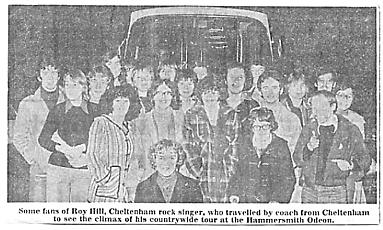 The early part of 1978 had promised so much. Arista stablemates, The Strawbs, had taken Roy and his band on tour with them after Strawbs' frontman Dave Cousins had spotted Roy playing on a children's television show and called to offer him the support slot on their Deadlines album tour. The tour kicked off in December 1977 and took in mainly college venues, climaxing with a major London show at the Hammersmith Odeon in February 1978. As a Stawbs fan myself, I joined a coachload of Roy Hill devotees for the trip from Cheltenham to London for the Hammersmith gig and found myself immediately hooked by the catchy singalong set-list pumped out by Roy and his band. Days later, I met Roy whilst walking along London Road in Cheltenham and stopped for a chat, wishing him every success and fully expecting him to make the big-time very soon. He was already a popular artist in and around the West Country and I fondly recall local shows at The Everyman Theatre, Technical College and The Plough in Cheltenham being completely sold out. Two appearances on the popular television music show Revolver in July and August did him no harm either.
The Roy Hill Band line-up in early 1978 consisted of Roy on vocals and rhythm guitar and Pete 'Bimbo' Acock on saxophone, alongwith Jamie West-Oram (lead guitar), Mike Taylor (keyboards), Colin Wilkinson (drums) and bassist Steve Shone. The Strawbs tour was a success, the album was out and the singles were getting regular airplay on national radio. He was on a crest of a wave, his star was rising, surely there was no stopping him now. Roy and his band supported American rockers Styx for five consecutive nights in early May at the top venues in Manchester, Birmingham, Liverpool, Sheffield and London, with a return to Hammersmith Odeon. They then kicked off their own 19-date tour at Bangor on 17 May, closing at The Everyman Theatre in Cheltenham on 23 June, showcasing his recent album and single releases. A quote from Melody Maker was used to advertise the tour; 'If you see Roy Hill listed on the bill, trot along and do your lugholes a favour.' Eminent Radio 1 dj John Peel aired a live session with Roy and his band on 27 June, where they were due to play tracks from the album but Roy had other ideas, and preferred to try out five new songs instead. The line-up of Hill, Acock, Wilkinson, Taylor, Gary Twigg (bass) and Ross McGeeny (lead guitar) performed It Can Take A Lifetime, Melody Avenue, I Like I Like I Like, More and Its Only My Life. Before the year was out, a third single, I Like I Like I Like, produced by Davy Rohl, chief engineer at Strawberry Studios in Stockport, was released. Rohl had worked with Marc Bolan, Thin Lizzy, Barclay James Harvest and later became a tv presenter in his other guise as a renowned Egyptologist. Reviewed by Tony Parsons in NME on 4 November, he comments, "I like the way Roy Hill takes the piss out of rock and roll's sexual mores, social manners, tribal customs, etc..." Parsons chooses the release as his single of the week and declares, "...and what I really like is for the rest of the world to quit this Roy Who? bullshit and recognise the geezer as one of our greatest songwriters with no eyebrows raised. He's written far better songs than this one, see, and it still wipes the floor with the best of the rest this week." However, despite the positive critical reception, it failed to chart like the two previous releases.
(Above): Two 1978 publicity shots of the man himself.
The NME's Tony Parsons ended the year with a two-page article extolling Roy's virtues in which he amusingly called him, 'perfect puberty bedroom-poster fodder for disillusioned David Essex disciples, tall, moody and hunky, his standard good-looks just the right side of Spanish waiter.' Elsewhere in the article, Parsons conjured up another vision of Roy as, 'the Ambre Solaire refuge vocalist trying his hardest to look smouldering and Mediterranean.' High praise indeed! At the same time, Roy entered into fatherhood when wife Chrissie, a teacher, delivered a baby boy they called Jamie. With the Strawbs in temporary hibernation, bassist Chas Cronk and drummer Tony Fernandez joined Roy in January 1979 when he took a new line-up on a tour of colleges and concert halls around the country. Roy's band for the tour was completed by Mike Taylor on keyboards and the ever-present Bimbo Acock on sax and flute. A second John Peel Radio 1 live session was aired on 9 April with John Knightsbridge joining the line-up on lead guitar and performing the tracks, Baby Don't Pretend, Small Adventurer, The Loser and TV Detective. Another short tour in May & June was also well received but surprisingly, the expected breakthrough never materialised and Roy's fall from grace as a solo star was as rapid as his ascent. There were no further single releases or the anticipated second album and in 1980 Arista dropped him from their roster. It was a major disappointment for his Cheltenham fanbase, and for Roy, there were unconfirmed reports that he took himself off to the States to lick his wounds and to plan his next move.
In July 1980, Dave Cousins shocked the Strawbs by announcing he was leaving the band to start a career in local radio. At his suggestion and with his blessing, Roy was recruited as the replacement lead vocalist. Cousins recalls, "when I went into the radio business, there were certain contracts that had to be fulfilled. I had the bright idea of bringing in my pal Roy Hill because I thought he was a wonderful singer and he'd supported us on tour before. I said 'Look, I can't do these gigs and I don't want to do them, but I recommend you bring Roy in.' And they did. They did three or four gigs and that was it. Roy sings on The Bridge, so we've remained friends despite the fact that he didn't like singing Strawbs material. [laughs]" Joining Roy in the Strawbs line-up was his faithful sax player Bimbo and guitarist John Knightsbridge. However, the liaison was short-lived as the line-up - also including Brian Willoughby, Chas Cronk, Tony Fernandez and Andy Richards - lasted just two shows before the band called it a day. Roy's brief flirtation was over almost before it had begun. A management deal with Queen's Manager, Jim Beach, promised much and there were hushed whispers of a mythical second solo album from Roy being recorded in Switzerland in 1981 that included tracks such as One Time, Without Eddie, Don't Leave Me Here and Fashion (including an acapella monologue by actor Anthony Head), though nothing has so far surfaced from the recordings, however, the seed had been sown for the next chapter in Roy's musical journey.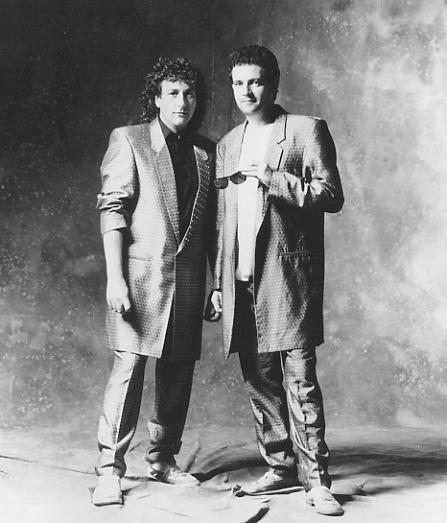 Roy spent a part of 1983 and 1984 writing material, around twelve songs, with former Genesis guitarist Anthony Phillips including Tears On The Ballroom Floor which was picked up and covered by Bucks Fizz on their album, I Hear Talk. Another one called Distant Heart was due to be recorded by Roger Daltrey but the album was cancelled. A year later, Roy teamed up with Strawbs' bassist Chas Cronk to form a new outfit that they called Cry No More. They released their first single, also called Cry No More, which they wrote, played, pressed, financed and printed the labels for whilst playing colleges, theatres and pubs where audience participation was actively encouraged. Within twelve months they released their first Parlophone single, Dancing In the Danger Zone, which was passed over by daytime radio due to its subject matter, and LP, titled Smile, on Coldharbour Records and after signing to EMI Records (in The Southampton pub in Surbiton), they delivered their self-titled album, Cry No More, in August 1987. They had also supplied the soundtrack for the 1986 British horror movie, Bloody New Year and both Roy and Chas had bit-parts in the low-budget production. The soundtrack included the songs Recipe For Romance, Boys Don't Cry, Caveman Rock, Jenny, You're Not Fooling Me, Every Single Time and When Love Is Not Enough.
In an interview, former Steve Hackett keyboardist Nick Magnus fondly recalled his time with Cry No More. "Yes, in '86 and '87 I did 2 tours. I joined a band with bassist Chas Cronk (ex-Strawbs) with his friend, songwriter Roy Hill. The two of them used to go out and gig as a two-piece and I ended up sitting in as a guest sometimes. But this was playing drums on octopads, not keyboards, so I never had to learn the pieces. I ended up getting quite involved with them and they ended up getting a name, Cry No More. We got a record deal with EMI. This time I was playing keyboards as well and we ended up doing a support tour with Suzanne Vega. We had a single out called 'Tears on the Ballroom Floor'. The live act was 70% comedy, 30% serious. That's what Roy was, and is, so good at - he should have a TV show of his own. I ended up on stage playing both drums and keyboards, sometimes simultaneously, and being in the early midi days things invariably went wrong. These were the times Roy most looked forward to. He would just step in front of the mike and do a monologue, which was what most of the audience were waiting for anyway! The second tour in '87 was supporting John Martyn. They made two albums with EMI but unfortunately I was not on them."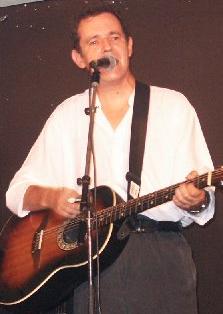 In fact, Cry No More supported Suzanne Vega on her 15-date 'Marlene On The Wall' UK tour in November 1986 including two dates at The Royal Albert Hall. The following September, they supported guitarist John Martyn during his 27-date UK and Irish tour. A string of singles followed, then two years later, in 1989, a second album for EMI, Love and Power, was released in Germany after they'd had chart success with the single, Oh Sharon! The band had wound down by the end of 1994 with Roy and Chas performing together only on an occasional basis, usually in the months leading up to Christmas, in and around their Twickenham heartland. They did hit the road again in 2002, when they supported Marillion on a seven-date European tour but the flourish was short-lived. The all too-infrequent Cry No More gigs are strongly supported when they take place and Roy is renowned for his comic monologues during their set. You can read a series of gig reviews here.
I had the pleasure of attending their 18 December 2004 gig - their 20th anniversary concert - at the Turks Head in Twickenham and saw at first-hand, the enthusiastic singalong party atmosphere they generate. The audience knew every word of every song, joined in heartily with every chorus and revelled in the bawdy and offbeat humour. Roy and Chas delved into the extensive Cry No More back-catalogue at will, including songs like First Kiss, Fashion, Don't Leave Me Here, I Love Roxy and Mr Templar, as well as three of Roy's compositions from the late 70's, George's Bar, I Like I Like I Like and Taller of The Two. Great entertainment - the perfect Christmas present from the duo to their devoted fans and friends. They reconvened at the Red Lion in Isleworth two days after Christmas Day and gave another powerful performance, this time adding early Hill creations, Piccadilly Lights and She Sits Alone, for good measure. 17 December 2005 signalled their annual 'Christmas Cracker' at the Turks Head and a packed audience revelled in two hours of fun and frolics, no less than 28 songs and more ad-libbing than you can shake a stick at. The Royal Oak in Hampton on 30 December saw part-two of their 2005 offering - another wonderful experience for those present.
Roy also guested on vocals on the Dave Cousins and Brian Willoughby 1993 album The Bridge, joined in the Strawbs 30th anniversary concert at Chiswick in August 1998 and appeared on their 2003 studio album, Blue Angel. He has continued to write and aided by his son Jamie, is compiling material for a CD of brand new music, which is scheduled for release sometime in 2008. Cry No More launched into their usual magic box of tricks at their Christmas reunion at the Turks Head on 23 December 2006, to an adoring and vociferous crowd. They returned again in December 2007 for another 'final show'. In 2008 Roy dusted off some of his self-penned songs from his back catalogue, many of which have never previously been released, and produced the first of a series of CDs with the issue of Hello Sailor and Fun With Dave. More CDs are expected alongwith a DVD release - keep your eyes and ears peeled. Roy lives in Sevenoaks, Kent with his partner, Celia Kench, hot-air balloonist and co-presenter of the Discovery Wings television programme, Flightline.
========================================
CRY NO MORE - THE CHRISTMAS PARTY 2006
took place on Saturday 23rd December - Click here for a review
========================================
(Above): Roy in 1978 (left) advertising his solo album, and 1989 (right) from the Love & Power album sleeve.
ROY HILL DISCOGRAPHY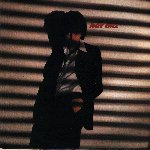 Albums:
Roy Hill (1978): [side one] Join Me; When The Time Came; The Boys Would Like You To Know; She Sits Alone; After Tonight; [side two] George's Bar; Dance Into My Heart; Marionettes; Liner To Tangiers; Piccadilly Lights. [Arista Records]
Hello Sailor (1976-77): Join Me; Get To The Lieutenant; George's Bar; Keep Away From Me; Down In The Cellar; The Boys Would Like You To Know; I Try Not To Hear; Window: More; Piccadilly Lights; Singing At The Wheel; Watching The Diamond Disappear. [Deepdene Records]
Fun With Dave (1983-84): Jenny takes A First Look At Life; Man Overboard; Marion Jones; Small Adventurer; Sleeping With Ghosts; It Just Might Happen To You; Superheroes; The Man To Blame; Falling; Without Eddie; Every Single Time; Don't Leave Me Here. [Deepdene Records]
Singles:
(A) Marionettes (B) More (1978)
(A) George's Bar (B) He's Coming Back (1978)
(A) I Like, I Like, I Like (B) Taller Of The Two (1978)
CRY NO MORE DISCOGRAPHY
Albums:
Smile (1986): Cry No More; Dancing In The Danger Zone; Fashion; Jimmie & Johnnie; Don't Leave Me Here; Tears On The Ballroom Floor; Quality Street; I Love Roxy; Life In Hollywood; On Holiday; Edward. [Cold Harbour Records]
Cry No More (1987): Cry No More; You Don't Hurt; Tears On The Ballroom Floor; Recipe For Romance; Oh Bessie; Real Love; Every Single Time; Marion Jones; Hit The Big Drum; Don't Leave Me Here. [EMI Records]
Love & Power (1989): First Kiss; Radio Nowhere; Landslide; Better Days; Peace In Our Time; Big Car; One Serious Thing; Oh Sharon!; The Gambler; Sleep. [EMI Records]
ROY HILL LINKS
The Roy Hill Archive - is a mix of press cuttings, personal memories and mementoes...contributions are welcome : Click here
Roy Hill Live!: Click here
Roy Hill Lyrics: Click here
Related websites: Cry No More : The Strawbs
---
Home : Archive : Live! : Lyrics : E-mail
The contents of this website cannot be reproduced or copied without permission of the site author. (c) Andy Brouwer 2008
Thanks to Roy Hill, and Dick Greener at Strawbsweb and CryNoMore for the inspiration.