ANDYBROUWER.CO.UK
---
TONY HINNIGAN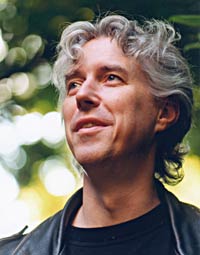 Tony Hinnigan is a man in demand for his musical talent. An accomplished cellist, he is also a renowned expert on indigenous Andean wind instruments amongst his plethora of talents. Since 1985, he's been sought by a host of heavyweight film soundtrack composers such as James Horner, Michael Nyman, John Williams and Ennio Morricone for his versatility in style and expertise. It was his penny whistle that accompanied Celine Dion on her massive hit single, My Heart Will Go On, from the blockbuster film, Titanic. His panpipes were the backbone of the haunting and evocative sound from The Mission and his soulful flute and whistle melodies stirred the senses in the action-packed Braveheart, just to name a few.
For Tony Hinnigan, born in Glasgow in the late Fifties, it really began to happen in 1972 when he and Mike Taylor arrived in London, from Scotland and Belfast respectively. They took time off from their classical studies at the Guildhall School of Music and the Royal College of Music to explore their mutual interest in a wide variety of music. In 1981 they were commissioned by the Ballet Rambert and Christopher Bruce to write some Andean music for a show they were to perform, called Ghost Dances. When it came to researching the sound, both Taylor and Hinnigan were hooked. As Hinnigan explains, "It was like nothing we'd heard before. It was like hearing R&B for the first time, so great was the impact. We went for it full throttle." The two were attracted to all acoustic instruments and became proficient players of the panpipes, flutes and Andean percussion and a recording contract was offered by the Beggar's Banquet label before the band had even been named! "We were playing around with the word Inca and wanted to get a pun on that," recalls Hinnigan. "Someone suggested Stinca, but we rejected that. Incantation was more acceptable."
In 1982 and now known to all as Incantation , they quickly came to prominence both at home and abroad with the joint release of their debut album, On The Wing of A Condor (or variously known as Cacharpaya or Panpies of The Andes) and single, Cacharpaya, an Andean festival tune, in October of that year. Perhaps suprisingly for an instrumental outfit, the single reached twelfth spot in the charts while the album, with memorable tunes like Dolencias, Papel De Plata and Friends of The Andes, made the UK Top Ten and stayed in the charts for over six months, selling in excess of 300,000 copies. It was a stunning start for the band line-up of Simon Rogers, Chris Swithinbank and Forbes Henderson alongside the gifted and classically-trained duo of Taylor and Hinnigan, who've since gone on to have three gold albums since their debut.
They followed their initial success with subsequent album releases of mainly Andean and Latin American compositions - Dance of The Flames (1983) which included El Condor Pasa, Cutimuy and Atahuallpa, Virgins of The Sun (1984), Panpipes of The Andes - The Best of Incantation (1986) and the more diverse The Meeting (1987), interspersing their studio work with regular live performances and extending their repertoire into television and film-work.
Of the latter, their first foray into the world of film soundtracks took place in 1985 and the music from The Mission, a film set in the rainforests of South America and directed by Roland Joffe. The superb film score was penned by the Italian master Ennio Morricone and tracks like Gabriel's Oboe and On Earth As It Is In Heaven were brought to life by the vivid and imaginative instrumentation of Incantation and the excellent orchestration of the London Philharmonic. It was later to attract an Oscar nomination for its soundtrack while collecting Golden Globe and BAFTA awards and best score at the Cannes film festival. The initial contact with Ennio Morricone came out of the blue when the film's production company, Goldcrest Films rang and asked founder members Taylor and Hinnigan to go and meet him. As Taylor recalls, "Tony and myself did all the Indian instrumentation on The Mission as the South American members of the band at the time didn't read music. They were involved only in some percussion work. It took two days - some time with the orchestra, the rest of the time overdubbing. Mr Morricone had me hitting the bombo (large drum) so hard and for so long - my fingers bled!"
Morricone himself, not only composed the score but also arranged the orchestration and conducted the London Philharmonic during the recording which took place in the Wembley studios of CTS in late 1985. "He is typically Italian - mildly eccentric, extremely intense, shouts a lot and is also a genius and an extremely nice man behind all the front!.......obviously working with him was a pleasure and an honour," recalls Taylor in admiration of his collaboration with the Italian maestro. Morricone obviously has a high regard for Taylor's talents as well, incorporating his solo flute in the score for the 1992 Patrick Swayze film set in India, City of Joy.
Their success with The Mission brought Hinnigan and Taylor to the attention of other leading film composers and they subsequently collaborated on at least a dozen films with the American Oscar-winning composer James Horner, including Willow, Land Before Time, Field of Dreams, Honey I Shrunk The Kids, House of Cards, Once Upon a Forest, Jumanji, two Harrison Ford thrillers, Patriot Games and Clear and Present Danger, as well as Legends of the Fall and the stirring Braveheart. Other film scores on which the duo have participated include Far & Away (with John Williams), Farewell To The King (Basil Poledouris), A Handful of Dust (George Fenton), Wings of Courage and David Newman's The Phantom, not to mention numerous television programmes and adverts.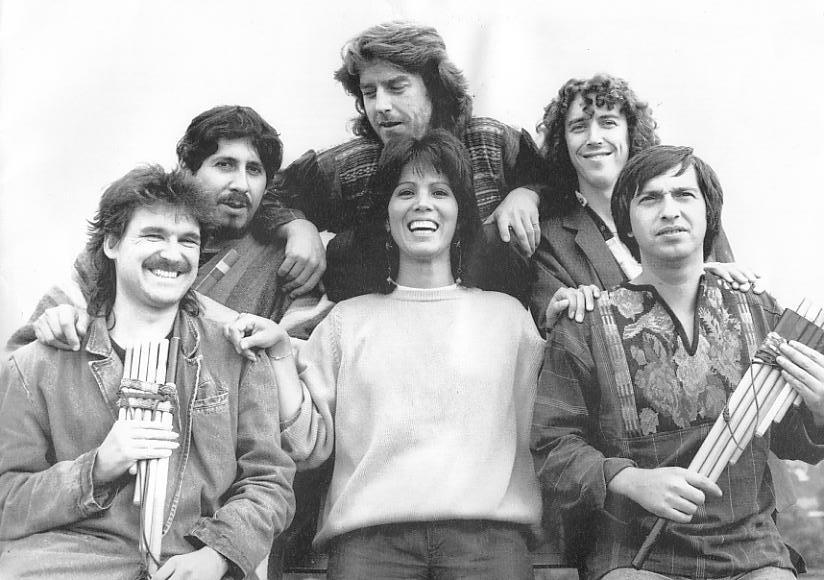 As a group Incantation toured extensively in the UK, Europe, the Middle East as well as North and South America. Whilst in Peru and Bolivia, a 60-minute documentary about the band was filmed for Channel 4 in 1984. Two members (Rogers and Swithinbank) of the original line-up left the group in January 1985 and the three remaining members were joined by three Chilean exiles, Claudia Figuerora, Sergio Avila and Mauricio Venegas, who themselves performed together in their own band, Quimantu. A compilation album, The Best of Incantation was released in December 1985 and in excess of 125,000 copies were sold. Taylor and Hinnigan took a four-year break from touring and live performances to concentrate on their film and tv work. In 1992 they appeared on Jeff Wayne' s musical version of Spartacus. Reforming the band in 1993 as a seven-piece outfit, without the involvement of the Chilean trio, they completed a 27-date national tour to promote their sixth album, On Gentle Rocks, a rich and vibrant blend of simple and traditional tunes and melodies, that included Find The Child, the theme music from the film, Willow.
Their distinctive and intoxicating style was a fusion of differing ethnic cultures and influences - native Latin American and Irish celtic folk are two that readily spring to mind - although their spiritually uplifting and emotional Andean folk themes were their forte, in which they combined a fascinating range of traditional panpipes, flutes and percussion with more contemporary keyboards and guitars. Experts on indigenous panpies and flutes like the zampona and siku - traditionally played between two musicians with each player taking one half of the instrument so the melody is woven back and forth between the two players - tarka, pinkillo, quena and kena - a straight, end-blown flute made from bamboo and fingered like a recorder, as well as the ten-stringed guitar-like charango, caja, tiple and chajchas, the band often played at least thirty different instruments during their stage set which also included drums, keyboards, bombo, bass and acoustic guitar.
The band's other projects included two 'masses' composed by them and performed with the Coventry Cathedral Choir before the release of the collection of pieces entitled Ghost Dances & Sergeant Early's Dream for the Rambert Dance Company to complement the dance company's best known ballets from their contemporary repertory, in conjuction with the Sergeant Early Band. It was in 1985 that Christopher Bruce choreographed a new dance called 'Sergeant Early's Dream' and the fusion of Irish and British traditional music was performed by the muscians interacting with the dancers on stage. Playing alongside Hinnigan and Taylor were notables like Steve Tilston, Maggie Boyle and Paul Brennan and they played major venues in Europe with the seven-piece band. The Sergeant Early Band was briefly revived in the early 90's and the CD release is a product of that revival. In 1994 Incantation released a collection of tunes and Christmas carols with a selection of guest soloists and musicians, re-interpreting them without any constraints of tradition or style, entitled Songs For The Seasons.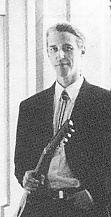 With the band under the auspices of the Cooking Vinyl label, they embarked on some selective gigs in June 1995 to promote their third album release on their new label. In a return to their instrumental Andean roots the self-titled album, Incantation, includes a re-working of the classic Cacharpaya and reached the top ten of the UK independent album charts in October, preceding a 20-date UK tour the following autumn. The most recent film which benefitted from Mike Taylor's diverse skills was the 1996 release Loch Ness but it was to be his last as one half of his partnership with Hinnigan. The end of the year saw the band's two founder members agree to go their separate ways after nearly 25 years in tandem, with Hinnigan and the rest of the line-up including experienced musicians, guitarist James Woodrow, Nigel Thomas (drums), Olly Nicholls (keyboards) and Phil Scragg (bass), resuming a 14-date tour in June 1997. A 'best of' compilation album entitled Geoglyph was released in June 1998, bringing together sixteen of their best known tracks. Later in the same year, Remembrance, a compilation CD with work from The Meeting, Ghost Dances and Sergeant Early's Dream also became available on general release.
Hinnigan, a musical workaholic, has maintained his partnership with composer James Horner and collaborated on some of Hollywood's most notable films in the last couple of years. Horner is much in demand and with Hinnigan on board he's scored films like the blockbuster Titanic, where Hinnigan memorably accompanied Celine Dion on the number one smash hit, 'My Heart Will Go On' on penny whistle and which became the biggest-selling film score album in history, selling 28 million copies worldwide. Other films include The Devil's Own in 1997, followed by The Mask of Zorro and Mighty Joe Young in 1998, Back To The Titanic and co-production on The Four Feathers in 2002. Its a partnership that has already paid rich dividends and appears destined to continue. Another partnership to pay dividends is his marriage to Kate Musker, a very talented musician in her own right. Musker and her viola have graced albums by Robbie Williams, Atomic Kitten, Sam Brown, Holly Johnson, Paul Schwartz, Craig Armstrong, John Harle, Gavin Bryars and Incantation, as well as featuring on film scores from movies such as Drowning By Numbers, Prospero's Books, The Claim, Wonderland, The End of The Affair and two Eric Serra scores, Atlantis and The Messenger: The Story of Joan of Arc. She also regularly appears alongside her husband on stage and on recordings for The Michael Nyman Band.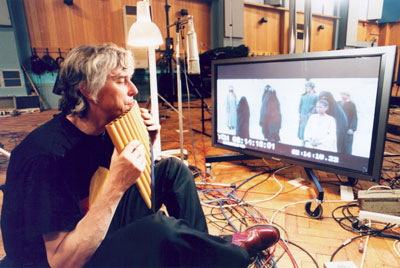 Over the last few years, Hinnigan has toured extensively around the globe as cellist with the Michael Nyman Band. His expertise has been recognised by film composer Nyman, who persuaded him to guest on a world tour to promote the soundtrack of the film, The Piano, a commercial success with sales of over 800,000 copies. He's also used Hinnigan's considerable talents on film scores such as Drowning By Numbers (1986), Monsieur Hire, The Cook, the Thief, his Wife and her Lover, 6 Days 6 Nights, Prospero's Books (1991), Carrington, The End of the Affair (1999), Wonderland and The Claim (2000), as well as other recordings like Live, After Extra Time and Al Confini. As part of the Michael Nyman Band, he is featured on their new release called Facing Goya. Another film to benefit from the Hinnigan touch is Christopher Young's The Shipping News, whilst 2002 also saw the arrival of the Public Face Private Face album by Quiet City, where he linked up with a couple of his former Incantation associates in Nigel Thomas and James Woodrow. Plans to bring out his own CD of soundtrack music that he's been involved with since his debut on The Mission right up to his latest involvement with The Shipping News, came to fruition and Camera: Reflections on Film Music was released on the Cooking Vinyl label in September 2003.
Hinnigan was also featured on Derek Jarman's cult-movie Blue but away from film soundtracks he's performed on Lee Holdridge's tv serial score The Mists of Avalon (2001) as well as solo albums by artists as varied as Celine Dion, Nick Kershaw, guitarist Steve Tilston & Maggie Boyle, Ocean Colour Scene, Pet Shop Boys, Echo & The Bunnymen, Kate Bush, Lesley Garrett, David Lanz, John Harle, Luis Cobos, Bert Jansch, DJ Sakin, Dany Brillant, David Ferguson, Rosemary Duxbury, Simon Haram and The London Cello Sound. As a member of the innovative Balanescu Quartet in the early 90's, he appeared on album releases by Gavin Bryars and Jean-Luc Fafchamps as well as the Peter Greenaway film soundtracks for Michael Nyman. The last twenty years has seen Tony Hinnigan go from strength to strength, his versatility has been a key factor in his success and his wide array of musical talents ensure he remains very much in demand and at the pinnacle of his profession.
In 2003 Hinnigan was working as hard as ever. By the middle of the year, two film scores had been released with his involvement, namely Michael Nyman's The Actors and another soundtrack, The Wild Thornberrys Movie. He'd also collaborated with James Horner on two more film scores to be released later in the year, namely Beyond Borders and Radio. On 1 September, he released a solo album on the Cooking Vinyl record label called Camera : Reflections on Film Music (COOKCD233) consisting of re-interpretations of film music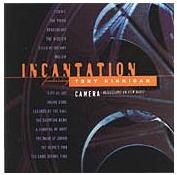 that he's been involved with since The Mission. The full track listing is:
1.The Shipping News; 2.Legends of The Fall; 3.City of Joy; 4.Field of Dreams; 5.The Mission; 6.Titanic - The Portrait; 7.Young Guns; 8.Willow; 9.A Handful of Dust; 10.The Devil's Own; 11.The Mask of Zorro; 12.Braveheart; 13.The Land Before Time; 14.The Piano; 15. Titanic - Hymn to the Sea.
I encourage you all to make sure you don't miss out on this CD release, brimming with unforgettable melodies from some of his finest work for Hollywood in recent years. Tony and Olly Nicholls produced the album and some of the friends who helped out included Mike Taylor, Kate Musker (violas), James Woodrow (guitar), James Shenton and Bill Hawkes (violins), Dave Lee (horn), Phil Scragg (bass), Gary Kettel and Nigel Thomas (congas), Roger Linley (double bass) and Olly Nicholls (keyboards).
One project that didn't quite happen as he'd hoped was an album of new versions of Incantation tunes played solely on whistle, in collaboration with Phil Hardy at www.kerrywhistles.com. But keep your eyes open for a twelve-track CD sometime in the future. In the meantime, Tony and Kate, as part of the Michael Nyman Band line-up, continue their live performances around Europe and beyond.
UPDATE...UPDATE...UPDATE...
In the latter half of 2003, the Hinnigan and James Horner partnership was again in tandem and flourishing for the theme for Ron Howard's brooding Western, The Missing. Also joining the team for this well-received score was Hinnigan's long-time partner in crime, Mike Taylor. The prolific Horner was also given the task of coming up with the score for the epic Troy starring Brad Pitt, in double-quick time after the original score was rejected. With co-conspirator Hinnigan on board for the wind instrument sections, Horner managed to compose 120 minutes of music in thirteen days and took another twelve days to record the score, an incredible feat by any standard. The first release of 2004 involving the Horner-Hinnigan team was the theme for the bio-pic of legendary golfer, Bobbby Jones: Stroke of Genius.
Hinnigan will be back in the studio with James Horner for the follow-up release, Legend of Zorro, scheduled for late 2005, whilst The New World, set in the early days of American colonization, will also get the Hinnigan treatment this year. A film already at the cinemas with his input is the highly-rated martial arts picture Ong-Bak. Squeezed between his film-work this year, he will be making concert appearances with the Michael Nyman Band in Italy, Spain, Belgium and the Czech Republic in July and August. On a more personal note, a Tony Hinnigan website was launched in June featuring a complete CD guide, a comprehensive review of his movie work and much more besides. Meanwhile, there's a new Hinnigan release on CD comprising re-interpretations of South American tunes, called Peso Whistle, samples of which are available from the new official website.
updated : June 2005
---
click to visit my Incantation page
---
visit the official Tony Hinnigan website
---
Home :: More Music :: E-mail
The contents of this website cannot be reproduced or copied without permission of the site author. (c) Andy Brouwer 2005 except photos of Tony Hinnigan by David Argent (re-produced with kind permission of Cooking Vinyl Records).