ANDYBROUWER.CO.UK
---
YAZ ALEXANDER
a mesmeric performer...
Birmingham-based singer-songwriter Yaz Alexander is a vocal force to be reckoned with. Her performances are characterised by a passion and energy for her music that captivates and commands an audience under her hypnotic spell. Already established as one of Britain's most in-demand session and backing vocalists, she's now forging her own path as a solo artist with the release of her album Life Begins. Yaz Alexander is a name to watch out for and a performer not to be missed.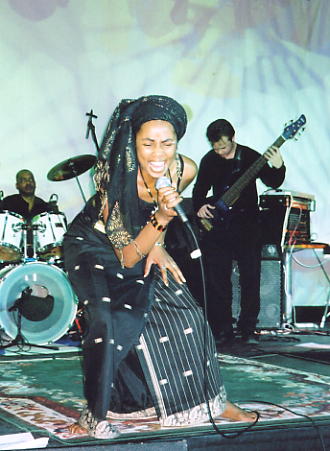 She has toured across great chunks of the globe as part of international reggae star Pato Banton's touring Reggae Revolution entourage. Her partnership with Banton began in 1990 and two years later she joined him and friends including Ranking Roger, Macka B and David 'Skipper' Largie on vocals on his album Universal Love. She also contributed vocals to his 1996 album, Stay Positive, co-writing the track One People. "I learned my craft over the years through countless studio and live sessions, etc...mainly with Pato who gave me the blessed opportunity to perform on many a stage in various beautiful parts of the world. Without his support I wouldn't have the confidence I have." Touring has taken her to Australia, all four corners of the United States, South America, South Africa, criss-crossing Europe and the Far East including Singapore and Malaysia. Their performing relationship continues to this day, whilst Yaz has also worked with youngsters as a vocal coach at Banton's School of Music at The Custard Factory in Digbeth, Birmingham.
Much sought-after is an oft-used phrase but it certainly applies to Yaz Alexander. She released two independent singles, Keep On Moving and Back To Life in 1989, both Soul II Soul tracks, and besides working with Pato Banton for fourteen years, another of reggae music's finest groups, Steel Pulse, have also been keen admirers of her vocal abilities and passion for her music. She has collaborated with Steel Pulse on no less than three albums, providing sweet backing vocal harmonies. She first guested on their 1991 album Victims and on the tracks Grab A Girlfriend and Feel The Passion, before joining the band on the Back To My Roots track from the Vex album, released in 1994. For Pulse's Rage & Fury album in 1997, Yaz contributed to House of Love, where she accompanied Ruby Turner, Peace Party and Black & Proud.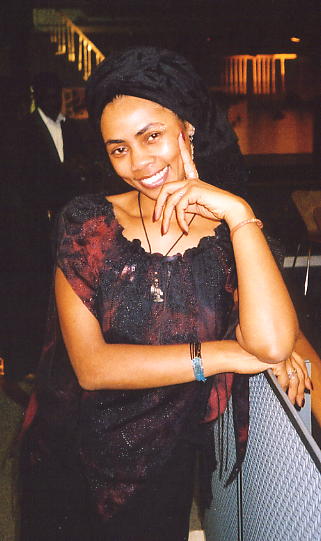 Her passionate style is born out of her profound love of both reggae and jazz music, she is at home in both genres and has collaborated with luminaries of the calibre of Mighty Diamonds, Eddy Grant, Peter Hunningale, Vivian Jones, Nerious Joseph, Musical Youth, Soweto Kinch and veteran jazz performer Andy Hamilton. I first heard Yaz in February 2003 when she guested with a superbly powerful rendition of Forever Loving Jah, the Bob Marley classic, alongside the Gabbidon band at The Drum in Birmingham. In October 2003, she helped launch the Black History Month at The Drum. With a typically charismatic performance, Yaz and her backing band Urban Elementz delivered a fine set including two compositions of her own, Hold On and Freedom, and closed her set with a compelling repeat of the Marley classic, Forever Loving Jah.
At the end of November 2003, Yaz gave a storming performance at Ty's Jazz & Spice Club in Sparkbrook, backed by her band and guest artists. The band line-up included Dann Alexander (drums), Stephen Sherriff (keys), Polo (bass) and Gary Morris (lead guitar), with guest spots from Cascade and Patsy Fuller. The set-list from the evening (* denotes her own composition): Windmills of Your Mind, Be Strong*, God Bless The Child, You Make The Sunshine*, Wonderful World, Emotions, Freedom*, Follow Your Dreams*, Rainbow, Sister*, Just The Way*, Summertime, Again, Loving You, Silly Games, Redemption Song, He's My Brother, Always & Forever, Prophecy, Freedom* - with band intro's, Where Is The Love.
Yaz recorded a debut, self-financed single, titled Freedom and was chosen as the Midlands' face for the BBC's 'Roots' campaign in 2003, appearing on promotional material and profiled on BBC web and radio, an initiative set up to help raise the profile of talent from a multi-cultural background. In June 2004 Yaz supported South Africa's reggae superstar Lucky Dube on two appearances in the United Kingdom. The gigs, in London and on home territory at The Drum in Birmingham, were a great showcase opportunity and Yaz debuted her single, This World, already released on a compilation album, Kotch It! on the Tuff Riddim label in Jamaica, alongside Morgan Heritage and LMS. August brought appearances in Birmingham's Victoria Square (with James Renford on sax), at the Marcus Garvey Day celebrations in Handsworth Park and at the Leeds Reggae Concert in Chapeltown, Leeds, alongwith Joseph Hill & Culture. She also sang backing vocals for Pato Banton on his appearance at the Birmingham ArtsFest 2004 in September.
Yaz showcased This World at an appearance at the Upfront Comedy show at The Drum in September 2005 and the track was included on the compilation CD, From The Region, released by the Birmingham Music Network organisation. She also featured at the launch party for the CD at the Barfly Club, Digbeth on 7 November, singing This World, Can You Help Me and I. Whilst a solo album's worth of material is being assembled, pending that so far elusive recording deal, Yaz, backed by JustUs, appeared at Birmingham's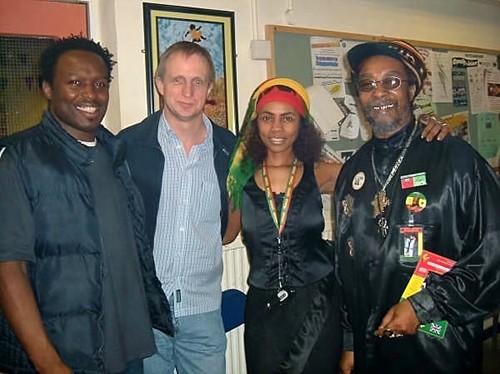 James Brindley venue on 15 March 2006, performing This World and five other tracks to an appreciative audience. It was the first of a series of gigs for Yaz in her Birmingham backyard. She repeated the set-list at the Gigbeth festival's reggae and ska finale at the Barfly Club on 26 March in suitably impressive mode, dueting with compere Pato Banton on two songs.
A musical showcase at The Drum on 27 April featured Yaz singing five tracks including a version of Summertime with a beat created by Ranking Roger. Her follow up performance at the Selassie I Peace Foundation celebration on 6 May was another typically dynamic and confident showing and included a newly-written song, Forward, making its public debut, backed by the Cool$hade band from Manchester. Two nights later, the Ipanema Bar in Birmingham city centre was the setting for a Yaz-inspired relaxed jam-session, accompanied by backing vocalists Jean Mclean and Sensi together with the house band and guests. The Women In Music festival in Digbeth on 3 June saw Yaz close proceedings, accompanied by her two new backing singers Anne-M and Emma B, singing This World, Don't Trust Love and I. An appearance with Kwabena at Manchester's Bob Marley One Love reggae festival preceded the showcase of her self-penned At Christmas track, performed on 8 July at The Stage in Birmingham city centre. The track was included on the Gotham-Records CD release, Christmas in July, and Yaz's own four-track The Christmas EP.
December 2007 saw the release of Yaz's first solo album, Life Begins. Of the seventeen tracks, they include her singles This World and Empress, a reprise of Bob Marley's Get Up Stand Up, three songs written by her producer Dennis Edwards and two from Steel Pulse's producer Paul Horton. The tracks are: This World, Empress, Still Burning, Why Me, Don't Trust Love, Step Right Ahead, Love Has Got A Hold, How Could I Leave, Sister, Get Up Stand Up Interlude, I, More Love, Black Pride, Mama, Beautiful, Out In The Rain, Still Burnin' Remix. Get hold of a copy today.
Visit Yaz's website's at www.yazalexander.com and at www.myspace.com/yazalexander to listen to some of her latest offerings.
Left: Yaz with Jean Mclean, May 2006. Middle: At Womad USA 2001. Right: Yaz with Macka B, May 2006.
Left: Yaz with Aisha, June 2006. Right: Yaz debuts her At Christmas track, July 2006.
---
NEXT LIVE GIG...UPDATE...NEXT LIVE GIG
For a list of Yaz's gigs, go to www.myspace.com/yazalexander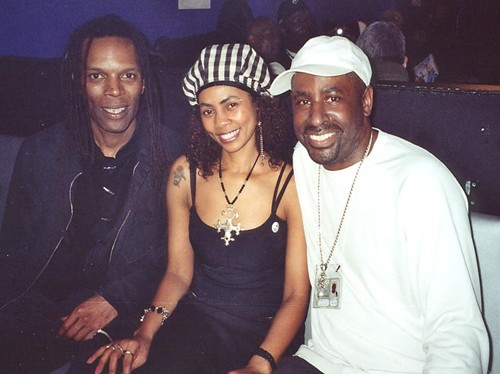 LtoR: Ranking Roger, Yaz Alexander & Pato Banton: The Barfly, Birmingham 26 Mar 2006.
---
Lots more photos at Yaz Live! and Live2
Click here for the lyrics to This World, Follow Ur Dreamz and Peace
Click here to see photos from Mac13Soul
---
Home : Yaz Live! : Yaz Lyrics : E-Mail
Click on photos to enlarge. The contents of this website cannot be reproduced or copied without permission of the site author. © Andy Brouwer 2008