ANDYBROUWER.CO.UK
---
STEEL PULSE - ARTICLES
---
Babylon The Bandit album review
Andy Hurt in Sounds
22 February 1986
* * * ½
Babylon The Bandit opens with Save Black Music, melodically one of the album's best points, lyrically rather curious, drawing a parallel between the adoption of black music by whites with the shipment of slaves to the plantations. But surely the cross-pollination of musical forms is crucial to the development of the strain? Convince me that George Clinton and Michael Jackson have not been influenced by white rock musicians. And would electro have taken the form it has if Soul Sonic Force hadn't lifted Kraftwerk's Trans Europe Express beat for beat?
Ironically, it appears that Steel Pulse have themselves not exactly remained untainted by Babylon, keeping abreast of the latest technological gimmickry and mellowing/commercialising their sound considerably. This is essentially a mood disco record to a residual reggae beat, and what's so wrong with that? Light, pleasant pop tunes like School Boy's Crush (Jailbait) and Sugar Daddy cruise along while retaining a traditionally enlightened approach to womankind.
Not King James Version sets an old chestnut Rasta subject to one of the better melodies, while the laid-back Don't Be Afraid takes the songwriting honours, indicating their intended direction perhaps? Nice, insubstantial stuff. I can't see them covering Zap Pow's This Is Reggae Music with any great conviction...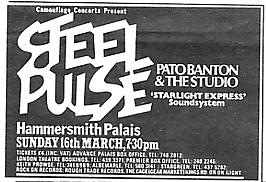 An advert from the same edition of Sounds 22 February 1986
Text copyright Sounds 1986, used without permission.
---
Home : Steel Pulse : Articles Index : E-mail
The contents of this website cannot be reproduced or copied without permission of the site author. (c) Andy Brouwer 2005