ANDYBROUWER.CO.UK
---
STEEL PULSE - ARTICLES
---
Ku Klux Klan - single review
Charles Shaar Murray in NME
4 March 1978
A double rarity: a 12-inch single that totally justifies its existence as such, and a totally committed, militant piece of music-making wherein the musical and political intentions are identical and inseparable: every lick and syllable count and meld to contribute to the totality, and the tension and interest of the piece is sustained admirably for close on seven minutes - no mean achievement in itself.
It creates an atmosphere of dankness and terror that is well-nigh overwhelming; I'd start throwing terms like "expressionist" around if I thought they'd help convey what this record sounds like. Its vision of England engulfed under a gradual tide of racist sewage is a more powerful pointer to the desperate need for positive changes that any amount of brick-throwing. 'Ku Klux Klan' is a lethal package: both musically and emotionally moving and wrenching. No way a hit (c'mon! get serious!), nevertheless, an Important Record. Hear it.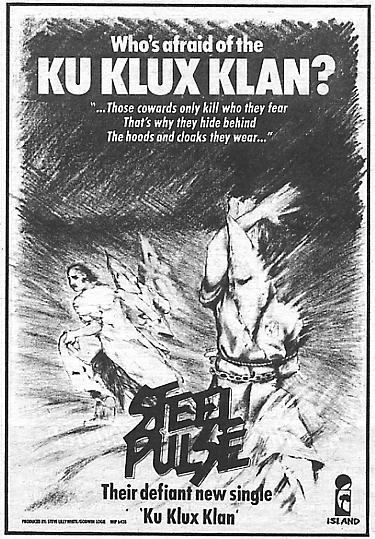 Note: Ku Klux Klan was Runner Up Single of the Week behind Elvis Costello & The Attractions - I Don't Want To Go To Chelsea.
Text copyright NME 1978, used without permission.
---
Home : Steel Pulse : Articles Index : E-mail
The contents of this website cannot be reproduced or copied without permission of the site author. (c) Andy Brouwer 2004