ANDYBROUWER.CO.UK
---
STEEL PULSE - ARTICLES
---
Two cheers for democracy
True Democracy album review
Paul Tickell in NME
6 March 1982

Back in '78, Handsworth Revolution was far from a great album but at least it was a step in the right direction: towards the making of specifically British reggae. However, Steel Pulse never really turned their overtures into anything very substantial: by the time of their third album, the incredibly soporific Caught You, they seemed to be floating away on their own harmonies and laying down the slightest of sounds.
Since this record 18 months ago, the band have left Island, toured extensively abroad, and set up their own label. The change has done them some good: True Democracy won't put the band centre stage (Aswad can claim that position), but it does carry some of their best material to date. The uptempo Blues Dance Raid has clarity, urgency and sharp observations. Your House, a love song, has similar directness: the keyboards bounce off the beat and the guitar moves from spare riffing into shimmering cascading effects.
Unfortuately, in the main, with tracks like A Who Responsible and Find It Quick, the arrangements are never this clear-cut and dramatic. All too often Steel Pulse rely on their instruments melting into each other, on a sort of cosmic brotherly inter-meshing. The resultant musical politeness is accentuated by those choral harmonies and lead vocals which, while on songs like Ravers they carve an identity of their own, come across as a more nasal, even dreary version of Marley.
In spite of the militance of the band's stance, they rarely actually sound militant. No commitment is transmitted to the listener, who responds in kind: here is a music at best to be liked, never loved. Sometimes, it's even to be laughed at, on those occasions when the band seem to be more taken by the doctrinaire, as opposed to revolutionary, aspects of Rasta. On Leggo Beast, for example, they reserve their wrath for unfaithful wives ("Husband's gone she hanky pankies") rather than for an oppressive political system. On Man No Sober it's drunkards who come off badly, as the band take up the position of modern Pharisees (with incongrous motarboard and ferrule) on behalf of an abstemious savage Old Testament God. I know Rasta has its warts, but this is ridiculous... Perhaps by their next album Steel Pulse will have progressed to the New Testament where water is changed into wine and St Paul advises "a little wine for thy belly's sake". In the meantime, harsh attitudes don't make hard sounds.
Text copyright NME 1982, used without permission.
---
Record News:
The second single from Bumble & The Beez is issued on March 12 on EMI's Zonophone label, in both 7" and 12" formats. It couples The Room Above and Blowsing, both tracks written and produced by frontman Michael Riley. A string of London dates is being lined up for later this month.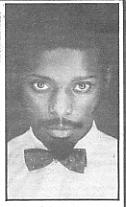 ---
Home : Steel Pulse : Articles Index : E-mail
The contents of this website cannot be reproduced or copied without permission of the site author. (c) Andy Brouwer 2004