ANDYBROUWER.CO.UK
---
STEEL PULSE - ARTICLES
---
Planet Rockers
Earth Crisis album review
Neil Spencer in NME
17 March 1984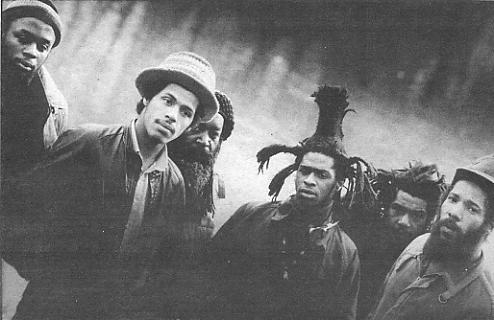 The success of reggae derived pop last year - take a bow Culture Club, Paul Young, The Police, Musical Youth, UB40 - may well have prepared the public for something less diluted. Now that the interpreters have turned elsewhere for plunder and inspiration, and even white reggae champ Joe Strummer has sworn off the stuff, it's appropriate that British acts like Aswad, LKJ and Steel Pulse have come forward with their strongest material in years.
Pulse have always lacked the sheer grandness and ambition of Aswad's musical designs, but their directness, the resolution and dash of leader David Hinds and a stage show etched into impressive shape over the years have seen the Handsworth Revolutionaries maintain their challenge. Earth Crisis boasts no musical breakthroughs but it's a bright, polished and winningly confident affair and not without the occasional blood drawing edge. Side one is much superior, comprising vitually Hinds' reggae response to Marvin's What's Going On - save the children, what are they doing to our planet, it's the only one we've got - sound stuff, but the apocalyse has been invoked so often in modern music that it has lost its power to shock in so literal a form. It's time for more oblique strategies, and Hinds hits a more fascinating tack on Bodyguard and the Wailerish Wild Goose Chase, the latter charting his disillusion with former visions of a purgative blood and fire destruction. The ongoing reality of the planet is uglier, messier, more mundane, more challenging.
Aside from the brash, breezy charm of the single, Stepping Out, much of the rest is faultlessly executed but ultimately unexceptional. The best material will do their international standing no harm at all, however.
Text copyright New Musical Express 1984, used without permission.
---
Home : Steel Pulse : Articles Index : E-mail
The contents of this website cannot be reproduced or copied without permission of the site author. (c) Andy Brouwer 2005