ANDYBROUWER.CO.UK
---
STEEL PULSE - ARTICLES
---
Steel Door
John Masouri in Echoes
13 March 1993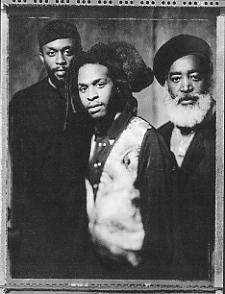 Steel Pulse have regained their place in British reggae's first division, with a Grammy nomination for their new live album, an appearance at President Clinton's inauguration and plans for a film score. John Masouri cheers from the terraces...
With the upsurge of dancehall music traditional roots, rock reggae groups like Steel Pulse have a hard time competing for respectability in today's grassroots market. Ironically their's has been a journey in the opposite direction; they've been signed to various major labels since 1977 and nine album releases later have gradually attained mainstream attention with a blend of Rasta-inspired social commentary and what spokesman David Hinds describes as 'bait music', which he confesses is designed to woo an audience unfamiliar with the 'real thing'. Their new album, Rastafari Centennial is a live set recorded over three nights at the Elysee Montmarytre in Paris, an obvious step for despite their low rating in the UK, Pulse have managed to maintain a healthy reputation for live gigs.
According to David - main songwriter and lead vocalist of the band which is now whittled down to just three original members - a live album hasn't been possible before due to difficulties in obtaining permission from the various companies involved. Neither have their labels considered releasing 12-inch mixes of their tougher, less pop-orientated material. "They found it very hard to digest that concept," he explains. "It's that extra expense the majors aren't prepared to meet, despite the fact that that's what reggae music is founded upon. But the whole scene is now more accepted than it was in the days when we were struggling to get a leeway. Even so there's still yet to be a hardcore tune breakthrough - it's always been watered down to get that crossover appeal - we're still between a rock an' a hard place where reggae's concerned. Put a microscope into certain areas an' it shows up a lot of flaws that we'd like to iron out." The last single, Taxi Driver is based on a true-life story which has now resulted in a law suit against the New York Taxi Commission. Years of NY cabbies refusing to stop for the dreadlocked supe prompted the move, which could net him one million dollars in compensation.
And still on the subject of America, the band played at President Bill Clinton's inauguration at the White House in January. Ironic given their repertoire of songs criticising the political status quo over the years. "We did a set that wouldn't cause any ripples," he quickly pointed out, "We rode the storm. We didn't play Mr Collie Man or Drug Squad - nothing that would let reggae be seen in a bad light y'know? It's so easy to point the finger, especially when you're the first one out there, then you go an' blow it for anyone else following. We did play Ku Klux Klan, but only up to the part where the chorus comes in, then we did a rewind an' cut to another track as a teaser. Who knows, knows...that kinda thing." The day before they were invited to the Jamaican Embassy in recognition of their fundraising efforts on behalf of the Hurricane Gilbert Appeal.
"To play for Nelson Mandela in a liberated South Africa would be our greatest achievement though," he says, "an' mentioning Winnie Mandela's name on the album was our way of showing that there goes that old misconception of Rastas treating women like second-class citizens. She had her life on the line 24/7 know what I'm saying? What's fortunate about Africa is that they're still cottoning onto the music that's still conscious. Peter Tosh, Jimmy Cliff - they're household names in those countries." Although they've only visited Africa once - that was 11 years ago - there are plans to tour there soon. And the reference to Emperor Selassie's centenary was an intentional reminder of the band's cultural stance. "We felt some kind of rejuvenation was necessary; especially considering where we are as a people right now. We're into crack, crime - everything that's not building anything an' putting us down the drain..."
The album's already been nominated for a US Grammy, an award they won in 1987 for Babylon The Bandit, although by his own admission he didn't collect until quite recently. Significantly, they've now turned their attentions towards Jamaica, Hinds acknowledging that "when it comes to real prestige in the music, it's important for Jamaica to recognise the band as well. We actually played our first gig there as Steel Pulse last October, without being there as part of Sunsplash or the Reggae Fest, which we've done regularly since 1981. We have a single out on the Island now, 'cause it's singles that get the mileage an' due to the hard-headed attitude from our labels we've never had the acclaim we know we could get in Jamaica, or even here because it's the same in the UK."
Don't be surprised to hear them on special for Stone Love one of these fine days although the next step could be writing a soundtrack for a film; even acting in one. "Yeah, there's never been an outlet for that before, but we've made a start. The main problem has been telling the story from a black man's perspective, an' I really wouldn't knock an artist who plays a part involving drugs or even guns, 'cause that reality's out there. I think music an' film run parallel in this day and age; we're both trying to reach the masses, to educate an' show the road forward." And what part would he like for himself? "Oh, the black Ben Hur or something..." Steel Pulse will be playing UK dates with Santana in the spring.
Text copyright Echoes 1993, used without permission.
---
Home : Steel Pulse : Articles Index : E-mail
The contents of this website cannot be reproduced or copied without permission of the site author. (c) Andy Brouwer 2004