ANDYBROUWER.CO.UK
---
STEEL PULSE - ARTICLES
---
On The Town
Steel Pulse at The Roundhouse - gig review
Adrian Thrills in NME
29 April 1978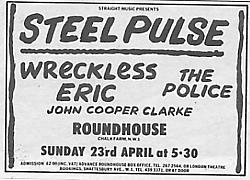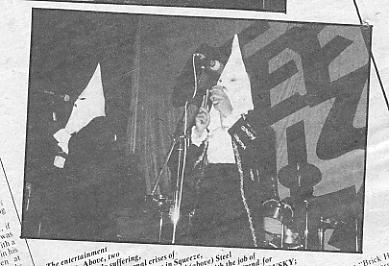 It seemed strangely appropriate that a British reggae band should headline at, and virtually sell out, a major rock venue the week before this Sunday's massive Carnival Against the Nazis. And with this Roundhouse triumph and a single on the verge of the chart, Steel Pulse are living proof that British reggae finally seems to have arrived in a big way. The audience was unexpectedly Hard Core punk - many of whom seemed to be there as much for the pose as they actual music (never mind the riddims, luv, just watch yer don't smudge me Black-Star Eyeliner).
Steel Pulse, like many of the home-grown roots reggae bands, still suffer from an identity crisis. As someone once said to me at a Black Slate gig, "They sing a Bob Marley song like Bob Marley and a Ken Boothe song like Ken Boothe." Still, despite sound problems on stage and a set which seems to be cut prematurely short, there were signs that the forthcoming Handsworth Revolution album is going to get a lot more people moving towards the Pulsebeat.
Visually they are imposing - vocalists Fonso Martin and Michael Riley decked out in preacherman togs and David Hinds in stencilled HM Prisoner gear. And if the band are laid back, even for reggae - and thus not as easy to dance to as others - their great strength is the percussive power they wield. Meaty drummer Steve Nesbitt is at the core of some of the most subtle rhythmic twists and turns I've heard in a long while. Noticeable by its absence was their excellent one-off single for Anchor, Nyah Love, but the encore was the inevitable Ku Klux Klan; the white hoods donned by the singers as they returned to the stage remaining as frighteningly powerful a visual ace as the first time I saw the band last year.
The Police opened the evenings proceedings and somehow I don't think A&M have gambled as inspiredly with this aging bunch, who last year backed Cherry Vanilla, as they did with Squeeze. Classic bandwagoners, their leather jackets and peroxide jobs are just a thin veneer disguising well-played, cliche-ridden Heavy Metal rock. It's one thing being solid boys, another altogether being dense. John Cooper Clarke was also on the bill.
Text copyright NME 1978, used without permission.
---
Home : Steel Pulse : Articles Index : E-mail
The contents of this website cannot be reproduced or copied without permission of the site author. (c) Andy Brouwer 2004