ANDYBROUWER.CO.UK
---
STEEL PULSE - ARTICLES
---
Reinforced Steel Pulse
I Jabulani Tafari in Black Beat International
April 1985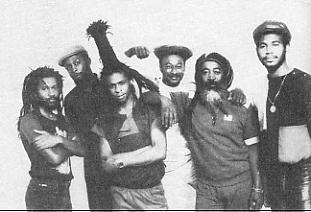 The Birmingham-based British band Steel Pulse, flew into Jamaica in mid-December 1984 for Reggae Superjam Three in New Kingston. The band remained in Jamaica for almost a month, working at various studios. This proved to be the most satisfying and rewarding trip to the island so far for Steel Pulse. The band's lead singer, David Hinds explained why, in an interview with I Jabulani Tafari just hours before he returned to England.
Jabu: David, what was the difference between Superjam 83 and Superjam 84? David: More Jamaican people...more exciting...some nice bands did follow up Steel Pulse, y'know. Like Paul Blake and Bloodfire. It was an interesting at this time 'round.
Jabu: Did you feel that the Jamaican people, were now more receptive and ready for Steel Pulse this time than previously? David: Yeah! We did tour a whole year not really knowing how well Earth Crisis (the 1984 Steel Pulse LP) album was doing here in the island. So by the time we catch Bermuda now, three days before the show (Superjam), we get a hint of dat vibe, seh the LP did tek off nice pon de island dem. So by the time we catch a Jamaica now, the whole place did a go wild.
Jabu: For Superjam 83 your bassy (Alvin Ewen) had just joined the group a few weeks before as well as your lead guitarist (Carlton Bryan). For Reggae Superjam 84, it was noticeable that your music has been updated and re-arranged and that the bassy has settled in and the lead guitarist had colouring to put into the music. How was all that coming together actually achieved on tour? David: Well, the band partly seasoned now. We really intend to bring in some other members and over the past six months we were wondering whether fi bring in a whole section of horns man or other instrumentalists.
Jabu: Steel Pulse would like a more brassy-horns sound? David: Yeah, well you find right now people going on stage with a bigger sound and we really have to come on par with that kind of vibration. Plus, the albums that we doing over the past few years and the one that we doing now contain some instrumentation, and to come through live we're going to need some more members in the band y'know.
Jabu: But would you still say the bassy and the lead guitarist have worked themselves properly in? David: Yeah man, yeah man. Dem earn dem keep.
Jabu: You've been working at Music Mountain and Tuff Gong on studio work, tell me more about it. David: it's at Music Mountain that we've been recording the new album. And as far as Tuff Gong concern, we've been recording the Ethiopian relief song.
Jabu: What part did Steel Pulse play in that song? David: Land of Africa? Well, I did some lead vocals. I did forward vocals - what you probably know as 'backing vocals' - and rhythm guitar. You have Steve (Nesbitt, the drummer) now, we do certain drum roll and things like that. Various band members take part in it.
Jabu: So Steel Pulse was proud to be a part of the Famine Relief Drive in Jamaica by local reggae musicians? David: Yeah, it did get us to grow more towards getting to know the various reggae artists who we've been hearing about over the years but never get a chance to see and talk to. And then, all of a sudden, everybody under one roof, y'know, it was a nice vibration.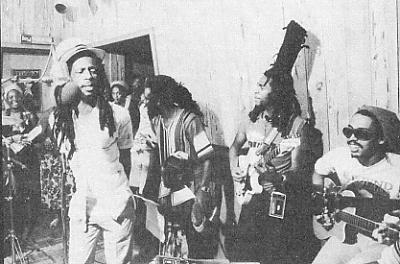 Jabu: What was the reaction to the Earth Crisis album out there on the road? David: It was a good reaction. The reaction did start really from Japan.
Jabu: That's the first place you toured after you left Jamaica last year. David: Yeah, but I would call it the second country as far as the world tour is concerned. Jabu: Jamaica is the first? David: Alright, started...
Jabu: Started in Jamaica and completed in Jamaica. David: Alright, alright. And there was shouts from the record company there (Japan) to the record company in America fi get the band fi do some video and get the album out there quick, 'cause they was pleased with the way we was performing and ting. So the album was growing each month until the end of '84 and it still big inna '85 yah now.
Jabu: And the new album, what direction is it taking? David: It's just going to blow your mind. Jabu: That's rhythmically or lyrically? David: Both ways...it'll blow your mind.
Jabu: Give us a hint of the subject matter. David: It defends a lot of Black causes this time, that's the only thing I really have to check carefully, because when you check it now, the music get nuff fight when you come through pon a strictly Rastaman vibe and a black cultural aspect. Y'know, you tend fi get shun from radio play and certain kind of TV coverage, you know whey I mean?! But since we did sey Earth Crisis did get more success...reaching the people, we feel sey this album going pick up and surpass Earth Crisis by reaching more people still. We have to just use the people dem, turning up and really playing to them viusually, let them actually see we live pon stage, dem kind of vibration deh. So the album will tek off providing we get the opportunity to play to the whole world.
Jabu: America has always been a tough circuit for reggae musicians and you had an extended tour there in 1984. How was it and to what extent do you think you managed to draw in some reggae lovers from the American people? David: We definitely bring more exposure to the band. We definitely have a larger audience now. So that by the time we have our tour ready for June '85 here, we s'ppose to be playing to an average of all between 6 and 10 thousand depending on which type of city we deh. It definitely grow. It was a lot of hard work in '84 through the lack of reggae artists...ahm...y'know, there was hardly any reggae artist touring in '84 and '83, so we did really have to do extra groundwork, you no see it?
Jabu: But you think you've made a definte impact on the American audience? David: Yeah, definitely, plus we tour with Herbie Hancock...
Jabu: What was it like, working with Herbie? David: Well, him did bring through an audience that was never familiar with Steel Pulse, y'know wha' I mean. We see that happening. But it was also detrimental to the financial position of Steel Pulse.
Jabu: Touring with Herbie? How? David: Yeah, you find out that a lot of people did come fi see Steel Pulse and never come to tune in pon a Funky Vibration.So as a result now, the sales dem never hot...the ticket dem...for us being a support act...wasn't too promising...a lot of people did prefer us to be a headline act.
Jabu: England has always been a place where even though reggae is well-known there, it still hasn't gained the respect it deserves nationally. Now, you were on a tour of the United Kingdom...England, Wales and Scotland. What was that like, and do you think you managed to get any new followers for reggae? David: Well, as far as the tour inna Europe, we woulda call it 'so-so'. OOnu still know what 'so-so' mean (chuckle). Nothing that exciting. I mean, Steel Pulse has been established in England fi all coming on 6 years and we still playing at the same type of audience and same amount of audience. 'Cause the English people, even though dem try fi mek it out that reggae music happening, dem still have it in certain category and still don't intend fi mek it grow any further than it is. So that's why Steel Pulse really have fi just play England fi all two weeks, then leave England and do the rest of the work. 'Cause we get more love (outside of England) and more overstanding (understanding). Yeah man. Love England still, but you find sey other place give we more response an ting so we have fi just follow suit y'know.
Jabu: While in Jamaica you were presented with the 1983 Rockers Magazine Award for the Best Overseas Reggae Act. It's the second time you've received this award. What's your reaction? David: It's encouraging. It give the band more of a boost fi doing certain works in various countries. We have all one or two trophies to collect in Chicago and when you find sey certain people care bout the direction the artist dem taking in dis music here...and give out trophies and arrange committees and arrange press conferences for this to take place...it kinda encourage you fi sey well...continue with the works.
Jabu: And one final word for the people of Jamaica. David: Well Jamaica, Steel Pulse love you and we appreci-love (ie. appreciate) the response we been getting from you over the past few years and we'll keep strong if you keep strong. Jabu: David Hinds...give thanks and more power. David: Alright...True.
Text copyright Black Beat International 1985, used without permission.
---
Home : Steel Pulse : Articles Index : E-mail
The contents of this website cannot be reproduced or copied without permission of the site author. (c) Andy Brouwer 2004