ANDYBROUWER.CO.UK
---
STEEL PULSE - ARTICLES
---
Feeling the Pulse
David Lawrenson in International Musican
May 1978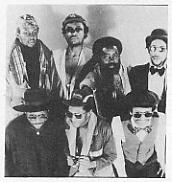 Although there has been a number of pop reggae hits, it was not until Bob Marley in the Seventies that the true strength and commercial potential of the music began to be realised. The success of Marley inspired many young West Indians all over Britain to become involved in music and express themselves through reggae. The result has been the rise of a host of young British reggae outfits, like Black Slate, who are now filtering through the music scene and bringing a whole new dimension to live music.
One of the most promising bands to emerge in the last year - Steel Pulse, although both have been around much longer and experienced the same kinds of difficulties and problems which confront any aspiring musicians. Despite the same basis in reggae, the bands are totally different in their approach and presentation of the music. Black Slate are a London band who came out of the Stoke Newington area of the city and have been together about four years. Elroy Ras Bailey is the bass player with the outfit, and is also one of their main songwriters, his involvement in music is typical of the rest of the band.
Steel Pulse totally destroy the myth that all reggae bands are the same and can simply stroll on stage with the minimum of practice and play their music. Pulse are a seven-piece hailing from the Birmingham working class district of Handsworth. They were one of the first reggae bands to play punk venues and have toured with the Stranglers as special guests. On stage their performance has amazed many a diehard rock fan with its sheer professionalism and near perfection, which led to a recording deal with Island. If any homegrown reggae band is going to gain national recognition this year, then it will undoubtedly be Steel Pulse - which will be nothing less than they deserve.
The story of the band begins in Handsworth around 1972 when lead guitarist Basil Gabbidon got together with a couple of schoolfriends, David Hinds (lead vocals and guitar) and Ronnie McQueen (bass). They learned to play their instruments by all the usual methods, eg. Bert Weedon's 'Play In A Day' and added some more friends from school and later Bourneville College. Basil said: "I saved up to buy a Top Twenty guitar, and a WEM amp and made our own cabinets. We were playing pubs and clubs doing stuff like soul and watered down reggae to over 30's cabaret-type audiences. You had to do that type of stuff just to be able to play." From their years on this circuit the band became a thoroughly professional unit and gradually began to work their own material into the set. By this time the music was solely reggae and they became heavily influenced by Bob Marley's Catch A Fire album. This album proved a milestone for reggae music because it combined good playing and powerful songs with an incredible feel. Tracks like Concrete Jungle and Slave Driver established Marley as an early Seventies black Bob Dylan.
Pulse took their lead from Marley and began writing about things which were influencing their lives in modern day Birmingham and gradually their gigs began to change. Michael Riley (vocals and percussion) explained: "The places we were playing didn't change but our audiences did. We were getting a following of young people and our gigs were getting jam packed. The problem was, that we couldn't get a record deal, so it becomes a dead end circuit. You could carry on doing it but nobody would know about you." They did manage to finance a single on a small independent reggae label, but the real turning point came with the advent of punk. Many punk bands and fans expressed an interest in reggae and Steel Pulse became the first British reggae band to play an all punk venue which was the London's Vortex Club. Their reputation soon spread, and a one-off sinle Nyah Luv reached number one in the British reggae charts which co-incided with an invitation to support the Stranglers on their British tour. Earlier this year they signed a recording contract with Island Records, who know better than anyone how to handle reggae artists, and have their first album out in summer.
The first thing which hits the unsuspecting rock fan who happens to catch one of their gigs is the almost frightening professionalism which surrounds their performances. Their live sound is the nearest thing to perfection you're likely to hear outside a studio, crystal clear with considerable power. Its worth going to see them for their five part harmonies alone which is highlighted by a superb spot of acapella singing. Steel Pulse destroy the myth that black bands can just get up on stage with no rehearsal and play well. Every aspect of a successful live performance has been analysed by the band to bring them up to their current high level. At first their serious approach to reggae was not really understood by audiences, but the energy and original approach of the band usually won them over. Basil explained: "You go and see some bands and they just stand there and play, the music may be good, but because they just stand there it is boring. We work hard on our act to bring energy and excitement to the audience. They may not understand what we are singing about, but they enjoy the music because of the approach." Basil's fluent guitar lines and controlled playing contribute much to the Steel Pulse sound, having absorbed such diverse influences as Paul Simon, Bob Marley and Jimi Hendrix.
The biggest factor in the success of Steel Pulse is undoubtedly their ability to write good songs. Ironically, while Marley seems to have mellowed with his last few albums, Pulse retain a hard biting edge in their songs and lyrics. The prime example of Steel Pulse music is Ku Klux Klan, which has been released as a single and is as much an attack on the Klan as a the complacency which allows the movement to exist and flourish. Set around a compelling bass line, the superb harmonies punch out some of the best lyrics heard on record in 1978. If you want to see one of the best bands on the live scene and Britain's answer to The Wailers then you had better keep your finger on the Pulse.
Text copyright IMRC 1978, used without permission.
---
Home : Steel Pulse : Articles Index : E-mail
The contents of this website cannot be reproduced or copied without permission of the site author. (c) Andy Brouwer 2004