ANDYBROUWER.CO.UK
---
STEEL PULSE - ARTICLES
---
Steel Pulsing After All These Years
Lloyd Bradley in NME
1 May 1982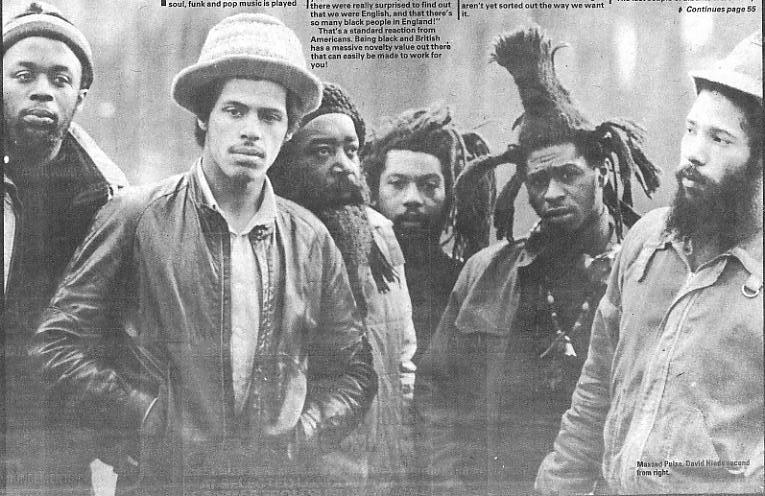 Lloyd Bradley takes the temperature of Handsworth's long distance dreads. Photo by Kevin Cummins.
Sports shirt, slacks, Lacoste and loafers, with a modicum of jewellery. I thought I looked crisp for this one; relaxed but well-to-do dread. I was thinking pf post-Capri - pre-BMW...that is until in that open maze of a building Island Records use as headquarters, I met David Hinds sporting a sharp suit and college tie topped off with a vertical tam and wooden amulates in red, gold and green. Quite a surprise. In the past Hinds has always been a confirmed jeans and trainers merchant. Indeed he still is, and this new style was nothing deeper than an appearance in the witness box that morning. However, in spite of being asked to read nothing intoi it, I think it serves as a fine illustration of the rejuvenated Steel Pulse. The rejuvenation is apparent in True Democracy, not only as their best album since Handsworth Revolution but also coming at a time when the home crowd had all but forgotten them. The last couple of years have been Pulse's most productive despite all the rumours. In that time they've achieved even more since their introduction to the public in the summer of '78 when Rock Against Racism was in vogue. Steel Pulse's media silence was caused simply by their long absence from England - and by there being more crucial matters at hand when they returned.
The band branched out from that well worn circuit around Holland, Belgium, Germany and Scandinavia. They crossed the Atlantic, taking reggae music back to its birthplace, Jamaica, and then on to America where, at a time when Reaganomics are shifting social stances and nearly every black artist is putting reggae in their repertoire, their music and politics went down a storm. Back home, recording and management contracts had run out and so rather than chase labels cap-in-hand, Wise Man Doctrine and Steel Pulse Music were set up. There two companies will take care of all Pulse's business, recording, releasing, management, publishing and production, making them the self-contained unit in which they always felt they would function best. Ironically, the only function they haven't finalised could be their downfall - distribution. It's no good making great records when they fail to reach the shops. At the time of this meet though, that was being sorted out, so with the bonus of Ravers, the album's single, being only the second Steel Pulse single to get on the national playlists, it was a bouyant as bon mode Hinds who was about to fill in the gap in the Steel Pulse saga.
First Sunsplash, the annual reggae festival in Jamaica at which Pulse were pitched in with the likes of Sly and Robbie, Stevie Wonder and Third World - and came away as the stars. A mention of this brought a sheepish smile to Hinds' lips: "It was the first time I'd been to Jamaica! I enjoyed it very much, because of that and what the band were able to do. It was the first time the black people there have seen a reggae band from another country, and they enjoyed it. We did the best we could, and people say we tore the place up, but it's true that the response was incredible. What else was fantastic too, was the response from the other musicians. Because our sound's always been a fair bit different from the Jamaican sound, and they've heard our records, and were really interested to see how we did it. It was incredible to have people like Sly and Robbie crowding round when we were doing our sound check, not saying much but just watching the drum and bass men!"
It's not that surprising that Steel Pulse went down so well, as a lot of soul, funk and pop music is played on JA radio, and in the clubs. That Jamaica is an island existing on a cultural diet of nothing but drum'n'bass, even in places like West Kingston, has always been a myth. Therefore, the band's more textured, listenable as well as danceable brand of reggae should be a natural. From there, we moved on to America where right from the first album, their records have sold. On the strength of that, they went on a tour that took in all parts of the US and Canada when again they left a wake of torn off roofs and mashed up brains. It took the band a long time to set up the American tour. The first time I met them in 1980 they had just had one blown out due to "passport difficulties", but it was well worth the wait.
"We've always enjoyed good sales over there, as all those black stations make it easier for them to get on the radio, also they take the subject matter much more seriously. There couldn't have been a lot of people in the States who knew where Handsworth was, but that didn't matter. They knew it was an environmet similar to theirs and they could relate to it. That's why we found that when we went to France, Germany and Denmark that the blacks out there listened because in a lot of ways it reminded them of where they were living. For the most part, it's the same for black people everywhere, so Steel Pulse music has that kind of universal appeal. People in the States listen to the words of songs much more than they do here, so they knew how we were before they saw us. We didn't disappoint them, and their reception of us was tremendous. Although that really boosted the band's morale, one of the best things about touring America was getting to meet other black people, and learning about their situation while we told them of ours. It really broadens your outlook, as you're seeing the things you've read about. The people over there were really surprised to find out that we were English, and that there's so many black people in England!" That's a standard reaction from Americans. Being black and British has a massive novelty value out there that can easily be made to work for you!
Hinds' philosophies about travelling abroad sound much like Gil Scott Heron's (himself one of Hinds' heroes) "universal black experience". In the US negotiations to put Pulse on the Scott-Heron tour as support were started but ultimately broke down. They did however get to meet in Philadelphia. "Well it wasn't really much of a meeting, it was just backstage after one of his shows. You can't really talk to anyone under those conditions, but he was pleased to see me. He's heard our music, and was disappointed that we couldn't do the tour with him and that Steel Pulse weren't going to sign with the same label as him in America. I gave him a Tribute To The Martyrs album and we just chatted for a short while about England and that his old man is Jamaican. Nothing much, but he said he'd like to sit down and talk with me, so maybe that will happen when he's over here." Hinds and Scott-Heron together would be some dynamic duo. If it came about, I think the authorities would have no choice but to lock them up - in separate cells!
Having found such a custom-built market for their ideals and music in the land of the free, I wondered would Steel Pulse ever make that their base. The answer is both wistful and realistic. "I have thought about it, seriously. I am impressed with it, I've met some serious kinda people there and come across all sorts of things that you wouldn't get here. It's a very exciting country, but it's also very dangerous, violencewise. So final. Obviously, we'd miss things over here like our families and our friends, because no matter how long I've been away it's always good to get back to Handsworth. Y'see although I feel like I belong to other places in the world, I feel that most of all I belong to Handsworth. It's my home!"
"Anyway, it wouldn't be worth the band's while to go there right now. Not while the business side of things aren't yet sorted out the way we want it. The reason why I'm enthusiastic about the States, is that as far as Steel Pulse music is concerned, for the band to really come across how it is supposed to over the past years, the States is the last resort. If nothing happens in the States, I can't see it happening anywhere else. The people believe in the music, and it's like a start. I mean, we've been trying here for quite a while, and although I can guarantee that we'll fill colleges, as far as getting records sold or getting airplay we deserve, that's almost impossible. Especially with the subject matter we deal with. If this new album doesn't do it here, then we might well forget about England. We don't want to, but it could well come to that."
The whole band feel very confident that this new album will do it, in spite of a lukewarm critical reception. It's definitely their best since their first, and apart from the production being much cleaner than Handsworth there is very little difference. The change is in the attitude of the listeners. It's shown up in the sound systems - kilowatts of bass are no longer acceptable to the youngsters. They're looking for something more interesting, something with a little more style. Aswad led the way with Warrior Charge a little over a year ago. Hinds thinks Pulse are set to follow. "Since we started, there's been a lot of progression in the reggae world. In the beginning we were a little out of step, but I think the people are ready for that now. Not only in the subject matter but there's a certain way that the music drops now. The way the music is played now will carry it for us so those who don't want to listen to the lyrics will tune into the music itself. I find that there's a lot of people into them as songs and melodies as opposed to what's being said. Handsworth Revolution didn't have that so much. It was more about pure subject matter and people, especially in the States, bought it for that. This time around they will be checking for Steel Pulse as musicians. It will get back the crowd who used to follow us, plus a new crowd. The last couple of albums were really only for those who have always been tuned into Steel Pulse, but this one is different."
"I think that what young black people are looking for now, especially in the last year, is a new form, a new style of music entirely. That's what we're working on, we're trying to put forward our contribution to building a new kind of music for the world. Because there's been a gap in reggae music in that time, it's been since Bob Marley died and people are looking for a new figure or a new band to take over the lead again. I don't think that it's going to be just one figure, or just one band. I think it's going to be a collection of musicians or different types of music, fused together and pulling the right strings to make a new sound which is so much different and so far removed from what's happening now. It will be something to cling on to, something that is fashionable, cultural and will have all the ingredients that will carry it through for the rest of the '80s."
It's a dream that could well come true, as all over the world black cultures are amalgamating. In this country, kids growing up exposed to equal amounts of soul and reggae, with a lot of pop and rock, are mixing it up (Steel Pulse's early influences include Mandrill, War and The Isley Brothers). America is embracing and trying to learn more about reggae. And the African continent, which for so long has had soul and funk as part of its staple diet, is now opening up to reggae bands (Pulse will be touring there later this year). Hinds and the boys are astute, and talented enough to see this thing through. So it would be a great shame to lose them, but if the sales of True Democracy to date are anything to go by, we've at last learned to recognise a good thing when we see one.
Text copyright NME 1982, used without permission.
---
Home : Steel Pulse : Articles Index : E-mail
The contents of this website cannot be reproduced or copied without permission of the site author. (c) Andy Brouwer 2004