ANDYBROUWER.CO.UK
---
STEEL PULSE - ARTICLES
---
Steel Pulse - Prodigal Sons?
Paul Green in PopStar
23 June 1979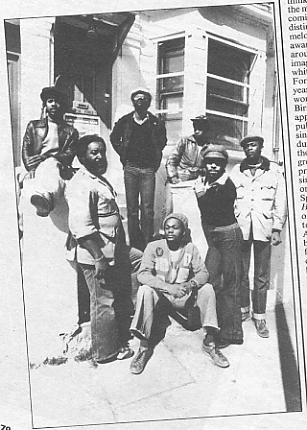 If you think of British reggae you think of Steel Pulse. Far and away the most successful of all the up and coming young black bands, their distinctive blend of smooth flowing melodies backed with an astute awareness of what's happening around them has captured the imagination of both the black and white youths of our country. Formed rather loosely some seven years ago in Handsworth (a black working-class district of Birmingham), they began their apprenticeship by playing local pubs and clubs and released a single on a small independent label during 1976. By the tail end of 1977, they were beginning to attract a great deal of attention from the press, mainly due to the release of a single Nyah Luv and support dates on both the Stranglers and Burning Spear's tours. A top ten album, Handsworth Revolution and a string of strong singles brings the story up to date, almost.
Although it would appear that the band have been quiet for the past few months (ie. taking a well deserved rest), nothing could be further from the truth. They have in fact, been recording a single Sound System and an album Tribute To The Martyrs, the latter set for mid-June release and also generally acting like film stars for a TV documentary which was screened a few weeks ago. I spoke to three members of the band, Fonso Martin (vocals, percussion), David Hinds (vocals, guitar) and Selwyn Brown (keyboards, vocals) during a break from their British tour which climaxes with a date at Hammersmith Odeon, further evidence of their ever-growing popularity.
But first, back to the new album. How long did they spend recording it? Fonso: 'We spent five weeks in the studio and a lot of time preparing for it while we were on the road.' David: 'The first week in the studio was the most difficult, getting the right moods, the right speed and tones.' Were they pleased with the results? David: 'Yes and no, we need to get more studio experience then things should be a lot easier.' Did the accusations from the purists that they were too commercial worry them at all? Fonso: 'No, not at all, it happens every time a group gets across to a large audience as we do.' David: 'There're lots of background reasons behind those accusations.'
Did they, I wondered, consciously set out to write songs with political and social messages, or was it more of a spontaneous thing? David: 'It just flows through you. It's a concern for our community and it's like anything, you have to see a lot of the bad things that go on to be affected by it. But I suppose it's the same as a record company telling you to record an album in a certain amount of time or else. If you force it, it won't come.' So in effect, they were directly influenced by their surroundings in Handsworth? David: 'Of course, my influence is direct but you also have to be familiar with different environments. We travel around the country from place to place and we then draw comparisons. You need to have some kind of comparison.'
Would they be prepared to back up their statements with hard cash, ploughing money back to the needy? Fonso: 'Certainly, for the worthy organisations.' Selwyn: 'More and more local people want Steel Pulse to do things for them.' Did they agree that the militant stand amongst reggae artists was the reason radio stations are reluctant to play the music? Excepting of course, the current trend towards disco cross-over records which generally steer clear of politics anyway. Fonso: 'These people try to brainwash you into listening to what they want you to hear. They don't want their listeners to know about bad things that are happening in the world.'
They are obviously popular amongst white kids but did they get a lot turning up at their gigs? Selwyn: 'we usually get a good percentage. It depends on where we play.' Fonso: 'We've had to play everywhere to reach a large audience, because people are only prepared to go to one type of club. So, to get across to everyone we had to play various circuits.' When the current British tour is over, Steel Pulse embark on a European assault which will take them through to the middle of July. Just reward for an extremely hard-working outfit. But as they become more successful, could they see themselves moving away from their roots. Perhaps, losing touch a little even? Fonso: 'No, that would never happen.' David: 'You can put a guard over the fire but the fire will still burn.' Sensible lad that one.
Text copyright PopStar 1979, used without permission.
An A-Z of Reagge by John Simon
Selwyn Brown, keyboards and vocals: Basil Gabbidom, guitar and vocals; David Hynds, guitar and vocals; Fonso Martin, vocals and percussion; Ronnie McQueen, bass; Steve Nesbit, drums; Michael Riley, vocals, percussion, mouth harp.
Probably the most well-known and hitherto most successful of the British-based reggae bands. Steel Pulse hail from Birmingham and their music would go down well in a disco, their live performances are very much stand up and dance affairs. Perhaps incongruously the band espouse the Rastafarian faith which comes a little bit odd when you hail from Birmingham. Not surprising I suppose that they want to go to Africa. The Rastafarian bit probably emphasises the bona fide nature of this reggae outfit and if anybody was in any doubt their debut album would certainly act as a clincher. If you're keen to further your interest in reggae this band wouldn't be a bad starting point.
Selected Discography: Album: Handsworth Revolution (Island). Singles: Nyah Luv (Anchor), Ku Klux Klan (Island), Prediction (Island).
Text copyright PopStar 1979, used without permission.
---
Home : Steel Pulse : Articles Index : E-mail
The contents of this website cannot be reproduced or copied without permission of the site author. (c) Andy Brouwer 2004