ANDYBROUWER.CO.UK
---
STEEL PULSE - ARTICLES
---
The Handsworth Revolution...meets the Berlin Wall
Mark Ellen in NME
30 June 1979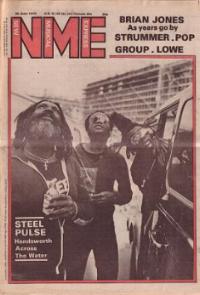 Home thoughts from abroad by STEEL PULSE while hunting down Babylon in the Bratworst Zone. Your despatch rider is Mark Ellen. Pix: Adrian Boot.
There's two reasons for this wall around West Berlin. Apart from confining the general populace, it serves as a canvas for their corporate spray-can. Just around the corner from our hotel in Stresemannstrate, daubed in black letters four foot high, runs an unusually cryptic message - "Teenage Jesus & The Jerks. SO 36 - 30.6.79." A venue better suited than SO 36 for the crazed onslaught of the Lydia Lunch Package would be hard to imagine. With all the tackiness of The Marquee and the acoustics of an overlarge shoebox, it's the very sound of Berlin New Wave. The roof is lined with crudely painted neon strip lights, the walls with punk art photos glued on metal sheets, and the entrance with ads for New York horror/avant garde/punk flicks. Somehow the thought of this playing host to a black reggae band from Handsworth doesn't quite ring true.
Berlin 20.6.79: the Bay City Rollers have sold out one-tenth of The Metropole Disco, Edgar Broughton faces 1400 empty seats at Hochschile Der Kunste, The Police have packed out Kant Kino, and yet SO 36 is sardined wall-to-wall with assorted local hipsters; longhairs, spikey tops, cosmetic cowboys, the decadence clique - everyone down to a few babylon-by-bratwurst-type denim-clad boozeheads. Archie Ball, a Handsworth native and pioneer for the band's cause, lopes up to the microphone and, in an accent so thick it's indegestible to these alien ears, introduces "The Mighty Musical Force of Steel Pulse."
Six brilliantly coloured figures spring out from the wings, as the crowd cranes its neck to check out their threads. Beneath a wash of red, gold and green, David Hinds is in his chequered court-jester garb topped with a red bowler; keyboardsman Selwyn Brown is in strict militia; percussionist Phonso Martin wears his usual Far-Eastern regalia, and guitarist Basil sports a silk kimono emblazoned with animals. Behind them are the pump house gang of bassist Ronnie McQueen in his Abyssinian Holyman's hat together with one of reggae music's most underestimated talents, Steve Nisbett on drums. As Hinds later puts it, "We are portraying certain people in society in the system throughout the world." Even if the finer points of Pulse's visual/verbal message go by the board, the crowd slowly succumb to the sway of their exhilarating music and slide into its magnetic rhythms.
They play a vivid, typically well-balanced set that weighs the new songs from Tribute to the Martyrs album against a springboard of the familiar Handsworth Revolurtion; a set that combines all the thrust of reggae backbeat with the bouyancy of Hinds' melodies and his sensitive and stunning arrangements. To watch Steel Pulse stir this dive into perpetual motion is a celebration - pure and simple. "For the mouth of the wicked and the mouth of the decitful are opened against me. They have spoken against me with a lying tongue. They compassed me about also with word of hatred and fought against me without a cause." Psalm 109. v2-3 (from the cover of Tribute to the Martyrs).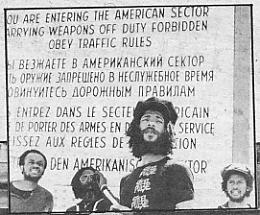 You could well call Steel Pulse opinionated. Everything they encounter comes under intense scrutiny. They don't smoke tobacco, they rarely drink, and they eat - in varying degrees of wariness - fish, fruit and vegetables. For Phonso Martin food with the merest suspicion of pork content tends to get the cold shoulder although none of them go to the extremes of Third World, who apparently won't eat in restaurants that have ever been contaminated by meat. Even the statutary herb intakes seem to have been knocked on the head. Trouble with borders, that sort of thing? No, they say. it's just "interesting to be without it for a while." They also have a passion for long and devoutly serious, discussions, usually on such topics as black suppression, Rastafari, class equality, Marcus Garvey, and the search for Truth. It's not uncommon, when travelling in the van, for Archie to expound his theories for a continuous 15 minutes, broken only by occasional nods of approval and the sound of Rico, The Crusaders and Herbie Hancock filtering from a cassette machine. I suggest to Steve that it's the city itself or maybe the interview that's inspired this display of commitment. But no, he says, it's like this 24 hours a day. The band's white road crew tell the same story.
We wander around Berlin's scattered, shell-scarred monuments for Adrian Boot to take some photos. David and Phonso are locked in another vigourous debate, this time on interbreeding between races. Adrian lines them all up in front of the Russian Monument with its tanks and armed guards, the Brandenburg Gate of the bombed Kaiser's Palace, and finally on the steps of the austere Reichstag, where Hitler made the speeches that compounded the whole Nazi Movement. At the border post, Checkpoint Charlie, we get word that if we point our cameras at anything except historic monuments they will be ceremonially mashed into the pavement. One of the band behind me starts a pastiche of Linton Jonhson's Sonny's Lettah, adapted for an East Berlin jail. It's not exactly hard to see a parallel between these oppressive surroundings and those which confront the black minority in the band's native Handsworth. Last year Hinds gave the strong impresion that, to its residents and local police force, dreadlocks and crime were virtually synonymous. Had anything changed since then?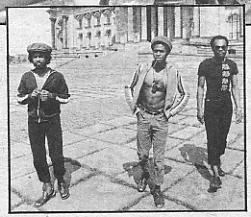 "That feeling's still there," he says, "but to be quite honest with you, you get one or two dreadlocks who are really just dreadlocks; people who say they're seekin' Rastafari philosophy and are not. They're just false, they're not in with our doctrine, and they're the ones who give people who are really trying to seek something for themselves - and be somebody - that bad name." Is there still discrimination against dreads in clubs as well as on the street? "It's worse than ever in Handsworth. You get occasional raids and youth clubs closing down very early. It's been told for years now that when you hear reggae music, that's where the violence is - that reggae brought violence into disco's. But we're living in a time when dreadlocks is just beginning to get a form of respect from the older community of black people; respect for the fact that our music is enlightening a lot of white people." He mentions two incidents of unprovoked violence against blacks: the first was in Wolverhampton when NF members shot some black youths from a car with pellet guns, and the second concerned a friend of his who was very severely beaten up. Both were sheltered down (hushed up) by the police and authorities. "You find people who prefer fighting back because they've been through it and they've had enough. And you find people who are saying 'we've got to go another way about it - Peace, peace, peace'. We want peace, but we don't want to turn the other cheek, 'cos what happens is they're gonna slap it again, and then you've got no cheek to turn."
Later, Hinds and I get a chance to talk in the silence of his hotel room. But he doesn't like to be considered the spokesman of the band, and is clearly concerned that the rest of their number have disappeared - two for a radio interview and three round the corner for a meal. Hinds writes almost all of the band's material. He's dedicated, intelligent, entirely honest and enormously sensitive. His conversation is lucid and expansive when I'm sympathetic, and methodical - and sometimes fiercely defensive - when I'm not. He often soars off at a tangent, illustrated with graphic Rasta and Biblical imagery. For their white audience his equally idealistic lyrics on both the albums are largely overshadowed by their intriguing and ornate sound texture. This demands as much incisive production technique, and it's partly this ambitious departure from Jamaican roots-type recording that's made the band such a distinctive force in British reggae.
Pulse put out their first single Kubulah Upsetter on the Concrete Jungle label in '77 but its primitive production came nowhere near interpreting the complexities of their music. With the Island contract in '78, they released Ku Klux Klan and its equally controversial successor National Front. Both were denied radio play due to their defiant political content, and yet the excellent Handsworth Revolution became the first by a British-born reggae band to make the album charts, giving Pulse the recognition that such a courageous debut so justly deserved. Hinds looks back on their early days. "We'd been to small studios, and we weren't satisfied with the sound. The rhythm guitar just sounded thin and weak, and we had to ask ourselves is that the right sound for us? It was a question of the mix, and the overspilling, and how far the bass should be, and we realised that most of our melodies are catch melodies and the bass didn't have to be that far up like in the Jamaican sound. So we held it back and toned it down a bit, and kept the vocals very much up front, and it's made a very flamboyant sound."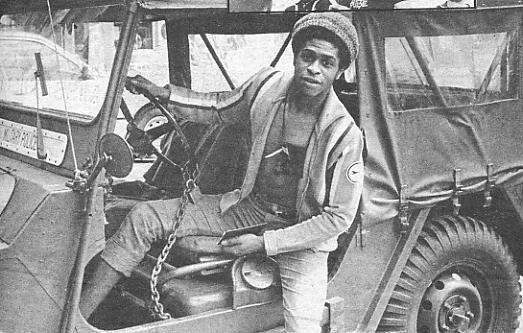 Apart from the early influence of the arrangements and technique of the first Third World album, Pulse owe a sizeable debt to their own producer, Kark Pitterson. "You could say that Karl really brought that sound out of us. He liked us straight away and it seemed like he was looking for a band that he could put his ideas into. He helped us produce what was best for us when we didn't really know what to look for." Did he feel that JA roots reggae was hard for a whire audience to appreciate and understand? "It is really, because there's certain phrases and accents that you've got to live rather than suddenly experience although you've been told the meaning of them. Ours is like a cross-over, but they're accepting the bass lines now, the bass lines pushed forward. But that kind of roots music doesn't get any airplay, because our kind of music is only just getting airplay, and it's really not getting enough. Like Sound System - it's nothing to do with drugs or chanting down the National Front. It's just a nice disco jive, and it's still not getting enough airplay, probably because we had singles out before like Ku Klux Klan."
How much has Steel Pulse's success influenced other bands in their community? "There's been a lot more reggae bands since we came onto the scene and into the papers and started putting out records. There's a lot of bands with one or two different ideas, but I don't know how far they're going to go. You heard Eclipse - they formed around the same time as us. The reason why we weren't so popular with Eclipse was a few years back, is because our music is different and was not accepted by the black community." Is that because your whole approach has become more elaborate? "Well it's like with Marley. When Marley came over with Catch A Fire, everyone says 'yeah, that's it'. Not until Marley came through via the white audience with the Natty Dread album did the blacks really see that his music was very different from a lot of the actual reggae artists. That's when they saw Bob Marley as a pioneer - 'cos he is a pioneer of reggae, there's no doubt about that." Surely the majority of blacks reckon that Marley' pretty much sold out? "When they first heard him they accepted him. He was 'roots' in the sense that he was on about life and suffering and a lot of Biblical parallels that he was dealing with then. The band has progressed technically, and as far as ideas are concerned they need a cleaner sound to portray what they want, like on Kaya. But I think a lot of black people have come to terms with that sound."
I suggest that their new album Tribute To The Martyrs, although it experiments successfully with new techniques and textures (notably Moogs, brass and horns), is still disappointingly unadventurous. the same arguments that could have been weighed against Marley could well be applied to their single Sound System. The word 'commercial' raises its ragged head. "When you say commercial - if it was commercial, it would get airplay. I get my reggae influences from the sound system rather than the radio because if I leave it to the radio I'll not hear the reggae music I want to hear. What I'm doing with Sound System is trying to enlighten the black people as well, so I sing if you 'want consciousness, well I head rest with Jah.' I'm telling you it's the Rastafarian cult we're looking at. We didn't just go on a dreadlocks fad because there were a lot of people doing it."
The conversation steers towards Rastafari and also - inevitably - to a confrontation. As with any religion that dictates so strictly to its followers, to pitch a devout believer against even a sympathetic non-believer can only leave areas of dissent. What is faith to one seems just irrational and ineffectual to the other. Hinds outlines his feelings in typically clear-cut terms. "Rastafari is something we've been looking at for a long time, and we kept turning away from it, thinking we couldn't really meet up to certain commitments. But right now we are influenced by it. You see there's always a scapegoat in every country. We go to France and they say, 'Everything's fine except we don't like the Algerians'. We go to Sweden and they say 'Everything's alright but we don't like the Finnish people.' Love is a thing that is needed more. Music is one of the strongest forms of communication today and Rastafari is another philosophy that is trying to come through with love."
What exactly is he trying to achieve with his Handsworth/Babylon Biblical metaphor? "When we say Handsworth we mean a lot of other towns like Handsworth - not only in England but in the world - who show a form of concern for the South African experience, or for the Sus charges of black people in Britain. That's what the Handsworth Revolution argument is trying to portray - that 'We once beggars are now choosers/No intention to be losers/Striving forward with ambition/And if it takes ammunition..." We can't really stand here and take blows. We've been taking it for years." Isn't his imagery too traditional and ideological? To bring out banners on stage that claim 'Satan's Kingdom Must Fall' and to state that 'Only Babylon prospers' seems very far from a solution. Did he really believe his lyrics had an immediate effect? "I see what you're saying really, but it's not all the time that it's wise to state what you're going to do. It's nice for people to make up their own minds after giving them the facts. We want people to put themselves in their own position and really look into themselves as people, and have a concern for each other."
How close are his lyrics to the reality of oppression in Handsworth if he writes lines like 'Give I back I witch doctor/Give I back I black ruler'? "It means give the black people an identity. Witch doctors aren't just false healers. History tells us that when they shipped the black people to the West Indies they took away the witch doctors as they were the ones who were actually keeping the black people together. So when I say 'Give I back I witch doctor', it's like a way of life that was once good and without any form of oppression." That still doesn't suggest that he's coming to terms with black and white in a relevant context. "It's a protest, and you've got to come to terms with the fact that a lot of protests never get any solution. We're looking for a form of respect; it's what we think we deserve." I quote him a recent statement by Linton Kwesi Johnson, who claims: 'Rasta isn't that important a force for radical revolutionary change. How could a young man born in the 20th century talk about Sellasie and that back to Africa nonsense? Like any other form of belief, Rasta satisfies a need. I don't have to shout about roots because I know I'm roots. I don't have to shout about Africa because I know Africa is where my heritage lies.'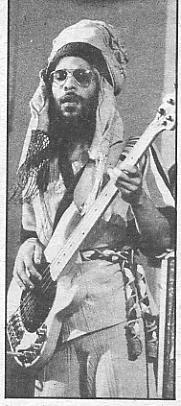 Hinds springs up off the bed and starts pacing about the room. "Rasta is not shouting about Africa. Rasta is saying about the goodness of Africa. How are you going to be a man and do these sort of concepts...to me it doesn't have any spiritual vibration. What he doesn't realise is that the black people have survived slavery because they believed in the Creator of the Earth. We've been told that there were people who are chanting down the ideals of Rastafari and don't know that in many ways they are living off those ideas." How does he mean 'living off them'? "I mean carrying them out. Carrying them out and not realising them. As far as talking about equality - that's a Rasta ideal. It's also a Christian ideal, a Buddhist ideal, so for Rasta substitute 'truth' instead. But he's not totally committed to truth. To be totally committed to truth you've got to have a spiritual vibration. Would you say he's a spiritual person?" I'd say that just because he doesn't recognise Rasta ideals it doesn't mean he's not a spiritual person. He just believes that organisation has a greater effect than Rasta ideology. "Of course Rasta has an effect. If he hasn't seen the ideals of Rasta helping the situation then he hasn't seen what Martin Luther King has done...or what Marcus Garvey has done...or the very first rebellious people to lead the black people towards emancipation. Linton Johnson says what Rasta has said but he's putting it in modern words. Like instead of saying 'A man sould not oppress another man', he's probably saying 'The National Front should treat the black people better.' What he's saying is exactly what the Men of Truth are saying from the beginning of time and he doesn't even know it. But I respect him, and I've got nothing against Linton Johnson." Wasn't there a time recently when you didn't consider yourselves Rastafarians? "There was, but now we share their ideologies. Really the concept of Rasta is 'Love', and everybody who looks in their heart is Rasta. We're only seeking Truth and Love."
Possibly the band's greatest stumbling block since their outset has been the incompatibility of these black ideals with a reggae music refined for a white audience. In the days when they were playing at punk venues like The Vortex they lost much of their black support when white punks began embracing reggae as a direct alternative to anarchic new wave. Yet Hinds describes their music as " beneficial - even more to get a consciousness of themselves and learn." The Tribute to the Martyrs album, with its respectful reference to - among others - Steve Biko, George Jackson, Marcus Garvey, Martin Luther King, Malcolm X, restates his belief that in order for blacks to gain that 'consciousness' they need to be aware of the achievements of their past black leaders. Did he think our present curriculum suppressed that sense of perspective? "In some cases it does deliberately; in others it happens that way for the fact that you're in England and you get taught English history. It's like when I was at junior school and I used to watch Man from Uncle on the TV, and I used to think how I wanted to be like Napoleon Solo - just because he gets all the girls, and all the kung fus, and gets to shoot all the bad men. I used to think 'I wish I could do all these things in realty', but I never looked at him and said I wished I was white. Just imagine when something is learned in later life, the person will either come to terms with it or else react very contrary. It's like a child who gets adopted, right, and later he learns that his parents are not his real parents, and he gets told about it when he's 16 and he gets furious."
He's said in the past that black people should come to terms with the fact that in some communities they're not wanted. Did that ever make him distrust white people? "Mark, to explain this to you is very tricky. It's hard for me to explain to you the distrust I'm talking about without you thinking there's a prejudice against white people. It's four and a half hundred years of experience, and you've got to accept the facts from there. And that all the time you read books and see films the black man is portrayed as someone who is beneath the white person." Allegations of white racism have been brought against Steel Pulse since an article was sold to The Sunday People by Michael Riley their ex-percussionist. It appeared on Christmas Eve '78 and stated that he was kicked out of the band because he married a white woman. David Hinds' version puts the story in a different light. He claims that Riley was influenced by his wife, Claudine, against the band's political concepts. He no longer seemed to communicate with the band, missed rehearsals, missed a gig, and that led to the inevitable parting of the ways. "He was trying to cramp us by saying we were a prejudiced band and that we were inciting racial hatred", adds Hinds, yet somehow Riley failed to mention that Pulse's drummer, Steve Nesbitt, has been happily married to a white woman for the last seven years.
As an ardent supporter of the movement, did Hinds think that Rock Against Racism was more than just a token support? "It's done some good, but I think it could do more good. For a start, I don't know where the money donations go. I think we should get written details that the money is doing this and that and has been sent to South Africa to overthrow Ian Smith's regime or whatever - that's what Rock Against Racism means to me. If people could get an understanding of each other's races and cultures, half the wars and half the prejudices wouldn't exist." And on that note, I left the pfennig for room service and slunk out of Berlin.
Text copyright NME 1979, used without permission.
---
Home : Steel Pulse : Articles Index : E-mail
The contents of this website cannot be reproduced or copied without permission of the site author. (c) Andy Brouwer 2004