ANDYBROUWER.CO.UK
---
STEEL PULSE - ARTICLES
---
The Pulse gets stronger
John Shearlaw in Record Mirror
15 July 1978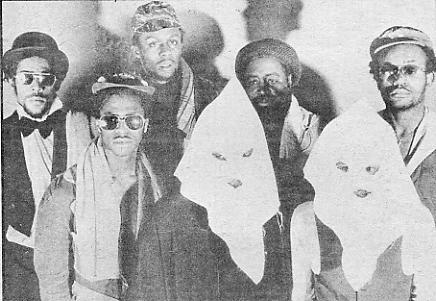 John Shearlaw looks at the rise of Steel Pulse on the eve of the release of their first album
The story started last year. Steel Pulse...the Birmingham reggae band. You'll have heard of them for that if nothing else. Birmingam 19/21. Handsworth to be precise. Often described - with less than geographic or even ethnic accuracy - as a ghetto. In reality the area in Britain's second largest city where a generation of West Indians (definitely among others) grew up...from the fifties onwards. British citizens bringing up their sons and daughters. And among them Steel Pulse. Not the first British reggae band by any means - but for the story as it now stands perhaps the foremost in a new generation where homegrown reggae talent is (slowly) being recognised as quite the equal of Jamaica's own.
The last year has seen them become well-versed in the ways of the metropolis. A string of successful, and ever-larger, dates along with a firm alliance with Rock Against Racism. A first, tentative, single. And finally a long term contract with Island - home of Bob Marley, Third World and many others and (empirically at least) well prepared to bring the reggae sounds to a new audience. After a slight faltering with Ku Klux Klan, a single that was controversial enough to be all but without attracting the ballyhoo related to being banned, they've made it (spare us)...into the charts with Prodigal Son. And perhaps with an inverted sense of BBC justice, they made it onto Top Of The Pops on the single's first showing. They've also just finished a European tour with Bob Marley, and within weeks they release their first album - Handsworth Revolution. The proces starts here.
Introducing (and not before time) the band. David Hinds (lead guitar and vocals), Steve Nesbitt (drums), Fonso Martin (vocals and percussion), Ronnie McQueen (bass), Selwyn Brown (keyboards), Basil Gabbidon (lead guitar) and Michael Riley (vocals and percussion). The success first..."I was very worried for a time," says lead singer David Hinds. "We never wanted to be part of a craze, know what I mean? Like people are saying now: 'Is punk still going on?' - I didn't want that to happen with us. Yet a lot of the things that happened to me last year were a real shock. We went out as Steel Pulse, then...one, two, maybe three months...signed up! I was a bit worried, like, that it was too quick." And adds guitarist Basil Gabbidon: "It was never our intention to get up there too quick. We'll just go as much as the talent allows us. We wanted to know we could do it all - and stay as true a band as possible."
In a sense they had a head start. They were a young new and committed band at the right time. Their close attention to visuals - (it was the Ku Klux Klan white hoods that brought them their first rave reviews) guaranteed a reaction from the start they seemed fit to lead the spearhead. After early acclaim, though, their first excursion into the studio was a disappointment. The single last year Nah Love, in a one-off deal with Anchor. "The song didn't portray the band," says David. "It was recorded way back in May last year and when it came to putting something out it seemed the most promising. There wasn't much else anyway! Anchor still wanted to sign us though. In the end Island seemed to be the 'future-full' - according to what they'd done already with Marley and so on, so we went for them. They're tight!"
Greeted by (almost) all as the move necessary to establish Steel Pulse as the vanguard of the British connection in the rapidly increasing reggae market, the obvious step was taken. Ku Klux Klan was released as their first single for the label a few months ago. It became, unofficially, their first hit. The single sold well enough by word of mouth to catch aTop 50 placing one week then...silence. "I wasn't really disappointed about Ku Klux Klan," says David. "It was something I was bound to accept, because of the subject matter. But it was an immediate song, with a good rocking beat and I thought people could understand what was being said, y'know, it was about things that were happening. Even then it did cause some misunderstanding. Some black people originally thought we were on the side of the Klan, and black kids were asking: 'Why use that title?' They thought we were inciting hatred. But it was the band, and the other songs are the same - perhaps they need to know the band more to really know them. It's always the subject matter. We write songs about what's happening in England - because we live in England, not in Jamaica - but it's applying to what's happening on a universal scale, SouthAfrica, anywhere. We're portraying ourselves as black people still."
And to whatever audience... David points out: "Somebody has got to do it, be the first to break through. We don't want to be in the rat race or anything, but we've got to show people - and especially our own people - that we can do it. British bands can compare to Jamiacan bands, and our subject matter is much more relevant, but it takes a long time to get that across. Take Bob Marley. The black man hears Bob Marley through white channels of communication. Once he's recognised by whites he's ok. The first time we played the Bouncing Ball (a roots club in London) people just stared. Then when you catch on in the press you're more liable to be accepted. It's difficult for us with some black audiences. The grass is always greener to them, they want JA music and rockers rhythms only. But we've got to show them we're just as good - and different."
Aside from their initial worries about acceptance by punk audiences - "it's new music to them, like modern jazz is to me," says David. "Like we played in Glasgow, where we were the first reggae band to play there, and we expected the worst. But it was great. We get a valid reaction from white audiences, although there is a drawback when you know it's been a bad gig. They just accept it anyway. But you can't always play to a small number who understand.You want to get the subject matter across to as many as possible." The band have always kept a clear path away from the JA sound, confident in their own ability to create their own. Steel Pulse always: themes, tunes and subject matter. "We don't have that heavy sound, but something different, and just as good. Cleaner and lighter, y'know? What you sing about, though, is the most important - as much as how you play it. It's not a commercial thing, just what you feel. Songs like Soldier Blue on the album, for instance, are saying...that's how we see it, we don't want that civilisation, we want everything cleaned up. Things you can listen to because to us they are important."
Add National Front, Bad Man and Prediction and the commitment is just beginning. The mixture, well potent, is completed with the likes of the instrumental Soundcheck - "it's dubbed up, and dub time is fun time, you can dance to it!" says David. Handsworth Revolution has been a while a-coming, no jestering - it just has to be right... Steel Pulse, you can be assured, are but setting out - with their course ahead marked in fine style. As David points out, bravely but truly: "We're still in early stages what we want to do." And this good, this soon? The breakthrough may have already begun...
Text copyright Record Mirror 1978, used without permission.
---
Home : Steel Pulse : Articles Index : E-mail
The contents of this website cannot be reproduced or copied without permission of the site author. (c) Andy Brouwer 2004