ANDYBROUWER.CO.UK
---
STEEL PULSE - ARTICLES
---
Pulsebeat - Pulseheat
Handsworth Revolution album review
Adrian Thrills in NME
29 July 1978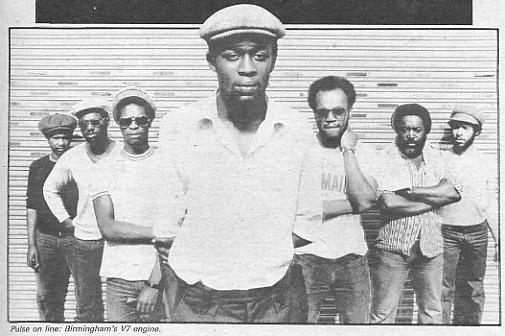 Birmingham's Steel Pulse have always appeared a slightly puzzling bunch. And if anything, the long-awaited release of this their debut album tends to confirm their enigmatic status as Britain's motor city rebels.
The impetuous lyrics, the overtly political stance (Steel Pulse are as concerned in the songs here with others as they are with themselves) and the brazenly militant outlook would seem to need a strident musical backdrop for the dreadest impact. But no. Just as Aswad's very underrated debut album owed something soundwise to the grating, chunky reggae of 'Catch A Fire' period Marley, so Steel Pulse look to come pretty damn close to the silky smooth 'easy listening' reggae of the selfsame Trenchtown soul rebel's 'Exodus' set.
The overall initial impression of Handsworth Revolution - while perusing the misty watercolour on the glossy white gatefold sleeve - is that of a very middle of the track, very laid back, very subtle album. The choice of as discreet a producer as the (Mighty) Diamonds' Karl Pitterson would also seem very much in keeping with such a mood - 'white man's reggae' as some snides might scornfully term it.
But first impressions do not tell the whole story, and Steel Pulse can rest assured that this critic is not about to chant 'em down. Despite the initially unappealing, indeed glossily extravagant veneer and the inclusion of both the Ku Klux Klan and current Prodigal Son singles (...and I thought they really cared!), Handsworth Revolution is a laudable achievement; a fully-realised first album, well worth its wait, even though it'll sting your pockets to the tune of four crisp sheets.
The Pulse have certainly cultivated one of the most distinctive reggae sounds around; the Pulsebeat is given its character by both the brawny organ work of Selwyn Brown and, more than anything else, by the decidedly rock-orientated guitar of Basil Gabbidon and lead singer David Hinds. Gabbidon's searing licks in particular sound at times like Ernie Isley at his best - and there was a bloke who himself copped a lot off Jimi Hendrix. And the fact that the band are not as impressive vocally as, say, Matumbi or a good many of their JA counterparts is all but lost in a wonderfully dense percussive undergrowth of drums, sticks, blocks, toms and tambourines - not as much of a trademark as they are live, but there all the same.
Meanwhile, the eight songs on the record should be well recognisable to any of you who have caught the Handsworth clan onstage during these last twelve months. Side one opens with the title track and two more consecutive blinding aces in Bad Man and Soldiers, all in all the three outstanding tracks here. On Handsworth Revolution itself the ardent message is one of optimism and hope. Hope that a change is gonna come and raise the people of the singer's native 'dread town' above the injustice of the badlands. It bubbles buoyantly to the chanted climax: "We will get stronger and we shall conquer/And forward ever and backward never/Revo-Revo-Revolution." Bad Man, on the other hand, stands alongside The Clash's 'English Civil War' and Costello's 'Night Rally' - a powerful warning of impending conflict: "Tomorrow is too late to leave town/If you're still here at noon/There'll be one big big big showdown."
The accapella section towards the end features melodies unashamedly lifted from two early Marley songs with 'Nice Time' (?) segueing into 'One Love' - a veiled but effective tribute. Better still, however, is Soldiers, on one hand a heartfelt assertion of black rights, but at the same time a pained outcry against the atrocities of war: "Is there a need for war?...Bodies in mutilated condition/Faces scarred beyond recognition/Is this what civilization means to me/Then without it I'd rather be." Set against a simple yet striking melody and a magical minor chord change in a middle eight that will surely sweep you all off yer pegs in orgasmic splendour, this provides the platter's most moving moment. Elsewhere, there's the sloppy Soundcheck, the frisky Makka Spliff (far superior to the dreary cut on Virgin's Electric Circus album), some neat flamenco guitar on Prediction and, of course, Ku Klux Klan, still sounding like one of this year's most worthwhile singles.
For subversive music, it's all commercial enough to worm its way onto Radio One and disco turntables, which is great. Just check their soul and suss them out - I find myself constantly flipping back to those three killer tracks on the opening side: pure rebel music. And with more young blacks - as well as young whites - becoming actively involved in organising the fight against racism and facism on their own doorstep, Steel Pulse have their finger firmly on the mood of a generation. Feeling high, high, high.
Text copyright NME 1978, used without permission.
---
Home : Steel Pulse : Articles Index : E-mail
The contents of this website cannot be reproduced or copied without permission of the site author. (c) Andy Brouwer 2004