ANDYBROUWER.CO.UK
---
STEEL PULSE - ARTICLES
---
Pulse At The Peak
Handsworth Revolution album review
Mike Gardner in Record Mirror
29 July 1978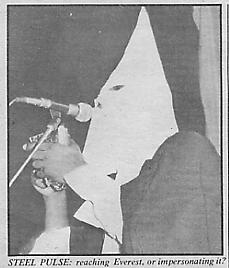 God it's been a long time coming. But that sort of perfectionism doesn't give a 'clart' about time. Either it's perfect or it doesn't go out. No half-hearted jestering. Pulse are at the tip of the sprearhead of the comparatively new movement of live British reggae. Along with the likes of Matumbi, Aswad, Cimarons and Reggae Regulars they are fighting against the strong Jamaican tradition of recorded music, the sound systems, the deejays and toasters, the dubmaster producers and the snobbery/oneupmanship for pre-releases and heavier cuts.
But the Pulse aren't flying straight into the hurricane. Of course their visual image, the soldier, the prisoner, the preacher, the page boy and the KKK hoods helps set them apart. But it's the delicious fushion of hard-edged rhythms and the swirling, layers of textured dub production techniques (in combination with the more traditional dexterous gospel influenced vocal harmonies and the European trait of formal arrangements) that's put them one step ahead. It's all made infectious and moving by their commitment and their complete understanding of dynamics which gives them the tension to highlight their message. It's a message about 400 years of solders coming, the theft of their land, the humiliating enslavement, the shootings in Wolverhampton, the physical attacks in Brick Lane and the moral attacks of Nazis. The Black Man's Burden.
On record, Steel Pulse have created something that's more rarified, cleaner and lighter than they are live. Their music demands the space and air that most JA product refuses. Consequently the powerful Steve Nisbitt (drums) and Ronnie McQueen (bass) are slightly dissipated but that allows Selwyn Brown's organ to melt through the gaps like hot butter while his synthesiser fills float on top. It also allows the filigree knitwork of Basil Gabbidon's guitar to take off at tangents and create new patterns. The innocent and vulnerable voice of David Hinds is cradled in this framework that's lined by the lush, honey throated harmonies of Fonso Martin and Michael Riley.
The material should be familiar to all those who've seen them on their exhaustive tours and any criticism I make will be about microscopic blemishes. With gems like Steve Biko and National Front (Rock Against Racism) on the touchlines I'm almost tempted to send them back to the studio. But they needn't worry, because I doubt that there'll be many rock albums to reach this Everest this year. This is craftmanship at its finest. +++++
Text copyright Record Mirror 1978, used without permission.
---
Home : Steel Pulse : Articles Index : E-mail
The contents of this website cannot be reproduced or copied without permission of the site author. (c) Andy Brouwer 2004