ANDYBROUWER.CO.UK
---
STEEL PULSE - ARTICLES
---
Single of the week - Steel Pulse: Prodigal Son
Roy Carr in NME
1 July 1978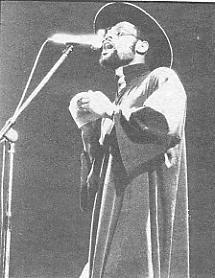 Steel Pulse's approach to roots rock reggae is not dissimilar to the attitude adopted by Santana when, with satisfying results, they first set about vigorously personalising Latin Salsa in 1969. Being British-based, the Pulse have substituted the more familiar JA sunkist stance with indigenous urban street-heat tension. As a direct result, this song dealing with a return to cultural awareness incorporates vital elements of black funk and white hard rock with the more ethnic aspects of reggae tradition. While maintaining the natural rhythms, Pulse have chosen to toughen up the music with a muscular mean steak and vocal harmonies so tight you'd have trouble finding room to slip in a spliff skin. Like Bob Marley, Burning Spear, Culture and the Good Doctor A, the Handsworth Connection are close to achieving cross-over without compromise. Even though they might alienate those bretheren who adamantly refuse to have any truck with home-grown produce, Steel Pulse seem set to click with those of a less prejudiced persuasion along with those who not only find the best pre's both difficult and expensive to score, but occasionally impenetrable. Pulse's forthcoming debut album Handsworth Revolution will reveal whether or not there's a riot going on...
Text copyright New Musical Express 1978, used without permission.
Babylon By Bus...
Penny Reel in NME
Bob Marley & the Wailers - Stafford Bingley Hall
Between I and I, a writer's relationship with his reader is a balance of equal power; the former dictates terms, but only at the latter's discretion - where a page may be turned at any moment's whim. In the presentation of this review, I might abuse this premise with the inclusion of any number of irrelevances. I could, for instance, recount that the three coaches detailed for the record company's guests - press, photographers, and EMI reps - departed Island's St Peter's Square HQ at 5.30pm and, due to the inconsistencies of the rush hour tarffic, had crawled no further north than Watford some two hours on. To which would be added that only two of the these arrived at their destination; the third, the one carrying the hapless EMI reps, disgruntedly gave up the ghost.
And furthermore, those two that completed the journey only made it at the expense of Steel Pulse's 40 minute set - leaving one cynical observer to remark that Island were, perhaps, releasing the Brum Klanners from their contract (No we're not - Island Records) - and midway through Marley's own stage act. Less than an hour later, it would be added, the same pair of charabancs were heading back to the capital for the small-hours disembarcation of their respective passengers...
I arrived midway through Bob's performance of Heathen, and made my way backstage for the introduction of No Woman No Cry, Lively Up Yourself, Jamming, and by way of a single encore, Get Up Stand Up....This was followed by a brief chorus or two of Exodus/Punky Reggae Party to the self-absorbed posturing of the I Threes by way of extra farce, and the Natty One hopping offstage for the last time, leaving behind the voluminous cascade of applause....
Note: In the NME edition dated 10 May 1978, the Bob Marley & The Wailers gig at the 8,000-capacity Stafford Bingley Hall on Thursday 22 June was announced. They had originally planned to play a London date, but plans had to be changed because a suitable venue wasn't available, and this, says promoter Alec Leslie, is mainly due to some hall managers being worried about trouble at Marley concerts. It seems they still harbour memories of the few incidents at Hammersmith Odeon two years ago, mostly involving pickpockets - even though there was no trouble at all when the band played at the Rainbow last year. Tickets for the gig are all set at one price of £4. The Wailers, whose new single Satisfy My Soul/Smile Jamaica is released by Island this weekend, now open their US tour tonight - a delayed start due to guitarist Junior Marvin being refused a work permit. They play at New York's Madison Square Gardens on June 17, then fly over for their Stafford show, which is the first of a string of European dates - including Paris, Scandinavia, Holland and an open-air concert in Ibiza.
Text copyright New Musical Express 1978, used without permission.
---
Home : Steel Pulse : Articles Index : E-mail
The contents of this website cannot be reproduced or copied without permission of the site author. (c) Andy Brouwer 2005