ANDYBROUWER.CO.UK
---
STEEL PULSE - ARTICLES
---
Pulsating Anger
James Weeks in San Francisco Weekly
July 1991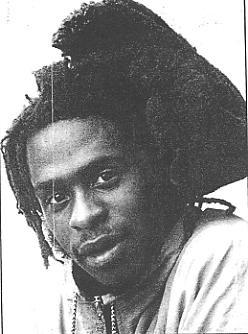 David Hinds is in no mood for the impromptu photo session. Ever since the summer tour began, the penetrating songwriter and lead vocalist of Steel Pulse has had little rest. And as the 5'8" Rastafarian grudgingly descends to the lobby of the Oakland hotel, it is clear that his thoughts are tethered elsewhere. The immense shock of dreads that once grew straight upright is neatly doubled over to the left. He is clad in white sneakers and black slacks; a blue windbreaker screens him from the evening chill. "Hey," pesters an onlooker as Hinds poses stifly for the camera. "Ain't you a star or somethin'? Ain't you Bob Marley's son?" Hinds rolls his head to the left and peers at the young black man who posed the question. "I hope not," he replies, a hint of a smile tugging on his lips, "I'm too old to be Marley's son." Unconvinced, the man hangs around for a while, but finally motions to friends and walks away saying, "yep, that's Marley's son all right." Minutes later the strained session comes to an end. Hinds extends his hand to the photographer. "I didn't get your name," he tells her. Then he bids goodbye, strides past the stairwell and heads back to his room.
My mind flashes back to that encounter as I patiently await the Steel Pulse performance later that evening at the Berkeley Greek Theater. Even when he's testy, it's hard to dislike Hinds. The same magnetism he emits onstage persists offstage. One immediately thinks of Hinds when one thinks of Steel Pulse; the breezy vocals, his poignant lyrics and his regal crown of dreads. And no matter how many times he insists that the band does not revolve around individual personalities, who could imagine Steel Pulse without him?
Britain's foremost reggae band, Steel Pulse rose from the slums of Birmingham, England 16 years ago with a distinctive blend of earthy Rasta rhythms, R&B melodies, rock, soul and tight vocal harmonies. Black heroes from Marcus Garvey to George Jackson were exalted in song. And the group's unwavering commitment to African liberation earned them a following at home and abroad. "We've never been a band who's out there to make a quick buck," says Hinds. "We really try to follow the mode that was initially started in reggae music, and that is to make people aware of what's happening around them, and to bring black people's problems to the forefront. So when you say Steel Pulse, you're really talking about a concept. And that concept is to chant down Babylon."
Babylon is that nebulous world of deceit and despair that Hinds wants no part of. 'Chemicals in the food to control popluation/ Intentions to build a plastic nation/ Cloning cats to have dogs/ Human beings breeding hogs/ On the moon in search of aliens', sang an incredulous Hinds in the unforgettable reggae classic, Wild Goose Chase. Yet Hinds is woefully shallow in other areas. Infidel, money-grabbing women are recurring themes in his material on failed relationships, but he never targets abusive, irresponsible men.
I first saw Steel Pulse in concert nine years ago on a sandy, moonlit beach in the US Virgin Islands. True Democracy, the group's breakthrough album, had just been released and Hinds was smoldering - raising troubling questions about missing children in Atlanta and wanton police brutality in the Handsworth section of Birmingham, England. Earth Crisis, a delightful reggae masterpiece, was issued two years later and was followed by the Grammy-winning Babylon The Bandit album and the disastrous State of Emergency. Steel Pulse were one of the groups tapped by filmmaker Spike Lee for the movie soundtrack of Do the Right Thing. And in recent years the group toured the rock 'n' roll circuit, opening shows for Carlos Santana, Sting, Robert Palmer, INXS and Bob Dylan.
Now the liberation posse is on the road again, this time to promote Victims, their eighth album and second for MCA records. A vibrant landscape of soaring moods and emotions, Victims artfully blends a number of reggae styles with contemporary pop, funk, rap and other influences. Hinds is vocally at his peak here, and when South African singers trail him midway through Free The Land, the melodic interplay is enchanting. Stevie Wonder renders a jaunting harmonica solo in Can't Get You Out Of My System, and reggae rapper Pato Banton drops in for a few fleeting seconds in My Generation.
On this nippy Saturday evening, a full house has turned out at the Berkeley amphitheatre. Hinds scans the audience through dark sunglasses and steps up to the microphone. He's impeccably dressed in a black outfit with brightly coloured strips of kente cloth sewn into the arms and legs. A crisp drum roll fills in where Hinds' greeting tapers off, and the set opens with Bad Man, an oldie from the Handsworth Revolution album. Midway through Soldiers, the bassist, lead guitarist and Hinds crouch low, guitars poised like assault rifles. Backed by a reverberating bassline and dramatic lighting, they enact an ambush by the South African security forces and the subsequent defeat of the rebel troops. Caught You, they whisper at the climax of the song.
But spotty acoustics dampen much of the evening's performance. Under-amplified microphones reign in both lead and back-up vocals. Worse yet, the recent departure of long-time percussionist Alphonso Martin leaves a void that is begging to be filled. Hazy skies greet us two hours later as we pull up to the Santa Cruz venue, a grassy field with two white bleachers smack in the middle of a farming community. The 10am sound check is behind schedule, and the band members are lounging around, airing their views on marriage over a light breakfast. Baruch yawns widely and impishly tugs on his father's hair. Then Hinds leans over Baruch, whsipers in his ear and comes away smiling with a cup of orange juice.
The son of Jamaican immigrants, Hinds, like most of the founders of Steel Pulse, was born and raised in England. His father was a welder, and his mother worked in a factory. Along with five siblings, the family lived in the rough neighborgood of Handsworth, Birmingham. "We were always subjected to police harassment and unemployment," recalls Hinds, "the usual thing that happens to minorities across the globe when you're living in a country that doesn't have your best interests at heart." When Hinds left college to pursue music his father was "a little bit pissed off" but gave full support anyway, setting aside money for equipment purchases and allowing the band to rehearse in the basement.
Some people choose the Rastafarian path, but Hinds simply says he was "born Rasta." However, he did not realize it until he was about 19 years old. That was when Rasta elders pointed out to Hinds that his lyrics were steeped in Rasta philosophy. At 22, he began sprouting dreads. One chunk took the shape of his derby, and like a wooly antennae, climbed upwards for two years before it finally toppled over. Along with Marcus Garvey, Hinds reveres Haile Selassie, the former emperor of Ethiopia whom many Rastafarians believe is God, or Jah. And Hinds is always into his bible. "Chanting my psalms and things," he says.
After several interviews, the portrait that emerges of Hinds is a portrait of a man with unshakable convictions. But he is not rigid by any stretch of the imagination. "At the end of the day," says Hinds, "all religions come down to one truth and if you can't deal with that you can't deal with anything." He admires Malcolm X precisely because, "Malcolm adapted to change. He (Malcolm) was never afraid to publicly announce when he made mistakes." And the message of reggae music, Hinds feels, should not be confined to the "black nation" - but should be "exposed to all who wish to learn."
At 35, the unmarried father of two is already tired of the road and would much rather spend his time in the studio. As for the Grammy that the group won several years ago, Hinds says he takes it "with a pinch of salt." The crowning point of Steel Pulse's career, he says with a smile, would be an invitation from Nelson Mandela to perform in South Africa "after it's totally liberated from those crazy baldheads."
When the band takes to the stage later that afternoon, there's not a cloud in the sky and the sun is bearing down intensely. Guitar in hand, Hinds steps through a maze of wires and speakers and heads for the microphone. Then the man who will never forgive science for side-stepping nature and tampering with clones summons his awesome voice, and chants down a heedless Babylon all over again.
Text copyright SF Weekly 1991, used without permission.
---
Home : Steel Pulse : Articles Index : E-mail
The contents of this website cannot be reproduced or copied without permission of the site author. (c) Andy Brouwer 2004