ANDYBROUWER.CO.UK
---
STEEL PULSE - ARTICLES
---
Steel Pulse at The Vortex - gig review
Vivien Goldman in Sounds
13 August 1977
Johnny Curious and Stranglers / Artattax / Steel Pulse
All three of these bands played support to Generation X on one or other of their two nights at the Vortex this week. Three of the most entertaining new bands for too long...For a start you could tell 'em apart. Already a plus.
Steel Pulse come from Birmingham, and they're the first reggae band to actively penetrate a full-fledged punk club. The punks went wild with good reason. Along with Black Slate, Steel Pulse are the hardest new roots band I've seen, and they score heavily on their percussive rhythm section, dub effects jingling just behind the sound all the time, and their three-man vocals, spreading the load and also broadening the frontal attack. Harmony hits hard...
I missed some of their set that night, and was so impressed I saw them again a couple of nights later, playing with Slits at Clouds in Brixton. 'Ku Klux Klan' is a killer - "Black Man do against the Klan as they would do to you, in this case, hate," the band explain. Dread.
Text copyright Sounds 1977, used without permission.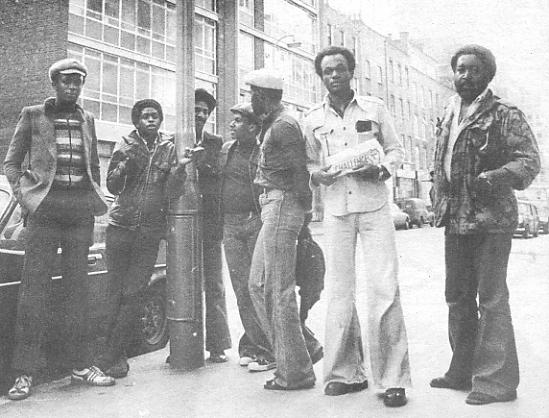 ---
Home : Steel Pulse : Articles Index : E-mail
The contents of this website cannot be reproduced or copied without permission of the site author. (c) Andy Brouwer 2004