ANDYBROUWER.CO.UK
---
STEEL PULSE - ARTICLES
---
Steel Pulse at Clouds, Brixton - gig review
Penny Reel in NME
27 August 1977
Slits / Steel Pulse
'We're the Slits - we play Slits Rock,' lead warbler of this all-female four-piece instructed a mixed and bemused Clouds crowd last Friday night. Billed as a 'punk/funk/reggae gig', the entertainment attracted a motley audience of groovers. Slits fans a la new wave; black punks of the Donovan Letts variety - including the leader himself - adorned in locks, black leathers and 'two sevens clash' motifs; soul souls of indeterminate sex and colour; plus various Clouds regulars. All of whom huddled in little groups among themselves watching each other dance....
Steel Pulse were a black, red, gold and green seven-piece reggae outfit. Doubtless, being thus complexioned, they've suffered as much shit as anyone. But...by contrast, their music was cool, restrained, adult and eminently danceable. The Slits and their followers crowded to the front of the stage to rock to the heavy beat, man!
'Run come rally round Rastaman camp,' they chanted Freddie McGregor's classic, 'mek we chant some sounds.' Between whiles, they dubbed it in an iffie dis company; sang the 'Four Hundred Years' refrain a cappella; and sang 'Respect For Jah', 'Evening Time', 'Weak Heart Back Weh',' Move Arn Yah Now' and 'Nyah Love.' "Long time, we no have no nice time, la la la la - think about that!" If you feel you have no reason for living, don't determine my life!
Text copyright NME 1977, used without permission.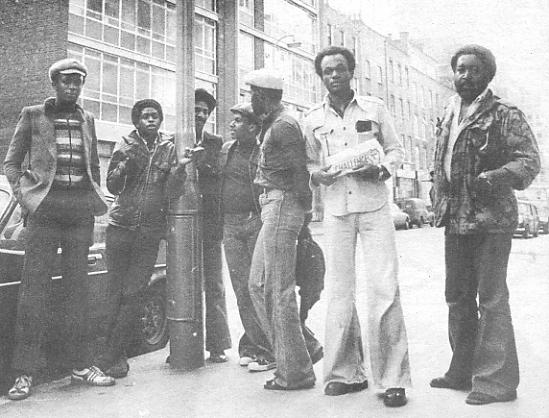 ---
Home : Steel Pulse : Articles Index : E-mail
The contents of this website cannot be reproduced or copied without permission of the site author. (c) Andy Brouwer 2004