ANDYBROUWER.CO.UK
---
STEEL PULSE - ARTICLES
---
Steel Pulse - Musical Mettle
I Jabulani Tafari in Reggae Report Vol 6 # 6
August 1988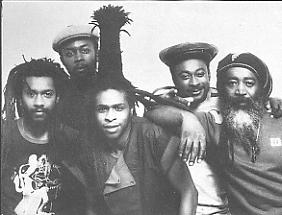 Steel Pulse is here again! After winning the 1986 Reggae Grammy for their album Babylon The Bandit, Steel Pulse low profiled for a while, straightening out various business and personal matters. Resurfacing from under cover Pulse toured Europe in 1987 and consolidated work on a new album in the tradition of its two immediate predecessors - the Grammy winning Babylon The Bandit and Earth Crisis which won a Grammy nomination two years earlier. Having left Elektra, the British-based reggae rockers signed a new contract with MCA in the spring of 1988. With the release on June 20, 1988, of their long awaited LP, State of Emergency, the musical presence of the 'Birmingham Band' is being experienced once again. From the album's ten tracks, the cut of Reaching Out was chosen as the single. Reaching Out has the added attraction and distinction of an accompanying music video...a video directed by the innovative Afro-American producer Spike Lee (of She's Got To Have It fame).
England is definately the place where it's hot and happening for reggae music right now, and performers like Aswad and Maxi Priest are currently doing very well on that side of the Atlantic. Steel Pulse, who made a conscious decision to break into the international market before really trying for the UK market, are now ready to work the British show circuit and be part of the present successful reggae happenings. In spite of this intention, Pulse does not intend to neglect in any way the massive North American market that they've been nuturing since early this decade. Thus music lovers across the USA and Canada recently had a chance to see this highly respected British reggae band, when Steel Pulse opened for INXS on a wide-ranging tour involving about 21 shows. Starting in Minneapolis on May 18 this year, the tour immediately skipped the border over into Canada for performances in Winnipeg, Saskatchewan, Edmonton, Calgary and Vancouver. Returning to America, the INXS/Steel Pulse tour hit Seattle, Portland, Sacramento, Mountain View, Los Angeles, Las Vegas. Phoenix, Tucson, Albuquerque, Denver, Kansas City, Omaha, Chicago and Milwaukee. The month long tour attracted generally young audiences - 'teeny boppers' - averaging somewhere around 14-thousand people per show according to one source.
However, the Steel Pulse seen on stage during the INXS tour, wasn't entirely the Steel Pulse reggae devotees are accustomed to. This was Steel Pulse in a 'State of Emergency' and without their high visibility lead singer David Hinds. Reports say Hinds was hassled (actually the entire band were hassled but Hinds most of all) by immigration officials on his arrival by air in St Louis, Missouri, from England. After a long drawn out stalemate at the airport, David subsequently flew out on a return flight to the UK. That was two days before the start of the tour. (No, he hasn't been banned from the US, neither does he have cancer!). And even after that, bad tidings from afar forced another band member to leave the tour in haste. Due to this unforseen situation, members of Steel Pulse were put to a severe stage test and tried in the fire of live showbiz. Although under heavy fire in a pressurized crucible, Steel Pulse knew that 'the show must go on'. They summoned up all their resources...vigorous temperament, plucky disposition, ardor (spirit), strong nerve and physical fiber...and proved their personal mettle to be strong as steel. With Phonzo Martin (percussion and harmony) upfront instead of David Hinds, and sharing the lead vocals with veteran Steel Pulse keyboardist Selwyn Brown, the INXS shows went on...opened by none other than Steel Pulse. Taking the roll call onstage were foundation drummer Steve 'Grizzly' Nesbitt, bassist Alvin Ewen, keyboardist Selwyn Brown, guitarist Ciyo and additional keyboardist Sydney Mills. Certain songs were omitted from the set of 45 to 50 minutes, but according to Phonzo Martin, the audiences nevertheless loved what Steel Pulse had to offer. In a telephone interview from New York, Phonzo admitted that at first he found center stage to be a really lonely place. However, after warming to the task during the course of the tour, he said being upfront became a 'nice feeling'. Phnozo had high praise for members of the INXS group, whom he described as very co-operative, friendly and genuine in their actions. Martin added that of all the bands Steel Pulse has ever worked with, he found INXS to be the most sincere.
The 'State of Emergency' caused by David Hinds absence, resulted in the cancellation/postponement of previously scheduled early summer shows in the US featuring Steel Pulse as the headline performers. Despite that, Phonzo disclosed that Steel Pulse still intends to begin a month-long US tour of their own (including David) in August '88, before returning to Europe to honour engagements there. In addition, he hinted that Steel Pulse may, (a) be doing a show in San Diego with Sting at the end of July; and (b) perform at the anti-apartheid show being planned by South African Archbishop Desmond Tutu for September 10th in Los Angeles.
So whether it's recording in the studio or live on stage. Steel Pulse perform exceptionally well in a 'State of Emergency'. Remaining cool under fire, rhythmically sharp as tempered steel, producing a tempo and beat distinctive to the reggae pulse, and exhibiting a true musical mettle... Steel Pulse is definately a group all fired up and musically motivated. So if Steel Pulse is coming anywhere nearby, don't misss the show. You won't be disappointed. In the meantime, we hope that satellite/cable programmers like BET, VH-1, MTV and the USA Sports & Entertainment Network give the Steel Pulse reggae video (and all good reggae videos) adequate prime-time on-air exposure.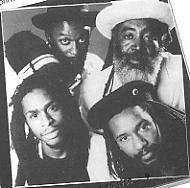 Text copyright Reggae Report 1988, used without permission.
---
Home : Steel Pulse : Articles Index : E-mail
The contents of this website cannot be reproduced or copied without permission of the site author. (c) Andy Brouwer 2004