ANDYBROUWER.CO.UK
---
STEEL PULSE - ARTICLES
---
Singles - Steel Pulse: Nyah Love (Anchor)
Charles Shaar Murray in NME
15 October 1977
Hear this just often enough to learn the tune and then get stuck into the dub side. Grite.
Burning Spear in six concerts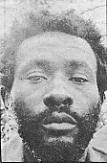 Top Jamaican attraction Burning Spear are at last set for their British debut. They were originally due over here in late June to play a couple of London concerts with Max Romeo, but the dates were subsequently postponed. Now they are officially confirmed for appearances at London Rainbow (October 25 and 26), Bristol Colston Hall (27), Manchester New Century Hall (November 4), Birmingham Hippodrome (5) and Nottingham Palais (6). Support act is British reggae band Steel Pulse. Rainbow tickets cost £3, £2.75, £2.50 and £2.25; at Bristol they are £3, £2.50 and £2; and at Manchester they are all at the one price of £3. At press-time, Birmingham and Nottingham were not fixed but all box offices are expected to be open today (Thursday). Burning Spear are built around the central personality of Winston Rodney, and the rest of the personnel has changed considerably in recent months, so its not clear exactly who will be with Rodney in the touring band. Spear's latest album, Dry and Heavy, has just been released by Island.
Nationwide Gig Guide
In the Nationwide Gig Guide that week, Steel Pulse were scheduled to support Delroy Washington at the 100 Club, Oxford Street, London on Thursday 13th October, were themselves supported by The Swords at the Nashville Room, Hammersmith Road, London on Saturday 15th October and then were booked to appear with Steve Gibbons Band at Hanley Cauldron College on Monday 17th October 1977.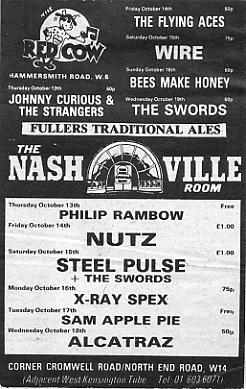 Text copyright New Musical Express 1977, used without permission.
---
Home : Steel Pulse : Articles Index : E-mail
The contents of this website cannot be reproduced or copied without permission of the site author. (c) Andy Brouwer 2005