ANDYBROUWER.CO.UK
---
STEEL PULSE - ARTICLES
---
Back to their Roots
Stephen Thorpe in Echoes
26 October 1985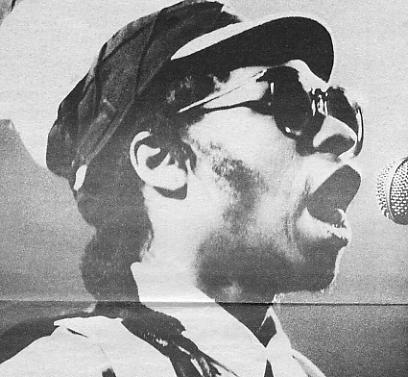 Fresh from a seven-month tour of America and via stopovers in Antigua and Bermuda, the Pulsemen arrived in Jamaica obstensibly to perform at Reggae SuperJam, but also took the opportunity to re-discover their roots and finalise work on the upcoming album.
A fierce midday sun greets Steel Pulse as they rise after an all-night studio session. An hour later all bodies and most minds are assembled for the trek further upward through the lush tropical landscape to Music Mountain. After a winding climb past magnificent fortress-like mansions we arrive at the studio and straight into an array of ital goodies, green banana, yam, sweet potato, giant melon and pineapple, grapefruit and bush tea. 'Grizzly' Nesbitt, stretched out on a sumptuous leather sofa, builds large cones; David Hinds stands cool in Rasta-flecked blue track suit. Partly surrounded by huge stands of banana and with beautifully carved wall panelling, the cliffside studio commands a stunning panoramic view of Kingston Harbour 12 miles below. The Palisadoes shimmer in the far distance.
What sentiments have been stirred by your extended stay in Jamaica this time? "Jamaica is our spiritual home, part of our families live here, there are very special vibes here. Personally, I want to come back and live here (Alphonso Martin) probably at the end of 1985. I've travelled all over the world and lived in England all my life but for me, to look out of this window and see for miles, see the mountains, see the water, it's sweet, that's the vibe I got to have, and most of the band too. It's what I need in life now. I've reached this part of my life now, my fourth cycle, it will be a nice move for me as an individual."
You first came to Jamaica to play Sunsplash, 1981. What changes have you perceived since then? "Well that time was the first time any of us had been to Jamaica, even David and Alphonso whose parents were born here. We felt all these vibes in England, our parents told us lots about it of course all the time, but then coming here, part of our lives just opened up. It was just amazing to be here, not only just to be able to see how Jamaicans react in their own environment, but also because here is the only place you get the fullest appreciation of reggae music. When you walk on the road and you see a man just skank it up because he hears a sound and he has the feel within him. Man, you have to see it, ye who knows it. The is the place, it's very strong spiritual place, a lot of energy but confined and released at its best in music and dance. Here, it's channelled and not wasted."
You split with Island in 1981. Is it coincidence that your most lauded work has come in the last three years? "Well basically record companies deal with units, seen, and when the band is not notching up units they become unhappy. But Island, to be truthful, did a lot for us in England in the early days as far as promotion. Handsworth Revolution was a totally new sound (and went to No 9 in the British charts) but our biggest mistake was not hitting America at that time (the album was a celebrated underground smash in New York as well). The follow-up Tribute to the Martyrs was a heavily politically motivated trip aimed at the American market, paying homage to George Jackson and others who had played a part in black people's liberation, respect and organisation in the Sixties. Consequently, it didn't do too well in England, or across the board for that matter. After this, Island held more sway over the product and insisted on the third album's title of Caught You when the band wanted Nyabinghi Voyage. They also wanted demo tapes so the album was eventually more commercial and not really as the Pulse would have had it. In short they were exerting too much influence, so things couldn't work, plus they didn't promote it, so it was stalemate and look elsewhere. We then got a deal with Gemlen in Denmark, a black musicians' co-operative with studio facilities and recording company. We'd no finances then, so we made a deal to record an album, a production deal really, and we could do the master tapes anywhere else in the world. Elektra then took us on but we released True Democracy on our Wise Man Doctrine label in England which sold about 30,000 copies."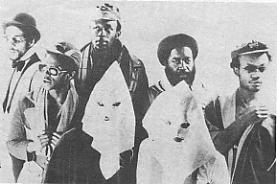 There's also been long time spans between albums. Hasn't this inhibited your acceptance too? "Basically we've gone through a transformation, it's two different bands really on the last two albums. In 1983 we had a lot of problems, we needed to change, hence it was a particularly stagnant year, though we did write Crisis and toured Europe and the Carribean. Sometimes you need an injection of new life. 'Stepper' McQueen, one of the founder members left on mutual agreement to be replaced by Alvin Ewen on bass, and Carlton Bryan joined on lead. The changes have aided the band and given us new energy, there'll be no long gaps between albums in the future."
What urged you to record in Jamaica or was it just a natural progression? "The new album is being recorded digitally which is one of the cleanest sounds obtainable, technolgy-wise. This is one thing, but the whole personal vibration and feel of the music is terribly important and we thought we could get that here, which is more important than the technology on this occasion. We also wanted to see our families, take a little irie holiday, seen."
Which Jamaican artists do you most admire? Alphonso Martin: "Mutabaruka. Muta. All the time Muta. Not only is the man strong, an upright person, but to me he's an example. His wife always with him (and always carrying his luggage - interviewers' note). His children are beautiful. I Sheik and I Shama, and just to have someone like that within our confines of the music is an upliftment. Each individual within reggae has a part to play, it's like a team though we're not actually together. Everyone has a responsibility whether they see it or not. Just to see Muta with his family, his firmness and strength and stability as opposed to doing cocaine, checking women, etc., he's not like that, he's clean, he is what reggae needs. Yes. We all in the band have nuff respect for Muta, seen. We're like a family. We went to Africa together, went through a lot together. Another brother I like is Ini Kamoze, though I've never met him personally. I like what he says. Musically, we all like Burning Spear from when we were growing up, Foggy Road, from years back. For the man to take such a title says a lot about him."
"Dean Fraser, David Madden, the hornmen they're all helping and keeping Jamaican music alive. Certain DJ artists are carrying a swing too - (check for Spliffing Time soon, a Rasta fisherman who's recently cut two singles - interviewer's notes). My favourite band are English, Aswad's the name, can you believe it? Serious t'ing you know! We grew up together man, we're close. For instance we were in the States playing with Herbie Hancock, we finished the gig and run over to Brooklyn to check the Ladbroke Grove boys. We're cool man. I just love dem. We played together one time, years ago, just outside London. We're both carrying the flag in England now, in terms of togetherness, not just the music, we don't deal with egos and the rest of it."
What new ventures have you planned for the rest of 1985? "We feel this is an important time for us, this will be our year of progression. We'll probably have to leave England but retain a base there. Some of the band may even move to the US. Our personal label Wise Man Doctrine is in abeyance since it doesn't have the financial backative to promote the new album (set for release end of August/early September), but we do hope to develop this in the future. We'd like to sign-up different acts like UB40 have done, but right now it's not possible. We also want to incorporate slide presentations on black history in our stage shows in a way that can be artistically acceptable as well as educational. The whole concept and presentation of live shows will be totally different (Tyrone Downie of the Wailers has now joined on keyboards). We just want to expand the band now, not just the music but let other talents come out and project that too on the next tour. Our poetry and dancing will become more prominent. The presentation will incorporate our experiences in England and a new stage setting. It will be completely different, the whole idea of stage performance will change. We hope we can move the whole thing further - we should have the financial backing and we're hoping for tour sponsors."
"Reggae is in a sort of cocoon and needs to break out. I hope we can be motivators in this and inspirational to other bands on how to relate to each other. I hope people will look at Steel Pulse and see the way to consider themselves. Drugs, women and egos destroy some groups (Uhuru being the latest) and unless you control those you haven't got long in the business at all. The success with Handsworth took us away a little, we were in another world and then suddenly mentally, spiritually, we were at our lowest ebb. We had to check for other people to re-establish our sense of livity and meaning. I talked to people sweeping parks, just other human beings to regain my identity. From this we developed as a group. I hope people will always remember Steel Pulse for our association with one another.
Text copyright Echoes 1985, used without permission.
---
Home : Steel Pulse : Articles Index : E-mail
The contents of this website cannot be reproduced or copied without permission of the site author. (c) Andy Brouwer 2004