ANDYBROUWER.CO.UK
---
STEEL PULSE - ARTICLES
---
Steel Pulse talk about their music
Chris Brazier in Melody Maker
26 November 1977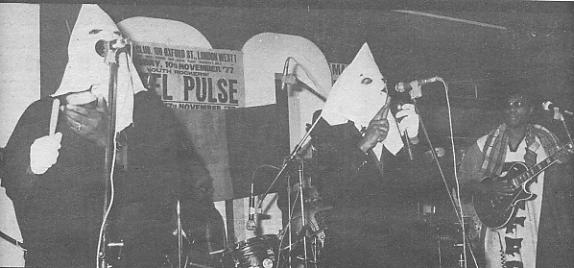 The first time I saw Steel Pulse they were acting as 'the break-up act' on the penultimate night of the Electric Circus in Manchester. Break up the evening they certainly did, with by far the best set of the night. Their music seemed so warm, refreshing and revitalising amid the frantic indentipunk on either side of it - you could almost feel the people around you being uplifted.
They've a seven-piece band from Birmingham who've been playing for three years. It shows. But they only picked up momentum when they started taking gigs at punk venues. "The first time we played with punks, we were very apprehensive," said Michael Riley, their vocalist. He wears the garb of a Christian priest on stage, and has a very refined voice in conversation (their press release stresses 'high standard of British education'). "It was with Generation X at the Vortex, and it was the first time we'd been in one of those funny places smelling like vomit. It was our first confrontation with those funny-coloured people, 'cos in Birmingham things are just that little bit behind We were told 'they spit at you and chuck things at you,' so we went up there with our hearts in our gobs, but we went down really well. It was a surprise - we thought, 'oh, punks ain't that bad.' Then this Jah Punk article came out and we were labelled a black punk band. We've got nothing against punks, and we've got something in common in terms of our positions in society, but we've been wrongly associated - we have a different message and we go about saying it differently."
So what is your message? "We sing about things in society that people choose to overlook, ignore. Or things that have been misrepresented, like the Front, the CIA, the Klan." Doesn't sound very different from the targets of the new wave to me. "I admit there's a parallel, but it's not every punk band that says something like that - there are a few. Reggae usually talks about its own problems and only occasionally about an outside, general problem. We generalise a lot more than reggae bands normally do - we incline towards black problems, obviously, because we see things from a black point of view, but we focus on things that people see in the wrong light because of misrepresentation. When we play, we don't want people to go away and say 'they played well, I like their music' and that's all, because the message is as important as the music, and we go to the extent of making the message visual by wearing Klan hoods. The whole show is geared to make you think about things that you wouldn't normally think about - someone will say 'what are the hoods for?' and someone else'll say 'you never heard of the Ku Klux Klan?' and will explain."
One things that mystifies me about reggae is why black kids, born and raised in England, turn so unfailingly to reggae or soul rather than rock, when the latter must be hitting them from all sides from very early on. Maybe there's a deeper sense of not belonging, of feeling alienated in England, than I would have allowed for. Michael tries to explain it in more simple terms. "Black families always buy reggae records. Rock's all around you - on the radio and when you go to school white guys'll buy rock singles and talk about rock. You're always aware of rock but reggae is what you're associated with, and that's what you get off on from a very early age. I mean, if I hadn't heard reggae before I was ten I'd almost certainly be a rock freak looking on reggae the same way as you do. It's what you're accustomed to, what you're brought up with, what you're surrounded by."
Well, when did the Jamaican culture, which is inseparable from most reggae take hold on you then? "I think as soon as I was able to understand - and that was at quite an early age because, being black, you're aware of it as soon as you've got any sense and you start looking for your roots - where you came from and what came with you." And that means you become bound up in the Rastafarian religion? "No, you see the fact that I was born here makes a lot of difference. I got sent to an English church...I'm not a Rastafarian - I don't believe in the godhead or Selassie - but I have respect for a Superior Being. I don't believe in churches 'cos I think they're the biggest rip-off in society, but I believe in a God." So explain to me why you dress as a Christian priest on stage. "Well, if you see my priest outfit you might notice more the song that says to haves respect for Jah, and that tells you what happens to people who don't have respect for Jah." Which is? "They get burned in Hell." Oh.
Text copyright Melody Maker 1977, used without permission.
---
Home : Steel Pulse : Articles Index : E-mail
The contents of this website cannot be reproduced or copied without permission of the site author. (c) Andy Brouwer 2005