ANDYBROUWER.CO.UK
---
STEEL PULSE - ARTICLES
---
Steel Pulse's Reggae Revolution
Crispin Cioe in Musician
November 1982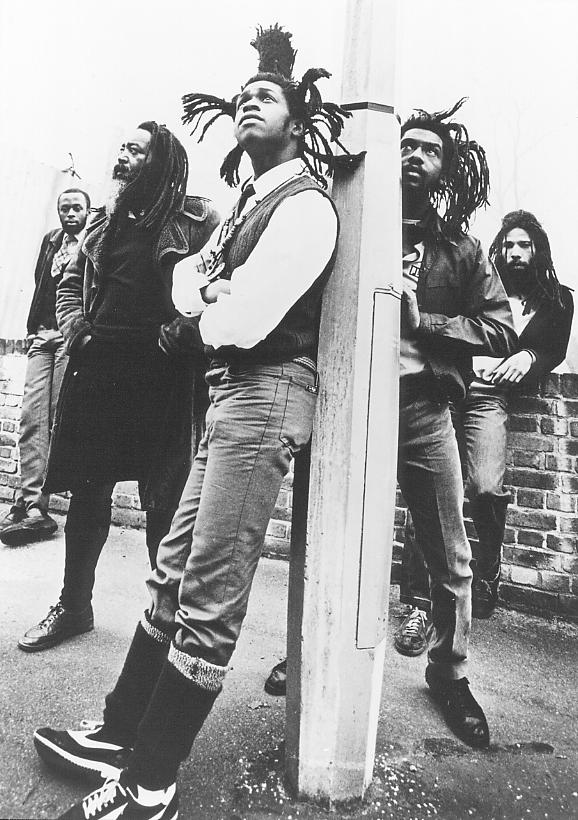 "What do you think of the big man's office?" the road manager quipped, ushering me and David Hinds, lead singer/songwriter for the British reggae band Steel Pulse, into the plush midtown Manhattan digs of an out-of-town Elektra/Asylum veep. As we settled down into a couple of overstuffed armchairs to do an interview, Hinds, who sports towering 'congo dreadlocks,' as they're called in Washington Square by Rastas slumming in Babylon, took a long, cool look around the office and drawled, "The big man's not that big afterall." It's not exactly a runaway movement yet, but recently American major labels have been quietly signing proven reggae acts to relatively long-term deals, notably Third World to CBS, Dennis Brown on A&M and Steel Pulse with E/A. By and large, these are musicians who've been able to temper their authentic reggae roots with some measure of pop/R&B flash - and still come up skanking enough not to alienate their base audience of hard-core reggae fans. Steel Pulse has reached this point in a particularly interesting way, partly because the band's R&B influences are so funky and partly because its sound, and David Hinds's songwriting, have ripened so much in the past two years. The last two highly competent internationally released LPs - Tribute To The Martyrs and Reggae Fever - featured the kind of occasionally jazzy textures and fusionoid guitar allusions that signaled a group to watch, full of gradually emerging chops and very cosmopolitan ambitions.
The band hails from the West Indian enclaves of industrial Birmingham, England and like Linton Kwesi Johnson and some other leading British reggae artists, Hinds's lyrics are rooted in the real world. He is a professed Rastafarian, but in the best post-Marley tradition, Hinds doesn't get lost in doctrinaire religious ramblings. On songs like The Unseen Guest, Sound System and Biko's Kindred Lament ("Pharoah's armies won't let them be/Biko died in chains Yeh") from Tribute To The Martyrs, Hinds and band first started to hit their stride with a danceable, street-poetry approach that was always mindful of reggae's biggest trump card in the top forty sweepstakes: an irresistible dance beat.
But True Democracy, the group's first American major label release, is a different thing altogether. The stylistic seams are no longer showing; from the herky-jerky intro to the LP's opener, Chant A Psalm, which melts into a percolating cruiser of a beat, it's clear this is a band that's finally found its own groove. The song builds on a minor-keyed chord progression, edging toward a reeling chorus via several asides and a teaser bridge, and thisi holding strategy only heightens the message when it hits. If that message looks somber on paper ("Seek ye the other half that has never been told/Get behind me Satan, in dis ya Armegeddon"), the chorus itself is so infectiously chantable that it teaches its lessons from the ground up, and feet first. And because the songs are so intricately wound and sprung, Steel Pulse comes off as one of the least didactic reggae combos around, even when Hinds is preaching. For every hard-core spiritual pan-African song like Worth His Weight In Gold ("How can we sing in a strange land... Liberation true democracy/One God One Aim One Destiny") or moralistic memo a la Leggo Beast ("Lips of flattery, eyes of lust... Leggo Beast loves to play while her husband's gone") on the album, there's always a miraculous toaster like Ravers. This is one of the best dance anthems of the year, made more hip by its obviously ironic refrain, "Reggae bandwagon is the fashion going around."
In concert at the Ritz recently in New York, the band spun these songs out like polyrhythmic mantras, full of funk and fire, cajoling the audience with a cappella vocal breakdowns that literally floated over percussionist Phonso Martin's bells and skins, then crunched back into sync around Steve 'Grizzly' Nesbitt's brilliantly syncopated and complex drumming. And on the final chorus of Ravers, which chugs along behind a contagious barrage of vocal eighth notes ("Come make we do de/In a rub a dub stylee"), Hinds got an inspired call-and-response exchange happening with an unusually relaxed and partying full house. Not surprisingly, that audience looked like a coalition of devout, transplanted Jamaican Rastas with black and white American fans down for a good time, all finding something they liked in the air that night.
In conversation, Hinds is easygoing and more than willing to discuss how Steel Pulse came by this audience, starting as teenagers in Birmingham. "We're all West Indian by descent; my parents are both from St Anne's, Jamaica. I went to art school and there I met Basil, our former guitarist, and keyboard player Selwyn Brown. We started jamming a lot, usually in my father's attic on Sunday afternoons. After college we all held down various day gigs, which is when I started taking songwriting seriously. It was in the early 70s, and Bob Marley & the Wailers' Catch A Fire album had just come out, which influenced me tremendously as a writer. It was the first time I'd seen a reggae band presented so totally, with an album concept and everything."
"Well, we knocked around Birmingham for a couple of years, and found ourselves in a bind. Promoters who booked the black clubs didn't like us because they said we were too political and didn't do enough commercial 'lover's rock' songs. So we only worked very sporadically. Then in late '76 the punk thing started to happen and they were taking on reggae music themselves at the time, so gradually we started playing London, opening for punk bands like Generation X, the Adverts and XTC. We got some exposure this way, but there were negative factors too. Punks were into spitting and throwing beer mugs at bands, and Steel Pulse had to finally just say, 'Stop, or we'll be throwing these microphone stands right back in your face,' which cooled them right out. Also, the association with punk backfired on us at first. Just as Steel Pulse was on the verge of some mass recognition, we were labeled a punk reggae band, and we lost some of our potential black audience as a result; they heard a bad rap before they even heard the music. Also, a lot of punk musicians would come across to us with things like 'We have the same struggle; the system is rejecting our music, too,' but Rasta is a thing about being black as a full-time occupation. With the punks, they had a choice; one minute you could see one with a weird hairdo, the next day he could be a bank clerk. We had no choice but to cry out for our rights. On the positive side though, you were at least assured an enthusiastic crowd with the punks, because they were really about dancing and having a good time."
In '77, the band began releasing independent singles, notably Nyah Love and Ku Klux Klan ("There were rumors of the Klan coming to England to influence and aid the National Front Party," explains Hinds, "so I imagined the whole thing happening and wrote a song about it"). These sides' success in the English reggae market led to a tour supporting Burning Spear, and eventually a recording contract with Island Records. By '79 the band was a headline act, with newer groups like the Police opening for them. Hinds says that he likes the Police, "but I must also say that they have told us since that tour that we were a big influence on some of their songs."
Steel Pulse's first musical influences included, as Hinds remembers, all kinds of Jamaican music, but he also says that "we were into early 70s funk groups like Mandrill, War, Osibisa and the Isley Brothers, as well as Stanley Clarke and Herbie Hancock. Our drummer Steve was actually a funk drummer earlier in his life, very into Alphonse Mouzon and such, and we've always encouraged him to use those kinds of fills in our songs. And personally, I've always listened closely to Gil Scott-Heron, going back to his first albums on Flying Dutchman." Hinds believes his own progress as a songwriter relates to a desire "to deal with all kinds of people, not just Rasta. So we put music out that extends. For instance, the idea of putting an end to destruction is a fairly universal one. Or my ideas on Chant A Psalm is that when you read a psalm, each has meaning, and it's up to one to know which psalm to chant to give you strength, or to achieve anything you want. But I don't feel life begins and ends in the Bible alone. There are so many books to be open to: Zen Flesh Zen Bones, Aesop's Fables, Shakespeare...The Taming of the Shrew deals with man/woman relationships clearly. It's all a matter of seeking the heart that has never been told."
On a recent trip to Africa last spring, two band members and a manager contracted malaria, cutting the tour of Nigeria and neighbouring countries short. "But," says Hinds, "everyone recovered, and it was the ultimate experience for a reggae band nonetheless; it was our first trip there, and our first exposure to the real African roots, of course. And we found the people there very receptive to reggae, if not always ready for the Rasta philosophy. They've even got their own version of the music, called 'fuji reggae,' and it's very percussive; the people dance to it almost exactly like West Indians dance to reggae. But none of this surprised us too much. When we were in Arizona recently, representatives of the Havasupai American Indians, who live at the bottom of the Grand Canyon, came to see our concert and we met with them afterwards. They have actually taken in the philosophy of Rasta, to keep themselves together as a people. It's just very good to see that Rasta is relevant to so many different people. In fact, I can see blacks from outside Africa really aiding in the unification of the continent. And if right now Rasta is spreading in Africa via the music, rather than the spiritual side, that's fine too. It's like the song, Find It...Quick! says on our album: 'Love is a golden chord that binds all commandments/Makes all hearts sings.' All of them."
Text copyright Musician 1982, used without permission.
---
Home : Steel Pulse : Articles Index : E-mail
The contents of this website cannot be reproduced or copied without permission of the site author. (c) Andy Brouwer 2004