ANDYBROUWER.CO.UK
---
STEEL PULSE - ARTICLES
---
You Gotta Move On
Steel Pulse at The Venue - gig review
Chris Salewicz in NME
15 December 1979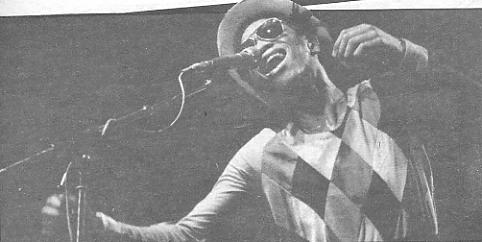 Of course, you're not meant to like Steel Pulse. I'm not really sure why: is it just down to pure elitist snobbishness? As homegrown suppliers of reggae, do Pulse lack that stamp of authenticity for the strict roots aficianado? Or are they just one big yawn? A bit of both, I think, though mainly the former and only occasionally the latter.
Bad for the credibility, of course, that the Pulsers were playing the Venue (which is really Batley Variety Club) which doesn't exactly bristle with spiritual links to the Vortex, the first London gig the six-piece Birmingham band played. But a three-night stint at Branson Enterprises is perhaps indicative of the fiscal path Island Records want the band to step: strictly Hip Easy Listening for Habitat homes and the car stereo. Yet such a judgement ignores that, with the entire front stage area jam-packed with dancing black and white youth, the band transcended the dire gig's limitations in a way that previously I'd only seen done by Al Green.
Also, there were times when Pulse appeared in a classic form-over-content situation: evocative album cover backdrops against which such archetypes within the band - militant yout' keyboardsman Selwyn Brown, Old Testament prophet drummer Steve Nisbett, multi-coloured coated singer David Hinds - became a blaze of energy setting off the tripwires of the proverbial unconscious to abundant visions of a primal universality, etc...And yet sometimes that energy seemed trammelled within its trappings, as though the band felt that if they'd got all those bits right then maybe the music would come together of its own accord. The last time I saw them was at the RAR Victoria Park gig. I felt, as I did about the first album Handsworth Revolution, that their offerings of British rockers were worthy rather than praiseworthy, requiring support rather than acclaim. Equally, Ku Klux Klan was welcome more for what it was - a militant pop reggae hit - than for what it actually delivered.
However, with the release of their second LP Tribute To The Martyrs it became apparent Steel Pulse were heavily into limitation-transcending - and specifically, Steel Pulse are into transcending the limitations of Steel Pulse. If only for the title track alone - a wonderfully subtle number, handled with deft skill by Hinds' excellent voice, that insuates itself into you with one of the most irresistible hook lines of the year - the LP showed how the band must come forward with what is inside it. Following a low point in the set with the dull Blasphemy and Prediction, Tribute To The Martyrs came about two-thirds of the way through, completely elevating the standards of the evening's music. Already, though, there'd been other strong songs - George Jackson and Drug Squad, a pungent, plangent new song. Another so far unrecorded number Harrassment was less distinquished.
The set ended with a final encore of another of the finest Pulse numbers, Sound System; a further high point that once again reminded us of the necessity to judge the band by their best work and not by their slightest. They should be aware of allowing their lyrics to become too sloganeering; sometimes they sound like they're taken from the Collected Songbook of Jah Spart. Along with Matumbi and Aswad, Steel Pulse form the ruling triumvirate of British reggae bands. All three can be notoriously erractic live; but aren't almost all of the greatest rock bands as well?
Text copyright New Musical Express 1979, used without permission.
---
Home : Steel Pulse : Articles Index : E-mail
The contents of this website cannot be reproduced or copied without permission of the site author. (c) Andy Brouwer 2005