ANDYBROUWER.CO.UK
---
STEEL PULSE - ARTICLES
---
Steel Pulse
Elena Oumano in High Times
December 1991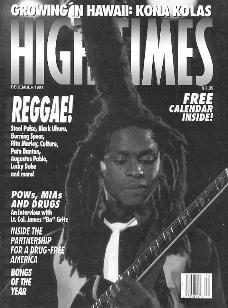 Six summers ago I found myself on the West Coast for the first time, a New Yorker marooned on a Southern California beach and surrounded by milling schools of surfer girls and boys - tanned, golden-haired, smiling strangers out of a beach-blanket flick. In the midst of all this alien corn, I was suddenly snapped back to myself by a familiar sound. "On the corner with my rollersakes/feeling great..." A classic lyric of urban struggle riding Steel Pulse's spirited, loping riddim! An atypically-plump brunette was warbling along with lead vocalist David Hinds, trying in vain to divert her three-girlfriends' attention away from painting their toenails and toward appreciation of Pulse's musical slice of ghetto life.
Six years to the week later, Steel Pulse played to an audience of 10,000 astonishingly-homogeneous blonde, Corona-guzzling, herb-puffing, reggae-loving young Amerikans at Irvine Meadows, an outdoor venue just a short skank away from that same beach. Throughout their nearly 20-year career, with or without the support of a record company, Steel Pulse has pulled in the numbers with their urban reggae rhythms and lyrical savvy. "If you go back into the '70s and count all the reggae bands that existed then and still exist today as regge bands - and I don't mean artists with a reggae backing band - you can probably count them on one hand," says David Hinds. "As opposed to following the trend, we've been a trendsetter. We've always had our own type of groove. We've worked upon it over the years and also adapted different styles along the way. So we've had a strong following and been respected as a group that's been around for some time saying something."
Part of the reason for the success of Steel Pulse - and other British reggae artists, such as Aswad and more recently Maxi Priest - is the greater compatibility of their sound to American ears accustomed to the polish of Western production rather than the slow, timeless tempo of ganja-induced Jamaican meditation. Perhaps more significant, though, is Americans' better ability to understand the more accessible patois of Brit-born West Indians. "Obviously subject matter is going to differ because of where one originates, "Hinds adds. "One can only speak of one's environment and peers within that environment. Also, British reggae artists tend to feature a lot more instrumentation, especially around the mid-range, where there are more keyboard and guitar fills and a lot of harmony stacks. Where Jamaica leans more towards rhythm, English reggae tends to lean more toward melody and harmonies. Jamaican reggae is drum, bass, probably one countermelody and a skank with a lead vocal that very rarely has harmony added to it."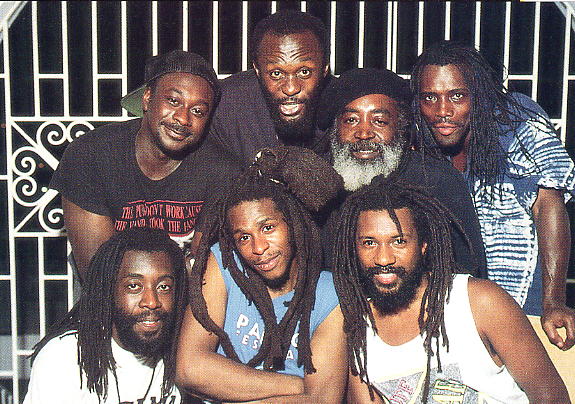 Reggae music was a direct result of the experience of 2,000,000 Africans, former slaves who segued to the slightly-higher status of colonial subjects and were able to tune in the wonderland of wealth in the roots sounds of R&B broadcast by Miami commercial radio. But the musical vision that developed from that experience soon became a kind of anthem for sufferahs the world over. One drop internationalized to the point where reggae has influenced almost every other popular musical form alive. Not only do bands fly under the banner of the Red, Green and Gold in Poland, Japan, Israel, New Zealand and of course, Africa, but reggae DJ stylee is the antecedent for Stateside rap, not just musically but in the sensibility that informs hip-hop culture. And of course, there's the 'hola herb'.
"Reggae was once the main vehicle for the message of Rasta, "Hinds says. "As far as the ganja or weed or marijuana, or whatever you want to call it, that sort of went hand in hand along with the philosophy of Rasta. It was originally used for meditation and for other ailments of the body, medicinal purposes. Those who didn't smoke brewed it for tea to cure a lot of diseases or disorders of the body. But it isn't just Rasta anymore that deals with music as a vehicle," Hinds continues. "It's still working-class as such, but it's branched out to social and political themes, and it also has its goodtime vibe, like dancehall. Some call it reggae, some call it dancehall, but much of it pertains to having a good time as opposed to the militant and political stance the music took from the early '70s to the mid-'80s, when Bob Marley was around and Burning Spear and other artists were at their height."
Reggae is finally hitting the pop charts, albeit computerah stylee or dancehall propelled to the metalic beat of a drum program, a ready blend with whatever else is on the club turntable. But Steel Pulse cleaves to their live and direct roots. "What created the Steel Pulse sound was that the whole idea of things not being absolutely mechanical - that sense of breath and atmosphere we created while playing live and laying the tracks live," Hinds says. "That's what the people felt in us, subconsciously and psychologically. It's the afterimage, the afterthought. That's the reason we play live."
Text copyright High Times 1991, used without permission.
---
Home : Steel Pulse : Articles Index : E-mail
The contents of this website cannot be reproduced or copied without permission of the site author. (c) Andy Brouwer 2004