ANDYBROUWER.CO.UK
---
STEEL PULSE - ARTICLES
---
Shock The System
Lois Wilson in Mojo
August 2000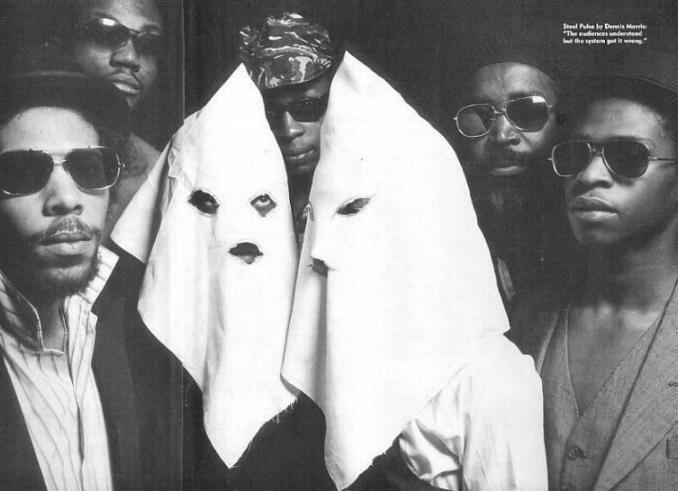 In 1978, Jamaican-born lensman Dennis Morris photographed Steel Pulse for their major label debut single, Ku Klux Klan. The results have never been seen until now. He tells Lois Wilson why.
"The studio owner was really shocked when David Hinds and Steel Pulse turned up in Ku Klux Klan hoods to be photographed," explains lensman Dennis Morris. He wasn't the only one. Intended as a press shot to promote Steel Pulse's 1978 major label debut single Ku Klux Klan, Island Records were so horrified at this portrait that they refused to acknowledge it. "At that time Steel Pulse were the voice of black Britain. They were outselling Bob Marley. Lyrically they summed up what was going on. They wore KKK hoods at their live shows. The audience understood but the system got it wrong. Island thought it was too heavy. There were problems with the National Front, racism was prevalent; they thought it would incite violence."
Island Records and 'the system' missed the point entirely. "Steel Pulse wanted to show how the Klan were in our midst, in the community, disguised in different ways but present nevertheless." Something that Dennis Morris was well aware of. "Just before I left school I had to visit the careers officer," he recalls. "He told me straight that there was no way I could become a photographer. He said there were no black photographers." And this was a teenager who'd had his first photo printed on the front page of the Daily Mirror at the tender age of nine, who captured Bob Marley at the Speakeasy club aged 14, and who took shots of the Sex Pistols at John Lydon's request at 18.
"Meeting Marley gave me the confidence to pursue my aims. He told me that people put you down, but you can still realise your ambitions and dreams. Marley was more than a musician. He was a prophet, not just to black people or white peoplke but to all people."
Text copyright Mojo 2000, used without permission.
---
Home : Steel Pulse : Articles Index : E-mail
The contents of this website cannot be reproduced or copied without permission of the site author. (c) Andy Brouwer 2004