ANDYBROUWER.CO.UK
---
---
Brand New Solo CD - released August 2005
FARM DIGGING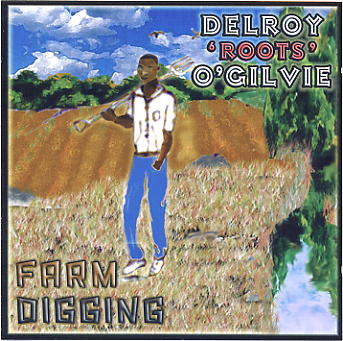 Born in Jamaica, Delroy came to the UK in the early '70's. A keen fan of the reggae music developing in Jamaica in the years before he left, Delroy soon became involved in the burgeoning British reggae scene. By the late '70s he had become both Rastafarian and a founding member of the seminal roots reggae band Black Roots.
Black Roots achieved near cult status amongst discerning reggae fans. Lead vocalist Delroy worked with Black Roots throughout the 1980s, recording several albums, including music for the TV sitcom The Frontline and touring extensively throughout Europe and the UK. In the years following he continued on the live circuit backed by reggae bands Orange Street, One Drop and more recently The Justice Crew.
For his album, Farm Digging, Delroy has returned to his roots - recording in Jamaica with some of the best Jamaican musicians and producers.
Delroy 'Roots' O'gilvie is truly a pioneer of reggae music in Britain. His material is characterised by his enduring beliefs - songs of freedom, love and Rastafarianism - delivered with a sincerity and directness typical of the best in roots reggae music.
---
Track List: Mystic Man 4:08; Ethiopia 3:50; Lover Man 4:03; Farm Digging 3:49; Noise 3:30; I Am Moving On 3:55; Mighty Lion 3:45; Follow Me 3:45; Paperweight (version) 3:55; Quiet Place (version) 3:27; Spiritual Land (version) 3:54; Tough Toil (version) 3:48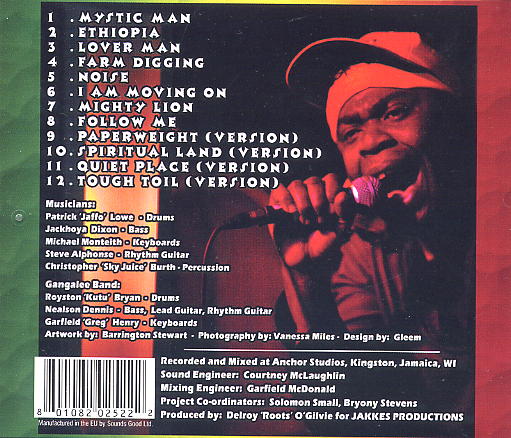 To obtain Farm Digging, contact Solo Music, 22a Market Arcade, Guildhall Centre, Exeter on 01392 496564.
---
To read the full Black Roots story, click on www.andybrouwer.co.uk/broots.html

---
Home : Black Roots : E-mail
The contents of this website cannot be reproduced or copied without permission of the site author. (c) Andy Brouwer 2005