ANDYBROUWER.CO.UK
---
BLACK ROOTS

Black Roots were a powerful and potent force in the British reggae music scene throughout the Eighties and left a legacy of no less than ten albums and more than eight singles before bowing out of the public eye in the mid-90's. Hailing from the St Paul's area of Bristol, the original eight-member band were formed in 1979 and quickly gained a large following by touring almost non-stop around the country, playing their brand of 'militant pacifism' roots reggae in the nation's major colleges, universities and festivals. They attracted the attention of television with appearances on BBC2's Neighbours, BBC West, HTV West and Rockers Roadshow and popular radio, where live studio sessions for Radio 1's In Concert (broadcast April 1982), John Peel, David 'Kid' Jensen and Peter Powell, led to a BBC Radio 1 sessions LP. Their first releases were on the Nubian Records label and an EP containing Bristol Rock, Tribal War, The Father and The System preceded their first single, in 1981, Chanting For Freedom. Jon Futrell in Black Echoes, labelled them; "Quite simply, Black Roots are the next great hope for reggae in this country," while John Peel was quoted; "If anyone tells you that there is no such thing as good British reggae, first tell them that they are a herbert and then listen to Black Roots." John Peel's Radio 1 session, aired on 27 May, really helped the cause, with Confusion, What Them A Do, Chanting For Freedom and The Father performed live.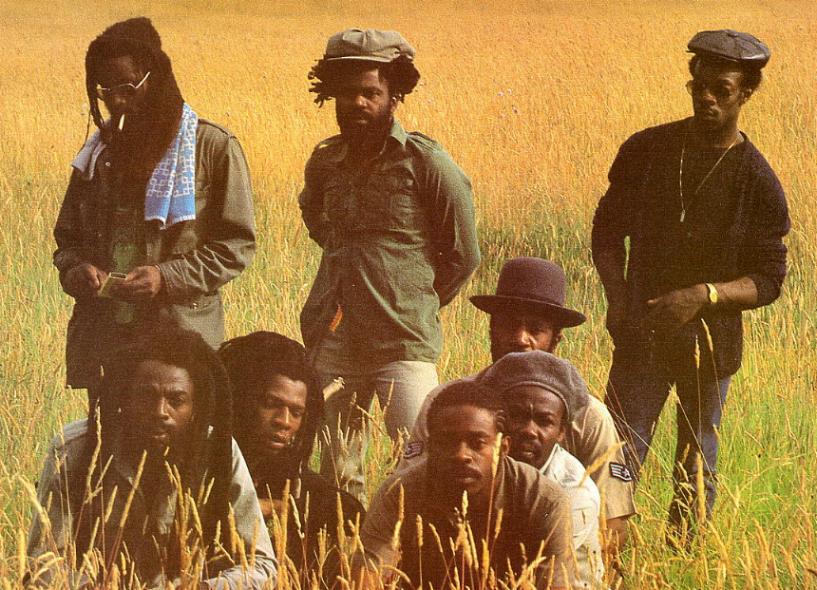 Black Roots line up for the debut album in 1983
Their debut album, entitled simply Black Roots and released in 1983 on the Kick label, saw them make their mark immediately on the national music scene, with the leading black music paper Black Echoes declaring, "a blinding debut album from the best of the new British reggae bands." It was a highly acclaimed debut for the group which consisted of Delroy O'gilvie, Cordell Francis, Errol Brown, Jabulani Ngozi, Trevor Seivwright, Kondwani Ngozi, Derrick King and Carlton 'Roots' Smith. Six of the band were Jamaican-born, while Smith and Seivwright hailed from Bath and Newport respectively. The Ngozi brothers were Rastafarians, as was lead vocalist Delroy O'gilvie, who shared the front spot with Errol Brown. The group's first single on the Kick label, Juvenile Delinquent, was taken from the album and released in the same year, bubbling just under the national singles chart. They also completed some tour dates in Europe as support to UB40. Their appearance on Rockers Roadshow, a ten-part tv showcase series for Channel 4 and the brainchild of Mikey Dread, was a great success with the band playing four songs live, opening the show with a tribute to one of the UK's first immigrant slaves, Scipio Africanus, buried in their home city of Bristol. A second John Peel session, on 14 November, was aired with Far Over, Struggling, Africa and Blackheart Man performed.
1984 was a momentous year for the group in terms of national exposure to a wider audience. They released their second album, The Frontline, which featured a series of melodic tracks, projecting the band's philosophy, 'one love for all, one aim and one destiny'. It also included the title track The Frontline, which had been composed at the request of BBC tv for a new television comedy series of the same name, based on the relationship between two black brothers, one a policeman, the other, a street-wise dreadlocked youth. The opening sequence of the show featured the band performing the song. Although the series was not a major success, it gave Black Roots an additional springboard and they followed that up a year later, with the release of their third album, In Session, a compilation of live recordings from sessions on both the John Peel and David Jensen radio shows. Tours in support of Eek A Mouse, Dennis Bovell and Linton Kwesi Johnson solidified their European fanbase, whilst a performance at the Womad '85 festival alongside Toots & The Maytals further cemented their widespread UK support.
The line-up of the band had remained constant from their earliest days. O'gilvie and Brown shared lead vocals, Francis played lead guitar, King on bass and the older Ngozi brother, Jabulani, played rhythm guitar. Seivwright on drums, Smith on keyboards/vocals and Kondwani Ngozi on congas and vocal harmonies completed the regular line-up that continued to gig across the country to adoring audiences. Album number four was released early in 1987, under the direction of Neil Fraser, aka the Mad Professor. All Day All Night continued to confirm Black Roots' place at the top of the British reggae tree and it also spawned another single, Seeing Your Face. Helping out on the album was the horn section of Vin Gordon (trombone), Mike 'Bammie' Rose (tenor sax and flute) and Max Carrot (trumpet). Simon Buckland in Echoes reported, "Here with the Mad Professor in the production seat, they have a deeper, even more substantial sound than before, with vocal harmonies developed and worked on, attention paid to keep the feel 'just so', tight, and a brazen horn section...to serve as the gilt edge." In addition to the album, the band's record company, Nubian Records, also released a video of a live performance at The Studio in Bristol, and an album of dub cuts, titled Ina Different Style.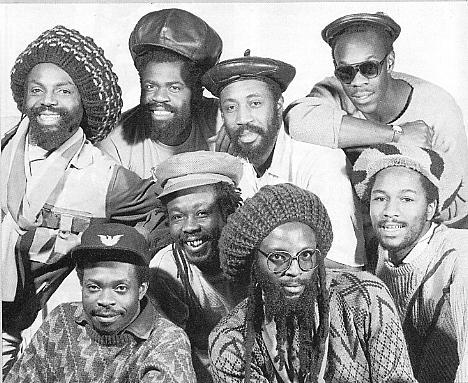 Black Roots pose for the camera in 1988
Neil Fraser was at it again, less than a year later when he engineered a truly live album, Live Power, when the band were recorded at a gig at the Moles Club in Bath on 22 September 1988. This came about as a direct result of fans of the band asking for a live album, seeking to capture the power and strength of Black Roots' tight, vibrant and entertaining stage performance on vinyl. The album was a mixture of old and new and a bridge between the past and the present and it contained the band's next two singles, Suzy Wong and Start Afresh. Echoes' Simon Buckland wrote, "...they've got some serious power in their ranks, and this live album is probably more representative of the band than anything they've committed to wax to date. This is Black Roots."
The first changes to the line-up since their formation took place before the group's next album release in 1990. O'gilvie left to begin touring as a solo artist, backed by his own band, One Drop, while Seivwright and King also departed. That left Black Roots as a five-piece band for their sixth album release, Natural Reaction, again produced by Neil Fraser. They were helped out by members of Black Steel on bass, drums and additional keyboards and the album was recorded at Ariwa Studio in London. It wasn't long before the band stopped touring and apart from regular reunions in the studio, Black Roots as a live performing band ceased to exist. In 1991, they got together with Neil Fraser to release Dub Factor: The Mad Professor Mixes alongwith Black Steel and the horn section from the All Day All Night album. Two years later, they revived fourteen of the songs that the band had made their own with the release of an eighth album, With Friends. This was recorded at the Coach House Studios in Bristol under the direction of Dub Judah. Black Roots had slimmed down to the Ngozi brothers, Errol Brown and Cordell Francis and the album also featured guest singers Delroy O'gilvie, Trevor Dixon, BB Seaton and Mikey Forbes, alongwith Senouci Hardy (bass) and Dub Judah on drums, percussion and keyboards, in the absence of Carlton Smith, who had left the band.
The remaining four band members reunited again in 1994 for the release of Dub Factor 2: The Dub Judah Mixes, a thirteen track album that repeated the line-up of the previous release a year before. The tenth and final album, Dub Factor 3: Dub Judah & Mad Professor Mixes (1995) finally brought the curtain down on Bristol's finest exponents of reggae and without doubt, one of Britain's best loved performing bands of the Eighties.
Whilst Black Roots have lain dormant since the mid-90's, former lead singer Delroy O'gilvie fronted Cornwall-based reggae band Orange Street in the second half of the decade and was later backed by five-piece band One Drop. With changes in the line-up they renamed themselves the Justice Crew, as a statement of protest against racial violence and have kept the Southwest of England entertained with regular live performances since. In addition, as a promoter, he has kept reggae alive in the area by staging sound system dances. Word reached me in 2003 that Delroy and the rest of the Black Roots band were planning a comeback, with the possibility of a UK tour in the offing. Nothing has materialised yet but Delroy released a new solo album, recorded in Kingston, Jamaica, called Farm Digging in August 2005 and the possibility of a Black Roots reunion tour is still alive. In May 2004, the French re-issue label Makasound released a compilation of the band's first two albums on a fourteen-track CD titled On The Frontline with extended versions of Blackheart Man and Move On. To obtain copies of Farm Digging and On The Frontline, contact Solo Music in Exeter on 01392 496564.
brand new CD... FARM DIGGING
Delroy O'gilvie and his new cd, Farm Digging. Click to enlarge.
# To read interviews with Black Roots, click on the above link. If you have any additional information on Black Roots, or photographs, I would love to hear from you.
Black Roots in 1981: LtoR; Kondwani Ngozi, Cordell Francis, Carlton Smith, Trevor Seivwright, Delroy Ogilvie, Jabulani Ngozi, Errol Brown, Derrick King.
---
Black Roots Discography
---
Black Roots Albums
Black Roots
The Father, Survival, Juvenile Delinquent, What Them A Do, Opportunity, Tribal War, Africa, Move On. Released 1983. Producer: Black Roots and Denny Vidal.
The Frontline
War, Signs & Wonders, Frontline, Far Over, Blackheart Man, Struggling. Released 1984. Producer: Black Roots and Denny Vidal.
In Session
Confusion, Survival, Juvenile Delinquent, What Them A Do, Move On, Opportunity, Tribal War, Africa, The Father, Chanting For Freedom. Released 1985. Producer: Black Roots.
All Day All Night
Realize, Pin In The Ocean, Release The Food, Freedom, Poor Children, Spare The Rod, Conman, Seeing Your Face, All Day All Night, Suffer Me Not, Mighty Lion, Childless Mother. Released 1987. Producer: Neil Fraser aka Mad Professor.
Ina Different Style
Realize, Reality Dub, Release The Food, Folitrickshun Dub, Freedom, Dub Free, All Day All Night, Pressure Dub, Seeing Your Face, Children Mother, Fertility Dub, Suffer Me Not, Apartheid Dub, Suzy Wong, Move On, Pretenders Dub, Let It Be Me, Strugglers Dub. Released 1987. Producer: Mad Professor.
Live Power
Juvenile Delinquent, Realize, All Day All Night, The Father, Suzy Wong, Oppressor, Start Afresh, Release The Food, Black Roots Skank (Mix Me Down). Released 1988. Producer: Mad Professor.
Natural Reaction
Natural Reaction, Drive The Road, Barriers, Home Once More, Tip Toe, Guide Us, Living With Jah, Voice of the People, Where Did I Go Wrong, Strange Land, She Wants, Dub of the People, Dub Us. Released 1990. Producer: Mad Professor.
Dub Factor : The Mad Professor Mixes
Dub Reaction, Sufferation, Dub Express, Guidance, Hold On, Situation Dub, Set Me Free, Kool Con, Murder Dem, Lion Dub, Tear Down The Walls, Diamonds & Pearls, One Step Dub, Dub For The Children. Released 1991. Producer: Mad Professor.
With Friends
Juvenile Delinquent, What Them A Do, Survival, Confusion, Move On, Release The Food, Mash Them Dub, Opportunity, Tribal War, Africa, The Father, Chanting For Freedom, Let It Be Me, Jah Jah Dub. Released 1993. Producer: Dub Judah.
Dub Factor 2 : The Dub Judah Mixes
Take Heed, Not Into War, Just Look Back, The People Dub, Moving Dub, Jah Jah Dub, Mash Them Dub, Dub The Youth, Warning From Jah, Now Is THe Time, Chant It Dub, Show Them Dub, Take Heed II (Outro Mix). Released 1994. Producer: Dub Judah.
Dub Factor 3 : The Dub Judah & Mad Professor Mixes
Wipe Away the Tears, Warning, Burn the Wicked One, Conscious Man, In Captivity, Rise Up, Remember, Jah People Come, Love Your Freedom, Driving On. Released 1995. Producer: Dub Judah.
On The Frontline
Frontline, Juvenile Delinquent, Africa, Blackheart Man, Move On, War, The Opportunity, Far Over, Struggling, What Them A Do, Signs & Wonders, Tribal War, The Father, Survival. Released: 2004 by Makasound. Producer: Black Roots.
Black Roots 12" Singles
(A) Bristol Rock, Tribal War (B) The Father, The System
(A) Chanting For Freedom (B) Confusion, What Them A Do
(A) Juvenile Delinquent (B) Struggling
(A) The Frontline
(A) Seeing Your Face (B) Conman
(A) Suzy Wong (B) Pin In The Ocean
(A) Let It Be Me (B) Move On
(A) Move On (B) What Them A Do
(A) Start Afresh (B) Reality Dub, Face Dub
(A) Zoom (B) Boom Dub
Black Roots in relaxed mode in 1990
---
Home :: Interviews :: Steel Pulse :: E-mail
The contents of this website cannot be reproduced or copied without permission of the site author. (c) Andy Brouwer 2005