ANDYBROUWER.CO.UK
---
DONNA STERLING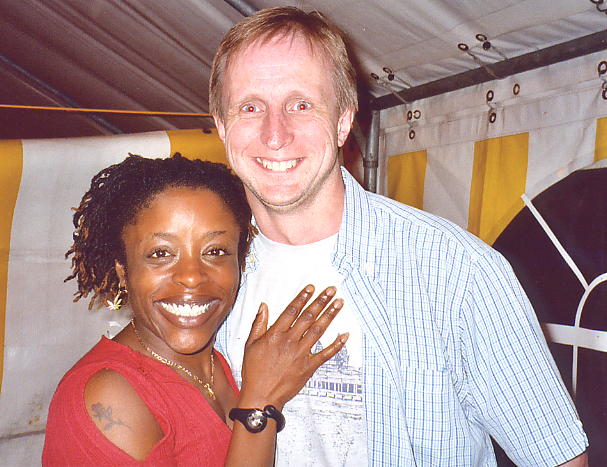 DONNA STERLING (& author)
True to the traditions of Steel Pulse, Donna Alexandra Sterling, was born in Dudley Road Hospital on 19 July 1973 in the Birmingham inner-city district of Handsworth, the spiritual birthplace of Steel Pulse, of which she was an integral part for six years with her strong vocal ability and on-stage vitality until the birth of her second child in 2004.
Donna's mother Winifred and her father Clifford had been amongst the final wave of Jamaican and Caribbean immigrants known as the 'Windrush' generation who came to Britain in search of work and to seek a better life in the early Sixties. Both of them hailed from the impoverished and volatile neighbourhood of Tivoli Gardens in Kingston, the capital of Jamaica and they eventually found their way to Birmingham, where they met and married. Clifford was in the Army and Winifred was a professional singer who travelled regularly to the European continent and Africa to perform. "I'm told the marriage only lasted six months. My father later met someone else, then moved to America to start another family. He lives in Miami now." With her mother away for long periods, Donna and her older sister, by a year, Debbie, found themselves shunted between various relatives in the Handsworth area. Then Winifred unexpectedly died when Donna was nine years old. "I have very few concrete memories, just flashbacks about my mum, but not enough. My junior school was called Grove Lane in Handsworth, it was all right, but my mum had just died and everything just went to pot from there. I went to live with my aunt, Christine. We were living in Douglas Road at the time, literally opposite Handsworth Park. My main memories are about that really. All the kids went up there on a Sunday, every kid in the neighbourhood used to go. It was a Sunday event before they changed it into carnival. We did roller-blading, hanging-out, the normal kids stuff."
Aged eleven, Donna moved to Handsworth Wood Girls School and spent a year there. It was on the same complex as the Boys School, where all of the original members of Steel Pulse had first dreamed of forming a band at least a decade before. Another house move with their foster aunt Christine, this time to Westminster Road, located more towards Perry Bar though still in Handsworth, meant a change of school and the two sisters joined a Roman Catholic mixed school, Cardinal Wiseman School in Kingstanding. Initially, she found the change unsettling, coming from a predominently black school to a new school where the majority of the children were white, so Donna and the few other black children stuck together. "I became a bit of a tearaway to begin with but I found that I really enjoyed the music lessons with Mrs Morgan. She was a brilliant teacher, I'll never forget her, she was so sweet. Mrs Morgan encouraged me and said I had a talent and gave me the opportunity to perform on the school stage in my third year. I sang Ain't No Sunshine, in front of a packed hall whilst she accompanied me on the piano, and it went brilliantly. By the time I finished the whole room lit up. I was so pleased." It was Donna's first taste of performing in front of an audience.
Donna's only other opportunity to sing came when she went to church. "I used to go to church regularly but the only reason I went was to sing. There were no choirs or anything like that to join. I'd known I'd always wanted to do it, the fact is that I believe the Lord gave me the gift to sing, with my mother's help as well. It was no coincidence she was a singer." Soon after, by chance she met a guy called Andy, who'd hired a cellar belonging to Roughcut, the house owner who she remembers made great leather hats. He sound-proofed the cellar and decked it out with his keyboard and computer. "I realised I could do something and I used to go down to the cellar to try things with Andy on his keyboards. I'd take his advice, I'd sing along to his music, make up words and we did a tape that included the first song I ever wrote called Electric Touch, well, half of it. I'd actually heard myself on tape and I'd written this song. It was my first musical achievement and I even took it to school at the time. Then one day he just disappeared, his gear had gone and no-one knew where he went."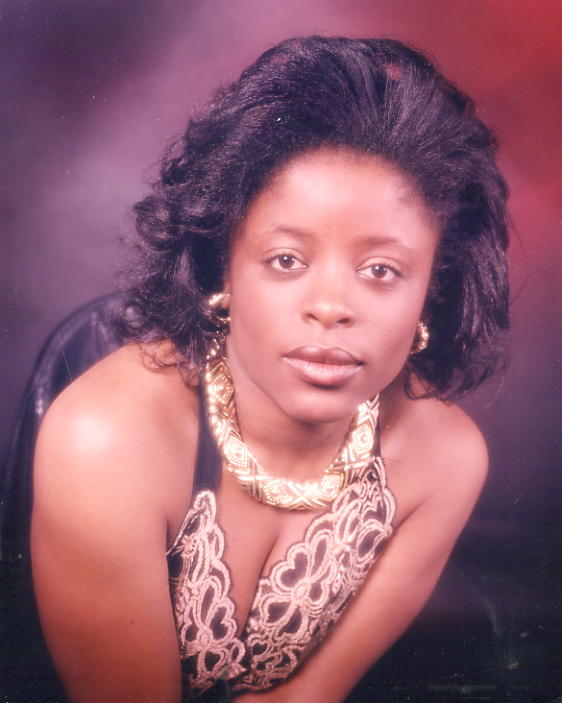 After leaving Cardinal Wiseman without any academic qualifications, Donna went to the Josiah Mason College in Slade Road, Erdington for a year to re-do her Maths and English Language GCSEs, though her primary reason was to take part in drama classes. "I realised that I'd messed up and I wanted to start again and maybe become an actress, but I really struggled to remember my lines. Though I excelled when we had to sing them!" It was at this time that Donna became pregnant and on 11 March 1991 she gave birth, six weeks early, to her daughter Donna Martina Rosalee Hayden. She left her aunt's once she knew she was pregnant and went to live with her partner Glen in various locations until she moved into a flat in Ladywood in Birmingham city centre, in the same month as her daughter was born. "Life for me began from there. I decided I was going to give my daughter all the love that I didn't have as a child, both mentally and physically." She looked after her daughter for a year before returning to full-time education, this time at the Mathew Boulton College in the city centre, taking one year GCSE courses in English Language and Literature, which she passed with flying colours.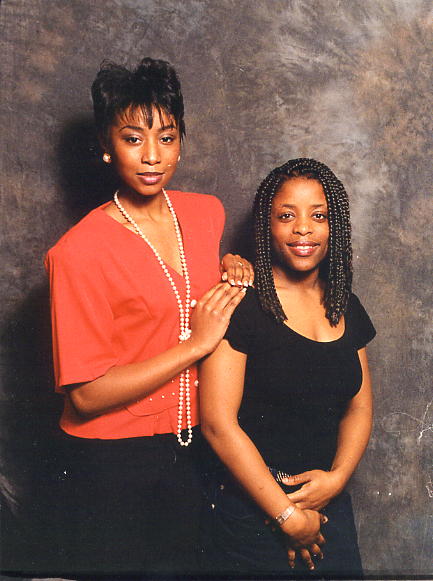 To make ends meet, she took on a variety of part-time jobs as a chambermaid at the Swallow Hotel in Highgate and at the Hyatt Hotel on Broad Street. She also worked as a barmaid in a local pub and as a shop assistant at a Blockbusters' video shop in Erdington. This job mushroomed into a full-time position and also involved travelling, refitting and managing stores around the country, once the company had bought out another video chain. It was her first experience of travelling for months on end and she enjoyed it, but she still hankered after a singing career. This desire to perform prompted her to buy The Stage newspaper and she took the plunge and answered an advert calling for two girls to form a vocal cabaret trio. The initial meeting with Nicky, who placed the advert, took place in the less than salubrious surroundings of a Tesco Superstore car park. Soon to join Donna and Nicky was a third girl, Juliette Miller, with whom Donna would sing on stage for the next half dozen years in various collaborations.
Singing cover versions of the Supremes, Marvin Gaye and other 70's era music, they did a lot of rehearsing before their first gig, under the name NDJ, at the King's Cabaret Club in Great Barr, where they wore bright yellow jackets with their initials embroidered on the back. They did two 45 minute sessions and went onto play more cabaret and working men's clubs in the year they were together, either singing to backing tapes or supported by a resident band. "Juliette and myself were more soul and RnB, but Nicky had her own vocal thing happening. She wanted to keep it really straight and we couldn't work with that." Nicky decided to go solo, so Donna and Juliette became DJ and for a year joined up with a local singer Adam Quest, who she recalls had an excellent voice. They continued on the Midland's cabaret circuit but also branched out further afield as well as incorporating songs from musicals like Me & My Girl and Phantom of the Opera, spending a four-month stint in Blackpool doing stage work, which she really enjoyed. Donna was certainly getting the taste for performing live.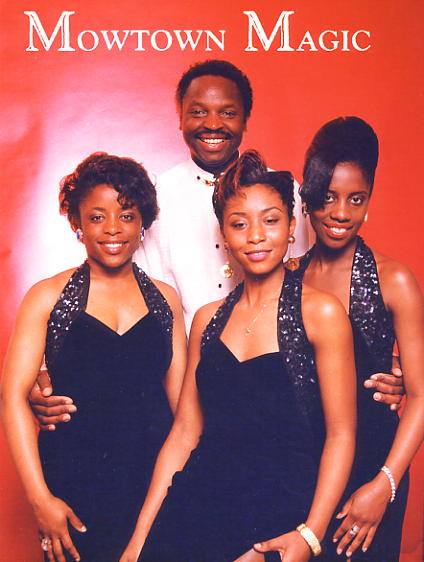 After the Quest episode fizzled out, the duo met and collaborated with another male cabaret singer, Henry Solomon, calling themselves Mowtown Magic. As you might guess, their repertoire involved songs from the Motown era with the hits of The Supremes, Isley Brothers, Martha Reeves, Temptations, Four Tops and Smokey Robinson amongst others. They were still on the cabaret circuit but it was now more serious as Henry had an agent, John O'Dell, who was able to get them regular gigs most weekends. They ventured even further afield and became a regular support act for well-known cabaret bands and comedians like Eastenders' Mike Reid at The Circus in Kilburn, London. "We became very popular. We dressed in the proper gear, with sequins and stuff. We also did a lot of theatrical work with dancers, etc. I'd drive up in my Sierra estate carrying the equipment in the back - our speaker boxes, amps, mike stands - doing all of that. I didn't realise until then how big the cabaret circuit was!" The collaboration lasted nearly three years, with a third girl joining them near the end, by the name of Lucy Lewis, now Donna's best friend, before it came to a head in acrimonious circumstances over money and the proceeds from the sale of merchandise like cassettes and photos.
O'Dell remained their agent as the three girls set themselves up as Motown UK, performing up and down the country in cabaret clubs from Birmingham to Leeds, Leicester to London. "Mowtown Magic was a good experience. I learnt what I wanted to do. I was very good at stage performances. And in Motown UK we knew that we could do more. We set up some agents to come up and see us but the other girls got nervous and it never happened. We should've been Eternal!" Eventually, after nearly two years, the girls fell out, again over money, and Motown UK broke up at the beginning of 1998.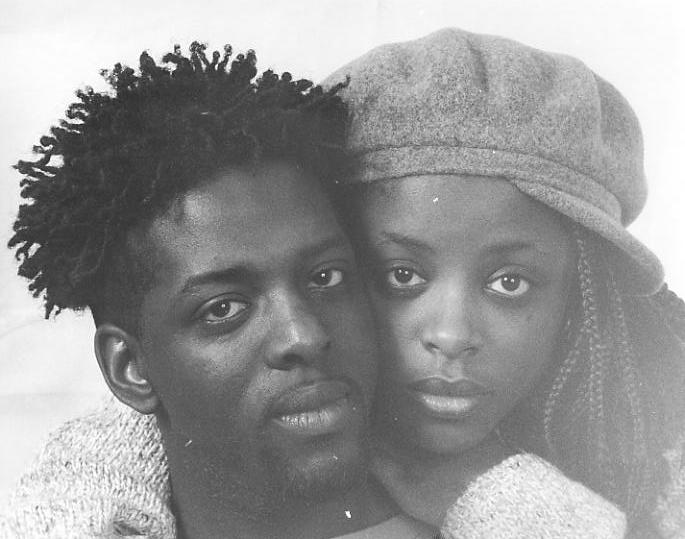 Whilst involved with the cabaret work, she also hooked up with a distant cousin, Shirley Bethune, who took her under her wing. Shirley already had some singers and musicians in her stable and she encouraged Donna to have a go at writing songs and music in her own right and in collaboration with her new mentor. Also in the Bethune collective were good friends, vocalist Slim Banton and DJ Shane Cunningham and all three would rehearse constantly and visit studios like the Custard Factory or Pato Banton's studio in Kings Heath to record tracks, though nothing substantial ever materialised from the many hours of work and rehearsals, much to Donna's frustration. "I'm not very good at studio work, the gruelling constant repeating over and over. I wanted to do stage work, that was me, that's what I was about." Whilst Slim was Donna's singing partner, Shane became her partner in love and the two of them set up home in Dudley, where they live today.
At the beginning of January 1998, Donna auditioned and attended two rehearsals for a long-established five-piece acappella vocal group from Birmingham called Black Voices, who were just about to go on tour to Turkey. However, at the same time Shirley took Donna and Slim to an audition at the Dean Street, Digbeth studio owned by Steel Pulse and they impressed David Hinds and Selwyn Brown so much that they were taken on as backing singers for the group's impending three month tour of the United States in March. Up to that point Donna had no real experience of reggae, she was much more into soul and RnB and had not really heard of the band either, let alone being aware of their impressive history in the music business. Problems with his visa meant Slim was not able to take up the offer so a second female singer, Sylvia Tella was called into accompany Donna on vocals and the two met at rehearsals. It was a tough introduction for Donna, who takes over the story, "I was shitting bricks. This was way out of my league, as I'd not done reggae before. Shirley basically took over at the audition, we sang our own songs. Slim, who's a fantastic singer, and I complimented each other so well, we'd been singing together for so long. It was both of us they wanted." As it turned out Slim Banton didn't make the trip but Sylvia Tella did, as Donna's vocal partner. "Talk you through the nightmare...I cried a lot of the time, I was homesick, it was hard. I met Sylvia at the rehearsal studios for the first time on the third day, we did a lot of rehearsing for a straight week or two, twelve hours a day, in a nice studio in Hockley. At first I thought she was great, I've got no problems, this woman is experienced, she knows what she's doing, she can teach me a lot, as I'm green. I didn't know what the hell I was getting myself into. I don't know Jack...me and Jack are friends! [deep belly laugh.] Selwyn gave me a cd a week after the audition, music and words and everything. I learnt my bit, the words and remembering where I had to come in and not come in. Then I had to learn the nuances of the words and my pitching, which created a few concerns with David initially."
"It was a hard three months on tour. I'd never experienced anything like it. Never. We're talking day in, day out. You get a break and you sleep. On my day off I'm in bed sleeping as I'm knackered. Rehearsals were in the afternoon, then catch some more sleep, then the buzz on stage and afterwards, from 9pm til probably 6 or 7am the next morning. Unfortunately though, with Sylvia, whilst she's a brilliant singer and I would never compare myself to her as she's just so good, we didn't get on." Donna found the switch from cabaret performer in the Midlands into the harsh spotlight of a nationwide Spirit of Unity Tour with high-profile bands playing to audiences of thousands, very hard at first. "Vocally I was out of my depth, out of my league. Many times at the beginning I wanted to pull out. I said it was too much for me, but I stuck at it. I'd made a huge jump but I'd had so much practice at the stage work, cabaret work had taught me to be professional on stage and to be the person I am today."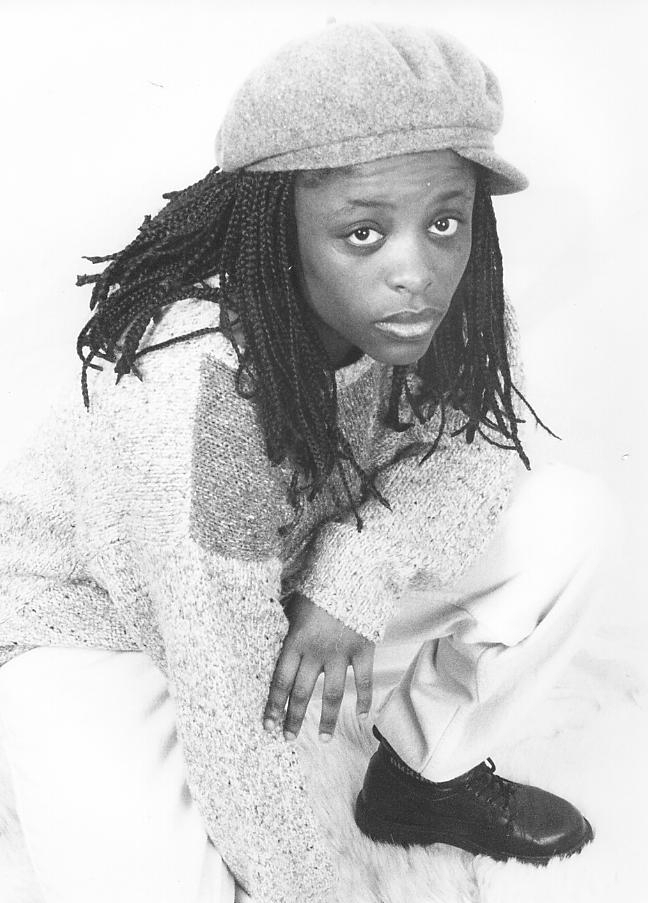 The tour kicked off in Hawaii with Steel Pulse part of a Spirit of Unity Tour of the States that also included Maxi Priest, Buju Banton, Shaggy and Beres Hammond. Donna already knew the legendary Maxi Priest as a friend of her family, had met him many times before and she felt a little less homesick when they embraced on the pitch at the stadium venue before the opening show in Hawaii. "I remember that Buju played football to relax and had his own cook, and we used to go to his room for food. All the different band members mingled and mixed together, that's a fun part of touring but behind closed doors its very political on a tour like that. Originally the tour was for three months, but everything abruptly stopped after two and a half months as there were money problems with the organisers. David vowed never to do it again." This first taste of the reggae world made a lasting impression on Donna. "It wised me up. It made me grow up. At the time I didn't realise how big Steel Pulse were. I thought Maxi was the main name but then I saw that Steel Pulse headlined the majority of the shows. The response depended on where we were playing. For example, Florida and Miami was not as big as Colorado, Denver or Texas. I personally felt the places which were majority black weren't as responsive as those places which were majority white, like the festivals. Whilst the older black people really responded and were really into it, the younger black audience were harder to please. We had to work much harder."
Once she joined the band, Donna was on a steep learning curve. "It was head first, straight in. No-one told me what to expect or what was expected of me. Selwyn looked after me, it was his role in the band, I'd expected Sylvia to help but she didn't. I was familiar with reggae, but I never thought I'd actually go down the avenue that I did. I thought I was always going into RnB. Certain vocal nuances were totally different to RnB. Reggae is completely different. I'd riff a lot, vibrating my vocal chords, as much as I could. But with Steel Pulse David wanted it straight. I had to make sure my vocals were straight, especially at the ends. That was my mistake to begin with. Then I had a pitching problem which David pointed out. David listens to the tapes of the shows every night. I wasn't exactly hitting my notes. I had to listen to myself back so I could hear the mistakes I was making and go back and correct them. I had to practice and practice with the keyboards. I'd listen to the show in the morning [Pulse's engineer Louis Yesufu tapes most of the shows] and rehearse and rehearse and that's where Selwyn came in and helped me a lot. He'd literally break it down, literally to an ABC type of thing. At the time I found it hard. Looking back it's made me a better vocalist. I'm now thinking about what I'm doing, before I was just doing it. I'd memorise the words and just sing, not realising about my pitching and all. On stage there's a tendancy to get carried away and forget about what you're doing, because you're enjoying the moment. I'm now more technical, I have to pronounce word for word correctly and every note. David and Selwyn have taught me what it is I'm singing, to think about the next song that's coming, think about where my pitching is weak and concentrate on that and so on."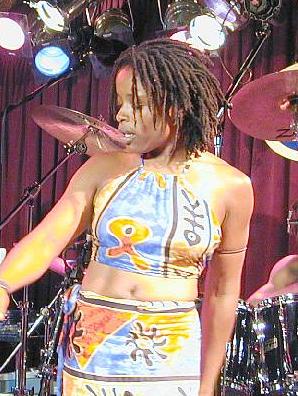 It had been a tough introduction for Donna, who recalls, "after the tour ended, I went home and cried my eyes out." Whilst a daunting prospect for the twenty-five year old, she had proved her worth to the band and teamed up again for their own tour of the States before they closed the year with a visit to Africa. It was the band's second visit to the continent after their ill-fated trip to Nigeria in 1982. For Donna it was a momentous occasion. "My first time in Africa, a real culture shock. I'd never seen so many black people in all my life in one place. My first Christmas in Africa, we were in Ghana on Christmas Day, we'd gone to the slave center where they'd shipped the slaves to America. We did a bit of sight-seeing, it was safe to go out by ourselves with no problems at all. We stayed for about two weeks playing in Abidjan in Ivory Coast, Dakar in Senegal, where we met the actor Danny Glover, and Accra in Ghana on Christmas Eve. We had a good crowd reaction. They knew every single word, in French, of our songs."
The following year, 1999, saw Steel Pulse back on the road with Donna and Sylvia Tella providing the backing vocals and the band returned to join a second Spirit of Unity Tour. "David had said he wouldn't do another one because of the problems we'd had. All of a sudden another one came up and an opportunity to recoup some of the money we'd lost on the first one. We did it. On the second tour was Maxi Priest again, Third World, us and Monifah, a really good soul singer. We headlined again most nights, it was then that I really understood how big Steel Pulse were." After completing coast to coast gigs in the States, the tour took in Barbados before moving across to Europe for a few concerts. In August of that same year, Steel Pulse released their Living Legacy live album, recorded at concerts in France, Holland and Puerto Rico over a three year period. Donna sang on five of the tracks that showcased the band's work over the past twenty years and which was nominated for a Grammy, their sixth such nomination.
The highlights of 2000 included a first-ever visit by Donna to Jamaica, the home of her parents. "We went to play the Reggae Sumfest in Montego Bay, my first time in Jamaica, with Morgan Heritage and Joe, an RnB singer. It was a two day festival in August. I'd heard all about Jamaica from my family, though I didn't get to see much of it on that trip. I remember that by the time we got on stage, it was nearly 4 o'clock in the morning, we were due on stage about six hours earlier. I know it was then because after we came off and changed, it was light and morning had arrived. The whole atmosphere was just terrific." They closed the year with two consecutive gigs at one of her favourite locations, The Roxy in Los Angeles. "We're always at The Roxy, even though I had my watch stolen. Its wonderful there, the atmosphere is always good and the place is always chock-a-block."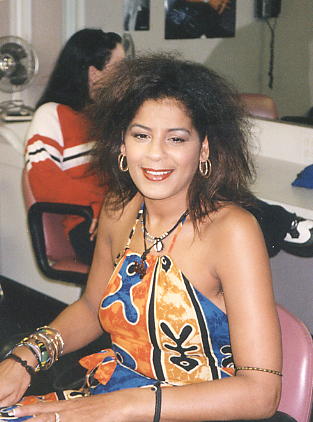 2000 also saw the departure of Sylvia Tella to pursue her own solo career. "Sylvia had finished her own album [Tella Like It Is]. We went to Dominica and then at the next rehearsal there was no Sylvia and Sidney told us that she'd gone to do her own stuff and that was that. I panicked even worse then. I realised I was on my own. Sylvia was the main vocalist out of me and her. She made that perfectly clear. I followed in her footsteps and at certain parts of the set, David would have her sing, like Blessed Is The Man, as the main vocalist. She hit some high notes that I could never reach, she hit them every night or at least she tried. When she left, David asked me to do it. I was like, 'no way, I can't do it' but he said 'Donna, be yourself, do your own thing.' The doubts returned. It was hard for me. I couldn't do it her way so I did it in my own RnB way, where it related to the youth of today, my age group and younger." It was Selwyn who gave Donna much needed support at that time and who'd taken on the role of mentor and her coach. "It gave me the opportunity to work more closely with Selwyn, who worked really hard with me. He gave up his free time and we did a lot of practicing, rehearsing and moulding that specific song to me, so that it suited me, made me unique in my own RnB way."
"David was going to bring in another female vocalist to replace Sylvia. I think his intention was to have three female singers. There was a girl called Monique, we clicked straight away, who joined us for a gig in Barcelona and a couple more in France. She was from Handsworth and had been with the group Black Voices. She also did a memorial with us in Birmingham at the Irish Center in Digbeth. We did three songs, Black & Proud, Black Enough? and Islands Unite. That was a nervous night for me, I was on home territory, people knew me and I was very nervous. A few local artists played. It was my one and only British gig with Steel Pulse." That was at the beginning of 2001 with a subsequent tour of Europe closely followed by a return to the US. A visit to Lima in Peru for a reggae festival, "it was freezing cold and I'd taken all my Summer clothes to wear!" brought an end to the first half of their coast to coast Stateside tour. Donna recalls, "we'd landed back in Britain the day before September 11th after flying out of Newark airport," with the band immediately cancelling the second half of their tour as a mark of respect for the victims of the New York and Washington terrorist attacks. They also cancelled scheduled visits to Addis Ababa (Ethiopia) and Johannesburg (South Africa).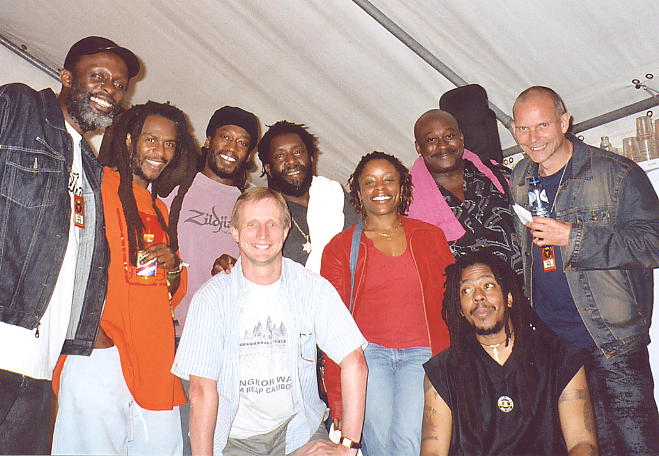 In June 2002 Steel Pulse made a return trip to the Ivory Coast in West Africa, initially without Donna. "I was having problems at home and I didn't turn up for the first gig in Abidjan. I had to miss a couple of days. I seriously considered stopping touring as it was affecting my family. It was very serious at the time. But I had a career and was doing what I always wanted to do. It was the first time I'd missed a Steel Pulse gig." She made it for the second concert and the follow-on tours of North America, a couple of festival appearances in Europe and first-time visits to Costa Rica and Mexico. "Mexico was good, the land of small people - I really fitted in!" More of the same in 2003 saw the band in the States (two mini tours and a longer one, during June and July, their favourite months), a return to Peru and an appearance at the Sundance Festival in Eindhoven, Holland, where I had the pleasure of meeting Donna for the first time.
There have been promises of a new studio album from the band for the last couple of years. "One of the problems felt by everyone in the band was doing the same songs and the lack of fresh material. David listened and started putting his new material into rehearsing during the last year. It's livened everyone up, and made a refreshing change. He got us learning more to see how we felt about them before choosing what he'd actually put in the show. Songs like Build A Nation and Global Warning were added to the set. There's other songs which will be on the new album, like one song based on the largest slave center we saw in Africa." The new album is expected to be out in June or July 2004 and Donna likes what she's heard so far. "I enjoy all of the songs really. I like the new ones as they're fresher. I also like most of the older ones like Wild Goose Chase, Nyahbinghi Voyage, Macka Splaff, Taxi Driver. I find Tightrope awkward, its one that I find difficult. There are certain vocals and pitching of certain notes that I find hard. This is what makes David's songs so unique. When you're singing them and you do the high and low vocals it sounds weird to my ears, it sounds wrong but he says its perfectly fine. In putting the sounds together, he's so unique."
Donna described some of the behind the scenes ingredients that are vital to keep the band fresh and together as a unit. "We always rehearse before we tour, we rehearse over here with the British lot and then over in the States with the others. We'll rehearse songs that David thinks we've got problems on or the new ones. Then for the last hour before we go on, David will run through the whole show, especially the beginning of the show. When I'm with they band, they mother me, I'm the little sister. I cannot move without them telling me, don't do this, don't do that, where are you going, what are you doing. They are like big brothers to me, I need their support, I can't do it without them. In particular, Moonie and I get on very well, we're so alike, just like big kids. His heart is so good and so is his temperament. We both love movies, so does David, but if I have a problem, I go and see Selwyn. Touring is so exhausting. It takes a toll on your body, your family, the lot. I take a complete break from the band. They don't see me until we next need to meet up. I come back home and do my mother bit, that's most important to me, as well as being a musician."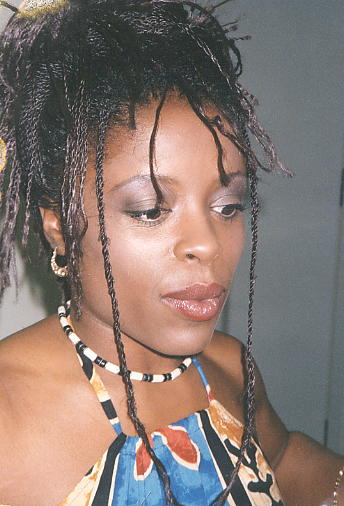 An important element of who Steel Pulse are is their faith. "Its what the whole band is based on. I believe a Rasta is what you are inside. A Rasta to me is not only about the teachings of Rastafari but its also about whether your heart is good. I live my life in a good way and if your heart is clean and you believe in that specific faith, that's what you are. 'What does it mean to me?' - it means for me to be humble, my heart is clean, my heart is good, whether you have locks or not or black or white, if your heart is clean and good and you are kind towards people and don't have that harshness and nastiness towards others, and believe in a higher being, then you can be true to your faith, whatever that may be. As a band we chant a psalm before we go on stage. We stand in a circle and Selwyn has a bible and we chant a psalm and then we beat our fists down, which represents chanting down Babylon, and the amount of times represents the people in the band. The majority of the band only eat fish or chicken, David only eats fish and no dairy products. It was David who started me on my locks. When we were in Ghana, I had my hair put in micro-braids and left it for three months by which time it had binded."'
As a musician, Donna's instrument is her voice, which she describes thus, "I would consider myself as self-taught without being technical. I don't really read music, though Steel Pulse are vocally and musically a very technical band. I warm up for about thirty minutes before I go on stage, maybe just talking, singing or humming. Sleep is a major factor as I need to rest my voice especially when we're on a long tour. Honey and lemon, with a bit of brandy is good. I still have my tonsils, so I get tonsillitis on a regular basis. I'm finding my voice is taking a deeper dive. Before I started with Steel Pulse my voice was clearer and vibrant but I was younger then of course. With the strenuous touring my voice has come down a bit but vocally, when I sing its still up there. A couple or three years ago I started breathing exercises. We bought books on tour, and practiced singing and breathing on the floor, using your abdominals and it works. I'd sing through my nose before or my throat, which would get very sore. Now I breathe through my chest so its less stressful on my throat. I've found it makes my voice stronger, more breathy and I don't run out of breath as much. I can catch my breath easier between songs. Selwyn and I have really concentrated on this aspect."
Of the artists and individuals who've influenced her, she singles out, "Michael Jackson, Diana Ross, all the old Motown artists like Smokey Robinson and then my mum and my family, especially my daughter. And now that I've been in the band I've listened to a lot of reggae artists like Capleton, Sizzla, Lee Perry - we met him one day in Europe, I couldn't believe it, he had mirrors on his shoes! - Mutabaruka, and of course Selwyn Brown." One thing that has puzzled Donna is the lack of interest in the band in her homeland. "I've always wondered to myself why Steel Pulse aren't known in England, other than in the black community. I was too young at the time but I've heard what they went through at the beginning. David has said he'd like the band to play in England but it hasn't happened yet. In the US, they're up there, if not top. To see the crowd reaction, above all the other reggae artists, is amazing. At Reggae On The River for example, its like mayhem when we come on. I think part of it's down to their collaboration with Bob Marley and winning the Grammy."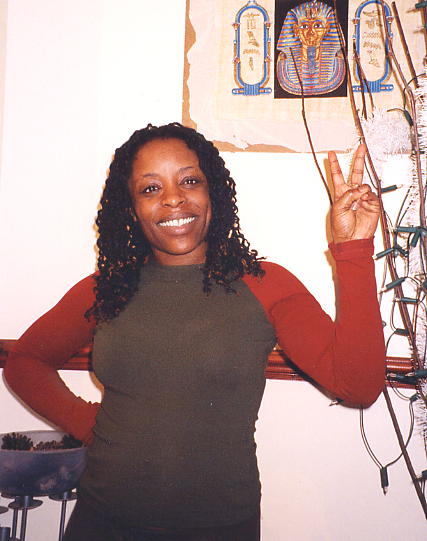 Whilst 2004 will undoubtedly be a busy year for the band with the release of their new album and a diary full of gigs in Europe and America, Donna has her own important date to keep. Her second child is due in September and to ensure her pregnancy is trouble-free, she's under doctor's orders to take a break from the stress and strains of flying and performing. She keeps in touch with what's going on but has already had to miss the mini-tour of Florida in February and is unlikely to play any part in the European and US tours beginning in the middle of the year. She's missing the buzz of performing and the comraderie of being on the road with her fellow band members, though she's determined to keep herself busy. A few years ago Donna took up a family tradition of hair-braiding and weaving, cane-row and extensions. At the time she wanted to have another string to her bow as she recalls, "I honestly never thought I'd last so long in the band. I used to do it in a store at the Merry Hill Center in Dudley, now I do it for family and friends."
Donna is also thinking of her long-term future. She'd love to continue to be part of Steel Pulse, though that won't be feasible for the next six months or so whilst she's expecting her baby. What happens after that will be up to Donna and the band, though she has her sights set on other avenues. "I see myself as following my own path at some point in the future. This is something that is long overdue. I believe that I have the confidence and ability to match up to the artists out there now. I'm working with Selwyn and we're in the studio now. I've done two reggae tracks already, Selwyn has written them and his son Derrick is doing the beat. There's going to be a variety, reggae, RnB, blues, jazz, all that on one cd. There's no deadline, we're going to try and get as much done as we can in the next few months. Its loose because Selwyn hasn't finished the Steel Pulse album yet. Once that's finished, he'll have the free time. It'll be my own songs with one or two cover versions. I've written a load of stuff, with Selwyn and Derrick coming up with the music. We've been jamming when we've been on the road, we've mixed and recorded a jam tape and will take that into the studio and finish it off. Selwyn and Slim Banton will be on backing vocals."
This year will certainly be an eventful one for Donna, who's known to all as Dee or sometimes, Kibi, a name she got from her cousin Shirley Bethune and which means 'little lady' in Swahili. Alongwith her partner Shane and her daughter, they're all eagerly awaiting the arrival of the new addition to the family later in the year and with her plans to complete her solo project as well, there's little chance of the complete rest her doctor has advised. But that's Donna all over, she's a bundle of energy and vibrancy both on and off stage, with a dazzling smile and a personality to match.
On 3 September 2004, Donna gave birth to a son, Kaireece, weighing in at six pounds and five ounces. A couple of months earlier, Steel Pulse released their latest album, African Holocaust, to coincide with tours in Europe and the States. Donna contributed backing vocals on three of the thirteen tracks, namely Global Warning, Dem A Wolf and Tyrant. After taking a break from performing to concentrate on her family commitments, Donna has returned in the last year to sing jazz and blues with Andy Hamilton & The Blue Notes, Headrocka and David Lloyd Henry's Flat Five Band on the Midlands' jazz circuit. The latter is actually her brother's band and he has been collaborating with Donna and Selwyn Brown on her solo project. The tracks for her album have been written, they're a combination of reggae, jazz, blues and RnB, the music is nearly complete and she hopes to bring out a couple of singles before Christmas to test the water. One of the singles will be Billie Holiday's song God Bless The Child. In addition, she has recently linked up again with Steel Pulse to help out on backing vocals for their Vote Barack song, which was released to coincide with the US presidential elections, and a future collaboration shouldn't be ruled out either. Of the future, Donna is very excited about recent developments as the next chapter of her musical journey looks set to unfold.
---
Home :: Steel Pulse :: E-mail
The contents of this website cannot be reproduced or copied without permission of the site author. (c) Andy Brouwer 2008
Interviews conducted with Donna Sterling in February & March 2004