---
Jeff Green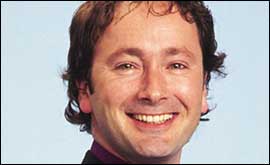 Jeff Green is a quality act. I started watching live stand-up comedy shows in the 1980s and for my money he ranks amongst the top half-dozen alongwith Steve Coogan, Frank Skinner, Ben Elton, Lee Evans and Paul Merton. I first saw Jeff at the Cheltenham Town Hall in June 1990 where regular Monday night shows in the Pillar Room brought some of the country's leading stand-ups to perform, far from the usual comedy circuit around London. Tim Clark hosted the first 'Pillar Talk' show way back in January 1990 and over the next decade, subsequent comperes included Frank Skinner, Ian Cognito, Simon Bligh and Sean Percival.
Jeff has appeared at the Town Hall in Cheltenham on a few occasions, as well as the Guildhall in nearby Gloucester and won the audience over on each and every one. His observations on life are spot-on, delivered with razor-sharp timing, impish charm and boyish good looks (so my wife tells me) and perceptive wit. Now coming from Chester, that takes some doing. Sorry Jeff, only kidding. After studying engineering at Birmingham University, he worked at BOC for a while before taking the plunge into stand-up comedy, where he is now amongst the most popular of performers, playing to sell-out audiences. Two UK tours in support of Jo Brand in 1994 and 1995 gave him his first major exposure and he's gone onto bigger and better things ever since. Guesting regularly on television shows like 'They Think It's All Over', 'Never Mind the Buzzcocks' and 'Have I Got News For You', Jeff has become a familiar face on our television screens and has also done a fair bit of solo tv work including a couple of one-man specials for ITV and Channel 5. 'You're Only Human', written and performed by Jeff, was his third Christmas special on ITV, in 2001. He was also presenter for the BBC2 specials, 'I Love The 80s and 90s'. For more information, have a look at his official website and the off the kerb productions website.
For the benefit of stand-up connoisseurs across the country, Jeff Green toured the UK in the first quarter of 2001, his first since 1997. The poster below (left) is from that tour. If you didn't catch his act, then kick yourselves for missing out on this very funny individual. I saw Jeff in Gloucester in February 2001 and he went down an absolute storm. He returned again in November 2002 and again demonstrated that his style, wit and delivery put him at the top of his profession. I've also posted a couple of pictures from my own photo album where I have had the good fortune to meet the man himself. I caught up again with Jeff after his 2002 Gloucester appearance and chatted for forty-five minutes before he returned to London, ready for an early morning appearance on the Jonathan Ross radio programme. I can vouch that he's just as nice off stage as he is on. October 2004 saw Jeff return to Gloucester, which co-incided with my birthday, as part of his nationwide A-Z The Tour.
Newsflash...2001... To keep up-to-date on Jeff's heavy work schedule, take a regular look at his website. He's just finished working at the Melbourne Comedy Festival and toured round Australia, visiting such towns as Wagga Wagga, Kalgoorlie, Caloundra and Toowoomba! His last UK television appearance was on 16th May for Channel 5's Comedy Store series, with the whole program dedicated to his live act. Jeff has also finished recording 20 episodes of a new show called 'Shoot The Messenger' for the Paramount Comedy Channel, which is due to be aired in September. He'll be doing a handful of gigs in September, October and November with a larger tour set for January/February 2002. He also appeared in The World Comedy Tour (Paramount Comedy Channel) and was part of the huge Play UK Live Tour 2001. In December 2001, Jeff was voted amongst the nation's favourite, top ten game show panellists, by the readers of the TV Times.
Newsflash...2002... Don't forget to keep up to date with Jeff via his website. In February/March 2002 Jeff was a team captain on BBC1's new panel game show 'Jo Brand's Hot Potatoes' as well as writing the material for Lee Evans' current stage show. After a successful Edinburgh festival, Jeff has toured England & Wales this Autumn, kicking off in his hometown of Chester on 2 October and ending in Epsom on 19 November (see the tour poster below right). He's also finished putting together his first book called 'The A-Z of Living Together' which contains many of his routines about relationships (and loads more he wrote especially for the book). Just a week after its release, the book made the paperback best-sellers list and Jeff was soon in great demand on tv and radio to plug the book (it costs £6.99 and has its own website). In addition, a 'best of' CD of two live shows shown on ITV (in 1996 and 1997) - called 'Debauched Cherub - The Definitive Collection' - made the shops by Christmas. He is soon to become the voice of Sky One's 'The Football Years' (Zig Zag Productions). And he tells me that he will soon begin working on a new book for 2003.
Newsflash...2003...The best way to keep up to date with Jeff is by visiting his website. He's got some live shows planned for the London comedy clubs in February and March and also has plans to sit down and churn out more material for a second book, after the success of A-Z (it sold upwards of 125,000 copies). He visited Australia to perform at the Melbourne Comedy Festival and recorded a brand new stand-up video/dvd live from London's West End in the Autumn entitled 'Back From The Bewilderness' (which was released in November). His second book, 'The A-Z of Being Single: A Survival Guide to Dating and Mating' was published in November.
Newsflash...2004...Appearances at Glastonbury, Edinburgh and 'down under' preceded a nationwide tour through September til December, taking his A-Z Tour on the road (a stage version of his two books) and enjoying a great reception as always, including a return visit to Gloucester. Jeff, you're always welcome in our neck of the woods.
Jeff in Person.... I managed to track down Jeff by e-mail in February 2001 and he took time out from his busy tour schedule to answer a few of my questions:-
Q: can you give me a quick resume of the Jeff Green story so far?.....what launched you into the world of comedy?
JG: I visited my first comedy club, the Comedy Store in London, in October 1987. My first gig was 'Funny Business at Fergies', a now defunct comedy room above a pub in Stoke Newington in April 1988. There were eight people in the audience. I won the Comedy Store New Act of the Year in May 1989; Eddie Izzard was in the competition too. Went full-time in comedy in April 1990, giving up my job selling gas to welders. Hurrah! First Edinburgh festival; a two-hander with Lee Evans. We got no reviews and very little audience. A disaster. Nominated for the Perrier Award at the festival in 1994. ITV showed my stand-up gig at Her Majesty's Theatre in 1997 and again in 1998. UK and Australia tours follow to this day.....I started doing comedy mainly because I hated my job so much I was prepared to be potentially humiliated on stage as an alternative. It was also very exciting times for alternative comedy at the end of the 80's with shows like 'The Young Ones' and 'Saturday Live' on tv. I was hooked.
Q: who makes you laugh? are comedians an incestuous bunch, or do you avoid fellow stand-ups like the plague? where do you draw your material?
JG: Richard Pryor and Billy Connolly.....do I hang out with comedians? Yes, almost exclusively. They're the only people up at 2am after you've finished a gig and want to socialise. My best friends are Simon Munnery, Donna McPhail, Ian Cognito and Geoff Boyz.....where does my material come from? A mixture of inspiration from observing stuff happening, sitting down at my desk and bashing out jokes and ad-libbing on stage. Put them altogether and you've got a show!
Q: what have been your best and worst-ever gigs? where has the business taken you around the world?
JG: Best gigs? Most of them thankfully. I remember a show at the London Palladium with Lee Evans that was incredible. Sold out with 2,500 people. The laughs knocked you to the back of the stage. My first gig at Chester Gateway Theatre was special too for sentimental reasons. I'd visited it as a kid and always saw it as a sign of making it to play it sold out. Worst gig? Holloway Prison. Not a titter!.....where have I been? UK, Ireland, Denmark (they corrected my English), Amsterdam, Montreal, Australia, Paris and Belgium. Yes Belgium. Good gig too.
Q: so, what does a stand-up comedian actually do during the day?
JG: Procrastinate and panic!
Q: what's on the cards for 2001? is there a Jeff Green master-plan for world domination?
JG: Finish the tour early March. Record a show for Paramount called 'Shoot the Messenger' then I'm off to Australia in April for the Melbourne comedy festival followed by a tour of that country. Finally back in England in June to start writing a play for the Edinburgh festival. Busy, busy..... No master plan. Just fun.
LtoR: Jeff, myself, Jo Brand in 1994 at Cheltenham Town Hall
click to enlarge
Other stand-up comedians who I haven't mentioned above but have made me laugh my socks off at various times, all at Cheltenham's Town Hall, include Bob Mills (now a successful writer/producer), Alan Davies (tv's 'Jonathan Creek'), Mark Lamarr ('Never Mind The Buzzcocks'), Mark Steel, John Maloney, Kevin Day (never off the radio!), Jo Brand, Sean Lock, John Thompson (on tv in 'Cold Feet' and 'Stan The Man'), Ed Byrne and Richard Morton ('Billy Idol's dad').
---
click to visit the official Jeff Green website
---
Home : Cambodia Tales : Steel Pulse : E-mail
The contents of this website cannot be reproduced or copied without permission of the site author. (c) Andy Brouwer 2008