ANDYBROUWER.CO.UK
---
KARL PITTERSON - musical genius

Karl Pitterson is a bona fide heavyweight musical genius. As sound engineer, mixer and producer, everyone in reggae is aware of the massive influence he has had on the genre over the last thirty years, most notably working with a lengthy list of stellar names such as Bob Marley & The Wailers, Peter Tosh, Bunny Wailer, Burning Spear, and of course, Steel Pulse, as well as Robert Palmer and Grace Jones outside of reggae music.
David Hinds, Steel Pulse's head honcho, is crystal clear about Pitterson's worth. "The chemistry of Steel Pulse and Karl Pitterson was legendary. I don't think that kind of chemistry can ever be recaptured. It was just one of those things. Every time we used Karl it was dynamite, because the chemistry was right. We had somebody that believed in the band." And he's not alone in extolling Pitterson's virtues. Just before his death, Dennis Brown said, "Karl is one of the wickedest brethren...he's a maestro...like a musical professor...he gives you room to develop whatever you want to express."
Jamaican-born, Pitterson was a self-taught musician and quickly learnt the technical aspects of studio life from 1970 as house engineer with such legendary Jamaican studios as Dynamics, Federal, Randy's, Studio One, Treasure Isle and Aquarius. In those early days he worked on albums with the likes of Big Youth, Boris Gardner, Dave & Ansel Collins, Delroy Wilson, Dennis Alcapone, John Holt, Ken Boothe, Pablo Moses and Delroy Washington. Hooking up with Chris Blackwell and Island Records, Pitterson engineered, and played a host of instruments, on the 1976 Bunny Wailer classic album Blackheart Man and so began a series of credits that made their mark on the worldwide reggae fraternity.
He lists his own highlight as Bob Marley & The Wailers' Exodus album which he mixed in 1977 and which, twenty years later was voted by Time Magazine as 'The Best Album of the 20th Century'. He also worked closely with Bob Marley on his Kaya album, as well as linking up with Peter Tosh on Legalize It, Equal Rights and the '(Walk And) Don't Look Back' duet with Mick Jagger, with Burning Spear on Social Living, on Rico Rodriques' Man From Wareika and a host of other artists such as Althea & Donna, Aswad, Mighty Diamonds, Sly & Robbie, Jacob Miller, Toots & The Maytals, Barrington Levy, Augustus Pablo, Abyssinians, Ky-Mani Marley and Ijahman Levi. The list is endless. And he wasn't confined to the studio either, being much in demand as a live sound engineer where his most memorable show was the One Love Peace Concert in Jamaica in April 1978.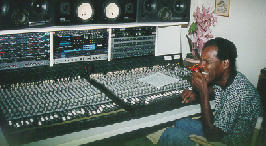 It was in 1978 that Pitterson and Steel Pulse hooked up for the first time. Pete King, Steel Pulse's manager at the time recalls, "Karl Pitterson was who we wanted. The main reason was that the band and I had heard the version (dub) side of a track he produced for Ras Ibuna called Diverse Doctrine.. the atmosphere, the echo, blew everyone away. Karl was already linked to Island Records...so everyone was happy with the choice." The choice proved to be a master-stroke. The chemistry between Pitterson and the band was electric, as former lead guitarist Basil Gabbidon enthuses, "He was fantastic. Karl was like another member of the band and just a few years older. He brought clarity, precision, more arrangement, a tighter, professional feel and enhanced our sound by drawing it out of us. He improved the lead and backing vocals in particular." Pulse's legendary drummer Grizzly Nisbett was also sincere in his appreciation of the band's early mentor. "Karl Pitterson took what we had, moulded it and made it better. We liked his production before we met him as we'd heard his stuff. He came to Linwood Road, sat on a speaker and listened. He liked what he heard. Karl was a musician, a producer, a writer and an engineer. One of the best. He brought out the musicianship in Steel Pulse. He showed us what we could do and what we were capable of. He pushed us in the right direction, how to do it and when to do it. We learnt a lot from him as far as studio work and techniques were concerned. We were fresh, nervous, it wasn't perfect but no other album sounded anything like Handsworth Revolution, thanks to Karl Pitterson."
Handsworth Revolution was released in July 1978 and reached ninth spot in the British LP charts in just ten days following its release, with eventual sales of over a quarter of a million. Steel Pulse had arrived and Karl Pitterson was the catalyst. He was again on hand to produce their second album release, in 1979, titled Tribute To the Martyrs and was called over to the Feedback studios in Aarhus, Denmark to mastermind the recording of their 1982 release True Democracy. David Hinds takes up the story. "We were on the verge of being kicked while we were down. We had no record company, we had no management and we were flat broke. We pursued the venture, executed the album within 25 days, and came out with a record that is still a force to be reckoned with."
Pitterson had lived in Sweden, Denmark, England, Nevada and the Virgin Islands, before moving to Miami in 1988, and making South Florida his home. He opened his own South End Studio in late 1992 after Hurricane Andrew devastated the Gong Sounds studio where he had worked before. Since then, South End has become very popular and just about everyone in the reggae business has passed through his studio at one time or another. In the recent past, Pitterson moved his studio to a better facility near to the Tamiami Airport which allows pre-production work to take place simultaneously with the laying of tracks. He was regularly in demand to mix at a ton of stage shows, and still is, but he prefers to concentrate on studio work these days. Currently, he's working with a variety of musicians such as John Holt, Judy Mowatt, Marcia Griffiths, Freddie McGregor, Gregory Isaacs, Glen Washington, Treajah, Bunny Rugs, Papa San, Carlene Davis, Amadi and more. Well-known for his unassuming and placid nature, he prefers to let everything take its own course, "just watch the sun rise each day and prepare for it, cause when we start plan, Jah just laugh!" His patience is also legendary among reggae insiders, a trait he took from his mother. So too is his helpfulness in the studio. Pitterson says, "I can't see some one doing wrong and not say something", therefore he coaches, recommends and hums melodies as each session progresses. As a versatile musician himself and possessing an ultra keen ear, his even temperament make him the perfect studio engineer and he has more than earned the title of 'gentle genius'. Karl Pitterson is a true legend in reggae circles, and shows no sign of slowing down. Long may his star continue to shine.
---
Home :: Steel Pulse :: E-mail
The contents of this website cannot be reproduced or copied without permission of the site author. (c) Andy Brouwer 2005
Thanks to I Jabulani Tafari @ www.rootzreggae.com for the inspiration.