ANDYBROUWER.CO.UK
---
CAMBODIA TALES 1998
Kien Svay Away Day
It was my last full day before my return to England. A week apiece in Siem Reap and Phnom Penh had only served to highten my passion for Cambodia and its people, but the burning question remained - "what should I do with my penultimate day?" A creature of habit, I was up at 6am to enjoy the sunrise over the meeting place of the Mekong and Tonle Sap rivers before strolling along the near deserted riverfront to the FCC for an egg, bacon and coffee breakfast. Returning to my hotel across the lawns directly in front of the Royal Palace, my loyal motodub, Onphum, was waiting patiently at the gates. I explained my dilemma and we agreed on a whistle-stop tour of some of the city's most prominent features for starters.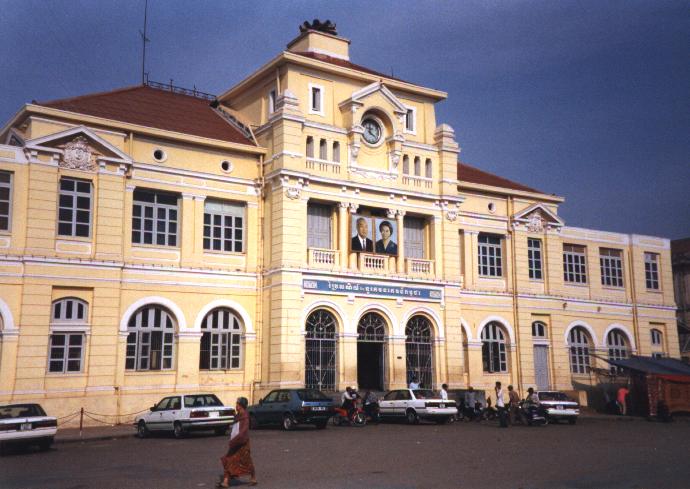 Along the Sisowath Quay waterfront, we stopped at the main Post Office, resplendent after a recent coat of yellow paint (left). In stark contrast, the flaking and run-down buildings surrounding it are home to large numbers of squatter families, a common enough sight in the capital. Carrying on up to the Japanese Friendship Bridge, we pulled in briefly at the dilapidated old Sports Stadium before doubling back to Le Bibliotheque (the National Library), which had been spruced up - a shame that the Khmer Rouge had destroyed almost all of the books it once held - and Hotel Le Royal - once the haunt and playground of the foreign press corps - and now part of the Raffles hotel chain, with rooms costing up to $2,000 per night.
The Railway Station was deserted - when the trains to Battambang or Kompong Som are running, they leave at 6am and foreigners aren't usually allowed to travel - and the Stupa out front, believed to contain a bone of Buddha, had recently been painted an egg-shell blue. Someone, somewhere is making a tidy profit out of all this paint production. It was the same at Wat Phnom, the small hillock and temple at the top of Norodom Boulevard, that lends its name to the capital. The area was swarming with workmen laying concrete and adding the finishing touches to a refurbishment of the park that had coated the pagoda in garish red and yellow colours. To help cover the costs, a $1 entrance fee has been introduced for all visitors.
Next stop was Wat Koh, located just off the city's main artery, Monivong Boulevard. An oasis of calm amidst the frenzied early morning traffic, there's a thriving English language school in the temple grounds with lots of children keen to practice their few words of English on a wandering traveller. Onto Wat Sampeou Meas near the Olympic Stadium, we passed under the main gate with its Bayon-like faces and the headquarters for Maha Ghosananda and his Dhammayietra Centre for Peace but found the main vihara closed. The temple at Wat Tuol Tom Pong was open with its life of Buddha murals decorating the walls, and like most pagodas, it was surrounded by a proliferation of classrooms and hordes of boisterous schoolchildren. On the stroke of 9am, the kids formed orderly lines and filed into class, leaving Onphum and myself scratching our heads as to our next destination. He suggested taking a leisurely ride out to Kien Svay, about fifteen kilometres out along Route 1 towards Vietnam, where I recalled the presence of a striking killing fields memorial gleaned from my visit to the DC-CAM offices a few days earlier, and agreed that would be our goal.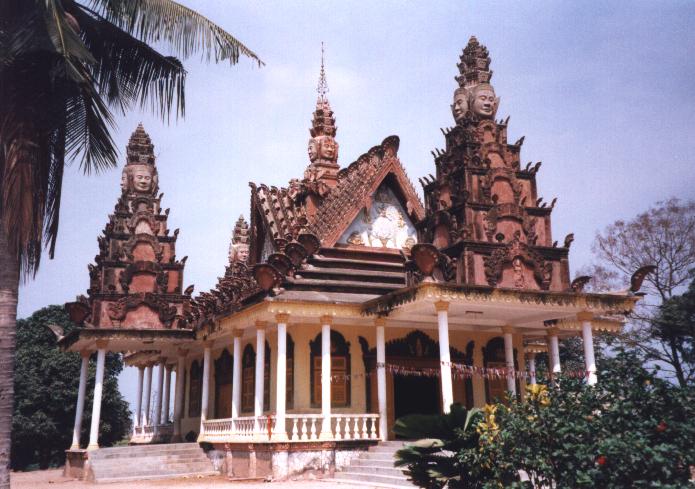 Out over Monivong Bridge and past the Chbam Pao market, the flow of trucks, cars, buses and motos immediately became heavier as we headed out along the road that's the major supply route to and from Vietnam. En route to Kien Svay, we stopped at a number of peaceful wats, one of which housed a gigantic seated Buddha, shrouded in construction poles and tarpaulins, just yards from the main highway. At the other wats, (where I failed to keep a note of their names but believe they included Wat Angkor Chey, Knong and Nimoul amongst others), more paint had been liberally applied to most surfaces and each temple had its own interesting collection of statues and fantasy creatures, either on horseback or in some other pose, which Onphum explained as having important religious or historical significance. We passed by a couple of well-known restaurants, River View and L'Imprevu as well as the local Cambodia Trust clinic at Kien Svay before leaving the main highway in search of our intended destination, Wat Champuk Kaek. The picture I'd seen at the DC-CAM office showed a large wooden memorial with row upon row of human skulls, victims of the Khmer Rouge genocide, in the grounds of the temple. Stopping to ask for directions, we were directed to a pagoda a couple of kilometres off Route 1, down a sandy track with rice fields on either side, the occasional homestead and a surprised look on the faces of the locals that a mad foreigner was in their neighbourhood. Before we reached the temple, Onphum's moto slid from beneath us on the sandy path and we both pitched forward to land in a heap with a few minor cuts and bruises. Apart from buckled handlebars, smashed indicator lights and a broken foot pedal, the moto, Onphum and myself were okay to carry on to the wat which, as it turned out, wasn't the one we were looking for. However, it was an unusual temple - one of nearly 3,700 active wats in Cambodia with at least 50,000 resident monks - with Bayon-style heads atop each of its buildings (above) and impressive wall paintings inside the vihara.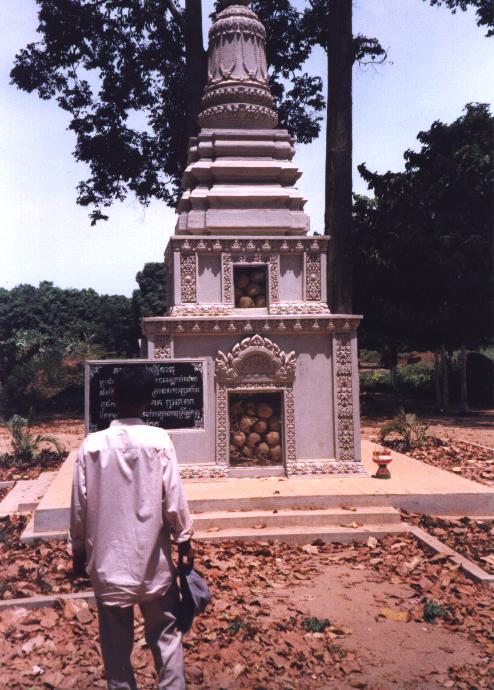 We retreated back to Route 1, a little worse for wear but determined to continue our search. Revised directions from a drinks stall owner sent us back amongst the dusty trails and alleyways before we eventually located Wat Champuk Kaek a few kilometres from the main highway. We'd almost given up the search, convinced that we were hopelessly lost when the archway to the temple entrance came into view. Now accustomed to temples that had been recently refurbished, Champuk Kaek was no exception and in addition, the main vihara was much larger than usual but was unfortunately shut. To one side, there was some commotion coming from the monks' quarters and as we turned around, a tall, willowy tree came crashing down to the ground. As the dust cleared, it revealed that the tree had missed the corner of the monks' dormitory by the width of a coat of paint! Nearby, a newly-erected greyish memorial stupa with glass side-panels held the remains of 1,500 Khmer Rouge victims (left). It had recently replaced the wooden shed that housed the excavated skulls, at a site believed to contain 18,000 victims in total. At that moment, two young boys herded their cattle through the temple grounds and past the stupa, oblivious to the enormous suffering that had taken place at that spot twenty years earlier.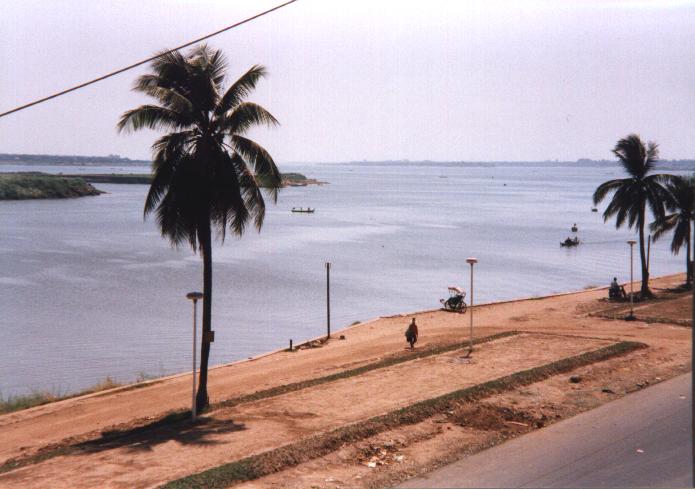 Our mission accomplished, we left the wat and quickly realised we had a problem - we were lost. However, out of nowhere, a local ice-cream seller came to our rescue, explained the quickest way back to Route 1 and in double-quick time Onphum had returned us to the hustle and bustle of the main highway and back to Phnom Penh. Hot, sweaty and a little sunburnt, I had a shower back at the Renakse hotel before a late lunch at the FCC and a few relaxing drinks on the balcony overlooking the Tonle Sap river (right). It was my last night in the capital and after a wide choice of Khmer dishes at the Ponlok restaurant, I gave Onphum some small gifts as a token of my thanks before he ferried me to the St Patricks' Day party at the offices of the Irish charity, Concern. Loud music, Irish jigs and Khmer ramvong dances were the order of the day, washed down with lots of free drink before Onphum, who had waited patiently outside, returned me to my hotel in the early hours. A little more than eight hours later, I boarded a flight to Bangkok and my latest visit to Cambodia was complete.
---
Cambodia Tales : Messageboard : Steel Pulse : E-mail
The contents of this website cannot be reproduced or copied without permission of the site author. © Andy Brouwer 2006