ANDYBROUWER.CO.UK
---
STEEL PULSE LIVE
Mohegan Sun Casino - 10 June 2005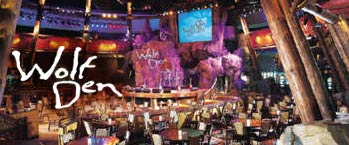 ---
Steel Pulse was back in town again on June 10th playing for their second time at The Wolf Den, Mohegan Sun Casino in quiet Uncasville, Connecticut, USA. The inside show was free and the seats for about 400 + filled up quickly on this humid, hot night. After taking the stage a little after 8 pm, it seemed to me that the band was well rested and relaxed for what was, for them, an unusually early performance. Two new female back up singers, Melanie Lynch and Keisha McTaggart, joined the new additions of bassman Amlak Tafari and African Holocaust session drummer, Wayne 'C Sharp' Clark on the drum kit. Usual suspects on stage - David, Selwyn, Sydney, and Clifford 'Moonie' Pusey on guitar - a dreadlocked Jimmy Page.
Total Time : 82.05
1 Intro Medley [ Chant a Psalm, Bad Man, Makka Splaff ]
2 Prodigal Son
3 Worth His Weight in Gold
4 Rollerskates
5 Blessed Is The Man
6 Find it Quick
7 No More Weapons
8 Wild Goose Chase
9 Medley Medley [ Soldiers, Taxi Driver, Ravers, Blues Dance Raid, Reggae Fever ]
10 Door of No Return
11 Steppin Out I,II dub, III slight reprise
encore
12 Guitar / Keyboard duet
13 Chant a Psalm [ Nyabinghi Acoustic Version '05 ]
14 Global Warning
I felt the show was your usual excellent Steel Pulse performance - refined musicianship, wonderful call-and-response vocals, solid riddims, some nice lead and acoustic guitar work by Mr. Pusey, David even played some LP electronic congas for a spell - the first 2/3 rds of the show were SPSOP [ Steel Pulse Standard Operating Procedure ] very enjoyable but nothing especially noteworthy or impressive for those who attend shows on a regular basis. Towards the end things picked up nicely as the band found some energy while introducing some new songs/ new reworkings of old songs and actually dubbing out in classic old school Pulse fashion for Steppin' Out and Global Warning, the latter clocking in at a very nice 8½ minutes long.
On Blessed is The Man, Melanie showcased her fine pipes and overall I would venture to say that these two young women are the most complimenting female backup vocals to ever work with the band live. When I saw the band in Providence at Lupos in July of 2004, although this might be indicative of the strain of numerous previous Euro dates and a long flight on a low humidity plane, the female vocals were noticably lacking in warmth, harmony and character and seemed a bit off. Tonight was not the case, the backup singers did an impressive job.
No More Weapons was delivered with some increased passion and I appreciated they dubbed Selwyn's vox quite a bit while the band jammed on the excellent riddims. Wild Goose Chase was good but certainly not as impressive as last year's take [ last year Alvin had some very sweet flange effects on the bass to give it a little extra uniqueness ]. Unfortunately, and this might just be from my location in the venue, the bass overall seemed to be a bit muddy in sound, under-represented in sound and lacked the serious thump and delivery that I would expect from a hardcore reggae band. Amlak is a talented bassplayer and fit in very nicely but it did seem to me he played it safe and very much by-the-numbers. His style struck me as a little less [ forgive me Alvin ] 'slick' than the bands most recent bass player and Amlak tended play fewer bass notes per line than Alvin used to at parts. A simpler, straight forward, less-is-more than approach. He did a fine job over all and offered his own sound, different than Alvin, although I know 90% of the fans couldn't tell the difference and certainly much different than the stubby, rythmically based basslines of Ronnie Stepper McQueen of times past.
Now down to the drummer - for those who don't know your reviewer here is a drummer of 20 years himself and does play the reggae riddim and has some extensive knowledge of reggae, music, drumming and drums. Wayne 'C Sharp' Clark was the talented i-dren who handled the acoustic drum responsibilites on the excellent African Holocaust cd. I understand he hails from Mo Bay, JA and has obviously earned his dues and refined his chops by backing Alpha Blondy for some years. Physically he is a tightly compact little fellow sporting medium length dreads held back behind his head in aerodynamic fashion. Now I watched Clark like a hawk throughout the performance and his style was enthusiastic, lively, solid, a bit more 'rock-ish' with certain cymbal fills and he certainly held his own and fit in well with the entire band. He laid down a solid foundation and I would best describe his playing that night as 'spry.' I enjoyed his cross-stick work and he added in some nice snare accents [ triplet and five note rolls ] which at times reminded me of a young Grizzly, off to a good start! His top end Yamaha Absolute Maple Custom drums, set up behind clear acoustic panels for better sound separation and easier stage mixing, sounded FANTASTIC, perhaps the finest sounding drums I have ever heard backing Pulse. The kick was solid with authoritive thump, the snare cracked nicely but the tom sound, especially the first two were amazing - wonderful tone, warmth and projection. A joy to listen to. It takes a while for different musicans to gel and become a familiar, cohesive unit. It would seem to me that with the addition of Amlak and Wayne, they are on their way, they work fine with Pulse and hopefully, through more shows and rehearsals, the entire band will become one solid sound. These things take time, so we shall see how things unfold in days to come. I would doubt that most in the audience knew there were any changes in the riddim section, but one never knows, I can only offer my well informed perspective. Overall i would give Amlak a solid B rating that night and Wayne gets the A-. Well done for both.
Towards the end things got more impressive. Steppin' Out was delivered with authority and they have now dubbed it out even more than the usual Steppin' Out I + II with new slight reprise at the end where they lay it down. Towards the end of Steppin' Out II Wayne did some very cool drum fills and really mashed it up on the cymbals. The entire end of that section was almost built into a Rock music like crescendo - I liked it very much.
The best was saved for last. Chant A Psalm has been revamped into a slower, gently Nybabinghi riddim based effort resplendent with Mr. Pusey playing acoustic guitar. This new Nyahbinghi Heartbeat riddim [ think " One, Two, pause, One, Two, pause..." etc ] opened with some recorded Tiken Jah Fakoly vocal tidbits and David playing accompaning riddims on a single electronic LP conga up front, Sydney playing real wood bongos in the back. Everyone chimes in with soft vocals while David delivers the lead vox with relaxed effort. Pretty cool overall. The live delivery of Global Warning is a true indication of how hard, roots, dubby and wicked Pulse can be when they apply themselves in such a manner. The tune rocks with its great arrangement and killer bassline. The first 4 minutes are faithful to the studio track but the last 4 minutes are classic Pulse dub style and pattern - they just lay it down like no other band on the planet. Sydney contributed some wonderful dub effects from his keyboard set up and had this little two note Baritone Sax riff after each refrain which was great. Obviously something a real hornsection could play too. Certainly ended the show on an impressive high note.
First 2/3 rds of the show were great, especially No More Weapons, but there was some repetition of certain songs that I personally have heard live in concert for many years - it would have been very nice to have heard Tyrant somewhere within the first 8 songs, perhaps next time. I must express that I feel a great deal of potential songs from the excellent Rage & Fury release [Settle The Score, Real Terrorist, Role Model - the latter of which they have perforrmed live in the past] would be most welcome within the setlist as well as perhaps an as-of-yet unplayed/seldom played track off Vex - perhaps New World Order or No Justice No Peace. Please keep in mind that I see the band often and am ultra-particular [to a fault some say!] about tracks they perform live... but I have heard about some forthcoming additions to the setlist that the band has been working on that shall hopefully satisfy my sonic cravings. Hmmmnnnn....DUB. The band did alter the setlist somewhat from the last Mohegan Sun show in 2003, so for that I do give thanks and praises and show appreciation. My friend, who had not seen the band in about 5 years, commented that he thought the show was impressive, liked the new material, especially the dubbed-out Global Warning and thought overall the band was in fine form and "very lively." I would have to agree. Well, until next time, thanks to our UK Pulsehead Andy for his fine work and Maximum Raspect to Rootsman Kelly for his kindness and generosity. Selah.
Cheers and Jah Bless to all from Matte Dread I - CT Posse, 'WiseMatt Doctrine Productions 2005'
---
An interview with...Conrad Kelly
Conrad Kelly Interview - at the Biltmore Hotel, Providence RI, July 14, 2004. First night of the summer 2004 tour - by Matte Dread.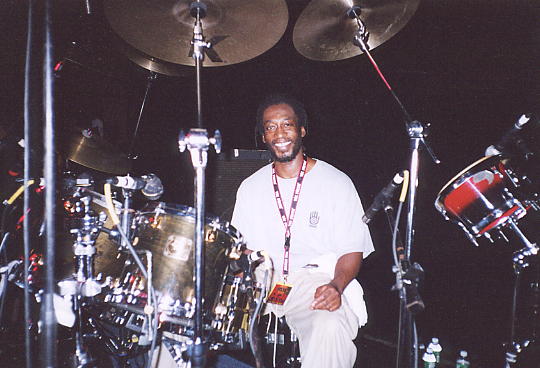 Q - At what age did you start drumming and what drew you to the instrument? A - Well, see I grew up in a house where music was played all the time. My father played jazz. He left Jamaica when I was a baby. He used to work with Radio Jamaica, which is like the equivalent of the BBC in England. He used to record scores on the saxaphone and write tracks like that. When I came to England I was like six years old, there was always a saxphone in the house...we weren't allow to play it [laughter] but it was always there....so we would look at it. By the time I was about nine there were a lot of little insturments that started to come into the house. We would be blowing them, like little recorders and stuff like that. And it wasn't until I got into like senior school that I started getting attracted to drums because before that I was more into playing guitar.
Q - You still play guitar? A - I still do, I still play guitar, I have three guitars and I still write with guitar. Its funny because me and a friend of mine walked into a music store to buy a guitar and I saw these drums and I thought "lemme just go and have a jam on these drums" and it felt just different, it was like a different world man. I thought "I came here to spend £10 for a guitar and now I have a £250 bill man!"
Q - do you remember what kind of kit it was? A - It was a premier deluxe or something like that, I am not even sure if it was a deluxe or what, it was a 1964 premier kit.
Q - probably worth something these days! A - yeah, probably, if I still had it, the problem is I gave it to my daughter and i am not sure what she did with it man....but that is, yeah, where I started getting attracted to drums.
Q - What were your musical influences growing up as a youth and did you take lessons? A - No I never really took lessons. We just took influences, we hung around with musicians like Grizzly [Steve Nesbitt] because when I was 16 Grizzly was already involved with Steel Pulse...actually, no, I've got that wrong, because before Grizzly was Colin Gabbidon, Colin and I went to school together, he was like a year or two above me and after Colin was another guy, periodically for a while, a guy called Donovan Shaw who was a pretty handy drummer as well and then came Grizzly. It was during that period of time that the influences started to magnify because I had a band called Cornerstone that was evolving on the same road, just across the road. They were already advanced, they were already on the street and playing in clubs. And we were in the basement and we would go out and hang out with them on a Friday night and the funny thing is, and I don't know if they have ever said this but there were times when Steel Pulse would rehearse in the dark...for some reason, because it is really strange...it was a nice energy and you would be sitting there in the dark and you hear this music coming at you and all you could see were the amplifier lights and stuff...yunno?...it was really nice. And that was the only time I have ever heard or seen a band rehearse in the dark.
Q - I suppose it causes you just to completely focus on the sound and not anything else. A - yeah man, they did that man.
Q - When were you first exposed to Reggae and which bands were they? A - It would have been around the same time, they had Top of the Pops, Old Grey Whistle Test I think maybe the first expose to reggae on the charts was Desmond Decker and Bob and Marcia...they had a song called "Young, Gifted and Black" that was probably around in the 60's, I was a little boy gonna to junior school at the time. That was probably the first influences of Reggae coming out of Jamaica at the time yunno ?
Q - so the community was mainly West Indian? A - yeah, it was purely West Indian, well, mostly West Indian. We went to school in West Indian communities, yunno? But the radio was not playing music for West Indians, it was playing just mainstream music, so that anything you heard that was just coming out of Jamaica, so it was basically anything that was good enough to be on the charts, yunno, it had to be selling units, to be in the charts anyway. The grassroots music like Burning Spear and other grassroots artists....well, we were never exposed to them until we started going to sound-clash system parties and things like that. Then we started getting exposed to the whole ethics and politics of what was going on in reggae because most of the Reggae that was influencial to us was never really played on the radio...so um, we really were not hearing those sort of things until we went into the sound clashes....and we started listening to Burning Spear and eventually Bob Marley....because Burning Spear was actually more influencial when we were growing up, than Bob Marley.
Q - what about other bands like the Rolling Stones and other late 60's popular bands? A - we heard them but we really never identified with them, I don't think we knew who they were, really.
Q - Which drummers have had an impact on your style and playing and why? A - Well I gotta say from a reggae point of view, um, I was largely influenced in the early days by Santa Davis. Because I saw Santa Davis in 1983, September 1983 when he came to Birmingham with Peter Tosh...they just blew the place apart, they just totally destroyed the place. And it just blew my mind because he was actually playing some chops that were more rock oriented and I kinda appreciated that because it opened up the more reggae thing.
Q - More constant eighth notes on the kick drum and less traditional one drop....A - Yup and a lot more dynamics and a lot more accents that were opening up the songs. And I was just really influenced by Santa Davis at that time yunno? Obviously, as I was growing up, the first things in Reggae I learned were from Carlton Barrett. The One Drop was from Carlton Barrett, the hi-hat shuffles were from Carlton Barrett...I can't front it [laughter] Carlton Barrett has to be one of my most influencial drummers really, as far as from where I am coming from....and to date it still remains the same. Carlton Barrett has been responsible for a lot of my influences.
Q - Did you ever see Marley live? A - No, I never did see Bob live ....my brothers went to see Bob live, I remember the day too, I was 13 at the time, man my older brothers, one of them was 15, one was 19 went to Stafford, about 20 miles away, and I remember them coming home with their little Bob Marley wooly hats, and I was like "damn!" I think they just sneaked off and they went....they came back with their little wooley hats I was really blown away by it all...it was good!
Q - What type of kit do you play at home? A - I still use the yamaha 9000r, birch type a ting, I have been using that for 20 years.
Q - Do you prefer the sound of birch over maple? A - Yes, it feels more solid. It seems to hold the sound better for me...um, I might be wrong but it seems to hold the sound more better for me, more resonance in the drum, than the maple, but then again maybe I don't use enough maple, I don't really demand it.
Q - Yes, once you find something you like and works for you, then you stick with it. A - Yeah, you don't really wanna switch, do you?
Q - True.What kind of snare drum do you use? A - I use the yamaha snares, principally, I also have a Gretsch. I have several snares.
Q - Are these wood or metal? A - Metal, the yamaha is metal [brass] and I have a Pearl metal. I have one Gretsch wood, five inch. I have one Pearl wood, six inch...I have about seven snares...but I tend to try and use each one over the course of...cause, it is funny yunno, sometimes you do not use something for a while and then when you use it it just kinda opens you up, yunno? you feel like you can do a lot of things with that snare that you could not do with another snare, it offers up another sound.
Q - Do you know the sizes of the drums you have? A - The kit I use at home [the bass drum] is a 22, I am not sure what the depth is. I use 10,12,13,14 rack. I use a 16 floor tom and I use a timbale, and I vary the cymbals and things like that, yunno.
Q - I noticed you have your timbale to the right after your 3 rack toms, are you just more right hand oriented? A - No, it is because I am more left hand oriented, in the sense that when I am playing the hi hat I don't like leaving the hi hat too often because the hi hat for me maintains the continuity of the song and everyone in the band relies on hearing the hi hat and they use the hi hat to determine a lot of swing and the tempo of a lot of things, so I tend to not try to leave the hi hat too often so because of that I will play the timbale with my left hand a lot of the times...I mean obviously if I am gonna roll, I am gonna bring that hand over but usually if I am gonna throw in a little licks in, I use the left hand.
Q -How do you personally prepare for a show? Any particular routine, warm-up or exercises? A - Well, I work out a lot when i am on the road. I try to avoid any type of...I need to maintain a certain amount of sharpness. I try to drink a little bit of coffee before I go on stage, I try and get that little bit of sharpness because you need to be readly as soon as you sit down there. No I don't really prepare, I probably stretch a little, do a little exercises. To be honest sometimes when you are on the road, sometimes you are so tired that you wanna save all the energy you got until you get on stage. And Steel Pulse is the kind of band that, although we might look half asleep when we walk into the place but as soon as the curtain is open, we turn it on. So we try to save energy really, yunno.
Q - You ever suffer any lower back pain or tendinitus or stuff like that? A - Yes, yes, I used to suffer a lot of upper back pain, between my shoulder blades for a year or two...but since I have started to rearrange the kit, like I used to have the hi hats really hight, but now that I have rearranged the kit I have started to lower stuff and have everything more accessible it is like that I find that I don't really suffer these problems anymore.
Q - Did you ever have to go see a doctor? A - yes, after the first Steel Pulse tour, I went to see a doctor. I went to this doctor for about 6 weeks, twice a week, he took £60 off me for an hour. He would massage my back like that, and say off you go and then I thought to myself "what exactly is he doing for me?" so since then I quit going there and I started doing my own exercises and since then I haven't had any problems.
Q - Do you run or lift weights? A - Yeah, I lift weights.
Q - What bands or music do you listen to in your spare time? A - I listen to reggae, I listen to a lot of rock. I don't force myself to listen to it, I listen to it as much as I want to at one time.
Q - any particular bands? A - I have been listening to Slipknot lately.
Q - That is heavy stuff man! A - Yeah, I know, well that is because our guitarist listens to Slipknot, he listens to a lot of that kinda stuff...AC DC, Metallica, because he will kill you with that stuff, yunno, cause he will turn it on at 6 in the morning, when everyone is asleep and all you can hear is this "carang, carang" going on and eventually someone has to get up and just plug him out, you know what i am saying. Yeah I have been listening to a lot of that lately, and a lot of R + B artists, like Andy Hamilton and a bunch of other artists I am trying to penetrate.
Q - You mentioned in one of your emails to me that you were working on a dub album? A - Yes, well that is a couple of friends of mine, in Birmingham, they have a studio and it has been an underground thing for a while and I wanted to put a dub thing together. Well, what happened is that, as soon as we recorded all the tracks, I went back on tour and we couldn't touch the project for like nine months and then when we went back to approach it, there were a bunch of people who wanted to put vocals on the tracks. Guys were coming into the studio and listening to the tracks and saying "yo, I could do something with this." We actually had Selwyn [Bumbo Brown] come in and he said " I could do some lyrics for this" and he came back and laid down some tracks to it...so its coming along, it is pretty much finished. It will be pretty nice when it is finished.
Q - will it be available for distribution? A - Yes, the company that is dealing with it is from Chicago. It will probably be realeased in America
Q - any name for the group? A - The mighty t'ree [as in 3] cause it is just drum and bass and a rhythm guitarist.
Q - What are your favourite Steel Pulse tunes to play? A - [whistles to himself in consideration] Damn....I would say "Unseen Guest", I would say, bwai, dats hard man...um....tricky question man, because there is so many of them, and the thing is its like I put my heart in to all of them so if I don't like a song, I put everything I have into it until I like it, so its...um....its hard to say man, its really tricky man.
Q - why do you think David and Selwyn decided not to use a live drummer in the studio for some of Vex and Rage N Fury?.....Paul Kastick...A - Paul Kastick played one or two tracks on the Vex album....and the rest was drum programming.....
Q - Graham Dickson...A - Yes, Graham Dickson...I think that was down to the production and the producer rather than Steel Pulse themselves, I sat in on a couple of those sessions and Graham Dickson was asking my opinion on things that he was doing, but I really don't know...
Q - Do you think that is just easier to write and construct and fill the tune while you are doing it? A - Yes, I think it is just easier to use the drum machine thing and it is easier to change things and David [Hinds] likes to change things a lot before he gets to the final product.
Q -I guess he is a little bit of a perfectionist. A - Yes [mutual laughter] He he.......he likes to change things a lot before he gets to the final thing, yunno. I think it is down to that really rather than saying "we don't think we can find a drummer that can do it...i think it is more about" we want this precisely there."
Q - Do you practice any particular chops to improve your chops? A - I just practice.
Q - Do you play drums outside the reggae format? A - I play with an African guy...a Nigerian, so, um, I get a lot of inluences off him, because he tends to play a lot of...he plays reggae but he tends to incorporate it with a lot of 'back-home' influences...
Q - Like Alpha Blondy does.. A - I get involved with a lot of that type of Nigerian 'Ibo' type of riddims and such.
Q - Can you play Jazz or a straight rock beat? A - Yeah, I can play a straight beat but I am not a jazz drummer, per se.
Q - It is tough getting down that swing on the cymbal...especially when you are so used to the hi hat [being the predominate voice of the kit]. A - I know, when you have conditioned yourself to play on the one, it is hard to miss the one and keep things running like that, I admire Jazz players because they are so prolific at missing the one and missing the two, yunno.
Q - What is your favorite Carlton Barrett track, favourite Bob tune? A - I'd say Running Away....
Q - You like how they do it live?, .....Running Away into Crazy Baldhead. A - Yes, I'd say Running Away because I think he captures a mood with the tempo that I have never, ever heard on any other of the Bob Marley tracks.
Q - yeah, that sort of "tug." A - Yeah, it is that little something, it is so laid back, it is awesome, it is an awesome track. But then again, I am so biased towards Carlton Barrett, man, I just love him to death.
Q - Yeah, I am on the same page with you man. Any tune of Living Legacy that you are especially proud of, that you thought you just nailed? A - Its hard for me to say...from a personal point I would like to think that I had "Reggae Fever ' down....yeah, I would say Reggae Fever for me as far as getting everything down in the right place....because it is like every night, we go out there, and we have a bunch of information for every song and for us it is like placing everything we need to place in the right place while the song still has that movement, that continuity. Yeah for that album, I would say Reggae Fever.
Q - How do you deal with all the heat in all the clubs? A - I dunno man..... I try to drink a lot of fluids during the day because I know that once I get on stage there is not much chance of doing that. Its funny because after that incident [a little side discussion on David Hinds passing out from dehydration during the 2002 summer USA tour] the amount of Gatorade in the rider [bus] suddenly increased.
Q - If you could get any new kit. A - Probably a DW, I worked with one or two...and I worked with one in a studio in Santa Barbara, and I was working with one of the basic DW's and I felt pretty comfortable with them, they got a nice sound. And they are very solid, they don't rock around on you, yunno ? I would probably get a DW.
Q - You mentioned that you played with Cornerstone before you played with Pulse, was there anybody else you played with? A - After Cornerstone and before Steel Pulse, for about three years I played with, uh, I sessioned with a bunch of Jamaican artists...I played with Freddie McGreggor, I played with Joseph Hill, I played with him for two years...he is hilarious man, I played with Big Youth, I did a lot of those revival guys. I did a bunch with those guys for three years or so....I like Freddie. I liked working with Freddie McGreggor and Joseph Hill, they are all good guys man.
Q - Of all the contemporary Reggae bands out there these days, who do you like the best? A - Uh, bwai, it is hard to say....we were listing to...uh, on the road with Luciano last week [Europe July 2004] and I was really impressed with his live show. I thought it was really nice, I liked his live show a lot...but there are so many good bands out there man, and they are so tight you can't differentiate what they do....you just gotta enjoy what they do, man.
Q - Is there any band in England right now, like the UK equivalent of John Browns Body that we Americans might not have heard of? A - Yeah, there is a band called the Ras-ites, brand new band, young guys between the ages of 18 and 23. They have an album out now, called Urban Regeneration.
Q - Where are they out of? A - They are coming out of London...I think they are coming out of North London...they are pretty good, they are worth looking out for, as far as similar to when Steel Pulse was coming up...I would like to see them make America, man.
Q - That's it....Are you serious man? Thanks Conrad....
---
Home :: Steel Pulse :: E-mail
The contents of this website cannot be reproduced or copied without permission of the site author. (c) Andy Brouwer 2005
Concert report, interview & photo - copyright of Matte Dread, WiseMatt Doctrine Productions 2005 - permission obtained.