ANDYBROUWER.CO.UK
---
STEEL PULSE - NEW RELEASES 2006
Introspective DVD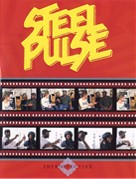 The band's first DVD shares initimate moments and unseen footage from their thirty years in music, with a frank and in-depth interview with David Hinds and Selwyn Brown, punctuated by appearances from a few friends. Produced by Sam Boyero, the DVD runs for eighty minutes, and includes the following tracks: Handsworth Revolution, Gang Warfare, Drug Squad, Taxi Driver, George Jackson, Ku Klux Klan and Rally Round.
Released April 2006.
---
Rastanthology II: The Sequel CD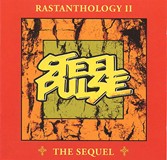 A second compilation of the band's classic cuts, ten years on from their first Rastanthology collection in 1996. The sixteen tracks are taken from their extensive catalogue that spans their thirty years in the music business and includes two tracks, Brown Eyed Girl and Steppin' Out that made it onto the first Rastantholgy CD.
Track List: Make Us A Nation; Blazing Fire; Black Enough; In A Me Life; Global Warning; Blues Dance Raid; Find It Quick; Brown Eyed Girl; Dem A Wolf; No More Weapons; Steppin' Out; Settle The Score; Leggo Beast; The Real Terrorist; Whirlwind Romance; Wild Goose Chase
Released October 2006 on the Wiseman Doctrine label.
Buy both releases here
---
Home :: Steel Pulse :: E-mail
The contents of this website cannot be reproduced or copied without permission of the site author. © Andy Brouwer 2006