ANDYBROUWER.CO.UK
---
THE NATURAL-ITES
Press Articles
---
Back To Nature
Mark Kamba in Black Beat International
September 1985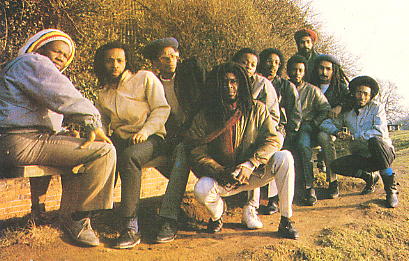 Nottingham rockers Natural Ites are on the up and up once again following the release of their debut album Picture On The Wall which if chronological order were strictly observed, is about 18 months overdue. Yes, it's been a long, slow haul for the group since they realised a modicum of success in early 1984 with the single from which the LP takes its title. That memorable 45 (recently re-released by CSA) won the Ites a lot of friends and fans, tipping in at the bottom end of the national charts before gracefully bowing out again.
Maybe it all happened too quickly for the good of the group because, despite the fringe benefits of media attention, they were unable to build on their celebrity as solidly as would have been expected. That's one of the reasons we've had to wait such a time for an album which says much for the capabilities of the Ites during those days and promises much for the future, but doesn't reflect on the current standing of the group.
For a start, the Natural Ites have been through a number of personnel changes and shifts which include a merger with their former backing band, the Realistics, into one compounded outfit. There are now seven members in the team as opposed to the 11 man congregation of former times. The group now reads Percy McLeod (vocals), Ossie Samms (vocals), Lenny Guist (bass), Wilfred Fearon (drums), Paul Prince (lead guitar), Itico Barnes (trumpet) and Henry Duffus (sax). To digress for a moment, I remember when Culture last toured the UK in 1983, Itico was a member of their powerful horn section, and I was surprised to see him a matter of months later playing a prominent part in the Natural Ites horn contingent - apparently when Culture stopped off in Nottingham that time Itico stayed, heard Natural Ites, checked for their sound and has been a group member ever since.
"We've been together now coming on for 4 years," Percy 'Jah P' McLeod told me as we discussed the past, present and future of the group. "There was a little sort of gap after the Picture single when certain things should have taken place and didn't take place. Members went abroad and after they came back there was a lack of movement; but then again I suppose because things happened so fast, our musical direction became a little confused, if you can understand me. But all that is part of the learning - that's basically where we're coming from." Had they envisaged things going so quickly with Picture On The Wall (the single that is)? "Sometimes we can look back now and say things could have rolled a little slower, and probably it would have been quicker now, but 'cos things went kind of fast then, like a bomb, it all caught up on us."
Having slimmed down numbers-wise and changed drummers we can expect to hear some changes in the Ites sound but the feeling is that the 'broadnis' will still be there. But the group are well aware that there's an acute danger of everything they do from now on being judged alongside Picture. "We are a progressive group and what we're trying to do with reggae music is to be ourselves, not trying to be someone else. If it sounds like someone else's music, then it must be a coincidence, a natural thing. If we are classified in such a way that everthing we do is related to that song, it will put us in a situation where we're forced to dish out the same thing or try to duplicate it which is obviously something we want to avoid."
"The album, well that was then." Bassie Lenny piped in to have his say. "We've kind of stepped on from those tracks. We've got an even tighter sound now, more compact and even different. You'll still hear that part of it that says 'Natural Ites' but we're contfident in the work we've got to do." The group hasn't gigged for a while which they know is something that works to their disadvantage but there are several prospective dates in the pipeline including a tour of Northern Ireland which may or may not have materialised by the time this goes to print. Natural Ites is a group that has the capability to go forward and all things considered, the time is ripe for them to carry their earthbound sound to diverse places. They're raring to go ... and we're raring to hear.
Text copyright Black Beat International 1985, used without permission.
---
Home : Lyrics : The Natural-Ites : E-mail
The contents of this website cannot be reproduced or copied without permission of the site author. (c) Andy Brouwer 2006