ANDYBROUWER.CO.UK
---
PARIS GIGS - NOVEMBER 2004
---
[Left] The Elysee Montmartre venue in Paris. [Right] Mel and Moonie on stage.
[Left] Thanks to Conrad Kelly and [Right] Selwyn Brown for my tickets to the Paris gigs (with the author).
[Left] Mel on the move. [Middle] Alvin Ewen on bass duty. [Right] David Hinds in motion.
[Left] The glamorous Melanie Lynch, and [Right] Sid Mills (with the author)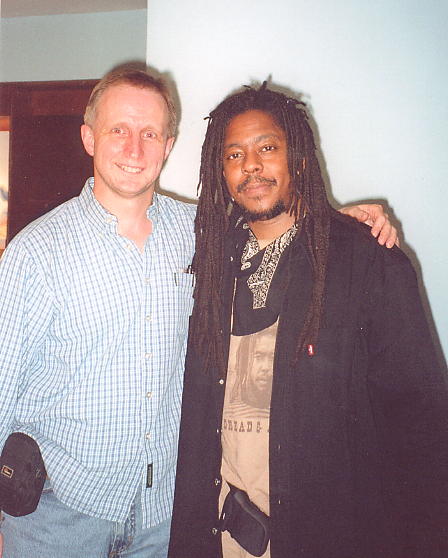 [Above] Moonie Pusey, looking cool and relaxed after the show (with the author)
Click on each photo to enlarge
---
Steel Pulse took their African Holocaust tour to France in mid-November 2004 to play a series of twenty gigs, including two successive nights at the Elysee Montmartre in Paris, a venue where they've enjoyed great support in the past. It was simply too good an opportunity for me to miss - two Steel Pulse gigs and a weekend in Paris, so a couple of days off work, a cheap flight with EasyJet and hey presto, my first Pulse experience in France was about to take place. Just before I left home, a flurry of phone calls to the ticketing agency failed to produce tickets for the gigs despite payment being sent so a back-up plan was hatched and emails despatched to allow me to attend at least the Saturday night concert, courtesy of Steel Pulse drummer Conrad Kelly.
20 November 2004: Elysee Montmartre, Paris:
...what a day... I managed some typical touristy adventures in the morning as I wandered around Montmartre, the artistic heart of Paris, climbed to the top of the Sacre-Coeur dome for a breathtaking view across the city, visited the Salvador Dali museum, and mingled with the teeming crowds amongst cafes and cabaret venues including the famous Moulin Rouge theatre. The Elysee Montmartre concert hall lies at the foot of the hill on which the Sacre-Coeur church sits. It's definitely seen better days but holds a special place in Steel Pulse's past with both live albums, Rastafari Centennial and Living Legacy, recorded at the venue. I turned up at 4pm in time to catch the band's soundcheck as they ran through a couple of numbers including Marley's Exodus as a warm-up. Door Of No Return got a fifteen minute try-out, followed by Harassment, Caught You Dancing and Blessed Is The Man - none of which would make the evening set-list! They carried on with Wild Goose Chase, the Intro Medley and finished up with Uncle George. I hour 45 minutes in total. The band's line-up remains unchanged though Melanie is the only female backing vocalist for the Paris shows. However, the crew, apart from David's son Baruch, the drum technician, is totally new and all French, including sound engineer Sam, monitor and keyboard tech Marlene and the new Tour Boss Eye, called Gangster. I touched base with Conrad who was happy to put me on the guest-list for the concert - both gigs are sell-outs so I'd be able to see one of the performances at least.
Just over an hour later, I returned to the venue though the afternoon drizzle had turned to heavy rain and I arrived soaking wet. The entrance queue was very long and the room was full when I got in and had to shoulder my way to the front row as Ras Rebel, the support band originating from Handsworth, came to the end of their set. The audience was boisterous and erupted in unison as Steel Pulse arrived on stage at 8.50pm and launched into the Intro Medley, with samples from Chant A Psalm, Bad Man, Macka Splaff, Nyahbinghi Voyage and an extended Prodigal Son. Selwyn's skank on Rally Round earned him a rapturous reception followed by Rollerskates and Tightrope, with Alvin's dexterous bass solo closing the latter. No More Weapons, one of four tracks they played from their new CD African Holocaust, and one of my favourites, was next with Selwyn taking on the Damian Marley solo section, and David and Melanie adding their considerable vocal strength.
With the Elysee crowd in full voice, I had a great position immediately in front of Moonie, who impressed all with his guitar virtuosity and Melanie, equally impressive with her vocals, dance moves and stunning looks. Make Us A Nation, Find It Quick and my first live hearing of Tyrant preceded the Medley Medley Medley, where Soldiers, Taxi Driver and Blues Dance Raid received longer airings than Ravers and Reggae Fever. Selwyn and David's rapping and dancing on Taxi Driver, as usual, fuelling the crowd to fever pitch. A superb Moonie guitar solo highlighted Wild Goose Chase, followed by the revised version of Uncle George from the new album and a rousing 'try, try' chorus from David, Selwyn and the audience, alongside David's trademark 'spotty dog' walk, during Don't Give In. The band exited the stage to an ecstatic reception, returning almost immediately to fire off Chant A Psalm. Another quick break and they returned to close their set at 10.20pm with their 'rewind' segment of Steppin' Out, Selwyn's 'steppin razor' skank and Moonie's guitar solo. The sell-out crowd went delirious and the noise and electric atmosphere sent a shiver down my spine. The band, the performance and the crowd made it a very special night.
The set-list was almost identical to their recent US tour except the encore songs, whilst the absence of band introductions suggested they were a mite hurried at the end of the show. After a fifteen minute breather, Alvin invited me backstage and I renewed acquaintances with all of the band members in their tiny dressing room. As friendly as ever, everyone made time for a chat including Moonie, who told me he's involved with the musical score for a forthcoming film and Mel, who was looking forward to her vocal partner from the US tour, Marea Wilson, rejoining the group very soon. Selwyn offered to include me on the Sunday guest-list after hearing of my ticket fiasco - a massive thank you to Conrad and Selwyn for their help. All of the photos above were taken during and after this performance and I left the Elysee Montmartre an hour after the close of the show, out into the pouring rain for the half-mile walk to my hotel, in sky-high spirits.
Steel Pulse line-up for both concerts: David Hinds (vocals, rhythm guitar), Selwyn Brown (keyboards, vocals), Conrad Kelly (drums), Sid Mills (keyboards, vocals), Alvin Ewen (bass guitar), Melanie Lynch (vocals), Moonie Pusey (lead guitar).
Set-list for Elysee Montmartre, Paris [20 November]: Intro Medley (Chant A Psalm/Bad Man/Macka Splaff/Nyahbinghi Voyage/Prodigal Son) - Rally Round - Rollerskates - Tightrope - No More Weapons - Make Us A Nation - Find It Quick - Tyrant - Medley Medley Medley (Soldiers/Taxi Driver/Ravers/Blues Dance Raid/Reggae Fever) - Wild Goose Chase - Uncle George - Don't Give In - [encores] Chant A Psalm - Steppin' Out. Show began 8.50pm, ended 10.20pm.
21 November 2004 : Elysee Montmartre, Paris:
I was up bright and early and off into the Paris drizzle for a return visit to the Guimet Museum, around the corner from the Eiffel Tower, and home to some fantastic examples of classical Cambodian sculpture. In the past, French explorers have 'borrowed' numerous statues and artifacts from Cambodia and the Guimet is considered one of the world's foremost museums of Asiatic art. With the Eiffel Tower and Arc de Triomphe hidden by mist and low cloud it wasn't the best of days for outdoor sightseeing. Returning to Montmartre, I arrived at the Elysee in time to watch Steel Pulse begin their afternoon soundcheck. With Baruch on drums, they ran through Door Of No Return and Global Warning before a technical hitch with Alvin's bass guitar called a halt to the twenty minute session. Conrad used the opportunity to give Mel a lesson on his drum-kit and Moonie helped David tune his guitar as the band relaxed despite the problem.
I returned at 7pm as the doors opened and the waiting throng filed in. True to his word, Selwyn had left my guest-pass at the door and the concert hall was already full as I manoeuvred my way through the crowd to my favoured spot at the front. This time around I witnessed Ras Rebel's full thirty minute set and whilst the keyboards left a bit to be desired, the sentiments expressed found a soft spot with the audience. Chatting to my neighbours as we awaited the arrival of Steel Pulse, it was abundantly clear that reggae has massive support in France and attracts a following of all ages and nationalities. The buzz from the audience exploded as Pulse entered the arena at 8.40pm and gave a dynamic and high-intensity performance, rivalled only by their exploits the night before. David, in great shape, animated and jumping around the stage, exuded an energy that the crowd reciprocated and was perfectly in sync with the rest of the band, top-class professionals one and all.
The set-list was identical to Saturday's show until the encores. The main set closed at 9.55pm with Don't Give In as Selwyn, David and Mel danced in unison and Sid joined Conrad on drums. A couple of minutes later, Moonie returned to the stage for one of his elaborate and tasty guitar solo slots, accompanied on the keyboards by Sid. As a sample of Tiken Jah Fakoly's voice from the new CD boomed out, they were joined by the rest of the band for Chant A Psalm, Global Warning and another Moonie solo during Emotional Prisoner. Each member of the group was introduced to the euphoric crowd before they exited stage right. A minute later, they re-appeared to blast out Steppin' Out and finally, Door Of No Return, replete with two more Moonie guitar solos, closed the show to thunderous appreciation. It was 10.40pm, exactly two hours since they'd arrived on stage. Pure Pulse magic. Backstage, Moonie gave me a running commentary on his many tattoos and with some free time the following day, was contemplating a first-ever visit to the Eiffel Tower. Eventually, I said my thanks and goodbyes to the rest of the guys and Mel as they prepared to leave to continue the remainder of their French tour, as well as dates in Switzerland and Spain. A memorable weekend made extra special by the warm and friendly hospitality I receive from the band whenever we meet.
Set-list for Elysee Montmartre, Paris [21 November]: Intro Medley (Chant A Psalm/Bad Man/Macka Splaff/Nyahbinghi Voyage/Prodigal Son) - Rally Round - Rollerskates - Tightrope - No More Weapons - Make Us A Nation - Find It Quick - Tyrant - Medley Medley Medley (Soldiers/Taxi Driver/Ravers/Blues Dance Raid/Reggae Fever) - Wild Goose Chase - Uncle George - Don't Give In - [encores] Chant A Psalm - Global Warning - Emotional Prisoner (with band intro's) - Steppin' Out - Door Of No Return . Show began 8.40pm. Ended 10.40pm.
---
Home :: Steel Pulse :: E-mail
The contents of this website cannot be reproduced or copied without permission of the site author. (c) Andy Brouwer 2004