---
Photo of the Day
I'm pretty sure I took this photo of Angkor Wat, the jewel of Angkor, reflected in the waters of the north pool, in 1997. In those days the numbers of tourists visiting Angkor was considerably less than it is today and you could often find yourself all alone, even in parts of the main temple. Just to the right of where this photo was taken, a long-time friend of mine, Noung and her family, run their souvenir stall. It's quite a busy corner of Angkor Wat these days and you'll see tourists jostling for position to take a photo just like this. Visiting Angkor Wat is something I have never tired of doing and its a pilgrimage I make every time I return to Cambodia.
---
Previously......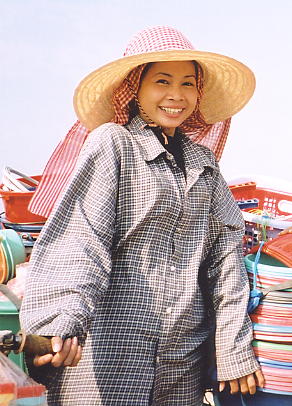 This is Dany and her dazzling smile. I met her and her friend, Kim Hoy, as I crossed a sandbank causeway between two islands in the middle of the Mekong River, in March 2002. The islands were Oknhatey and Koh Dach and the girls were pushing their bicycles, brimming with plastic coloured bowls, through the clogging sand. At we passed each other, with both girls giggling and shyly covering up their beautiful smiles, Dany lost her grip and her cycle crashed to the floor, scattering her wares in all directions. I helped pick up the bowls as they explained they came from Prey Veng province and were staying with friends near Phnom Penh. Dany's smile was absolutely captivating and amid the giggles, she told my driver Ran that I was the first foreigner she'd ever met, and that I had a beautiful (and large) nose!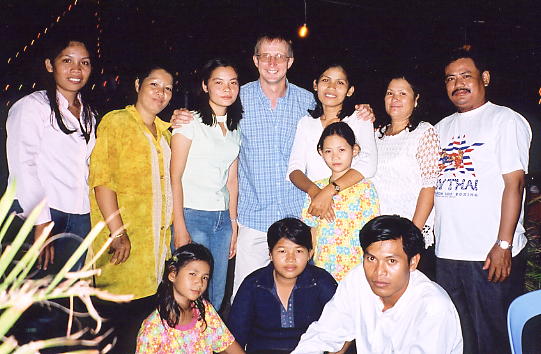 These are some of my best friends in Cambodia and they assure me of a warm and genuine welcome whenever I return to Phnom Penh. When my good friend Sok Thea passed away, all too soon, in 2000, it was his extended family and friends, above, who took me under their wing and welcomed me into their home and their life, asking nothing in return apart from friendship. They live, together with another twenty families or so, in a large house in the Tuol Kauk district of the city and invariably host a party when they know I'm in town, or we'll go out to a restaurant over the Japanese Bridge to Prek Leap for a meal together. The photo above was taken at one such gathering at the Ta Ta restaurant in 2002. We never fail to meet up on my visits to Cambodia and its definitely one of the reasons why I return there each and every year - my Khmer friends mean so much to me.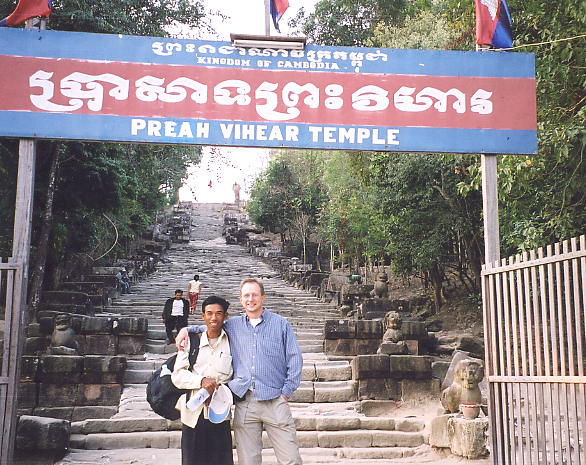 This photo was taken at around 7am one morning at the foot of the stairway leading to the mountain-top temple of Prasat Preah Vihear, lodged on a cliff-edge overlooking the pancake flat plains of Cambodia below. On the left is Sokhom, my best pal and trusty companion, guide and moto-driver, on the right is the author. It was taken in January 2005 and Sokhom and myself had just spent a sleepless night on a wooden shelf in a guesthouse undeserving of the name. Without a blanket, I shivered from the cold and the noise of a rat gnawing away on the other side of the cardboard partition wall kept me awake for most of the night. We look surprisingly fresh-faced in the photo, maybe because Preah Vihear has the most dramatic location of any of the Khmer temples and is enough to brighten any day or perhaps its because its a picture of two friends who've survived countless days in tandem on the arduous back-roads of Cambodia's countryside.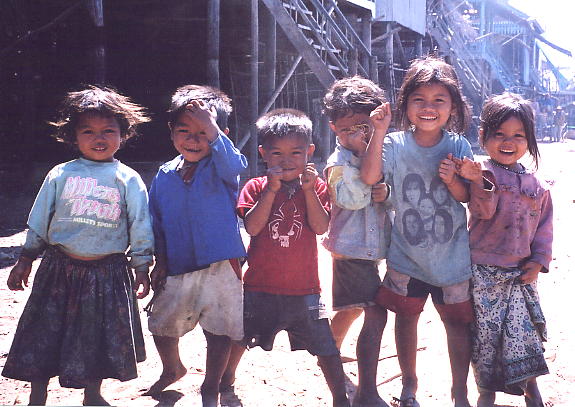 Technically-speaking, this isn't one of my better photos as the sun was behind the children so their faces were in shadow. But its the reaction of the kids to the funny-face I was pulling as I clicked the shutter, that makes me smile broadly whenever I look at this photo. Suddenly they wanted to fight me and took up fighting poses whilst shouting loudly at the same time. The date is January 2005 and the place, the floating village of Kompong Phluk. The scene is quite typical of wherever I go in Cambodia...a small group of kids playing amongst themselves, their attention is momentarily caught by this strange-looking foreigner, who attempts, as best he can, to form them into some semblance of order to take a photo. Sometimes they cluster around me and my camera, giving me no room for a photo, at other times they line-up quietly, and shyly, with the merest hint of a smile. Occasionally, they all react in unison and produce a moment like the one above. A moment I will always remember, treasure and enjoy.
---
WHAT'S ON THE ANDYBROUWER.CO.UK WEBSITE...
You'll find travelogues from my many trips to the best location on the planet, Cambodia, alongwith lots of photos, a copious amount of Cambodia-related articles, interviews, bibliography, etc. The other love of my life, music and more specifically Steel Pulse is also extensively covered, alongside more travel, more music and some personal bits & pieces. Hope you enjoy it. If you have any questions, comments or suggestions, don't hesitate to send me an E-mail or drop by my Messageboard.
---
Home : Cambodia Tales : Steel Pulse : E-mail
The contents of this website cannot be reproduced or copied without permission of the site author. © Andy Brouwer 2006