---
CAMBODIA TALES 2007 - JANUARY
Notes from Phnom Penh
OK, here goes…Cambodia Trip No. 13. My midday Thai International flight from Heathrow was delayed by an hour as we sat on the runway though we still arrived on time at Bangkok's new Suvarnabhumi airport at 6am. My transfer time was under two hours as I caught the 7.50am flight to Phnom Penh, arriving at Pochentong on time at 9am. For the majority of my time in Phnom Penh, at the start and end of my four weeks in Cambodia, I spent it either whizzing around meeting friends and contacts or putting my feet up and resting. Passing through arrivals unscathed, I was met at the airport by Rith, aka Hing Channarith, the CEO of CCAF, an NGO helping kids in Kampot, who gave me a lift to my usual hotel in the city, the Dara Reang Sey, and discussed the work of his NGO over cold drinks. As ever, the welcome from the sisters who run the hotel was effervescent and they gave me their mobile phone to use for the next month. After a shower, I collared young Thearith on the reception desk to double-up as my motodop, and at 2.30pm we took off to visit Vansy and her family in Kien Svay. Another heartfelt welcome awaited me, and mum rushed off to fetch Vansy and her friend Sary from school. Vansy's English is getting better all the time and after exchanging gifts, I attended her 5pm English class at the nearby school. Unfortunately, her teacher, Navin, was in hospital – she even called me to explain and apologised for her absence – so I improvised and took the class instead alongwith Sokhan, the substitute teacher. It was a delight to see Vansy amongst her peers and it was obvious she was more confident and fluent than everyone in the room.
I was back at the hotel at 7pm, ready for a visit to Sovanna Phum on Street 360 with another friend, Sophoin. The open-air performance was packed out with an audience mix of Khmers and foreigners for an hour of pure theatre with a show titled 'Sokacha' – an adaptation of the Reamker story with shadow puppets, classical dance, slapstick comedy and acrobats, all wearing traditional costumes and an orchestra – followed by a Q&A session and a quick chat with Delphine Kassem, the founder of the arts troupe. Shows are held every Friday and Saturday, there's a $5 entrance fee and it was a really enjoyable experience for the hundred or so spectators; we followed it with drinks at the Boddhi Tree and the Rising Sun, where I caught up with Samnang, and a tikalok at Psar Chas to bring to a close my first day in Phnom Penh.
Day two began with breakfast at the hotel and a visit from two of my long-time friends from Tuol Kauk, Ara and Lina, who both gleefully announced they are getting married in 2008, and who both work for the NGO, World Vision. At 11am I walked to the riverfront and met with Vannak, one of my regular motodops, and checked my emails at an internet café. After lunch, I took Vannak's tuk-tuk to Kien Svay to collect Vansy and headed for her auntie's house, where I'd been invited to stay overnight. I spent the rest of the afternoon and evening practising English with Vansy, who's now 14, reading from some books I'd brought from home. I was very impressed with her thirst for learning and with her aim to become a teacher or tour guide in the future. Her younger siblings, Matey and Vibol were also there and we all ate our dinner inside the summer gazebo in the garden, despite the red ants that feasted on my ankle!
By 10.30am next morning, I was back in Phnom Penh, visiting John Weeks and Geoff Pyle at their SangSalapak offices on Street 184 to find out more about their work. Both have provided articles for my forthcoming book, To Cambodia With Love, so it was a thank you visit and to find out more about their work with comics and architectural tours respectively. At noon, I went to lunch with Sotha and Keang at the ChitChat restaurant on Sihanouk Boulevard, with Rattana also joining us. All three are well-educated twenty-somethings, with responsible attitudes and who'd recently done a stint of volunteer work - they were great company. Next on my list was Glyn Vaughan and his All Ears NGO on Street 240, though with Glyn out, I had a tour of the offices with audiologist Sin Chan Seyha and gained a better understanding of the great work they do with hearing impairment and deafness. Glyn, another contributor to my book, returned and we had a good chinwag before I returned to the Dara for a shower in time for my 5pm meet with Loung Ung at the Foreign Correspondents Club on the riverfront. I'd met Loung once before, six years earlier, and we'd kept in touch by email so it was great to meet up again, and true to form, she was delightful company. The next four hours passed in the blink of an eye as we talked about everything and anything over a delicious Vietnamese meal at An Nam. Loung is a gifted writer and lecturer and was in Cambodia visiting family and writing an outline for a new novel. We said our goodbyes at 9pm and I popped into an internet café before returning to the Dara.
In the morning over breakfast, the Dara sisters gave me the coach ticket for my next day trip to Battambang and I took a moto to meet Tom Clements, a technical advisor with the Wildlife Conservation Society at the Java Café to discuss some potential temple targets in Preah Vihear province, an area which he'd visited as part of his conservation role. At noon, I had lunch with Sophoin at the Boat Noodles restaurant on Street 249, enjoying plates of delicious Khmer food before meeting another motodop pal of mine, Tom, who like Vannak, has swapped his moto for a more tourist-friendly tuk-tuk. Tom gave me a lift to the Russian Market (Tuol Tompong) where I searched successfully amongst the book stalls for some old military maps of northern Cambodia, followed by a quick stop to see Glyn at All Ears. Back at the Dara, another old friend, Sopheap, was waiting to meet me. Sopheap is still at the Sports Ministry and proudly told me he's building a house in the Stung Meanchey district of the city, which I will visit on my next trip. However, we couldn't chat for long as I was picked up at 6.30pm by Sam, in preparation for my ritual Phnom Penh meal with a group of friends, who all live in the Tuol Kauk district. More than a dozen friends and I sat around a circular table in the main room of Vourch and Sarein's home and tucked into a gorgeous meal – with my favourite chicken curry, the piece de resistance – and a long chat and drinks before I returned to the Dara at 10pm, and an early night, ready for my 8am coach trip to Battambang the next day. The first part of my Phnom Penh story was over as I headed for my adventures in the northern part of the country.
Part two in Phnom Penh was considerably more restful, after enjoying trips to Battambang, Siem Reap and Preah Vihear province and more besides. The Mekong Express coach dropped me off at Wat Phnom at 2pm and I had a quick shower at the Dara before I got a lift back out to Kien Svay to stop for three nights at the home of Vansy's aunt. Awaiting my arrival was Vansy, her siblings and a group of children and friends as we all sat down to a big group dinner and our first session of karaoke but without the music, when everyone took a turn in singing their favourite song. This became a regular after-dinner event for the next two days. My contribution was Jimi Lundy's song Cambodia, which they all appeared to love and requested time and time again. During the day, I spent time playing badminton or football with the children though mostly it was 1-to-1 with Vansy, reading through books in an informal intensive crash-course in English! I was conferred with the title of Vansy's 'god-father' and it was going well until I developed stomach cramps late on day three and suffered a serious bout of vomiting and diarrhoea. Vansy and her aunt's home-spun remedy was to rub ceramic spoons on my lower back, much akin to 'coining', which is believed to circulate the blood and draw the 'badness' out of the body. I can't testify that it works, but I can say it was the most painful experience I've ever had in Cambodia - believe me, it was excruciating.
Now back in Phnom Penh, I had lunch at the Rising Sun with Sophoin and then met Steve Goodman, a photographer, at the Dara for a drink. We walked to the Popil gallery to see their exhibitions and met Stephane Janin the owner and Jerry Redfearn, another photographer, who had an exhibition starting in a few days' time. At 4pm I met up for a chat with Derek Phatry Pan at the FCC; he writes for the Phnom Penh Post and is a fountain of knowledge, before a quick return to the Dara for a shower and then a 6pm meet at the Kandal House restaurant on the riverfront. This was in fact a surprise meeting with another of my former guides, Soum Sophal, arranged by his Australian wife Kathy, who works for the NGO, HeritageWatch. I pretended to arrive quite by chance and caught Sophal completely unawares. I'd not seen him since 2003 and we had a great reunion meal alongwith Kathy and their son Luke. Sophal has now put his dirt-bike away and instead is running a successful gardening and decorating business called BizyBeez. We promised to keep in touch and we will. Continuing my theme of meeting as many people as possible, at 8.30pm Karen Coates and her husband, Jerry Redfearn arrived for a two-hour chat. Karen is the author of the excellent book Cambodia Now and Jerry is the photographer I'd met a few hours earlier at the Popil. It was great to meet them both especially Karen, who will also contribute to my guidebook. By 10.30pm I was completely exhausted and retired to my bed at the Dara.
I spent my last day in Phnom Penh keeping myself pretty much to myself, I was still queasy from the bout of sickness I'd suffered and took it easy, chatting to people at the hotel and walked to the riverfront to watch the world go by, chat to Vannak and use the internet café. I rang round everyone to say my goodbyes, received some gifts from the Dara sisters and others and reflected on yet another successful visit to Cambodia. The next morning I was at the airport by 9am, an hour before departure and met Heng Sophea, on her way to a conference in Hong Kong. We had a coffee during transit in Bangkok before I took the final leg of my journey home, watching the Steve Coogan film, The Alibi between bouts of sleep. Back on home soil at 7.30pm, the freezing cold temperature was far removed from hot and humid Cambodia, as trip number thirteen came to an end.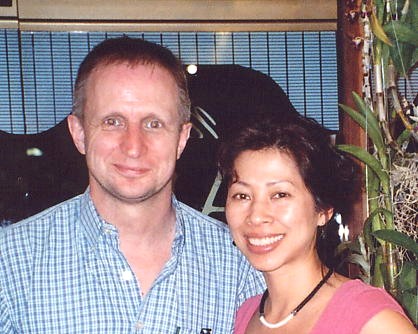 One of the highlights of my recent visit to Cambodia was meeting up with a long-time friend, best-selling authoress, Loung Ung. We met in Phnom Penh and enjoyed a gorgeous meal together and great conversation. She epitomizes what is so appealing about Cambodians across the globe, wherever they are, whatever their background and whatever they do for a living. She is a national treasure, both in the US and Cambodia, and a captivating dinner companion. And both of her books are best-sellers for a reason, she's an extremely gifted writer. Loung was in Cambodia seeing family and writing an outline for her new book (sorry, I'm sworn to secrecy). This lady holds a special place in a lot of hearts around the globe, and mine is no exception.
More Photos - to follow
---
Here's links to the rest of my Cambodia Tales
January 2007 marked my 13th trip to Cambodia since my first-ever visit in 1994. It's a country that has a special magic all of its own and which draws me back every year to venture out into the Cambodian countryside in search of new adventures, ancient temples and to catch up with the friends I've made from previous visits. Each trip is full of laughter, smiles and a host of fresh experiences and my latest expedition was no exception.
---
The contents of this website cannot be reproduced or copied without permission of the site author. (c) Andy Brouwer 2007