ANDYBROUWER.CO.UK
---
SUNDANCE COMES ALIVE
---
Steel Pulse headlined the 2003 Reggae Sundance Festival, held in Eindhoven, Holland over the weekend of 16 and 17 August. It was my first opportunity to see the band play live for over a decade and just happened to be my first-ever outdoor reggae festival to boot. The performance by Steel Pulse, which provided a fitting climax to the two-day festival, was exceptional and meeting the band after the gig was about as good as it gets. Below is the story of my first-ever trip to Holland and my experiences over that weekend and some magical moments from my backstage meeting with the band members. Their hospitality was my weekend's crowning glory. Thank you Steel Pulse.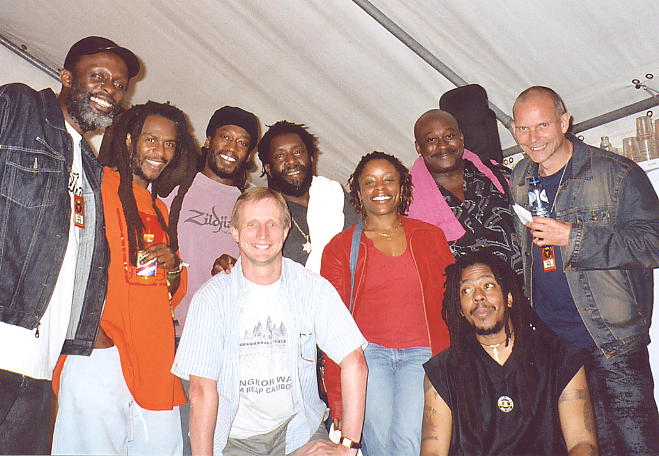 The author (in front) with Steel Pulse at Reggae Sundance, August 2003. LtoR: Selwyn Brown, David Hinds, Conrad Kelly, Sidney Mills, Donna Sterling, Alvin Ewen, Richard Hermitage (manager) and Moonie Pusey.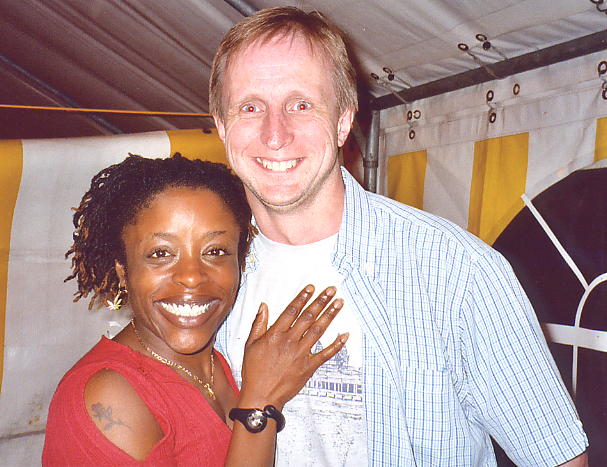 Backstage, beautiful songstress Donna Sterling tries to calm my racing pulse.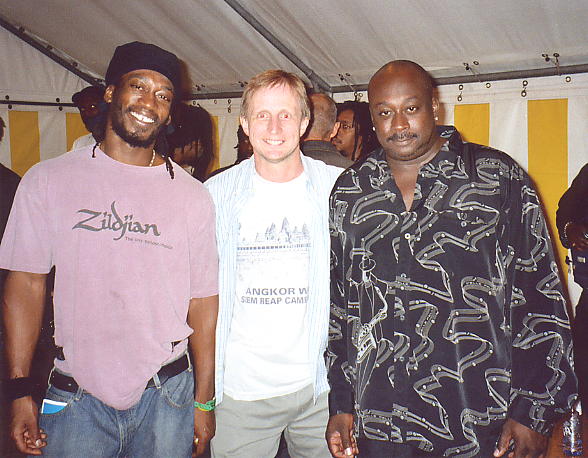 Steel Pulse's drum and bass in the shape of Conrad Kelly and Alvin Ewen. The author flies the flag for Cambodia in the centre.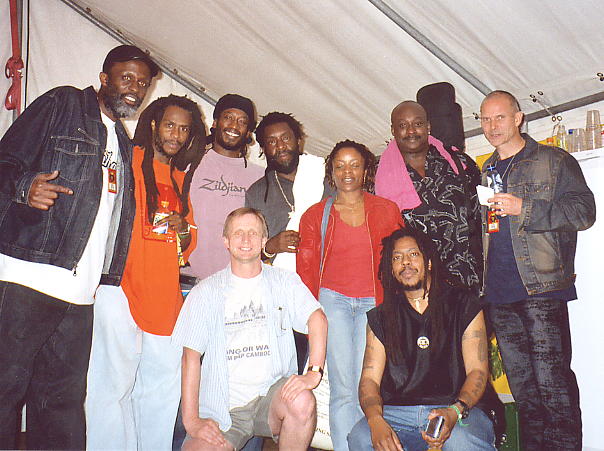 The band members of Steel Pulse make me feel welcome backstage at Reggae Sundance in Eindhoven. LtoR: [Back] Selwyn, David, Conrad, Sidney, Donna, Alvin, Richard (manager). [Front] the author and Moonie.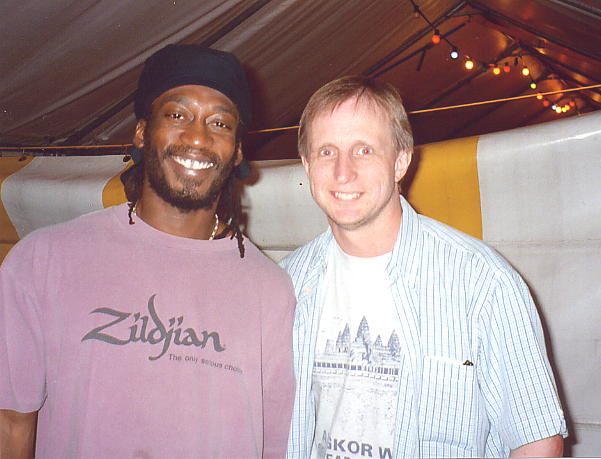 Thanks to Conrad I was able to meet and greet the members of Steel Pulse backstage at the Sundance Festival, amid extremely tight security. Conrad, I owe you my gratitude.
Click on each photo to enlarge
---
Heathrow direct to Eindhoven via KLM airlines was straightforward, flight time just over the hour. My guesthouse, Raku at 41 Heezerweg, was comfortable and the owners friendly. They also spoke excellent English, something I found to be common throughout my short stay in Holland. After breakfast on Saturday morning, I met Monica and Angelica, two Dutch reggae fans from Heelen and agreed to accompany both girls to the festival venue at mid-day, after a brief wander around the city centre. The first day of Reggae Sundance was bathed in sunshine as we arrived in good time to browse the stalls and watch Seeed, an 11-piece band fom Germany, who opened the festival in fine style. Our own trio were joined by a group of German friends and reggae followers, fresh from the recent Superjam festival in Cologne.
LMS, minus Miriam injured in a car crash, were less successful in my view, as was the Peter Tosh celebration trio of George Fullwood, Carlton Davis and Andrew McIntyre, though the roots reggae of Caribbean Pulse burned brightly. They'd stood in for Morgan Heritage who'd experienced flight problems from the US. Elder statesman Barrington Levy took to the stage just after 6pm as the air cooled a little though I was disappointed, even when he sang Here I Come. Blem Blem Crew kept the music pumping between the acts before Junior Kelly, and his gruff voice, failed to move me. However, the final act of day 1, Lucky Dube, made up for it with a scorching performance, mixing reggae and African rhythms that the crowd loved.
Sunday and day 2 of Sundance began under a cloudy sky with legendary trombonist Rico Rodriguez, accompanied by the High Notes. I then met up with Imani, who like me was attending his first festival on the European mainland. It was nice to finally meet up after lots of previous contact through e-mail and on the Steel Pulse discussion board. Next on stage was Jamaican artist Bushman before Sly (drums) and Robbie (bass) and guests provided us with some hardcore sounds. Joining the Riddim Twins on vocals were Sister Audrey and Sister Aisha, Mad Professor on the decks and Aswad's Brinsley Forde, now a radio dj in the UK, who sang a medley of Bob Marley songs. The next two acts proved to be popular with the audience of thousands beginning with Morgan Heritage, who are 5 of the 29 children sired by reggae veteran Denroy Morgan, despite a downpour mid-way through the set. Sizzla then wowed the crowd though I didn't like his rapid-fire delivery myself, although judging by the crowd's reaction, I was in a minority.
Expectantly, Imani and I then made our way to the front of the stage as the crew set up for the final act of the festival and the main reason we'd made the trip from England. At 9.35pm, Steel Pulse took to the stage to raptuous applause. Out front, David, all in white, was flanked by Selwyn and Donna, who provided the vocal harmonies throughout. They kicked off with their Intro Medley and rounded off the half dozen snippets with a full version of Don't Give In. I was concerned when an intruder jumped on stage during Rally Round but he was quickly hauled off and the band followed that with Sound System, Blessed Is The Man (and a belting solo from Donna) and Tightrope. Both David and Donna were lively and energetic throughout the show. Next up was the Taxi Medley of Taxi Driver (with Selwyn's skank), Ravers, Blues Dance Raid and Reggae Fever.
On first hearing I enjoyed Build A Nation and they followed that with Wild Goose Chase, Find It...Quick!, Rollerskates and Not King James Version. The tunes were coming thick and fast and the audience were lapping it up. David seemed to be having some problems with the sound though his voice was as clear and strong as I remember it from my last live gig. During Bodyguard, David introduced the members of the band before they finished the main set with Chant A Psalm, leaving the stage to thunderous acclaim. Moonie led the encore with a guitar solo, before they ended their 90 minute set with a new arrangement of Harassment and finally Steppin' Out. For me it was over all too quickly. I'd waited a decade to see Pulse back on stage, live and direct, and they lived up to all my expectations.
Despite the water-tight security, after some gentle persuasion one of the supervisors took my message backstage to Conrad and within minutes, Imani, Steve (a Pulse fan from Gibraltar) and myself were passing through no less than three security checkpoints and entered the Pulse tent, at the same time as Brinsley Forde. We were warmly welcomed by each member of the band and they seemed genuinely pleased to see us, thanking us for our support, taking time out to chat, sign autographs and pose for pictures. I spoke to all of the band in turn and they were as friendly, approachable and down to earth as you'd wish for. It was a real pleasure to spend time in their company and I can't speak highly enough for the friendship and hospitality they showered us with. I also met their manager Richard Hermitage, who suggested an early 2004 release date for the new album, and their long-time engineer Louis Yesufu, as well as David's son Baruch, who's their drum technician. I must thank Sidney who mustered the band together for the 'team photos' above, and of course, Conrad who made it possible. Thank you Steel Pulse for making this particular Pulsehead very happy.
It was well past midnight when I left the festival venue and continuing my good fortune, the bus driver gave me a free ride back into Eindhoven. The following morning I wandered around a ghost-like city centre (all of the shops were closed until mid-day) before returning home later that afternoon. The weekend had been a great success for me, I'd met some very pleasant people who were great company for the two days, the music had been an interesting mix of styles and Steel Pulse's performance had been the crowning glory. Getting to meet the band as well just meant that the trip simply couldn't have been any better. I'm now looking forward eagerly to their next European appearance.
To view some photos from the festival, click Reggaephotos.de. Click all photos on this page to enlarge.
Andy Brouwer (August 2003)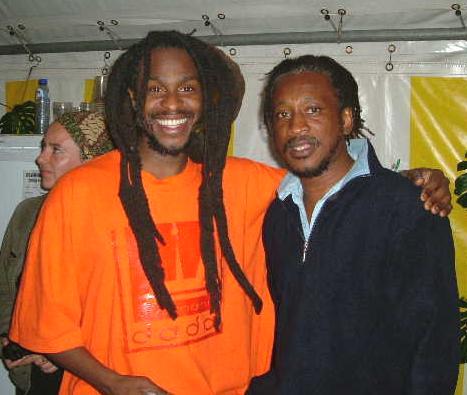 ---
Home :: Steel Pulse :: E-mail
The contents of this website cannot be reproduced or copied without permission of the site author. (c) Andy Brouwer 2005