ANDYBROUWER.CO.UK
---
CAMBODIA TALES 1998
Tuol Sleng - Re-visiting the past
Tuol Sleng is already firmly established on the fledgling tourist route in Phnom Penh. This is a report from my visit in March 1998 to a place known to factory staff working nearby at the time as 'konlaenh choul min dael chenh' (or "the place where people went in but never came out"). Following the Khmer Rouge occupation of Phnom Penh in 1975, they turned the former school, known at different times as either the Lycee Chau Ponhea Yat or Tuol Svay Prey High School, into Democratic Kampuchea's premier incarceration facility, recognised and supported at the highest levels of the Khmer Rouge hierarchy.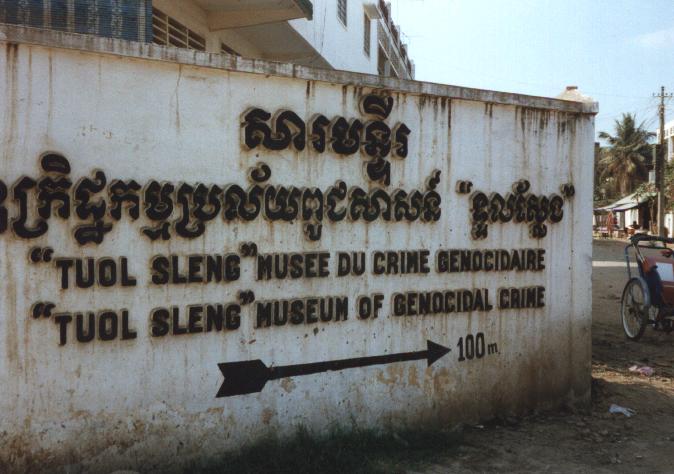 Aptly translated as "Hill of the Poison Tree", Tuol Sleng is located in the southern suburbs of the capital. Negotiating our way around the pot-holed backstreets, we turned into 113 Street at the signpost marked Tuol Sleng - Museum of Genocidal Crime. I hopped off the back of Onphum's moto, swiftly side-stepped two disabled beggars in military fatigues at the gate and walked into the former school compound. Parting with my $2 admission fee, I declined the offer of a tour guide. It wasn't my first visit to the torture and execution centre and on this occasion, I wanted to wander around at my own pace and in my own time. Tuol Sleng, more commonly known to the Khmer Rouge as S-21, was at the hub of a sophisticated network of jails, prisons and extermination centres spread across the country. In just 3 years 8 months and 20 days, in excess of 1.7 million Cambodians died under the regime of Pol Pot and his crackpot cohorts. In Tuol Sleng alone, more than 17,000 people are believed to have been systematically imprisoned, interrogated, tortured and murdered by a group of sadistic captors, hell bent on extracting ficticious confessions to imaginary crimes, eventually devouring their own kind in a killing frenzy of freightening proportions.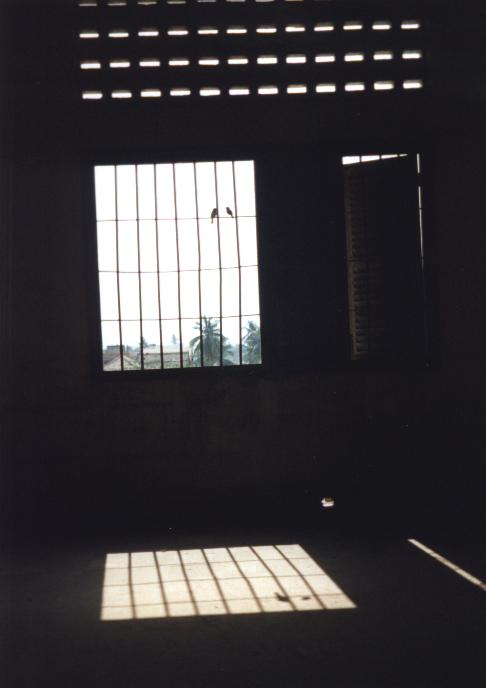 Still only 8am, the complex was empty and very still. As I approached A-block, the first of four, three-storey concrete buildings housing the exhibits, I paused at the white-washed graves of S-21's final fourteen victims. They had died in the last hours before the Vietnamese liberation forces drove the Khmer Rouge from Phnom Penh on 7 January 1979. Each of the ten rooms on the ground floor of A-block was an interrogation unit for important prisoners. The former classrooms now house a rusting metal bedframe, manacles, a latrine box and scraps of clothing. On the patterned tile floor, still clearly visible, are dried blood stains. The back wall of each room carries an enlarged photograph showing a mutilated corpse chained to the bedstead; these pictures were taken by the liberating Vietnamese on their arrival. Shafts of bright sunlight filtering through the barred windows illuminate the rooms, whilst outside a group of small children play oblivious to the horrors that once took place in their playground.
At the end of the block, I squeezed through a small opening and into the dusty stairway to the first floor balcony. Both this and the next floor contain five larger cells each. These were used as detention rooms where between 50-100 prisoners were shackled in leg irons for days on end waiting for their inevitable turn at the hands of the interrogators. Nowadays, they see few visitors except for the tiny birds flittering in and out of the broken louvred shutters on the window. A solitary latrine box on the floor covered in thick dust, numbers painted crudely on the wall and a blackboard are the only signs of any former habitation. A notice on the outside wall of A-block lists in both Khmer and English, the security regulations to which each prisoner had to adhere or suffer dire consequences. The rules were chalked up on the noticeboards within the mass detention cells and translated, read: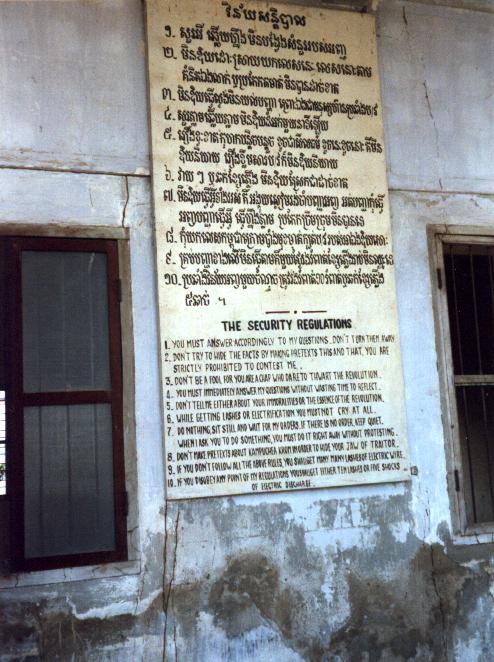 1. You must answer accordingly to my questions - don't turn them away.
2. Don't try to hide the facts by making pretexts this and that. You are strictly prohibited to contest me.
3. Don't be a fool for you are a chap who dare thwart the revolution.
4. You must immediately answer my questions without wasting time to reflect.
5. Don't tell me either about your immoralities or the essence of the revolution.
6. While getting lashes or electrification you must not cry at all.
7. Do nothing, sit still and wait for my orders. If there is no order, keep quiet. When I ask you to do something, you must do it right away without protesting.
8. Don't make pretexts about Kampuchea Krom in order to hide your jaw of traitor.
9. If you don't follow all the above rules, you will get many lashes of electric wire.
10. If you disobey any point of my regulations you shall get either ten lashes or five shocks of electric discharge.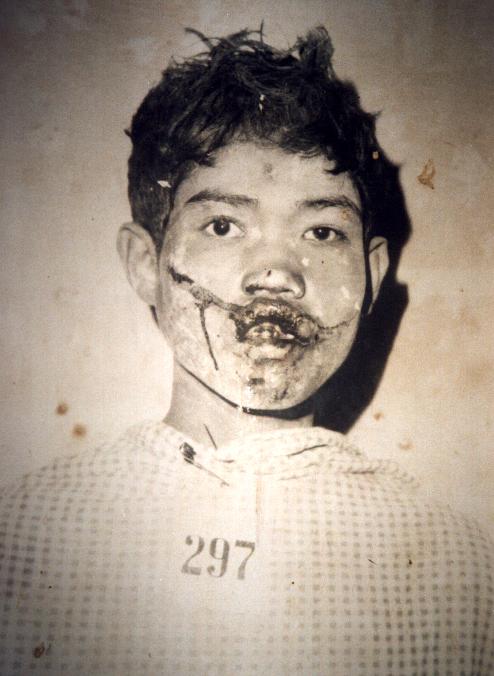 Before entering B-block, I stopped at the hanging bar and two large earthernware jars on the edge of the grassy courtyard. Both were used as part of the interrogators' range of techniques to extract confessions, either by hanging the prisoner by his arms or repeatedly ducking the victim into a jar full of water head first. Personally, I found B-block the most chilling and compelling part of the whole exhibition. Put simply, you enter a world where everybody was condemned to death. The walls of the ground floor are covered by thousands of black and white face photographs of helpless victims, looking out on the same rooms where they were most likely tortured. The Khmer Rouge were nothing, if not meticulous. Each prisoner was numbered and photgraphed on arrival. Many were then pictured at the point of death or immediately after. The photographs on display include men, women and children. Lots of children. Some of the victims force a smile, others appear confused while most display an almost tangible fear of the unknown. A boy with his mouth bloodied and swollen (left). A woman stares blankly at the camera, while the tiny hand of an infant grips her sleeve. A boy with a heavy metal chain around his neck, has the number 1 pinned to his shirt. A youth stands with his hands tied behind his back, untroubled by the safety pin that fastens his number into the flesh of his bare chest. And thousands more.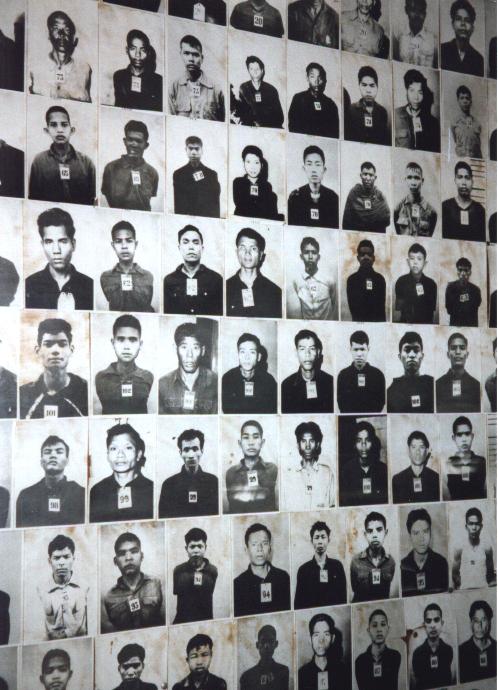 As you enter B-block, the first room contains the photographer's chair, a pile of victim's clothes and mug-shots of five of the Westerners captured, tortured and killed at the prison, alongwith the confession from an American sailor, James Clark. Also on display are pictures of Hu Nim, the Minister of Information and the most prominent Khmer Rouge official killed at Tuol Sleng, S-21's interrogators, guards and cooks and the prison chief, a former schoolteacher named Duch. In another photo, Duch poses alongwith other members of the S-21 hierarchy and their wives and children. All the other rooms display row upon row of face photographs. Some of the victims bear bruises from recent beatings, others are crying, most appear exhausted. A few victims have been identified and their name has been scrawled across the picture but most remain anonymous witnesses to their own fate. Also on show are a few prints of naked and mutilated corpses, frozen in their final agonising moments, which the S-21 warders used as proof of the success of their work to the party hierarchy.
Although I was unable to gain access to the first floor rooms, they contain gruesome evidence of the crimes perpetrated at Tuol Sleng. In a hurry to leave, the Khmer Rouge left behind tens of thousands of pages of incriminating material, together with 7,000 photographic negatives. Meticulously, the S-21 interrogators had obtained signed confessions from most of their victims and also kept extensive records of all new arrivals, daily execution schedules as well as torture manuals and records. At any one time, the prison held between 1,000-1,500 prisoners. They were repeatedly tortured and coerced into naming family members and close associates, who were in turn arrested, tortured and killed. In the early months of S-21's existence, most of the victims were from the previous Lon Nol regime and included soldiers, government officials, as well as academics, doctors, teachers, students, factory workers, monks, engineers, etc. Later, the party leadership's paranoia turned on its own ranks and purges throughout the country saw thousands of party activists and their families brought to Tuol Sleng and liquidated. Although many died under torture and were buried in shallow mass graves in the prison grounds, the majority of the 17,000 victims processed through S-21 were trucked at night to Choeung Ek, 15 kilometres outside of the city, forced to dig their own graves before being killed by a blow to the back of the head with a pickaxe or hoe to avoid wasting precious ammunition.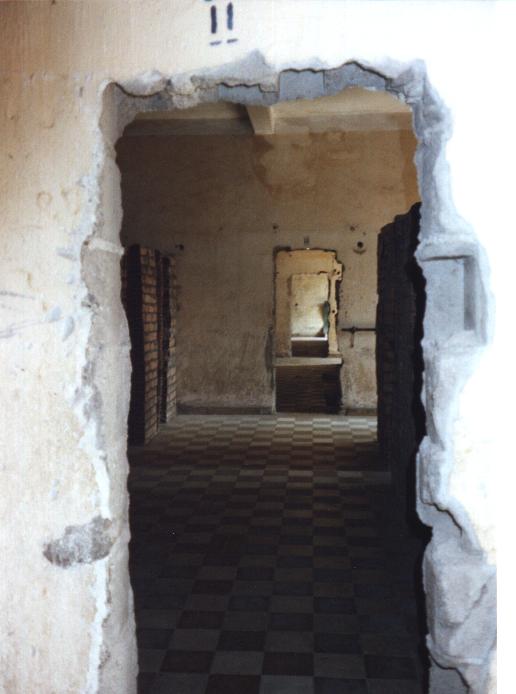 Onto C-block with its barbed wire frontage to prevent potential suicides. The ground floor classrooms are subdivided up into tiny crude cells by short brick walls about seven foot high, where prisoners were held during interrogation. In some cells, manacles and leg irons remain alongside small ammunition boxes that doubled up as latrine cans. Squeezing through the padlocked gate to the stairway, I found that the first floor cells are of a wooden construction but equally cramped, whilst the next level was used for mass detention, although both floors are usually off-limits to visitors. In the courtyard in front of C-block, a wooden memorial stupa, erected in 1984 to commemorate the victims of Tuol Sleng, had recently been dismantled. I also noticed that families of squatters had disappeared from the rear of C-block and a new boundary wall had been erected to prevent their return. Improvement work was also taking place to the metal fence topped with barbed wire at the front of the compound.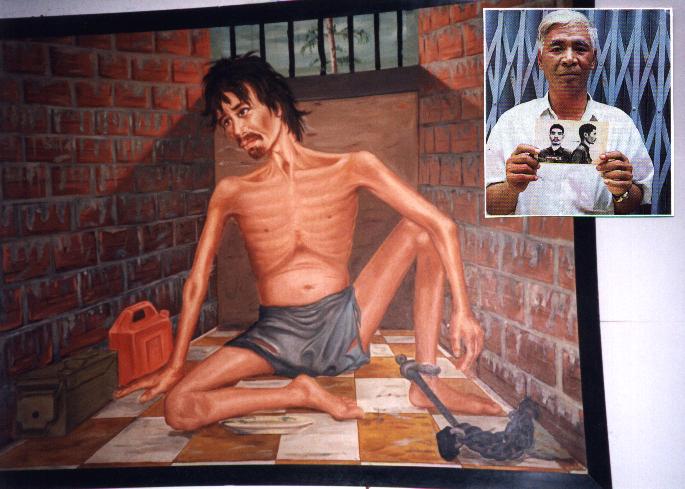 The final exhibit building, D-block, holds a collection of paintings, photographs and other items and was used for mass detention under the Khmer Rouge. As I approached, I recognised my guide from my last visit to Phnom Penh, Samnang, who immediately pumped my hand with a firm handshake and asked about my health and family. Although the location wasn't ideal, he seemed genuinely pleased to renew our acquaintance, albeit briefly, and I likewise. As with the rest of the complex, I wandered through D-block alone and could not fail to be struck by the graphic colour paintings that line the walls. Only seven prisoners are known to have survived S-21 and they were only kept alive because they had skills that proved useful to their captors. Vann Nath was an artist, who'd been held at the centre for exactly one year and had painted oil portraits of Pol Pot. He returned after the liberation to paint a series of scenes, fifteen in all, including this self portrait, depicting the harsh realities of life and death at Tuol Sleng including examples of the torture methods employed there.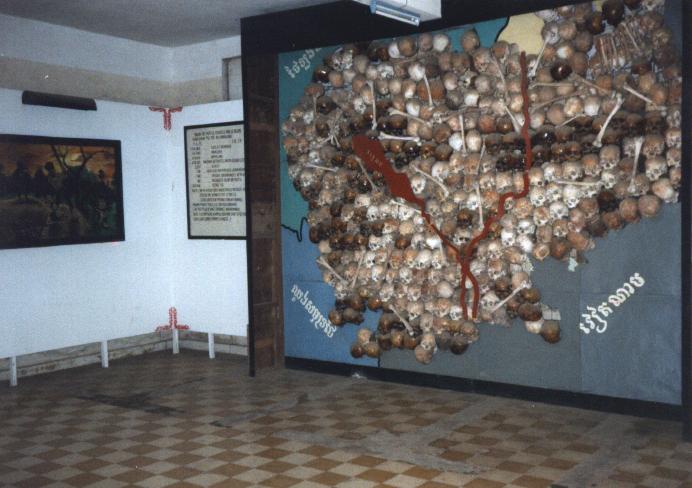 More photographs depict the arrival of the victorious Khmer Rouge in the capital, whilst others show numerous mass grave sites exhumed around the country after their defeat in early 1979. A variety of implements are on display, amongst them wooden water tanks and beds, overlooked by paintings illustrating their actual use as torture techniques. One room contains a few head and shoulder busts of Pol Pot together with their casts, discarded portraits, leg irons, chains and manacles and a series of wall maps. In the final room, perhaps the most controversial exhibit at Tuol Sleng stuns most visitors into an uneasy silence. On the wall, fifteen feet square in size, is a map of Cambodia fashioned entirely out of over 200 skulls of victims found in shallow graves within the complex. The authorities have so far resisted calls to lay these particular victims to rest rather than use them as a permanent reminder of Khmer Rouge atrocities. A notice next to the map suggests that 3,314,768 people died as a result of their regime, although recent research suggests a more conservative figure of around 1.7 million. A single storey wooden building, housing the museum offices, guide's quarters and toilets, also has a small gift shop open for business. As I left for the moto ride to the 'killing fields' of Choeung Ek, I couldn't help thinking that whilst Tuol Sleng isn't everyone's ideal memorial, it is nevertheless an important symbol of the crimes perpetrated by Pol Pot and his murderous henchmen that has so affected the psyche of the Cambodian people for the past twenty years.
---
Postscript - May 1999: Duch, the former director of Tuol Sleng and the Khmer Rouge's chief executioner, has surfaced in Battambang and admitted his part in the genocide of the 1970s. Now known as Ta Pin (real name Kiang Khek Iev), he runs a shop selling snacks and gasoline in a small hamlet and has converted to Christianity. Living in a border refugee camp for much of the 1980s, he's worked with international aid groups in recent years but has only just revealed his real identity to reporters Nic Dunlop and Nate Thayer from the magazine, Far Eastern Economic Review. Responsible for the deaths of at least 17,000 people at Tuol Sleng, 56-year old Duch is now under arrest and will become a key witness in the forthcoming trial of imprisoned Khmer Rouge military chief Ta Mok and any future proceedings against other Khmer Rouge figureheads like Khieu Samphan, Nuon Chea and Ieng Sary.
June - 1999: In what was seen as a test case for Cambodia's judicial system, Khmer Rouge commander Nuon Paet has been sentenced to life imprisonment for the murder of three tourists, David Wilson, Jean-Michel Braquet and Briton, Mark Slater. The backpackers were abducted in July 1994 when Khmer Rouge soldiers attacked a train between Phnom Penh and Sihanoukville and were then killed three months later when negotiations for their release broke down. The Government are now considering whether to prosecute two former colleagues of Nuon Paet, Chhouk Rin and Sam Bith, who gave evidence at the trial and who were also involved in the kidnap. Both are currently serving Royal Cambodian Armed Forces (RCAF) officers following their defection from the Khmer Rouge rank and file. Meanwhile, still in custody and awaiting trial are Chhit Choeun, more commonly known as the notorious Ta Mok, arrested in March and the former Tuol Sleng/S-21 chief, Duch. Both are at the centre of a tug-of-war between the United Nations and the Cambodian authorities over the style of trial they should face.
---
Cambodia Tales : Messageboard : Next : E-mail
The contents of this website cannot be reproduced or copied without permission of the site author. © Andy Brouwer 2006