ANDYBROUWER.CO.UK
---
CAMBODIA TALES 2003
Bayang, children & weddings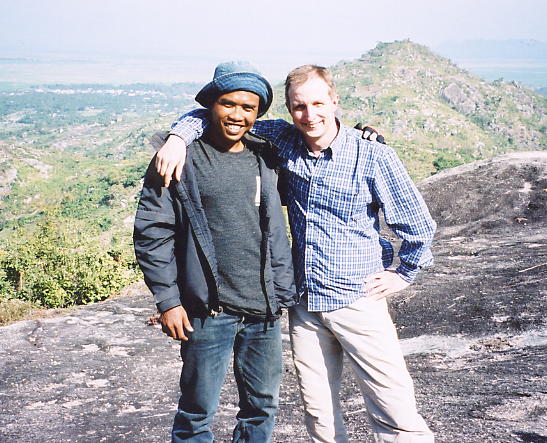 More photos to follow
My second trip report starts with Sophal and a day-long hardslog to the far south of Cambodia, followed by a much more leisurely visit to the Sunrise Children's Village in Takhmau and the day-long wedding of Tima, the brother of my deceased friend Sok Thea. Following our three-day jaunt to Prey Veng and Kompong Cham, I persuaded Sophal to take us on a 300 kilometre round-trip, nearly all the way to the Vietnamese border along Route 2 to visit Phnom Bayang. We left the Dara Reang Sey a little after 7am following breakfast. The highway was in good condition, so by 9am we'd reached Takeo though the town was literally shrouded in a dust-haze, so we continued on and stopped to watch the crab fishermen at work in the flooded fields a few kilometres south of the town. From here the road deteriorated quite badly in places and the bumpy surface made it an uncomfortable ride as a passenger on Sophal's 250cc dirt-bike. We took a rest ten kilometres from Tunloap, before arriving in the small town at 10.30am. Asking directions, two large hills rose above the flat plains and we'd obviously reached Phnom Bayang but we needed a local to act as our guide. We stopped at a couple of houses before Rong appeared, put on his Wellington boots and we began our ascent up a steep path which then became stone steps - 355 in total according to Rong - as we climbed a hill he called Phnom Toch. Also joining us was his twelve year old brother, Sav. After thirty minutes, we took a rest by some shrines and a gold-painted reclining Buddha and continued to take regular breaks as the climb became steeper, walking on boulders and through thick undergrowth, as the sun came out and the temperature rose. One hour and thirty minutes into the climb, we reached our first ancient temple. Prasat Bayang Kou was a large brick temple with laterite outbuildings, lovingly cared for by three old women and a male guardian. Inside the tower was a second brick shrine and lots of bats overhead, as the guardian asked us to walk around the inner shrine three times for good luck. The outside of the brick tower was decorated with flying palaces (brick bas-reliefs showing the temple in miniature, and can also be seen at Sambor Prei Kuk) and other important figures.
It was 1pm when we rested inside a large and airy wooden house squeezed between large boulders. The elderly couple who live there offered us their hammocks to lie in and made the four of us a lavish meal of chicken, soup and rice for a couple of dollars. After the long climb in the hot sun, this was the perfect way to re-charge our batteries. The old lady then took us inside a small dark cave to show us what she called a very special shrine, which she paid homage to and wished us good fortune on our travels. Continuing our search, we reached another brick tower, Prasat Preah Ko, though this temple was in a ruinous state and almost consumed by vegetation. On the very top of the hill, we posed for pictures as we took in the glorious views and on an adjacent hill, we could see another two small shrines but didn't have time to visit them if we wanted to get back to Phnom Penh that day. As we made our way back down the hill, via a different route, Sophal injured his ankle when he slipped and hobbled back to Rong's house, which we reached just before 4pm. Route 2 was just as uncomfortable as I remembered as we drove as quickly as we could. We reached Takeo at 5.30pm and were back at the Dara by 7.15pm. The last hour or so of the ride, in complete darkness, had been very tricky, with a couple of close shaves with other road users and a problem with insects attracted by the bike's front light, getting in Sophal's face. We had a meal at the Rendezvous restaurant on the riverfront to end the day, with a promise to meet up again when I returned to the capital in two week's time.
A far more leisurely day lay in store after the exertions of the previous four days. I ambled to the riverfront around 9.30am to check my emails and make some telephone calls to friends. My moto-driver, Vannak, then took me around town on a series of errands including a bookshop run - where I met Jenny from Australia in the London Book Centre who recognised me from my website - and for lunch, a gorgeous jacket potato at the Rising Sun pub. Following lunch I spent nearly two hours in the National Museum, one of my favourite spots in Phnom Penh, and concentrated on exhibits from the three places I'd visited in the last few days, namely Phnom Bayang, Prasat Tuk Chha and Prey Veng. I walked back to my hotel and had a nap before a Khmer friend, Sopheap, arrived at 5.30pm and invited me to his home where I met his wife Sottary, his young son Serey and other family members and neighbours. Sopheap works in the Education Ministry in IT and rents two small rooms in a house in the southern half of the city, though has plans to build his own home in the future. He was born in Kandal province and invited me to his family home on a future visit. His work took him abroad for the first time, to Korea, last year and he has real ambitions to make a better life for himself and his family. I sincerely hope he succeeds. At 8pm Sopheap dropped me off at the Rendezvous restaurant for something to eat and I ended the evening with a visit to the Pacific Internet shop near my hotel.
Up at 7am, I had a long chat with Dara and her three children over breakfast and noticed that my photos had been used on the restaurant's laminated menu, which made me smile. The folks at the Dara Reang Sey have become very good friends, we keep in touch by email when I'm back home and they keep telling me they are waiting for the day when my wife decides to visit Cambodia for the first time so they can make a big fuss of her (note: they may have to wait a while as Sue is not keen on the trip at all). Vannak arrived at 9am and we were soon on our way to visit the Sunrise Children's Village headquarters in their new location outside of Takhmau town. Prime Minster Hun Sen has donated land to Geraldine Cox's orphanage, not far from his own home, and Geraldine and Rosanna invited me to call by to see how things were taking shape. It took us half an hour to reach the new property a few kilometres along Route 21 from Takhmau, which is completely fenced in with a guard on the gate and boasts brand new buildings for the children. Rosanna was on hand to give me a guided tour of the premises starting with the boy's dorms, the dance hall, computer room and office, then the girl's dorm, sewing room, medical room and dining hall. We also had a peek into Geraldine's quarters, she was currently in Australia raising funds, and then we had a look outside at the greenhouse, vegetable garden, chicken run and sports facilities. Compared to their previous cramped home, this was considerably more spacious and tailor-made for the kids, who were in a combination of cheeky and respectful mode as I walked around the grounds. As I signed the visitors book, I noticed Hun Sen was the first name in the book, having officially opened the village on 3 October 2002.
With the older children at school, it was the turn of the six to eight year olds to practice their dance routines and Rosanna and I sat and watched the coconut dance amongst others, accompanied by the musicians and the instructions of their teacher, Monitha. The boys were led by Eng Beng and the girls by Srey Mao, Pholly and Sok Heng. All the children took their lessons seriously and were adorable and accomplished at the same time. Both Pholly and Sok Heng remembered me from my last visit in November 2001, and we sat and chatted about school, dancing and their friends. I gave the girls a soft toy each, a present from my own daughter, whilst Eng Beng got some football magazines to share with his pals. At 11.30am we all went to the dining hall for lunch, children and staff, after which I talked to Srey Mao and her younger sister Nhate and some of the older girls as they returned from school. Within minutes, the youngsters had donned their school uniforms, gave me a hug and jumped on the remorque-taxis waiting outside the main gate and left for their classes. As lunch was served for the older children, I said my goodbyes, thanked Rosanna for her help and returned to Phnom Penh with Vannak. At the Dara, I had a drink with Marco, who was leading a Dutch motorcycle group (www.motortrails.nl), spent an hour at the internet cafe, chatted to Reangsey and Dara, and walked along the riverfront, eating my evening meal at the Rising Sun pub. Back at the hotel, I met Ann, a teacher from Australia, and talked about her experiences in Cambodia, before an early night in preparation for tomorrow's wedding celebrations.
Sunday dawned, the big day had arrived, and I couldn't wait. I'd been invited to the day long wedding of Sok Tima and Theary, my first experience of a Khmer wedding celebration. Tima, who works at one of the city's best hotels, is the brother of Sok Thea, a very close friend of mine who tragically died in 1999. Since then, Thea's family and friends, who all live in a large house in the Tuol Kauk district of Phnom Penh, have 'adopted' me and we've enjoyed reunions whenever I've been in in the capital. Today was a very special occasion and we began early when Phea collected me from the Dara hotel at 6am, also stopping at the Goldiana hotel to collect Merrily, a mutual friend from the US and her three companions. Our first stop was near the home of Theary's parents, where everyone walked through the streets in a procession carrying fruit and other offerings to the bride's home. I'd worn my cleanest travel clothes whilst everyone else was in their best suits and dresses including my friends, Ara, Lina, Phalla and a host of others. At tables arranged under an awning stretched across the street, we sat and ate breakfast accompanied by loud background music, before a series of traditional ceremonies and photo opportunities with the bride, groom, family and friends. This included vibrant colours in abundance, many costume switches, exchanging rings, cutting hair, tying string to the couple's hands, offering gifts of money, blessings from monks, both indoors and outside. It seemed to go on indefinitely though at all times I was looked after and kept informed as to what was taking place, by an army of relatives and friends, all eager to keep me included. We ate again just after 1pm, with food and drink in plentiful supply and it was clear no expense had been spared to make the day one to remember.
At 2pm, a lull in the ceremonies gave everyone the chance to take a breather. We returned to the family home in Tuol Kauk and I slept for more than an hour before we made our way in Phea's car to a large wedding reception function room (the Phkar Chouk Tep Thmei 4 restaurant) in the city centre at 5pm. The three bridesmaids and three best men were already waiting at the door as we arrived, with traditional dresses, faces freshly painted and elaborate hair-do's (Ara told me her's took four hours) as the order of the day for each of the female guests. The bride and groom arrived and after much fussing and posing for the photographer and videographer, everyone sat down to eat at 6.30pm. Four hours later, having feasted like a king and danced the ramvong and other dances until I was fit to drop, half a dozen of us went for late-night tikaloks along Monivong Boulevard. One of the guests who joined us was Ann, a teacher from Kampot, who's the best friend of Lina and who spoke excellent English with a cheeky sense of humour. The whole day had been a wonderful experience, it was an honour to be so closely involved in the day's proceedings - for example, the comedy duo who compered the hair-cutting ceremony picked on me to speak to the guests in English, and Tima burst into tears when I tied string onto his wrists - and I think my friends were pleased that I'd stayed for the whole day and that I'd joined in all of the evening's dances, even though my two left feet may've made them rethink their invite! A truly unforgettable occasion and one which I'll always treasure.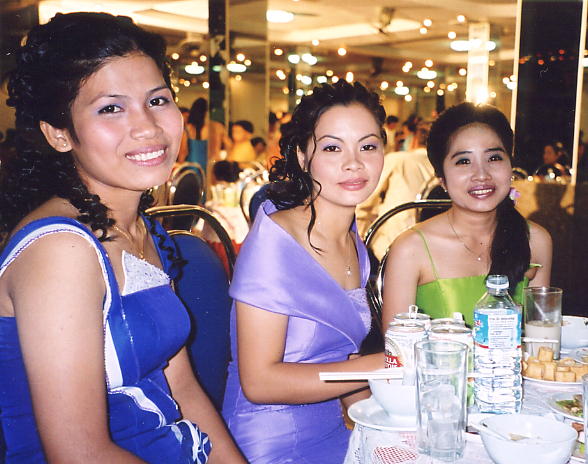 ---
Here's links to the rest of my Cambodia Tales:
January 2003 marked my ninth trip to Cambodia since my first-ever visit in 1994. It's a country that has a special magic all of its own and which draws me back every year to venture out into the Cambodian countryside in search of new adventures, ancient temples and to catch up with the friends I've made from previous visits. Each trip is full of laughter, smiles and a host of fresh experiences and my latest expedition was no exception.
---
Home : Next : Messageboard : 2003 : E-mail
The contents of this website cannot be reproduced or copied without permission of the site author. (c) Andy Brouwer 2005